The partition of British India was ruthless, it divided villages, towns and families but gave birth to a new country – the Islamic Republic of Pakistan. Since its formation, relations between India and Pakistan have been rough, mainly over the claim to Kashmir. In Pakistan, during a recent visit–my first–everyone had a one-sentence introduction for me: Yeh 'maqbooza Kashmir' se aaye hain (He has come from 'occupied Kashmir').
My entry into Pakistan was via the Wagah border, where, on seeing that I was from Kashmir, two men questioned me for over an hour. They asked me about the recent civilian uprising in Kashmir, how uprisings affected development, how foreign tourists in India didn't highlight the good things, how Pakistanis crossed Wagah. They also wanted to know who I knew in Pakistan.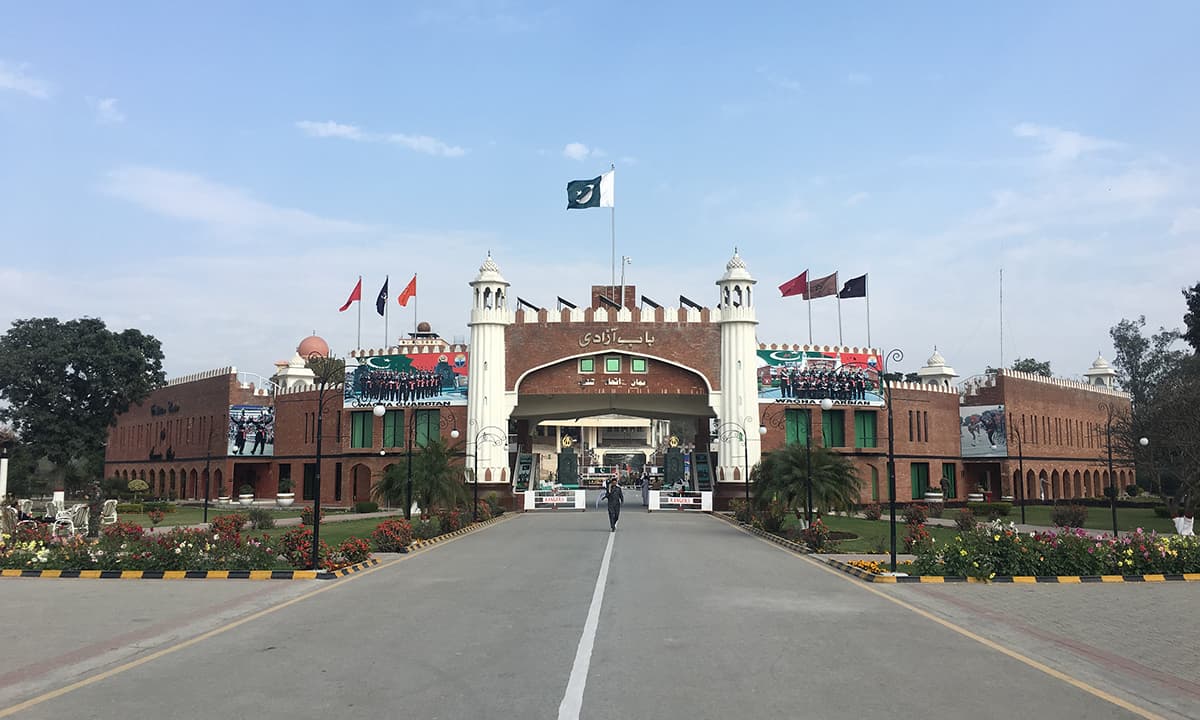 After two cups of tea and a glass of water, I was told to go to the immigration counter, where three men, including the immigration officer, questioned me once again. At the actual gate of the border, one has to walk with one's luggage through 'no man's land'. The first thing you see is a giant gate, with Baab-e-Azadi (Gate of Freedom) written over it. It is the gate into Pakistan. The city of Lahore is just a half an hour's drive away. While driving from Wagah, looking at the people and their houses, I went into the past. I imagined what this landscape must have looked like when British India was partitioned.
I was visiting Lahore to attend a friend's wedding. We had met as students in London a few years ago. The shaadi was in a grand hall, full of people with flamboyant clothes. Everyone I met was concerned about whether my long journey had been a pleasant one and asked about the well-being of Kashmiris.
There is one common thing between the two countries – Bollywood. From the cab at Wagah to the wedding night, Bollywood songs were the rage. My friend – the bride – and her cousins danced on 'Kaala Chashma' atop a lavishly lit, smoke-filled podium, while I sat sipping flavoured Kashmiri tea.
My host in Lahore was Feryal Ali Gauhar – a wonderful woman known to most of Pakistan for her work as an actor, writer and activist. It was at her house in Zaman Park, full of beautiful cats and the city's essence, where I stayed. I was told that it was in the park outside the house that Imran Khan had played cricket as a child. The area was named after his grand uncle, Khan Bahadur Mohammed Zaman Khan. This is where his family settled after partition.
In the evenings, Gauhar and I talked about Pakistani movies, books and theatre, about Kashmir and Afghanistan. Most of our conversations were about the Kashmir dispute and I could sense the kinship every Pakistani has for the region and its people. Kashmir is ingrained into everything – from road signs and food to the debates in cafes. On the birthday of the revolutionary poet Faiz Ahmed Faiz, I was sitting in Lahore's Pak Tea House, which was founded in 1932 on the famous Mall Road and had become a place for the city's intellectuals. Faiz, Ahmed Faraz, Sadat Hassan Manto and the likes of them used to frequent the café in their day but what once a place of art and literature is now just like any other café where you get eat cheap food. From the walls, however, framed portraits of Pakistan's poets and writers keep an eye on the proceedings.
I was here with another friend, Eshah Shakeel – a young scriptwriter, who doesn't like Lahore's chaotic traffic while driving her Laali, the equivalent of the Maruti 800. On our way there, we had spent more than an hour in a traffic jam, caused by the pharmaceutical business owners who had taken out a protest rally. They were protesting the Punjab government's amendments to the Drug Act, 1976, which seeks to rid the market of spurious and dangerous drugs.
We spent the day visiting the Badshahi Mosque – a Mughal wonder built by emperor Aurangzeb in 1671; the Minar-e-Pakistan, the site where on March 23, 1940, the Lahore Resolution – the first call for a separate homeland for South Asia's Muslims – was passed; Lahore Fort and the tomb of Allama Iqbal, poet of the East and spiritual father of Pakistan.
After eating at Cuckoo's Den while watching the sunset, the red sandstone mosque turning orange after the lights were switched on and listening to the magrib azaan, Lahore was beginning to grow on me.
It was a beautiful day until the evening when a suicide bomber blew himself up at the protest rally near Punjab assembly, killing 16 people, including two senior police officials. A block away from the blast site, Shakeel and I had parked the car before going to the Walled City in an auto rickshaw.
In the morning, I had seen these people protesting, walking in groups, raising slogans and gathering. Now I was seeing chaos. The blast hit just when we were going back to the car, where a police vehicle and an ambulance had arrived. My phone had died and we could hear sirens and panic filling the air. We drove through Mall Road which was filled with anger and mourning. Policemen were everywhere and the roads were blocked. We saw the blast site, swarming with the OB vans of news channels and photographers with cameras flashing.
I managed to charge my phone at another café and I saw what being in Lahore could mean. There were texts and calls from friends all over the place – wondering if I was safe. Thanks to Shakeel, who had said, "Let's walk for a while before leaving." Otherwise, things may have been different for us.
That week, Lahore wasn't the only city that was hit by a blast. On February 16, a suicide bomb hit Lal Shahbaz Qalandar shrine in Sehwan, killing 90 people, including 21 children. The Islamic State claimed responsibility for the brutality. Lal Shahbaz Qalandar was a Sufi saint, philosopher and poet who is revered by people of all religions.
What strikes me about Pakistan is how moments of beauty are punctuated by grim reality. Something similar to Kashmir, where one finds brief moments of happiness amidst political uncertainty and grave injustice. Among those moments of happiness was meeting old friends and people I had been in touch with all these years. I spent hours talking about politics and the Afghan refugee crisis with my friend in Islamabad, whom I had met in London for the first time. She told me why Pakistan has come down hard on Afghan refugees as a consequence of the growing number of acts of terror in the country.
As a Kashmiri, if you are in Lahore or Islamabad, your origin is your identity and Pakistanis want to hear what Kashmiris have to say about life. A security guard wanted to know if we were able to buy groceries during month-long curfews. A cabby wanted to know why the Kashmir issue wasn't being solved. A shopkeeper wanted to know if it was easy for me to come. A librarian wanted me to come back and have lunch with him. A police official during the arrival verification wanted to know if I have ever seen the holy relics at Hazratbal in Srinagar. A student wanted to know if people from my side consider Kashmiris on the Pakistan side as Kashmiris or not.
For a Kashmiri, you're treated in a special way – more than you could be in any other place. One feels that the country and its people have some sort of affinity with Kashmiris. Many Pakistanis I met said that they want their government to do something for Kashmir, but politics is such that people on both sides are helpless. But even within this helplessness, Pakistan gives Kashmir a special status – for political reasons, but also for the shared history. Even the Pakistanis who spoke against what was happening inside their country related to Kashmir as an omnipresent part of their lives.
For me, the most memorable moments of my visit were when I met people from the Pakistan side of Kashmir. I have had friends from that part for years and spent a lot of time with them in Britain, but here it was different. A smart young student from Muzaffarabad spoke for hours about how she wants to visit Kashmir university and live in Srinagar. Another student from Muzaffarabad was just happy that we met.
One doesn't feel like one is in a different country – but yes, there is a lot that changes when you cross over the border. Pakistan is not what we get to hear on the Indian media. There are people who find hope in love and want to prosper even in unfortunate times. The hospitality is unsurpassed and you cannot miss seeing the growth of the country despite its internal problems. But yes there are questions – of dissent, of unresolved issues. And looming large is the debate on how the province of Punjab seems to dominate everything.
One evening, Shakeel and I were talking about how easy it would have been to just drive across to Amritsar and return without any hassles. But no, the borders exists, and walls have come up – so high that people from both sides of Kashmir crave to see those from whom they have been divided.
My 12 day visit ended and Feryal Gauhar drove me back to Wagah. I walked into India through no man's land, perhaps the most secure zone in the subcontinent. A small signboard announced a warning: Beware of pickpockets. Who would steal anything here? I wondered. Could memories be stolen? For memories are the only thing that we carry with us while crossing borders.
Correction: An earlier version of this article ran with the headline "When an Indian Kashmiri visits Pakistan".
---
This article was originally published in The Wire, India
---
The writer is a journalist and an editor of a digital magazine in India.