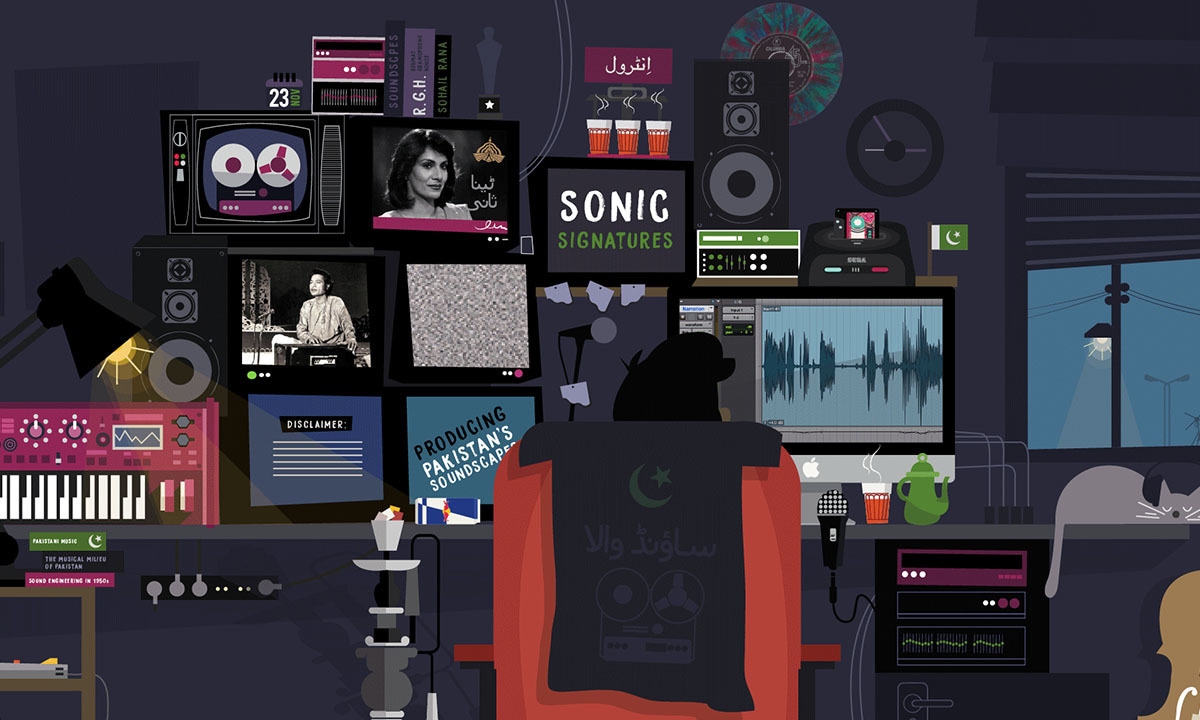 On a sweltering summer day, Raza Kazim is busy producing music at his home in Lahore. A cigarette in hand, he is manning a chunky, analogue mixer connected to high-fidelity speakers placed near the screen door of his cozy listening room. His fascination with sound is such that he has fashioned his own amplifiers and speakers in a workshop two rooms away from the listening room.
He plays back what he has just recorded. The room is suddenly filled with the notes of the Sagar Veena played by his daughter, Noor Zehra. The sound seems so real, it is as if she is playing the instrument sitting right there in the room. The listener can hear the nuances of the recording — every interval in the instrument's sound, even the faint whirring of the spools, is audible.
Kazim, the octogenarian founder of Sanjan Nagar Institute of Philosophy and Arts in Lahore, has a passion for music production. A lawyer by profession and an activist by inclination, he is also a musicologist, instrument maker and music connoisseur. Music libraries at his institute are brimming with unreleased recordings of Iqbal Bano, Noor Jahan, Pathanay Khan and Reshma, all recorded by Kazim himself.
He says he not only provides a suitable intellectual and emotional space to the musicians he records, but also remains actively engaged in all aspects of the production process. He is also one of a handful of people who still record music using only analogue mixers. Most others have shifted to digital ones.
Changes have taken place at the other end of the musical spectrum too — in how music is accessed and consumed. Consumers have moved from vinyl records to cassettes to compact discs (CDs) to MP3s and back, in the last four decades.

A musician sits in an isolated room with padded walls to ensure that the sound of his instrument is not adulterated. Behind one of the walls sits a producer, perched in front of a mixer, adjusting sound levels. After some fiddling, he asks the musician to make some adjustments in the positioning of his instrument and microphones. Once everything is perfectly aligned, the producer puts his sound engineer on standby to hit the record button.
Music starts.
He listens intently to check if any error has been made. Enough music has passed through his ears to enable him to distinguish the sound of each instrument and every note.
Cut, he shouts.
The recording stops. He wants a retake. The musician, the sound engineer and other technicians wait with bated breath — is this the take the producer will be satisfied with?
Also read: The beating pulse of Indie music in metropolitan Pakistan
A skilful music producer quickly identifies the strengths and weaknesses of a singer or a musician. He then accentuates the strengths and minimises the weaknesses and, thus, produces a piece of music as close to perfection as there can be. He not only possesses technical know-how, but also offers a combination of many other skills that go into music production (that is why the term 'music producer' is often used interchangeably with sound wala, audio technician, sound engineer and music director). Being able to understand and partake in the creative process of a musician is perhaps the most important of those skills.
Early music producers in Pakistan were, in fact, music directors for films. They turned each composition into an artistic journey — from choosing the lyrics to first humming the melody, from aligning instruments and spools to finally producing a song that would be on everyone's lips.
Consider 1956. Consider Khawaja Khurshid Anwar. Now consider Noor Jahan in the film Intizar. Sitting in a film studio, as if in a trance, the erudite music director is thinking of a tune suitable for the biggest singer of the day — the melody queen, the greatest showbiz star of the era. He comes up with a classic composed in Raag Malti: O janay walay re, thehro zara ruk jao, laut ao (O the one going away, wait a moment, come back).
Anwar was a prolific composer. In a career spanning slightly more than two decades, he produced one classic song after another. Consider Heer Ranjha, a film released in 1970. Consider Noor Jahan crooning to Anwar's tune again: Sunn wanjhli di mithry taan ve, mein taan ho ho gayi qurban ve (Listening to the sweet music of the flute, I have surrendered myself to it).
Years after Anwar's debut in Pakistani films, Nisar Bazmi and Sohail Rana would come into their own by collaborating with singers like Ahmed Rushdi, Masood Rana, Runa Laila and Mehdi Hassan. Rushdi's Akele Na Jaana and Hassan's Ranjish Hi Sahi were all products of a film industry commissioning work to music directors who were not only thoroughly conversant in the classical tradition of the Indian subcontinent's music, but also fully aware of the modern orchestra and its requirements.
This is how Rana and Karachi-based music composer and producer Arshad Mahmud pieced together the early days of music production in Pakistan:
The country inherited a fragmented media landscape in 1947. Many people working in film and radio in regions that constitute today's Pakistan left for India. Partition also truncated technical infrastructure by severing its links with other centres of film and radio production such as Bombay and Delhi. With the departure of moneyed Hindus to India, finding financial resources for these activities also became difficult.
However, this did not deter musicians and music producers. Radio Pakistan became their first resort. It was seminally important in identifying and showcasing music talent in those early years. Technological constraints, however, meant that the music aired on radio was all live. No Pakistani radio station had a recording facility.
Recordings were done in film studios for playback scores for movies. The space used for music recording was the same where other parts of film production – such as shooting and editing – were done. Often, a song was recorded in the same space where a scene was shot — either simultaneously or one after the other. These spaces did not have the acoustics to ensure high-quality production.
A skilful music producer quickly identifies the strengths and weaknesses of a singer or a musician.
Each studio would be equipped with an analogue mixer attached to a single microphone (two, if you splurged) to capture the signal of each musician in the room. There was little room for error and no option to erase a mistake, redub the part with the mistake and mix it with the rest. This meant that every imperfection of the lone take was recorded on the optical film (and in later years, on magnetic tape). The producer worked with the knowledge that real money started slipping away in real time the minute he had set the reels in motion. Singers, musicians and music producers would spend weeks, if not months, rehearsing to perfect a song before its recording started.
Imagine a producer, seated in front of a bulky mixing board, guiding the musicians, the singers and the technical crew to a moment of harmony in order to record an auditory masterpiece. Jadon holi jahi lainda mera naa (When he softly says my name) sang Noor Jahan in the 1970 film Att Khuda Da Vair. A tabla, a dholak, a delectable flute and happily chirping violins — all came together in a perfect whole to serve as a melodious backdrop to her crisp, sugary voice.
That fortuitous combination was as rare – or frequent – as a hit movie in the country.
Pakistan had a busy film industry in the first two and a half decades of its existence. The industry's continuous growth required a sonic accompaniment capable of bringing in and employing the latest available technological tools to heighten the quality of music production. This resulted in the introduction of sound mixers capable of recording each instrument separately.
Music directors/producers began to experiment with help from these new toys and the flowering of Pakistani music began in earnest, say Rana and Mahmud in separate interviews.
Film music was recorded, released and distributed in vinyl by companies such as The Gramophone Company of Pakistan (previously The Gramophone Company of India). The Pakistani variant was set up in 1948 and soon became the country's biggest music distribution company of its time. It distributed film music through its trademark labels — HMV and EMI Pakistan.
The country inherited a fragmented media landscape in 1947. Many people working in film and radio in regions that constitute today's Pakistan left for India.
The Gramophone Company of Pakistan and its competitors developed an elaborate distribution infrastructure. This infrastructure initially comprised music stores and radio stations — and Pakistan Television (PTV) in later years. With time, it also facilitated the distribution of non-film music, according to Rana and Mahmud.
The companies would scout artists, record their music and distribute it. Besides producing music, these firms would promote musicians and singers through their expansive distribution networks. The artists did not have to worry about marketing their work or dealing with any legal issues related to copyrights, etc. They would record the music, pick up their royalty cheques and go home, basking in success and fame.
This model, in the estimation of Rana and Mahmud, allowed the music economy to soar by the middle of the 1960s. This proved to be a pivotal point for music in Pakistan. Music production was no longer just about film scores.
Production companies did not have dedicated recording studios, though, in that decade. Those came about in the 1970s. The introduction of recorded programming on television around the same time further expanded music production facilities, says Mahmud.
The combined effect of these developments was a happy one for the Pakistani music milieu. Singers and musicians became stars. Music producers became more like recording engineers rather than the music directors of old.
Tina Sani was inside a recording studio in Karachi to sing a song composed by Nisar Bazmi. The musicians were to play their instruments live while she sang. She was not used to that kind of atmosphere — being in a room with so many instrument players. She got flustered. As she sang, she realised she was not keeping up with the music. After an hour of trying, she gave up. "You can drop me home now," she asked Mahmud.
On the way, Sani told Mahmud that "the whole ambience" in the studio was making her nervous. Mahmud offered a solution — the musicians and the singer would be recorded separately. She instantly agreed.
Without the pressure to keep up with a live orchestra, Sani recorded her part comfortably. The arrangement, however, posed a problem for the sound engineer, Iqbal Asif. Recording the musicians and the vocalist separately meant he had to 'punch in' and 'punch out' sound tracks onto a magnetic tape — a complex and tedious method of dubbing one track over the other. One tiny mistake could corrupt the whole previous recording, rendering it useless. He was up to the task, though.
Asif and Mahmud, at that time, were working with EMI Pakistan, which they had joined in the early 1970s. The former joined the music industry equipped with a master's degree in physics because "there was no one with any technical expertise working within the field of sound engineering for non-film music".
As Sani says, a "certain level of trust" developed in production companies that they would ensure the final product to be of a certain calibre.
His EMI Pakistan job included positioning microphones, seating musicians at an appropriate distance from each other to avoid spillover of audio input and, finally, mixing live sounds. He was responsible for recording most, if not all, of EMI Pakistan's repertoire produced between the early 1970s and the early 1990s.
The company came into existence in 1973 when the Gramophone Company of Pakistan rebranded its labels – Columbia, Parlophone, etc – as EMI Pakistan. The rebranding called for a fresh approach to music production. With the availability of stereo recording facilities, EMI Pakistan was looking to diversify.
Soon EMI Pakistan and PTV entered into an arrangement whereby the former provided its recording facility and the latter became the distributor of recorded music, says Mahmud. Once PTV was able to air EMI Pakistan content, it got access to a steady stream of broadcast material. On the other hand, EMI Pakistan found a reliable distributor, which was not fettered by financial constraints.
Mahmud is one of the people who made this arrangement possible. He started working at PTV Lahore in 1972 as the producer of a music show for children, Akkar Bakkar. After churning out original music twice a week for two years, he began working on another show, Such Gup. Every episode of it included a musical interlude which enabled Mahmud to introduce artists such as Nayyara Noor.
Also read: Tina Sani—A voice of her own
Mahmud has a great ear for musical sounds, mixing and musical structures, which has enabled him to produce music that became instantly popular. He moved to Karachi around the time EMI Pakistan was being rebranded, and became its record producer. From 1976 to 1993, EMI Pakistan was able to record music luminaries like Noor Jahan, Mehdi Hassan, Sani, Munni Begum, Reshma, Ahmed Rushdi and Abida Parveen — mainly, if not entirely, due to Mahmud's initiative.
Sani gives EMI Pakistan and its leading lights all the credit for her music career. "[I am] a product of people who developed me [at EMI Pakistan]," she says. "Without them, my sound would not have been what it is."
Earlier in her career, Sani recorded some songs for television where "a composer would discuss a tune" and everyone immediately stepped into a studio to record. She had no experience of what it was like to have a "dedicated monitor" until she began working with Mahmud. Sani says: "There was a certain level of comfort [where] you never felt alone or on your own in the studio."
The artists received guidance in a conducive environment that brought the best possible performance out of them. As Sani says, a "certain level of trust" developed in production companies that they would ensure the final product to be of a certain calibre. The companies, she says, were invested in music as much as the artists — and a hit album would benefit both.
Pakistani music production companies soon came under pressure that they had never experienced before. Increased communication and travel facilities in the late 1970s allowed Pakistani audiences to access foreign, especially Indian, music in bulk. Simultaneous technological changes led to the replacement of record players with audio and video cassette players. By the early 1980s, it became easier to consume and personally curate – even record – music.
Mahmud remembers that "the indigenous sale of music was going down" at that time. This led production companies such as EMI Pakistan to lean towards what he calls "teenage music". This, according to him, became the "meat of one's catalogue".
Mahmud began to scout for what would resonate with the youth of the time. With his extensive knowledge of artists and their repertoire, he signed bands like Vital Signs, Junoon and Strings and singers like Nazia Hassan who he, correctly, predicted would all be hits.
Chaudhry Rehmat Ali was a man of lofty ambitions. His Rehmat Gramophone House, a small shop selling audio cassettes in Faisalabad's Aminpur Bazaar in the early 1970s, hardly matched his aspirations. He set about looking for musicians and singers and hit upon a polished gem.
A family of musicians that had been singing qawwali for generations used to live near the shrine of Baba Lasuri Shah in Faisalabad. Its senior members were revered for their musical skills and they performed regularly at Sufi shrines and private events.
Ali heard a young man from the family sing and immediately offered him a deal he could not refuse. This was the birth of the legend of Nusrat Fateh Ali Khan, whose first cassette was recorded at the cramped and minimalist recording facility at Rehmat Gramophone House. Nusrat Fateh Ali Khan went on to record hundreds of cassettes for the shop that took the responsibility of distributing his music all over the country.
Stores and shops selling and renting video and audio cassettes opened in every nook and cranny of the country.
Attaullah Khan Esakhelvi was the other star that shone brightly with the assistance of Rehmat Gramophone House. Earlier, he was producing his own cassettes with rudimentary equipment and distributing them only through informal networks to a very limited audience. Ali's ever-sprawling distribution network made Esakhelvi a country-wide phenomenon. The singer created so much music with the help from Rehmat Gramophone House that he developed a cult-like following in the 1980s among truckers and bus drivers.
Adorned with a picture of its founder, Rehmat Gramophone House's records and cassettes tapped into a market completely different from the one being served by EMI Pakistan and PTV: a huge – almost captive – audience of Punjabi folk music.
Take a moment to imagine what music today would sound like if Nusrat Fateh Ali Khan had not left us with a vocabulary of songs we use as a benchmark to understand music? Or a sonic world where Esakhelvi had not transcended geographical boundaries through his tunes, blaring from the cassette players of almost every bus and truck in the country.
Rehmat Gramophone House's tracks sound like recordings of live performances — raw and untreated. This means that the work of a folk singer – say, Allah Dita Loonay Wala – was captured on tape with all its imperfections and echoes in a way that made the track sound as if he was singing in front of an audience rather than in a studio. This inadvertently gave authenticity to the music.
Khalid Sadaf boasts that he once had "the largest [music] distribution network in Pakistan". He further says that he built it in less than a decade into the business.
Sadaf set up his company, Sadaf Stereo, in Karachi in the late 1980s, initially as a wholesaler of cassettes and CDs. Soon it branched into recording and distribution of media content — mostly music and movies.
Sadaf's empire was built on the ashes of EMI Pakistan which could not find the solution to a music market flooded with mass-produced, pre-recorded music. For more than a decade, most, if not all, of the music available in Pakistan in cassettes and CDs passed through Sadaf Stereo, regardless of whether it was branded with a Sonic, Sound Master or Eagle Music insignia. Through its manufacturing facility that produced pre-recorded cassettes and CDs, the company was providing content even to its own competitors.
Stores and shops selling and renting video and audio cassettes opened in every nook and cranny of the country. Sadaf Stereo, Eagle Music and Sound Master became household names.
These companies did not follow the record label model — there were no studios for recording and no in-house producers. They solely dealt with distribution. Only if required, Sadaf would put musicians in touch with a studio to record their music but most musicians came to him with the finished product. "The artists would produce their own music and we would release and distribute it," he says.
Sadaf also claims he "made friends and didn't run a company", which suggests he gave creative freedom to the artists who signed on to the Sadaf Stereo brand. His firm was not interested in obtaining ownership of the content.
Also read: The lost soul- Qawwali's journey from ecstasy to entertainment
Many in the business accuse the distribution companies of manipulation, if not exploitation. They provide only a "lump sum" amount as royalty to the artists, says Ali Noor, frontman for the band Noori.
Noor also recalls Sadaf saying that he did not believe in "band culture", suggesting he was not willing to sign non-traditional musicians. But the demand for the band was so high that he had to bring it on board, Noor adds. Distribution companies, thus, were not interested in promoting artists who were seen as too experimental, even when they were interested in acquiring their music to distribute.
By the early 2000s, Sadaf Stereo and its various avatars had established a virtual monopoly over how people in Pakistan consumed movies and music; cassettes, by then, were replaced by CDs and digital video discs (DVDs). PTV was long past its prime when its equipment was new and its producers professional. Film had ceased to exist — well, almost.
But then the unstoppable media revolution destroyed its own children. Karachi's Rainbow Centre and Lahore's Hafeez Centre made available fresh Indian and English content within days after its international release. Soon, Sadaf Stereo, and others of its ilk, would move to the background.
Mekaal Hasan returned to Pakistan in the early 1990s after his time at Berklee College of Music in Boston. He discovered that limited resources were available to musicians looking to create something different from what was being produced and consumed in the mainstream. Trained as a music producer and possessing the skill to play many instruments, he realised "the need for some kind of a [music production] facility that was not necessarily film-music related".
Hasan set up Digital Fidelity Studios in 1995, housed in the annexe of his home in Lahore. The annexe, located at the end of a lush green garden, offers a much-desired escape from the noise and mad rush of Waris Road just outside. Two doors lead from its quaint, dimly-lit seating area — one to the recording room, the other to the mixing room.
In the first room, you are surrounded by a state-of-the-art mixing console that looks into the recording area. The instruments and recording gear around the room are certain to get any musician's blood rushing. The glossy finish of the mixer and the overpowering but inviting recording room make one relish the sound filling the studio.
Hasan sits in his chair in front of the multitrack mixer. His right-hand man, Gullu, carefully stows away all the equipment recently used in a recording. Hasan says he has an "old-school" ideology for music production; he makes sure that "people play the instrument rather than replace it with a machine". This is decidedly more time-consuming but "the sound that you get is really the sound of the group of people" who are being recorded.
Karachi's Rainbow Centre and Lahore's Hafeez Centre made available fresh Indian and English content within days after its international release.
Hasan produced his first two albums, co-VEN's Not in Your World and The Trip's Middle of Nowhere, in accordance with this philosophy. Interestingly enough, both these bands chose to make music in English. It seems highly unlikely that any other studio at that time would have been able to cater to co-VEN's grunge-rock, Mother Love Bone-inspired antics or to The Trip's Bruce Springsteen style ballads.
Digital Fidelity Studios served as a space that, according to Hasan, pushed for "a new sound reflective of the contemporary musical identity of the artists" at that time. By facilitating offbeat artists, he amplified the voice of a new wave of music.
He also has his eponymous band that participated in the Pepsi Battle of the Bands in 2002. There he crossed paths with another band, Entity Paradigm. By the following year, he had produced their album Irtiqa.
Noor, the Noori frontman who was another musician to benefit from Hasan's expertise, says he started recording "reference vocals" for Suno Ke Mein Hun Jawan on a Compaq computer his "father sold his car to buy" for him. With a grand total of 16 megabytes of random-access memory (RAM), it took him close to two years to develop the songs for his band's debut album.
Then he started working with Hasan. Noor lugged his computer over to Digital Fidelity Studios where computers were not used for production. He thought it was impossible to edit the tracks to perfection if they were recorded without a computer.
But computers have glitches — and the one that Noor's computer developed rendered an entire fortnight's worth of recording completely out of sync with the drums. Gumby, the drummer, came to the rescue. "[He] re-recorded the drums for the whole album in two hours," recalls Noor. This helped Hasan get through the final mixing of tracks and produce the album without any delay.
Sarmad Ghafoor, a Peshawar-based musician-producer, has been using cutting-edge technology to produce music. Known for his work with bands and artists like Qayaas, Abbas Ali Khan, Jehangir Aziz Hayat and Atif Aslam, he first thought of setting up a studio when he wanted to record an album for his band Rungg.
During his search, he came to the realisation that none of the available studios had the facilities he was looking for.
In a eureka moment, he figured out he could "do everything" himself with Musical Instrument Digital Interface (MIDI) equipment and a synthesiser that could emulate almost all the instruments. All he needed was a room and a digital device – a desktop or a laptop – that could catch and record sound signals, and he could produce full-length albums.
This ease has helped experimental musicians to come up, catering to a wide spectrum of musical voices.
After buying some basic equipment, Ghafoor began transforming his basement into a makeshift studio. He constructed a booth for vocals and another one for the drums. Both the booths were acoustically treated so the result was "pretty rock sounding". He then procured the latest version of Sonar software. This arrangement enabled him to produce Rungg's debut album, Green, in 2005 — all in his own basement.
Hasan says he has an "old-school" ideology for music production; he makes sure that "people play the instrument rather than replace it with a machine".
Ghafoor argues he did not go for digital recording equipment for the sake of looking fancy. He says he has come to the conclusion through research and evaluation that the "digital sound is more real than what you get from an analog sound". He adds: "It was more a matter of aesthetics than anything else."
Not far from Ghafoor's SnM Studios in Peshawar, two young boys worked on songs in English, using electronic instruments only. One of them was Ghafoor's younger brother Sajid. The other was Zeeshan Parwez. The two teamed up for their eponymous band – Sajid & Zeeshan – in 2004.
Having learnt production from Ghafoor and music magazines, Parwez describes his own workspace not as a studio but "a chilling room where friends get together". With no acoustic treatment or separate booths for singers and musicians, he says, "it is the worst room to record in" due to its "high ceilings and ventilators". But he prefers it this way because he wants to record music as "if it is any drawing room recording."
Parwez sees Ghafoor's studio as a "haven and refuge". It is not a space where you rehearse, record and leave. Instead, he says, it has become a space for experimentation and learning. That experimentation manifested itself in Sajid and Zeeshan's debut album One Light Year at Snail Speed (released in 2006 by EMI Pakistan).
Also read: Seeking paradise- The image and reality of truck art
Other Pakistani musicians were doing similar kinds of experiments elsewhere around the same time. Two of them, Omran Shafique and Taha Malik, met 10 years ago through social media. Malik was in his early teens then but was already working with UK-based Bhangra acts like Stereo Nation. Shafique, on the other hand, had a bluesy-rock background. The two seemed an unlikely pair.
Yet they joined hands to produce an album for the rock and roll band Mauj, which Shafique had founded. Its album, Now in Technicolor, was initially recorded in Shafique's bedroom. It was then reproduced in Malik's home studio in Houston before its 2009 release.
According to Malik, the album was produced with "pretty much no gear" in his garage. There was a cramped vocal booth in the corner where the band squeezed in the drum kit to ensure they got a signal dry enough for Shafique's liking. Malik was relentless in making Shafique do dozens of takes for each song — much to the latter's annoyance.
He insisted on multiple takes not in order to make the recording sound like it was done by more people, says Shafique. He, instead, wanted layers to create a signature Mauj sound that might not have been possible to create directly from the microphone with a single take.
Mauj released its debut music video of the song Khushfehmi (directed by Babar Sheikh), in 2004. It got airtime on many television channels such as Indus Music, The Musik, Play TV and Aag TV.
The broadcasts helped the artists garner an audience but television provided little or no opportunity to earn money, unless they had corporate sponsors on board. To fill the financial void, Aag TV started a record label in 2006 by the name of Fire Records.
Backed by Independent Media Corporation, which owns Jang Group of Newspapers and Geo Television Network, Fire Records seemed like a lucrative option for musicians looking to break onto the scene. The label provided artists with facilities to produce music videos, arranged their concerts and took care of all the advertising and public relations. In its brief but powerful existence, the label released the music of such artists and bands like Ali Azmat, Ali Zafar, Zeb & Haniya, Mauj, Atif Aslam and Call.
Unlike Sadaf Stereo, Fire Records pounced on the opportunity to own content. Having signed an impressive roster of chart-topping musicians, the label was in a powerful position to do so. It signed contracts that included a lump sum fee for singers and musicians but the company got all the rights to their music. Exclusivity clauses meant that television channels not part of the Geo Television Network would have to pay to play the content. This restriction, by default, defeated the purpose of the label as far as promoting the artists was concerned.
Mauj signed on with Fire Records in 2008. A year later, the label was set to release the band's third single, Mona, accompanied by a music video. Due to a "series of complications", says Shafique, the release was delayed till 2010. That proved detrimental. All the traction Mauj had gained from the publicity of the song dissipated as Mona became readily available, in audio format, on the Internet.
Fire Records failed to find a way around the Internet. It could not come up with a distribution structure for an age in which physical copies of recorded music were no longer needed and demanded. It had to throw in the towel.
Pakistan found itself in great turmoil throughout 2007. The lawyers' movement created a political storm not witnessed in the country in the previous eight years. Incidents of terrorism also became, both, more frequent and more deadly. The country seemed to be preoccupied with its survival. Everything else became secondary.
Music channels started disappearing in this atmosphere. Those that survived were primarily interested in playing Indian content. Record labels were already a thing of the past, holding concerts was unthinkable, Internet piracy was at an all-time high and it seemed that Pakistan's music industry was in its death throes.
Out of all the gloom, Coke Studio reared its glittering head. Produced in front of a live audience, its first season was aired in 2008. Former Vital Signs member Rohail Hyatt was the executive producer of the show and his then wife Umber Hyatt was the producer. Together, they orchestrated a show that has since become the most successful music production to come out of Pakistan.
Unlike Sadaf Stereo, Fire Records pounced on the opportunity to own content.
It is recorded and produced with a live house band — originally comprising familiar names like Gumby and Shafique, though many changes have subsequently taken place in it. The musicians, in turn, set the score for A-list artists like Rahat Fateh Ali Khan and Strings in the show's opening season.
Suddenly, Pakistani music looked to be getting out of the emergency ward.
The show, backed by Coca-Cola, the biggest soft drink brand in the world, does not have to worry about buying time on television channels. Having completed nine seasons so far, it does not need to make money at all. Billboards, television commercials, radio spots, print ads, brand integration and online buzz are all taken care of by Coke, which pushes its brand name in whatever way it can through the content.
With Coke handling distribution and advertising, Rohail took on the role of the traditional producer, handling every aspect of the production process. He directed the music for each song — from determining its key, tempo and structure to coaching the supporting vocalists.
Rohail had complete creative control but, at the same time, he facilitated each musician featured in the show to unleash their full potential. In a conversation with singer Bilal Khan during the rehearsals for the song Toh Kia Hua, Rohail said he was not "looking for a commercial track at all" but, instead, was interested in facilitating what the artist wanted to do.
Coke Studio, in Rohail's own words, became the artists' "area of expression". He turned that expression into a cohesive musical experience.
Following Coke Studio's success, quite a few similar music shows spawned over the years. Ufone-sponsored Uth Records, produced by Gumby and Shafique, and Cornetto Music Icons were among them.
These shows featured many independent musicians.
Nescafe Basement, however, is the show that has got closest to battling it out with Coke Studio. Having started in 2012, it is produced by musician-producer Zulfiqar Jabbar Khan who is known by his nickname Xulfi. He has made a serious effort to find new talent and has aimed at creating his own brand of fusion music.
By reworking classic Pakistani songs, in a way similar to that of Coke Studio, with perhaps a more overt approach to fusion, he creates content that has become popular and is broadcast on all major television channels. His productions have also attracted a large online listenership through Facebook and YouTube.
Thanks mainly to the success of such commercial shows, Pakistan is again bubbling with musical energy. Everything from electronica to rap, from indie to folk music, is beginning to flood the music scene.
Yet, the total absence of recording companies and their record labels and the prolonged ban on YouTube did force many artists to take to social media to promote their music. Indie bands such as Poor Rich Boy, Basheer & The Pied Pipers, Sikandar Ka Mandar and Mole had started doing the rounds on Facebook, Vimeo and Soundcloud.
Out of all the gloom, Coke Studio reared its glittering head.
Lussun TV, an internet-based music show, came about as a tailor-made platform to cater to this new wave of musicians. As an alternative to Coke Studio, Lussun TV allowed independent producers to compete with corporate-backed music as much as it could.
Debuting on YouTube in 2011, it was initially designed to be a part of MTV Pakistan, with a format reminiscent of video jockey shows — complete with short skits in between songs. But MTV Pakistan never really took off so Lussun TV was distributed as an independent web show.
With the aim to give independent musicians a voice, it showcased such non-mainstream artists as shoegaze band //orangenoise and singer-songwriter Shajie. Directed by Nadir Shehzad of Sikandar Ka Mandar and produced by Bilal Nasir Khan, aka Rudoh, Lussun TV strived to create music that would be commercially viable and, at the same time, be of a high standard.
However, the show could not sustain. After four seasons, its producers realised that it was not gaining enough traction among audiences. They gave up the dream to compete against corporate-sponsored music.
As soon as you walk into a studio named True Brew Records, the cacophony of Gulberg's Main Boulevard in Lahore fades away almost instantly. Past a modest stage area is a workspace where multiple screens showcase the carefully colour-coded tracks.
The space belongs to Jamal Rahman. It is one of the many traditional studios, with dedicated space for recording and state-of-the-art equipment, which still exist — even thrive. In the age of a single person working as producer, musician and promoter, thanks to high-end recording equipment, these facilities look out of sync with the do-it-yourself spirit of contemporary times, yet they are necessary for a music industry far from having cracked a viable formula for production and distribution.
Rahman and his team of trained sound engineers have produced the work of singers like Jimmy Khan, Ali Sethi, Zebunnisa Bangash and bands like Red Blood Cat and Shorbanoor. His studio has also produced the score for the feature film Manto.
Danish Khawaja and Zain Ali are two contemporary music producers who believe in combining traditional and modern studio spaces for their work. When they collaborated with Thari folk singer Mai Dhai, they did not record her music at their own minimalist facilities but at Hasan's Digital Fidelity Studios in Lahore. The tracks they produced – Sarak Sarak and La Goray – were so well done that Mai Dhai was next seen on Coke Studio.
The duo representing Poor Rich Boy and Red Blood Cat, respectively, have a skill set so good that they were asked to work on scores for films like Manto and Ho Mann Jahaan. The list of their production credits is impressive but that does not guarantee them regular assignments. "People are reluctant to hire me and opt to work with more established producers," says Zain Ali.
This brings up the question as to how the industry decides how good a producer is? Does the quality of a studio space determine the quality of the music produced? Can a producer make his mark through a minimalist makeshift set-up?
Back at True Brew Records, there are few answers to such questions but there certainly are artistic options here that are not available elsewhere. Like any other studio, it not only produces commercial projects such as film scores, sound designs and jingles for television commercials, but also invites independent musicians to perform and record their work at the facility.
Could that be the model for the future — making money from commercial projects but using some of it on promoting music that is not tied down by corporate sponsors? The answer lies somewhere in the future.
Ali Suhail is a singer, songwriter, multi-instrumentalist and music producer. He works in a small studio in Karachi — with no gleaming mixing boards, no acoustically treated recording rooms. There is just enough space for a bed and a desktop computer, surrounded by a clutter of recording equipment.
Suhail has produced music for bands and singers like Sikandar Ka Mandar, Shajie and Zia Zaidi in this very room. Battling against blowing horns and the constant hustle and bustle of the Seaview road, he has to time his recordings in such a way that no (traffic) spillover seeps into his music.
It is a perpetual struggle, yet he feels more comfortable in his own space than anywhere else. "Art and its creation have never been more accessible," he says. This accessibility is a boon, he says, for "anyone who couldn't record [their music] at a professional studio, for any reason — be it creative differences or the fact that you don't have 75,000 rupees to spend on a song you wrote in your bedroom on a bad day".
Suhail has produced and released albums for his own bands, The Joomi Project and Jumbo Jutt, and also for other indie musicians. And he is adamant to make use of easily available technologies. His objective is to experiment and get a high-quality sound that reflects the narrative of the artists, no matter how out of the box the work may be.
You no longer need a very big machine [for recording and production].
Waleed Ahmed is another notable contemporary producer making music in the comfort of his bedroom. Hailing from Lahore, he has performed with various bands, including Dionysus and Lohikarma, before coming up with his solo act Janoobi Khargosh.
Ahmed started producing music at the age of 15 and has produced albums for each of the bands he has been associated with. Most recently, he produced Shajie's Aaram Karein and Janoobi Khargosh's Billi, Khamba aur Urantashtari.
Karachi-based Zohaib Kazi is also a music producer in the same vein. He has been producing electronica-infused music for some of the biggest artists in Pakistan since 2006. Kazi has a technology-heavy approach towards production and has produced the work of musicians like Zoe Viccaji, Sara Haider, Jaffer Zaidi and Devika Chawla.
"You no longer need a very big machine [for recording and production]," he says. "I have always been comfortable with a portable machine." He does not even insist on having a dedicated space to do his recordings. Kazi says he can put lyrics to music wherever he is. Only for the finishing touches does he bring a song to his studio space where he mixes the tracks and produces master copies.
His own debut album, Ismail Ka Urdu Sheher, was recorded, mixed and mastered in his own peculiar way and was quite well received.
Bilal Nasir Khan, another electronica musician-producer, has been working in Karachi for several years. He started his music career as a member of the band Mole but then began creating music under the moniker Rudoh for the music collective Forever South.
He, however, does not endorse the do-it-yourself approach to music production even though he jealously guards his creative independence as a musician. This approach, he says, is an "injustice to all the hard work" that has gone into the evolution of sound engineering. An electronica musician, he says, must have a set-up that is technically sound and "calibrated to make accurate [sonic] references". Bilal Nasir Khan is currently in the process of giving final touches to his own studio.
There seems to be no shortage of music being made in the country, but most of it is unable to reach its audience. With no record labels or distribution companies, you do not walk into your local CD shop and expect to see the work of your favourite indie artists stocked on the shelves. Television channels are primarily playing the last three seasons of Coke Studio and/or Indian content. Radio stations also oscillate between foreign and local content.
Music listeners have certainly moved to the Internet, but it is such a busy place that it takes proactive effort to look for new music on it. Attracting audiences and making them pay for the music they listen to, is a massive challenge in this environment. This is where streaming services – such as Patari and Taazi – have become relevant, if not entirely successful.
A contemporary music producer is certainly doing many things differently – and on different gadgets – from his predecessors.
Patari works with a model similar to that of Spotify. It sprang up in 2015 as a tech start-up and pays artists according to the number of times their songs are played. It paid 1.25 million rupees to artists at the end of its first four months of operations. The platform itself makes money through ads on its website.
In late 2015, Patari acquired songs of various indie musicians for a promotional digital album titled Patari Aslis. It includes the work of bands and artists like Hawai Jahaaz, Mehdi Maloof and Shajie. It has also funded concerts and collaborated with artists and bands like Sara Haider, Noori and SomeWhatSuper to boost listenership.
Taazi was initaited in 2010 by Haroon Rashid of the band Awaz, but was relaunched a few months after Patari went live. It focuses on ensuring that artists are in absolute control of their copyrights. This is one lesson that many industry veterans have learnt from the disastrous Fire Records experiment. Both these services are still in their infancy and have serious gaps in their services. Firstly, they lack careful curation of content, even though they have impressive libraries of classic and contemporary Pakistani music. There is no screening process to decide which artists to feature. The result is uneven quality, both in terms of production and musicality.
Secondly, they offer limited advertising space beyond their websites. With the users of third generation and fourth generation Internet connections increasing, they may diversify their audiences in the near future and create more avenues for advertisers so as to make more money, both for themselves and the artists they feature.
A contemporary music producer is certainly doing many things differently – and on different gadgets – from his predecessors. More often than not, they find themselves confined to being just audio engineers. They also do not always have money to be able to produce independent music, not backed and controlled by corporate sponsors. The biggest problem they face is the virtual absence of financially viable avenues for distribution. Yet, they are alive and kicking.
As we wait for the right formula – comprising talented but independent singers, skilful but ready to experiment producers and market-savvy but art-friendly distributors – to harness the musical energy that Pakistan is bursting with, we can enjoy some great music that we already have: A Noor Jahan song from a film released in the 1950s; a Mehdi Hassan ghazal from an album recorded in the 1960s; a Nayyara Noor geet from EMI Pakistan records of the 1970s; a Nusrat Fateh Ali Khan qawwali from a cassette distributed by Rehmat Gramophone House in the 1980s; a Junoon song broadcast on PTV in the 1990s and, of course, everything else in between and beyond.
While these classics remain evergreen, it is exhilarating to watch the music industry take flight — with or without the right formula.
---
This article was originally published in the Herald's November 2016 issue, under the headline "Melody makers". To read more subscribe to the Herald in print.
---
The writer is the founder of Music Meet, the NGO that host's the annual Lahore Music Meet.