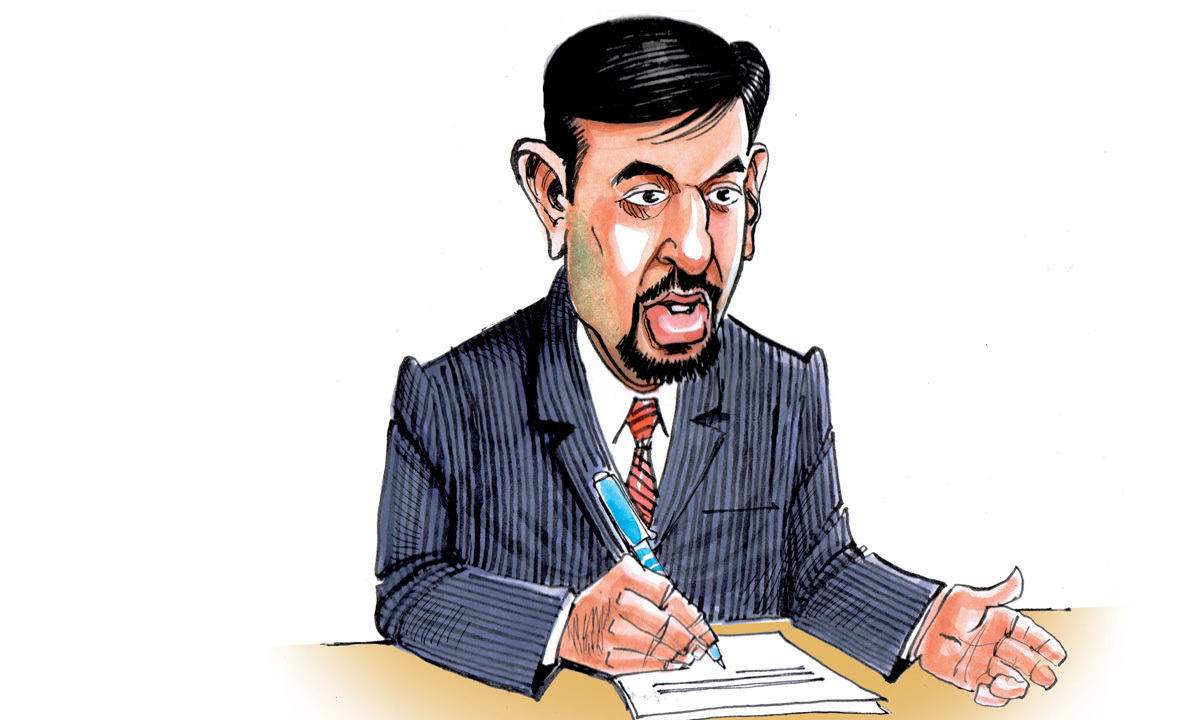 This is Karachi's one and only true mayor: the mayor eternal. I was born Karachi's mayor and, by God, I will die Karachi's mayor.
Fate brings strange twists in our lives, even stranger than my cowlick. I was once a RAW agent, recruited by that evil man in England and sent to Bombay for training. I still bear the secret mark that all agents carry with them at all times: a French beard.
Altaf Hussain bullied me into being a political stalwart for decades and a mayor for five years. The amount of times I had to hug that sweaty, intoxicated man. The amount of times I had to sing his praises and make sure his telephone calls weren't dropped. The amount of times I was forced to make fiery speeches and wave to the public smiling and laughing — I can tell you I was crying where it mattered, on the inside. It was all under duress. I was scared for myself, for my mayorship. So I didn't say a word against him and consolidated my position in the party, as anyone fearing for their life would do.
Now that he doesn't want me to be mayor anymore, all my fear is gone. I can talk openly.
Today, I want to tell the people — all the journalists, all the media men (who I guess are also journalists), all the traders, all the business owners, all the doctors, all the part-time call centre workers, all the struggling second-hand cars salesmen: nobody's born a RAW agent. It is Altaf Hussain who makes RAW agents.
Everyone knows Bhai has connections with RAW, I used to dial the calls myself.
That man corrupted all of Karachi. He cut all the trees, broke all the roads, took all the clean water with him to England. He was behind the separation of Bangladesh in 1971, the 9/11 attacks in 2001 and caused the 2005 earthquake (he fell out of bed). He always smells like a distillery and drinks more than the entire country of Ireland put together (he used to drunk dial me and give me missed calls at four in the morning). He is responsible for every target killing that has ever happened in the world, and all those that are yet to happen.
But my job isn't just to talk against him. My job is to invite people to join me in escaping his criminal empire. I am not doing this for power or money or fame, though those would be nice. I just want other party workers to make the same choice as me and say no. I just hope it doesn't take them as long.
It was obviously a painstaking process trying to name this new party, all party members had to be involved and everyone came up with a suggestion each, so we had four in total. First, I thought it should be Mustafa Qaumi Movement, but we were running into trouble with the acronym.
In the end, it was a tough choice between 'Pak Sarzameen Party', 'Kishwer-e-Hasin Party' and 'Millat Ke Pasbano Ae Qaum Ke Jawano Party'. But it could also have been Press Conference Party.
The party flag was chosen when I went to visit Anees Qaimkhani at his office and saw a tiny version of it on his desk. I asked: what is this crescent and star thing? He said I don't know, but isn't it pretty? I said, yes, let's make this our party flag.
The party manifesto is still to be written, and will be written by those who are most competent. Which means not me or Qaimkhani.
Told Anees Khan Advocate that I've made a new party, promised no more telephonic addresses and Skype calls. He said okay, he's in. Once General Commando's back is better, he is most welcome to join us. I myself had back problems a couple of years ago and had to leave for Dubai.
Raza Haroon also joined my party. Was disappointed to learn it was just one person, not two.
Told Qaimkhani we are going to have a big defector soon. He got all excited and asked if Bhai is joining our party too? I almost choked on the congratulatory mithai we were having.
Bhai called me after the press conference, you know. He said I'm not angry with you Kamal, you just broke my heart.
I don't take dictation, full stop. Read that back to me. Yes, that will be okay. I am not reading from a script either. I say and then put in a dramatic pause, staring tearfully into the cameras and recounting how I've been hostage to Bhai's evil all my life. The end.
Yours patriotically,
Musafa Bemisal Bakamal
---
This was originally published in the Herald's April 2016 issue. To read more subscribe to the Herald in print.