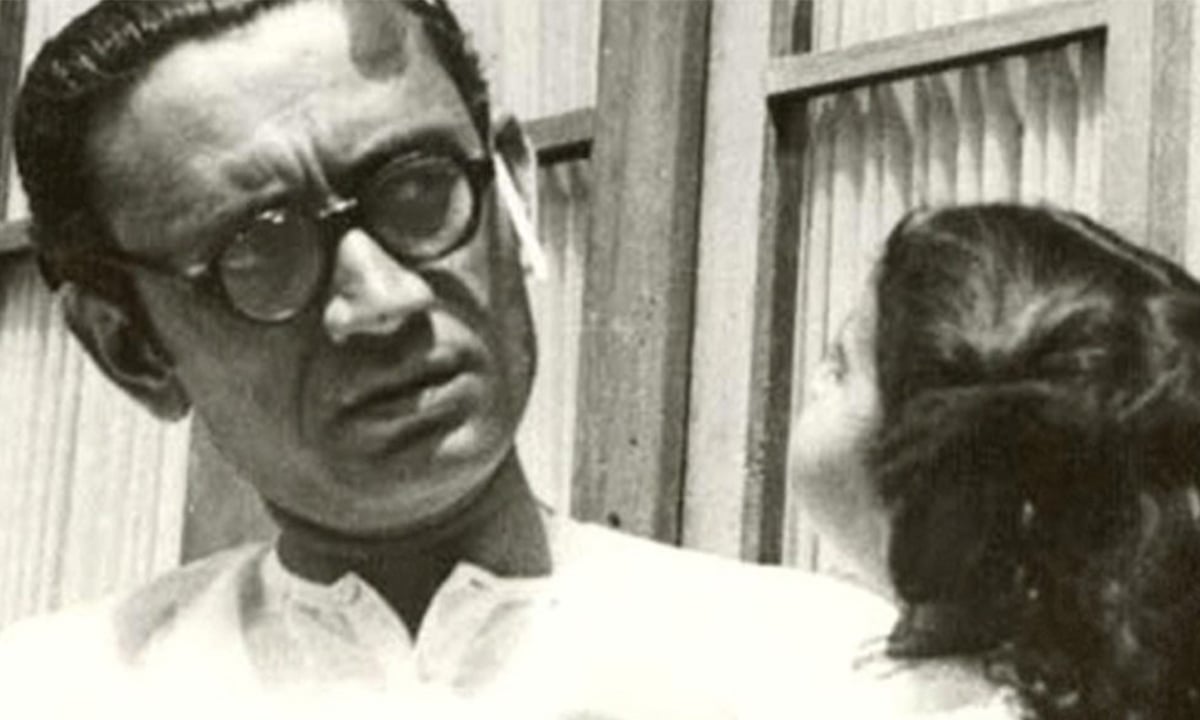 This is the first article in a two-part series on Manto's writing on Jallianwala Bagh.
'I am the trader of sighs To versify blood is my mission Remaining winds of the garden! Gather your refuges…for My fiery songs Are about to cause an upheaval within depressed bosoms.'
Amritsar was a city of worshippers of freedom. A 100 years ago this month, the city witnessed the bloody tragedy of Jallianwala Bagh.
When this violence occurred in 1919, Saadat Hasan Manto was nine years old. The hero of Jallianwala, Dr Saifuddin Kitchlew, was a close relative of Manto's and because of him, the Manto family also had to face misfortunes. Due to this, the calamity was preserved in Manto's memory. He has written a few short stories on what happened: Tamasha, 1919 ki Aik Baat, Divaana Shayir, Swaraj ke Liye, etc.
Manto's ancestral homes were in Kucha Vakilan (Chowk Fareed), Amritsar. Since a majority of his family members were linked to the legal profession, and almost all the houses in this quarter belonged to the Manto family, it had become famous as the 'Lawyers Quarter'. Several powerful Muslim families lived here, and prominent Muslim leaders too were born there.
In addition to Kitchlew, Attaullah Bukhari, Qazi Fazlullah and others were also important political leaders. Several others were eminent lawyers and barristers. Manto's eldest uncle, Asadullah Manto, and Manto's two elder brothers, Khwaja Muhammad Hasan Manto and Khwaja Saeed Hasan Manto, were also barristers. Their higher education degrees were from the UK.
Manto's own initial education was at home. When he was a child of 8-9 years, he was admitted to Class 4 of the Muslim School. The primary section of the school was located near Chowk Fareed, which was only minutes away from their home. After passing Class 4, he was admitted to Class 5 at the Government High School Amritsar, near the statue of Queen Victoria. While he was here, an incident occurred which is worth noting, as it shaped the writer in Manto and was a precursor to the Jallianwala Bagh massacre.
In 1919, the whole of Punjab was agitating against the British government's Rowlatt Act. Indian members of the Legislative Council had strongly opposed the Act; Muhammad Ali Jinnah had resigned from the Council in protest. The newspapers also strongly opposed it, but contrary to all popular feelings, this law took the shape of an Act by being passed on March 21, 1919.
This was deemed humiliating and oppressive. As per the Act, no recourse to appeal, dalil (evidence) or vakil (lawyer) could be had. In that period, Kitchlew and Maulana Ali Azhar, contemporaries of Maulana Zafar Ali Khan, were also excellent speakers. The Muslims of India were already at the forefront of the movement for the restoration of the Caliphate in Turkey under the leadership of the Ali brothers – Maulana Muhammad Ali Jauhar and Maulana Shaukat Ali. Mahatma Gandhi too had given the call for a country-wide satyagraha on February 25, 1919.
The leaders of the Punjab branch of the Indian National Congress were Kitchlew. On March 30, a meeting organised by the two was attended by about 30,000 people. This popular wave worried the then-provincial government. Deputy commissioner of Amritsar Irving warned Kitchlew not to participate in the movement, but the leaders did not heed this at all. Many strikes occurred across the province; now the Act had created an explosive atmosphere.
In these circumstances, governor of Punjab Michael O'Dwyer deemed gatherings and strikes to be a conspiracy against the British government and a declaration of war against the British crown. When Gandhi arrived in Delhi from Bombay on April 8 to review the effects of the movement, he received an official order under which he was barred from entering Punjab; but he proceeded towards Amritsar. He was arrested on the way near Palwal and sent back to Bombay.
The government supplied cantonments in Punjab with further military reinforcements and decided to remove Kitchlew and Satyapal from Amritsar on April 9. Coincidentally on that day, Hindus had taken out a procession on the occasion of Ram Navami, and Muslims too were participating in large numbers. The deputy commissioner of Delhi was of the opinion that the coming together of Muslims and Hindus in this manner has assumed a new political importance.
The rulers were definitely nervous. Irving had received orders for the expulsion of Kitchlew and Satyapal, but he was not ready to follow them since he thought that there was no danger at that moment. People organised peacefully and there was no question of violence, but the very name Governor O'Dwyer stood for blind power. He rejected the deputy commissioner's report. So Irving had to take measures which he thought would mitigate the trouble.
On April 10 at 10 am, Irving called Kitchlew and Satyapal to his bungalow and read out the order of district expulsion to them. He had the two leaders escorted out of the back door and put in a car, and took them to an unknown location. The English officers thought that the situation would improve after their removal. But when Congress members who had come along with their leaders to the deputy commissioner's bungalow protested, they were arrested. The news spread like wildfire. Bazaars and businesses closed down. People began to congregate in droves near the Hall Gate.
All kinds of people were there that day, and among them was school student Manto. Though he was young, he wanted to find out what had happened and why there was a sense of chaos. When people collected near the Gate, a slogan could be heard: "Everyone should go together to the deputy commissioner bahadur and request for the cancellation of the expulsion orders of our beloved leaders." But the moment to make that request never came. The rulers deemed this congregation of the people illegal.
This happened on April 9, and when people began to march from Hall Gate, Manto was with them too. These were unarmed and peaceful people. The procession was stopped near the gate. When they tried to proceed further, the goras opened fire on the other side. Some were injured by bullets and many were injured in the resultant stampede. There was a drain on the right side and some fell into it, including young Manto. The drain was not deep; he remained hidden there until the bullets stopped.
He then returned near the Hall Gate, crossing the drain from the other side passing through the takia of Zahira Pir. Here, a gang of 30-40 youth was hurling stones in anger at the clock of the Hall Gate. Its glass broke and fell on the road. A young man cried, "Chalo…now let's break the statue of the Queen." His friend said, "No yaar..let's burn the magistrate's office." Another interrupted, "And all the banks too…" An agitated young man, stopping them, said, "Wait…what use is this? Chalo let's kill the armed ones on the bridge."
Despite being at a distance, Manto recognised him. He was Thaila Kanjar….his name was Tufail but was famous as Thaila Kanjar. He was the son of a prostitute, and famous as a drunkard and gambler. That was all young Manto knew about him. Thaila's sisters, Shamshad and Almas, were the most beautiful courtesans of their time. The richest people would attend their mujra. Both sisters were always complaining about their brother's tricks.
Manto could see that he was passionate. A mini-party of boys had accompanied him. Some hotheads advanced towards the statue of the Queen. Thaila screamed forcefully, "I said do not waste your passion there, come here with me…chalo let's kill them who have taken the life of our innocent men and injured them. By God, if we come together, we can wring their necks…aao chalo!"
Some stopped, the rest went. "Thaila just wants to tell them that he is not the one to be afraid of bullets," he addressed his fellows. "Those who are afraid can return." Thaila quickened his steps, the others also did the same.
Manto was watching, hidden near the fountain. The bridge was 60-70 yards from Hall Gate. When Thaila got close to the British soldiers on horses, a bullet was heard. Everybody ran, but Thaila kept going forward. He looked back and yelled, "Don't run away…advance forward!" Another shot was fired occurred. Manto saw reddish spots on Thaila's white shirt, but he did not fall and kept moving forward. Another shot. He stumbled, but with one or two strong steps he jumped at the soldier nearest him and the soldier fell. Thaila was on top of him, his hands around the soldier's neck. The other soldiers rained bullets on Thaile. Manto could take no more; he fainted near the fountain.
When he regained consciousness, he was home. People had recognised him and taken him back.
Manto turned his eyewitness account into a story, centred around Shamshad and Almas, and the bravery and patriotism with which they responded to their brother's killing.
After the violence against a peaceful group, the mood in the city changed that day. The rest of the day was marred by violence. Now the crowd was no longer peaceful. It set fire to official buildings, banks, the Town Hall, the central post office, the Mission Hall and the Bhagtanwala Railway Station. The godowns of the National Bank were burnt. Looting intensified in the shops and bazaars.
Wire and telephone systems were also disconnected and European families were forced to take refuge in the fort and other safe places. This fire spread to the villages of Amritsar too. Twenty Indians were killed in these incidents and countless were injured. People were often shot from the back as they tried to flee.
Six Britishers were also killed in this carnage. Two of them were photographing the great door of Darbar Sahib when two people attacked them with swords. Both died as soon as they fell.
In Sharifpura Chowk, an Englishman had a knife pierced right through his neck. He cried silently, waiting for death; eventually he died.
A British woman was running in terror through the lane linking Hall Bazaar and Sabzi Mandi; a mob was in pursuit after her. They came upon the woman in the middle of the lane and were staring at her. She kept revolving on her heels in fear. She let out screams, the party fell upon her. She disappeared below the men. She managed to jump up and run; she was semi-naked. The mob followed, eventually came upon her and then killed her. This was a woman of a missionary school teacher named Miss Sherwood.
Governor O'Dwyer had received telephone calls in Lahore on the situation of the city. Irving had given the city to the charge of the army. The governor had also immediately sent the deputy commissioner of Lahore, A.J.W. Kitchin, to Amritsar. General Dyer was commanding the army. The machinery of the government was in motion.
The inhabitants of the city were now gathering together. One crowd tried to enter Hall Bazaar from the street. There, a lot of armed soldiers were standing. The crowd stopped, afraid. Meanwhile, suddenly a division of Indian club-wielding police appeared in the bazaar from the opposite direction which started clubbing the crowd; some were hit and others were not. In the same manner, people were stopped by bullets and bayonets at other places too. Kitchin presented a full report of control to Governor O'Dwyer.
Kitchlew and Satyapal had been charged in a conspiracy case. Since Kitchlew was a close relative of the Mantos, Saadat's two lawyer older brothers went to Lahore from Amritsar to fight ths case.
On April 10, Amritsar was quiet. The authorities too allowed people to bury or burn their dead, but with the instruction that they should return home by 2 pm after completing their last rites. The supply of electricity and water was withheld as punishment.
When Thaila's body was brought home for burial, it was riddled with bullets. He was not popular in his community, but everyone began to scream and cry upon seeing his corpse. His sisters were in a stupor. Thaila was buried hastily, amid a state of panic. The same situation was seen across houses, as if mourning the dead was some serious crime committed by their relatives. General Dyer marched with the soldiers in the city.
Manto was sitting near his father in the the courtyard of his home. "Abba jan, why don't you let me go to school?" he asked
His father said to him, "Beta schools are off."
Manto said, "Master sahib didn't inform us. He said that whichever boy will not show his copy after completing schoolwork will be severely punished…you didn't even let me go yesterday."
"School is off. So is our office," his father reasoned with him.
"Okay then that's fine. Chalo, I'll hear a very nice story from you today."
"No bhai, not today."
"You don't even let me go out, if I remain at home, I'll listen to a story from you."
Manto was adamant. In the meanwhile, suddenly three airplanes passed overhead. Both looked up, terrified. Manto thought that yesterday too planes had been circling the whole day in the sunlight. He could not reach a conclusion, so he said to his father, "Abba jan, I get really scared by the noise from these planes. Whatever they scream, ask them not to pass over our house."
"You're mad indeed."
"Abba, these planes are so terrible, yesterday Ammi jan was saying that these plane people also have lots of cannons…what if some day they throw a cannon on our homes."
Manto's father Ghulam Hasan cracked up at his son's talk. "Your mother is mad indeed. I will inquire from her why she talks like that at home…don't worry, there is absolutely nothing of the sort."
"If the planes do any kind of such mischief, remember I too have a gun, the same one which you had bought me last Eid." Manto went into his room, practicing marking a target for his air-gun with his finger. He sat at the window of the room which opened towards the bazaar, where everything was quiet. He understood why the bazaars were closed the day of the violence, but why were they closed yesterday and today still? There was no violence outside.
How could young Manto know that all of Punjab was crying silently, beneath the oppression of the British? Arrests were hastily brought into effect in the city. People were publicly flogged. To humiliate citizens, an order was issued for them to salute any Englishman by bowing; the slender lane in which Miss Sherwood was murdered was utilised exclusively for flogging people. Every Indian passing there had to cross the lane by crawling along his or her stomach.
On both sides of this "crawling" lane were two-storey houses. The lane was extremely narrow, dirty and densely-populated. The rule became a source of humiliation and misery for the residents there. They could not bring provisions and basic items from the bazaar and also could not arrange to clean their homes. People of all ages had to suffer. These punishments became infamous across the world – so much so that even Governor O'Dwyer had to contravene General Dyer, because the British government was becoming too notorious.
---
The article was originally published in The Wire.