When their seniors at college asked them to perform at their farewell function, little did Bilal Maqsood and Faysal Kapadia realise how far a simple college function would take them and their friends, Karim Bashirboy and Rafiq Wazir Ali. Encouraged by the success of their show, they formally named themselves Strings and auditioned for Sultana Siddique's TV show, Dhanak, but were rejected — only to be called back after they appeared on the TV show, Youth Festival.
Their performance was seen by impresario and film-maker, Ghazanfar Ali, who invited them to appear on his new show, Music Channel. This proved a major breakthrough for the band, and they performed a total of six songs on the programme. One thing led to another, and EMI approached the Strings and asked them to record an album. Recently, a ceremony was held to launch the Strings' debut cassette. Spurred on by the success of the cassette (20,000 sold in a week, according to EMI) the record company has planned a tour for the band. In an interview with the Herald, the band members talk about their music, their contemporaries and their plans for the future.
Herald: There are many young and upcoming bands, but not everyone can afford a grand launch, such as the one you had recently at the Pearl Continental. Do you think your success may have something to do with your contacts?**
Bilal Maqsood: We never asked EMI to record us. EMI approaches us themselves. They said that they wanted to record us after having watched us on Music Channel.
Faysal Kapadia: Even Ghazanfar Ali approached us after having watched our Dhanak performance.
Maqsood: It was only after we proved ourselves that everything happened.
Herald: How seriously do you take your music?
Kapadia: Right now we're not so serious…
Maqsood: We don't consider this our profession. This is our hobby and will remain one, albeit an earning one. No one intends to make it into a profession.
Herald: How seriously do you take the hobby, then?
Maqsood: For me, no matter what happens, no matter what people say about it, I like my music, and I will continue to work at it.
Kapadia: Rafiq and Karim are involved in their family business, so it would not be possible for them to take it up as a profession.
Herald: Who writes your lyrics and music?
Maqsood: Faysal and I work together on the lyrics, as do Rafiq and Karim sometimes. Everyone works on the music. The main part is the arrangement, which Rafiq handles. Besides this, he handles the programming of the drum machine.
Herald: Your cassette reveals a wide range of musical influences. Do you feel there is a risk that Strings will not evolve its own distinctive style?
Maqsood: If you listen to our album, you'll notice that each song is different from the other. Some are soft rock, some are rock and roll and some rap. All our musical influences are there in our music. It's good this way, as there is some variation in our music. The album does not then become monotonous.
Herald: Don't you think there's a danger of producing a musical hotch-potch as a result?
Maqsood: There is this problem with the album — that it doesn't have one single mood.
Kapadia: There are people who don't like to listen to one mood throughout, it gives them a choice. For example, Pyasi zameen is a slow, serious song and Mein hoon tujh se is a light rap.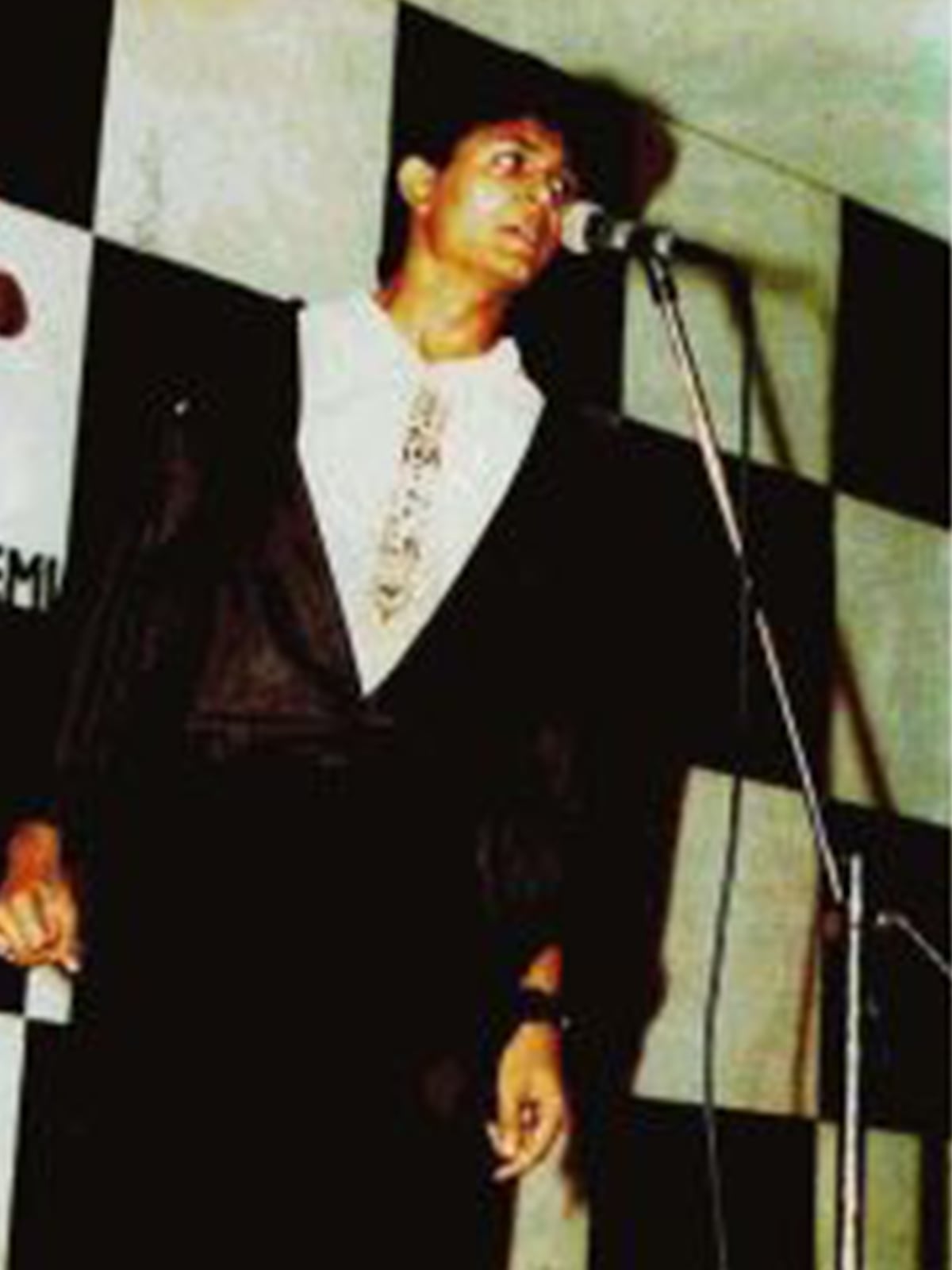 Maqsood: We have tried not to create one mood, so there is a different song for everyone with different tastes.
Karim: It's a new experience, people can interpret it as they wish.
Herald: How are you different from other Pakistani bands?
Maqsood: All the other bands on the scene have a different style of music. The Barbarians are hard rock, Vital Signs are soft rock-pop and the Live Wires play slow, romantic songs. We have a touch of pop, rock and romantic in our music.
Herald: Your music is basically an adaptation of western music put to Urdu lyrics. Have you ever thought of adapting a more eastern style of music using western instruments?
Maqsood: Well, we've never tried that, although I would like to at some stage. But we enjoy the music we play.
Herald: How do you rate yourselves as musicians compared to other Pakistanis playing similar instruments?
Maqsood: I rate myself as average. We are all average musicians.
Karim: I think the arrangement is the most important thing in music.
Maqsood: Our arrangements are very good. But, there is no formal rating system. If there were some schools, some diplomas for music, then a person would be able to rate himself properly. But, unfortunately, everyone is self-taught.
Herald: How do you rate yourself as a live band — as performers instead of simply musicians?
Maqsood: We haven't played live a lot, but the times we have played, people have appreciated our efforts. Right now, we aren't that experienced. All our stage moves, all the talking we do between songs is planned. But I am satisfied with our musical performances.
Herald: When you started the band, what goal did you have in mind?
Kapadia: At that time, we didn't have a goal. We just wanted to be famous.
Maqsood: We did it for fun. Then when we saw this musical trend developing. We thought we'd try and see if people could enjoy our music. People liked it, so we decided that it would be nice if our name was included amongst those who popularised this form of music.
Herald: How do you see people in Pakistan adapting to the changing trends in music?
Maqsood: Today's pop music is one form of music. After a decade or so, this music may not remain, a different form may emerge. But music will always last. There's rock, pop, jazz… They last for a while and then fade away. These days pop music is what is appreciated. There's a trend which exists, but when the trend fades, the music we play today may be dropped for a different type. But music will always last.
It's a healthy change in Pakistan that people have moved away from the old forms of music like ghazals, geets, raags, to a new form of music that Vital Signs, Barbarians and we play. We are going to face, and are facing, a lot of opposition. It's going to take time before people will sit back and remember kay Strings aur Vital Signs aur Barbarians thay jinhon nay yeh music shuroo kee thee. It'll take time for people to adopt this music.
Herald: You hope to be remembered as one of the pioneers?
Maqsood: Why not?
Herald: How far did your parents support you financially?
Maqsood: We earn quite a bit of money through each concert. We had all saved quite a bit of money ourselves as well.
Kapadia: With that money, everyone bought their respective instruments.
Maqsood: We had our pocket money plus the instruments we used to play. We sold the old instruments, pooled the money and purchased new ones.
Herald: How encouraging have your parents been toward your musical careers?
Kapadia: Very encouraging.
Maqsood: Well, they never stopped us. They said as long as your studies aren't affected you can go ahead with it.
Herald: The songs Pyasee zameen and Khilona are attempts at addressing some relatively more serious issues. Was this sincere, or was it just an attempt at being serious to show that you aren't a frivolous band?
Maqsood: There was a sincere motive behind Pyasee zameen. I wrote the song when Tharparkar was in the midst of its drought. Everything was focused on Thar. The lyrics have only been shaped up now and recorded.
Khilona, though, was an attempt to be serious because we thought we had written too many romantic songs, and that there ought to be a change.
Herald: Your song Lori seems to be a straight Elvis rip-off, right down to the guitar solo…
Maqsood: That's not true. Everyone says that. You see, rock and roll and blues scales are the same. They all have the same chord sequences as well. Take Jail House Rock, Blue Suede Shoes, King Creole and our song Dunya Walo, they all have the same mood, they all sound the same.
Herald: Do you think your music can ever have a mass appeal? Your lyrics may be in Urdu, but do you feel your music can appeal to people outside the larger cities or a certain westernised class?
Maqsood: As I said before, it'll take time for people to adopt this music — time for people to get into the habit of listening to it.
Herald: Are you saying that, given time, your music will find acceptance in, say, Chichawatni?
Maqsood: Not now, but perhaps in 20 years or so. There may be two people who appreciate the music, then it becomes five. That way it spreads. It will take a lot of time in Pakistan. When the music spreads, I hope the Strings are remembered as pioneers.
---
This article was published in the Herald's June 1990 issue. To read more subscribe to the Herald in print.