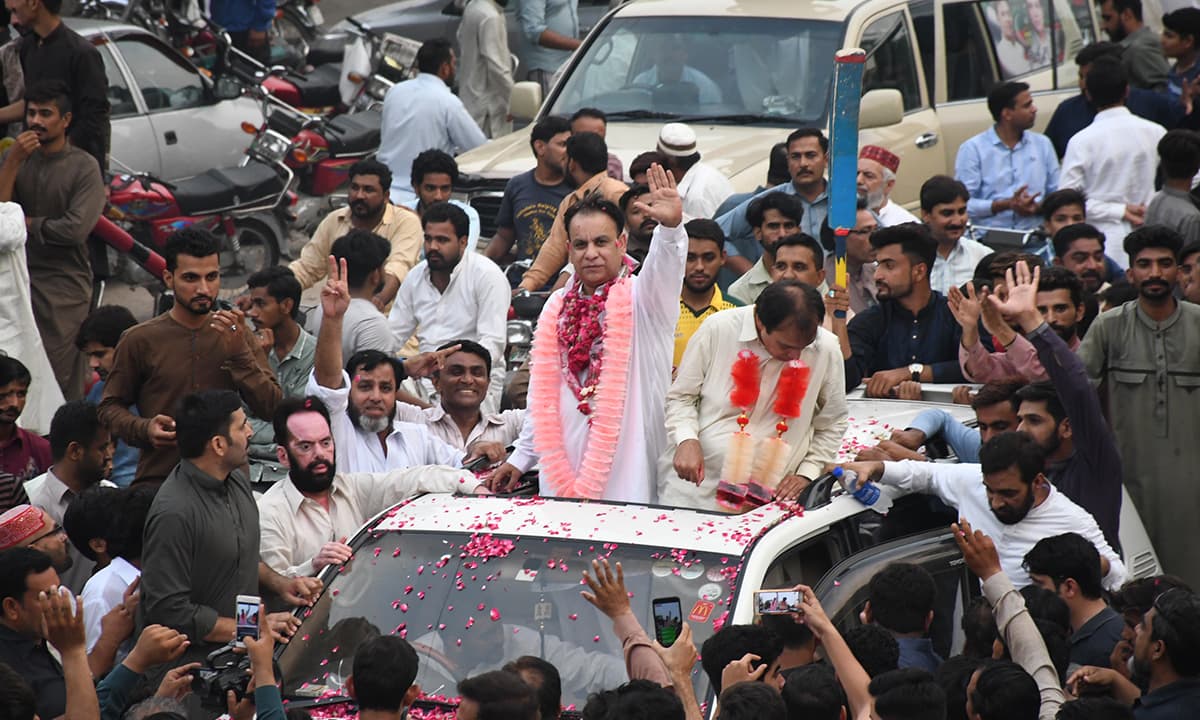 Islamabad has finally attracted the electoral attention it deserves. Three national level politicians, Shahid Khaqan Abbasi of Pakistan Muslim League-Nawaz (PMLN) and Imran Khan and Asad Umar of Pakistan Tehreek-e-Insaf (PTI) are contesting for two of the three constituencies in the federal capital.
This also sets the tone for electoral battles throughout northern and central Punjab where the two parties are vying for supremacy. The battle is fierce for its outcome will determine who makes a government in Islamabad and also in Lahore.
Voters in Islamabad's NA-53 will partake in this clash on the side of either a former prime minister or a prospective one. An urban-rural mix, the constituency includes Imran Khan's house on a hill in Bani Gala. For Abbasi, it is an unchartered territory since he lives in, and contests elections from, nearby Murree. The odds do not seem to favour him.
In NA-52, PMLN's Dr Tariq Fazal Chaudhry is a local resident and appears to be a strong contender. He has been winning from more or less the same parts of the capital since 2008. His PTI opponent, Raja Khurram Nawaz, who heads his party's Islamabad chapter, has his work cut out for him — to overcome PTI's deficit of around 36,000 votes in 2013.
Afzal Khokar, a Pakistan Peoples Party (PPP) candidate, is also a serious contender here. His brother Nawaz Khokhar has won in the 1990s from this area more than once and his family wields a strong influence in the constituency.
The last constituency in Islamabad includes many urban neighbourhoods that existed only in planning papers when the last constituency boundaries were drawn in 2002. These are mostly low-income areas where urban sprawl is haphazard and civic facilities bad.
Asad Umar, a corporate boss-turned-politician, won a by-election from these very neighbourhoods in 2013 (when these were a part of the capital's oldest constituency to the east). His main challenger, PMLN's Anjum Aqeel Khan, won as a member of the National Assembly in 2008, also from the federal capital. The third main contender, Mian Muhammad Aslam of Muttahida Majlis-e-Amal (MMA), too, was elected to the National Assembly from Islamabad back in 2002. He may not make much of a difference to an apparently two-horse race, with PTI seemingly ahead of PMLN.
Rawalpindi's electoral politics is dominated by two former PMLN stalwarts, Sheikh Rasheed Ahmad and Chaudhry Nisar Ali Khan. Both have enjoyed the confidence of the party's top leader Nawaz Sharif to varying degrees in the past.
They are now running on two National Assembly seats each, the former with PTI's support and the latter in opposition to it.
In one of the two constituencies he is contesting from, Chaudhry Nisar Ali Khan is also up against a PMLN candidate, Raja Qamrul Islam, who is in the custody of the National Accountability Bureau (NAB) over allegations of corruption. His campaign is being run mainly by his teenage children which may help him get some 'sympathy' votes though winning the constituency will take much more than that.
Chaudhry Nisar Ali Khan has won eight consecutive elections from more or less the same areas since 1985. This time round, though, he is campaigning with a couple of handicaps: firstly, he does not have the support of a party machine that not just ran his campaigns in the past but also provided human resources to man polling stations on polling day; secondly, he will not get the votes of diehard PMLN supporters who number at least a few thousand in both constituencies he is running from.
These factors give his old rival Chaudhry Ghulam Sarwar an edge in both constituencies. Whether he will win is not certain but what is certain is that PMLN will lose — thanks to the challenge from within by Chaudhry Nisar Ali Khan and the offensive launched from the outside by PTI.
PMLN, similarly, is disorganised in the two constituencies being contested by Sheikh Rasheed Ahmad. One of his opponents, Daniyal Chaudhry, is the son of Chaudhry Tanveer Ahmed Khan — a PMLN senator and real estate magnate in Rawalpindi who is considered close to Nawaz Sharif. This link could be a bane. Nawaz Sharif's imprisonment in Rawalpindi may require Chaudhry Tanveer Ahmed Khan to be at the beck and call off his jailed leader. This may distract him from campaigning.
Sheikh Rasheed Ahmad's second opponent is Hanif Abbasi who, by virtue of his proximity with former Punjab chief minister Shehbaz Sharif, was given a say over large state funds to spend in his constituency even when he held no elected office. He is trying to canvass voters, touting development schemes launched by him — a tactic not quite countering the combined strength of personality, party and biradari that characterise Sheikh Rasheed Ahmad's campaign.
The lone seat where PMLN seems ahead of its opponents in Rawalpindi district is being contested by Shahid Khaqan Abbasi in his home constituency. He – and his father Khaqan Abbasi before him – have been running from this area since 1985, having lost just once in 2002.
The nearby constituency, comprising Gujar Khan tehsil, is the only Rawalpindi seat where PPP has a strong candidate, former prime minister Raja Pervaiz Ashraf. He has the potential to upstage his PMLN and PTI opponents.
Three districts adjacent to Rawalpindi – Jhelum, Chakwal and Attock – were PMLN's strongholds in the last election. For the upcoming elections, the party is in trouble there just like it is in Rawalpindi.
The main reason for the change is PMLN's campaign rhetoric of victimisation at the hands of the army-dominated establishment. The more the party intensifies its anti-establishment slogans the less popular it gets in these districts because they have been main army recruiting grounds since the early 20th century. A large part of their population consists of working and retired army officials and their families.
"People in the region are extremely loyal to the army. They turn against anyone who speaks against the army," says reporter Razi Khan who works at a conservative daily in Attock. In Jhelum, like in many other places, some senior PMLN members are not supporting its candidates. One of its serial winners, Raja M Afzal, has lost his electoral mojo and the other, Nawabzada Iqbal Mehdi, has recently passed away. Many notable local 'electables', who once flocked together in PMLN, have now flown to PTI.
For the district's two National Assembly seats, PTI has given its ticket to two members of the same family. Fawad Chaudhry, the party's spokesperson, is running in one constituency and his cousin Farrukh Altaf, whose father Chaudhry Altaf Hussain served as Punjab's governor in the 1990s, in the other. The two appear stronger than their PMLN rivals — barring a last minute surge in public support for a jailed Nawaz Sharif.
In Attock, PTI has given its tickets for the district's two National Assembly seats to the same man: Major (retd) Tahir Sadiq Khan. He is closely related to Chaudhry Shujaat Husain and Chaudhry Pervez Elahi – the Gujrat-based leaders of the Pakistan Muslim League-Quaid-e-Azam (PMLQ) – and has headed Attock's local government in the 2000s. His reputation of a 'doer', combined with his skill in handling group-based and biradari-driven electoral dynamics, makes him a very strong contender.
One of Sadiq's challengers is a known PMLN leader, Sheikh Aftab Ahmed. He has worked as a federal minister more than once but seems to be struggling against his powerful rival. Same is the case with Malik Sohail Karamyial, PMLN's candidate in the other constituency in Attock. In Chakwal, PMLN has won many elections by challenging local land owners called sardars (chiefs). Its candidates generally come from an educated, salaried class that appeals to government employees and their families, mostly consisting of serving and retired soldiers. PMLN has lost support from many of these voters in recent months. A tough fight is still expected between sardars and anti-sardar candidates, says a local journalist.
A main leader of a sardar group, Sardar Ghulam Abbas, is a habitual turncoat who put together a strong influence-wielding network after he was elected to head the district government in the 2000s. He joined PTI in 2011 but quit in 2012 to join PMLN. A few months ago, he rejoined PTI but, after his own National Assembly nomination has been rejected by courts, he is not supporting PTI's candidates in the district.
PTI seems clearly ahead of PMLN in one of the remaining constituencies of the district, thanks to eminently 'electable' Rana Nazir Khan.
Sardar Zulfiqar Ali Khan Dullah, who has replaced Sardar Ghulam Abbas as a PTI candidate, was originally a PMLN candidate for a provincial assembly seat. He joined PTI just before party nominations were finalised. As local rumour has it, he has been pushed by a 'hidden' hand into PTI.
The other National Assembly seat in Chakwal will see a keen contest between former chief minister Chaudhry Pervez Elahi and Muhammad Faiz Malik, who won as a PMLN candidate in 2008 but has been hopping parties since 2002. The former is not a native of the district but has fought and lost an election here in 2013, by a thin margin, to the latter who is a member of an influential local clan. Chaudhry Pervez Elahi now enjoys PTI's support as well as the backing of PMLN's 2013 winner Sardar Mumtaz Tammam, who is also the uncle of Muhammad Faiz Malik; add to that his own vote bank, he has an edge over his rival.
Tehreek-e-Labbaik Pakistan is highly visible across this region. Its candidate secured more than 16,000 votes in a recent by-election in Chakwal, showing its ability to cause some serious electoral damage to PMLN.
The battle between PMLN's anti-establishment mobilisation and the supposed groundswell for PTI's slogan of change will be won or lost either way in Gujranwala division. In one corner in this fight is PMLN's politics premised on trader-financed, biradari-led voter networks that are run through patronage distribution and are held together with development schemes. In the other is PTI whose 'insurgent' ideology is defined by a youthful demand for expansion in the political pie to include emerging middle-class professional groups (though, of course, it is already quite tampered by the large-scale arrival of those who have mastered PMLN-style politics over decades).
Throughout the division, the two competing brands are doing whatever it takes to outsmart the other. PTI, in many places, seems ahead of PMLN which, nevertheless, is fighting back strongly in many other places. Both sides have their weaknesses: PMLN is ridden by factions and PTI is facing widespread resentment from its old guard over the entry of 'electables'.
While PMLN's core supporters in Gujranwala city have been excited by Nawaz Sharif's defiance in the face of his conviction and imprisonment, the party's local leaders – Barrister Usman Ibrahim and Khurram Dastagir Khan – were quibbling till very recently. Their tussle ended only after the man they were fighting over joined PTI.
Both Khurram Dastagir Khan and Barrister Usman Ibrahim could be facing their toughest election after 2002 when PMLN lost all the seats in the district.
In NA-81, Mehr Siddique is looking more formidable than he ever was as a PPP nominee in previous elections. Flush with money and buoyed by the rise of his new party, PTI, he is facing Khurram Dastagir Khan who could be hurt by the revival of an old Kashmiri versus araeen biradari fault line in his constituency. He will have to convince his non-Kashmiri voters that he is not the representative of a single community. It does not appear as easy as it sounds: Mehr Siddique is bent upon strengthening the cleavage while he himself is banking upon a Kashmiri candidate for the provincial assembly to deliver Kashmiri votes to him.
In the city's second constituency, there is a similar split between Ansaris and Mughals. PMLN's Barrister Usman Ibrahim belongs to the former and his PTI rival, Ali Ashraf, the scion of a known industrialist family, comes from the latter. PMLN's candidate is helped by the fact that a Punjab Assembly candidate for his party in the same area is a Mughal.
The deciding factor here will be the level of mobilisation among core supporters of the two parties. If PMLN workers come out in massive numbers on polling day in a show of defiance against the establishment, Barrister Usman Ibrahim will sail to victory. On the other hand, a PTI youth charge on the day of election can easily knock him down.
PTI seems clearly ahead of PMLN in one of the remaining constituencies of the district, thanks to eminently 'electable' Rana Nazir Khan. His son Umar Nazir Khan is in the run against a PMLN candidate who was defeated in 2013 on a PPP ticket by 60,000 or so votes.
On another seat, PTI has fielded Chaudhry Bilal Ijaz who secured 70,000 votes in 2013 as an independent. He is running against PMLN's Azhar Qayyum Nahra. The contest is delicately balanced and will be decided in the rural hinterland of Nowshera Virkan tehsil where caste and clan connections count much more than anything else.
In a city-meets-village constituency, the fight is between Tariq Mehmood, who recently left PMLN and joined PTI, and Mehmood Bashir Virk who was federal law minister in Shahid Khaqan Abbasi's cabinet. Here, the battle between the traditional and the new is fierce and will be won or lost based on whether Tariq Mehmood's urban voters turn out to vote in greater numbers or Mehmood Bashir Virk's rural ones do.
The last constituency in the district is witnessing yet another round of a traditional electoral rivalry between the Cheemas and the Chathas of Wazirabad tehsil. Muhammad Ahmed Chatha, whose father Hamid Nasir Chatha was a nationally known politician in the 1990s, is running against Dr Nisar Ahmed Cheema, a former bureaucrat whose brother Justice (retd) Iftikhar Ahmed Cheema has represented the same constituency in the two previous elections. Their third brother, Zulfiqar Cheema, has worked on prized police posts in Punjab under former chief minister Shehbaz Sharif.
Parties here matter as a complementary, not a primary, factor — which is why the same set of candidates have been moving from one party to another almost every election cycle.
In Gujrat district, PMLN's 2013 dominance is gradually declining. A seat adjustment deal between PTI and PMLQ in two National Assembly constituencies has weakened PMLN's prospects on both. It, indeed, has struggled to pitch a serious candidate against Chaudhry Pervez Elahi in one of these constituencies. His own cousin Chaudhry Mubashir Hussain finally agreed to be a PMLN candidate though he was initially reluctant to even contest the polls.
In the second constituency, NA-68, Hussain Elahi, a nephew of former prime minister Chaudhry Shujaat Husain, is running on a PMLQ ticket against former PPP leader Nawabzada Ghazanfar Ali Gul who is now a PMLN nominee. The election will be yet another round in the perennially ongoing contest for supremacy between the district's two most eminent clans, Nawabzadas and Chaudhrys. The latter may have an edge, courtesy support from PTI.
In NA-70, it is not PMLN's Jaffar Iqbal but PPP's Qamar Zaman Kaira everyone is talking about. The two come from the Gujjar clan which has dominated this constituency for three decades. There however, can be only one Gujjar winner and last time it was Jaffar Iqbal. Will it be Qamar Zaman Kaira's turn is one of the most asked questions within the constituency.
Their PTI rival, Syed Faizul Hassan Shah, has to defeat both. His task will be made easy if the two Gujjars take a high number of votes from their own clan but fail to muster much support from the rest of their constituents.
The fourth seat of the district will see a re-run of the 2013 contest between Abid Raza and Al-Haaj Muhammad Ilyas Chinioti. The former has often managed to get a majority of his constituency's conservative Sunni votes but this time round some of these votes could be taken away from him by Tehreek-e-Labbaik Pakistan which has been campaigning aggressively throughout Punjab against PMLN's candidates.
In Mandi Bahauddin city (and its adjoining rural areas), PMLN does not have a prominent candidate. Its local representative in the last National Assembly, Mumtaz Ahmad Tarar, refused to take part in the polls citing ill health.
PTI's candidate in this constituency is Haji Imtiaz Ahmed Chaudhry whose brother Chaudhry Ijaz Ahmed won as an independent from this constituency in 2013 but was later disqualified from being a member of Parliament.
The contest on Mandi Bahauddin district's second seat is important for more than one reason. A former PPP federal minister Nazar Muhammad Gondal is contesting here as a PTI nominee. He was once among politicians cited by Imran Khan as Pakistan's most corrupt. His brother is allegedly implicated in a multibillion scam at the Employees Old Age Benefit Institution. Will this demoralise PTI's core anti-corruption supporters in the constituency?
Secondly, the constituency has been a traditional battleground between two dominant clans: Gondals and Bosals. They have often taken turns at coming into power. Will this trend continue in the 2018 elections as well?
Lastly, PPP's candidate here – as well as its nominee in the other constituency in the district – faces a serious test. Can they retain their core party support, regardless of victory or defeat, in an area that PPP has won multiple times since 1993?
Another party – Tehreek-e-Labbaik Pakistan – faces a test on Hafizabad district's lone seat. It has its best chance of winning a legislative seat here (at least for the provincial assembly).
Liaqat Abbas Bhatti, a state minister in 2012-13, is running on a Tehreek-e-Labbaik Pakistan ticket against his nephew Shaukat Bhatti who is a PTI nominee. Their PMLN rival is former federal health minister Saira Afzal Tarar whose father Afzal Hussain is the head of the district council. Shaukat Bhatti's father Mehdi Hassan Bhatti remained undefeatable in 1993, 2002 and 2008.
The constituency's result will also show whether Tehreek-e-Labbaik Pakistan worked with laser precision to hit its intended target (PMLN) or, like many things in electoral politics, it followed the law of unintended consequences and ended up hurting its supposed beneficiary (PTI).
Another district where Tehreek-e-Labbaik Pakistan is campaigning vigorously against PMLN is Sialkot. Former federal law minister Zahid Hamid's son, Ali Zahid, who is running as a PMLN nominee in Pasrur area, is being particularly targeted due to his father's alleged role in making supposedly pro-Ahmadi changes in election nomination forms back in 2017.
This may help Ali Zahid's main rival, former student leader and long-time PPP associate Ghulam Abbas, break an electoral jinx he has been experiencing for the last three decades. He will additionally have to overcome differences within the local members of his new party, PTI.
PMLN still has a visible edge over PTI on at least two seats in Sialkot — one where Armaghan Subhani is running against Firdaus Ashiq Awan and the other on which former foreign minister Khawaja Muhammad Asif is pitted against Usman Dar. The contest is fierce but not entirely a cliffhanger.
A combination of development schemes and sway over biradari votes seem to be working well against Firdaus Ashiq Awan who quit PPP last year to join PTI. In the second constituency, Khawaja Muhammad Asif is buoyed by a recent Supreme Court verdict that has overturned his lifelong disqualification by a high court judge from being a member of Parliament. The level of an establishmentarian mobilisation among PMLN's local cadre is also higher than the excitement for PTI's agenda for change is in Usman Dar's camp.
In Narowal district, former federal interior minister Ahsan Iqbal is a favourite on one seat – unless Tehreek-e-Labbaik Pakistan's canvassing against him gathers enough momentum to deprive him of thousands of Sunni-Barelvi votes. Otherwise, his PTI rival, singer Abrarul Haq, will find it hard to win here.
In the second Narowal constituency, PMLN's nominee, Mehnaz Akbar, has to work really hard to put her own house in order before she can pose a serious challenge to her PTI rival Mian Rasheed (who was in PMLN in 2013). Her disqualified husband, former federal minister Daniyal Aziz, will be running her campaign.
Sargodha division has been dominated by 'electables' of different types. Parties here matter as a complementary, not a primary, factor — which is why the same set of candidates have been moving from one party to another almost every election cycle.
In the most recent round, PTI has managed to attract several well-known 'electables': former PPP leader Nadeem Afzal Chan, relatives of former PPP senator Ehsanul Haq Paracha, former legislator Ghias Ahmad Mela (whose family has changed many parties over the last three decades) and the family of former PMLQ stalwart Chaudhry Anwar Ali Cheema (who won seven elections in a row). This roster is further strengthened by the presence of Pir Qasim Sialvi, one of the custodians of the district's most respected Sufi shrine in Sial Sharif town, and Nadia Aziz, a young educated politician who has been in both PPPP and PMLN previously.
Anyone will struggle against this 'dream team'.
But these 'electables' have created many splits within PTI. In NA-88, to cite just one example, Nadeem Afzal Chan is facing the resentment of Haroon Paracha who has been in PTI for quite a few years now. He is contesting as an independent now.
Similarly, in NA-90, consisting of Sargodha city, Nadia Aziz's nomination has angered PTI's former ticket holder Abdullah Mumtaz who, too, has announced to contest independently. In NA-91, too, a senior PTI member, Nazir Sobhi, is not supporting his party's nominee, Anwar Ali Cheema's son Amir Sultan Cheema.
NA-92, perhaps, has seen the most curious PTI nomination in Sargodha. The party originally gave its ticket to a former senior official of the Federal Investigation Agency (FIA), Zafar Qureshi. His brother, Mazhar Qureshi, has won the same constituency twice in the past. The ticket, however, was withdrawn later and given to Pir Qasim Sialvi who had not even applied for it. An angry Zafar Qureshi parted his ways with PTI.
PTI looks set to sail through in spite of these differences. Its chances, indeed, have been bolstered with Sialvis inclusion. His family is believed to have influence over thousands of voters across Sargodha district as well as in many parts of nearby Faisalabad division. PMLN, on the other hand, is struggling because of its internal problems. In NA-88, it has given its ticket to its former member of Punjab Assembly, Dr Mukhtar Ahmad, denying it to its 2013 winner Aminul Hasnat Shah. The latter comes from an eminent religious family of Bhera and is a follower of the Pir of Sial Sharif. A disgruntled Hasnat is not campaigning for his party's nominees.
For NA-90, PMLN initially nominated Dr Liaqat Ali Khan, a former local government representative, but later changed the decision. The ticket finally went to Hamid Hameed who has faced many problems in launching his campaign mainly because his cousin and main financer, Chaudhry Muhammad Iqbal, has joined PTI.
In NA-92, too, a former PMLN member of the National Assembly, Shafqat Baloch, has been denied nomination so he is campaigning against the party's nominee Syed Javed Hasnain Shah.
PPP's most prominent candidate in Sargodha is former state minister Tasneem Qurehsi. Having lost ground in much of Punjab after 2008, the party is trying to stop, or at least slow down, its decline in many parts of the province. The number of votes he gets will determine whether these efforts are succeeding in Sargodha.
In Khushab, like in Sargodha, PMLN is split within and challenged without. The party is spilt in three major groups here — the Sangha group headed by district council chairman Ameer Haider Sangha, the Sumaira Malik group and the parliamentarians group. These are campaigning against each other and may, thus, hand the advantage over to PTI.
In NA-93, the PMLN nominee is Sumaira Malik who was a state minister in Musharraf's regime. She is pitted against PTI's Malik Umar Aslam Awan. Her other challenger, Malik Mazhar Awan, is the paternal uncle of Shakir Bashir Awan who heads the parliamentarians group and himself is a PMLN nominee in NA-94. The Sangha group is also backing Malik Mazhar Awan. This will seriously dent Sumaira Malik's support base.
Though Malik Shakir Bashir Awan is not facing any internal challenges in NA-94, he is running against a powerful PTI nominee, Malik Ehsanullah Tiwana. The two have strong sway over local biradaris and are being backed by influential groups and individuals. A nail-biting contest is expected between them.
In Mianwali, the contest appears to be rather one-sided. PTI is visibly ahead of its competitors in both the National Assembly constituencies here. This is rather unprecedented for an area that has mostly, if not entirely, voted along tribal lines since the mid-1990s. Rokhris, Niazis and Shadikhels have dominated local elections for long.
Imran Khan has been working to turn Mianwali – his father's home district – into a PTI bastion since 2002. His party won both the National Assembly seats in Mianwali in 2013 with a wide margin (though it could not retain in a by-election the one later vacated by Imran Khan himself). This time round, PTI's flag is flying even higher here. The party's supporters are happy to vote for anyone nominated by Imran Khan. They are excited by the possibility that the next prime minister could be from Mianwali.
PMLN, on the other hand, has lost its image in the district. Its National Assembly candidates, Obaidullah Khan and Humair Hayat Khan Rokhri, come from families that have won many elections in the past but their prospects have been dimmed since the hanging of Punjab governor's assassin Mumtaz Qadri in 2016 during their party's tenure in power.
The issue of blasphemy has been salient in Mianwali as far back in the past as 1920 when the district saw big protests in the favour of Ilm-uddin who had killed a Hindu publisher of an anti-Islam book in Lahore. One of the earliest initiators of anti-Ahmadi agitation in Pakistan, Abdul Sattar Khan Niazi, also belonged to Mianwali. He remained prominent in local politics till his death in 2001.
This explains how – by celebrating Qadri as a 'martyr' of the blasphemy issue – Tehreek-e-Labbaik Pakistan is gaining popularity in Mianwali. One of its National Assembly candidates, Malik Sajjad Bhachar, appears more prominent in some areas than his PMLN rival even though the chances of his victory are slim.
While party politics is seeing a sort of revival in Mianwali under the aegis of PTI, the same party is strengthening politics in Bhakkar that follows the familiar lines of personality, clan and tribe. On one of the two local National Assembly constituencies, PTI has given its ticket to Dr Afzal Khan Dhandla, a highly influential land owner who was in PMLN very recently.
He is looking strong though he is facing a tough competition from two independents Naeemullah Khan Shahani and Saeed Akbar Khan Nawani. Abdul Majeed Khan Khanan Khail, running for the other seat in the district, is the only local 'electable' running on a PMLN ticket. Others have stayed away from the party, sensing it may not return to power.
Religion, sect, Sufi shrines and their hereditary custodians, or pirs, play important electoral roles in Faisalabad division as do big land owners, biradari elders, transporters and industrialists. In between these, parties, too, have found some footing.
In district Chiniot, for instance, a combination of party affiliations, pirs, personal influence and religious/sectarian identities is operative across the electoral landscape.
In NA-99, one of the two National Assembly seats in the district, Ghulam Muhammad Lali, an influential land owner with a near total support of his Lali biradari, is running on a PTI ticket. He successfully contested the last election as a PMLN nominee.
His main challenger is Syed Asad Hayat, a PPP nominee, whose elder brother, former federal minister Faisal Saleh Hayat, lost this seat by a margin of around 13,000 votes in 2013. Their close relative, Syed Abid Hussain Imam, also polled 17,220 votes. If Syed Asad Hayat manages to combine these two vote tallies, he will be ahead of Lali — though electoral math does not always work so smoothly.
PMLN's candidate in this constituency is Rehan Qaiser. He is the son of a businessman, Qaisar Ahmed Sheikh, who has been running in the adjacent constituency, NA-100, since 1993.
Qaisar Ahmed Sheikh finally won in 2013 on a PMLN ticket but is facing serious challenges in retaining the seat. A major setback to him has been the refusal by Ilyas Chinioti, a former PMLN member of Punjab Assembly, to run on the party's ticket. Like his father Maulana Manzoor Ahmad Chinioti, he is a local leader of the movement against Ahmadis whose religious headquarters is based in the nearby town of Rabwah.
Ilyas Chinioti did not want to associate himself with PMLN because of the allegations that the party made changes in election nomination forms to secretly facilitate Ahmadis' participation in the election process without having to reveal their faith.
The other problem for Qaisar Ahmad Sheikh is that, just like him, a Japan-based businessman, Sheikh Qaisar Mahmood, is contesting the election as an independent, banking on his ability to outspend his rivals.
The other notable candidates in the constituency are PTI's Zulfiqar Ali Shah and PPP's Syed Inayat Ali Shah. The former was PPP's candidate in 2013 (when he came second after Qaisar Ahmed Sheikh); the latter came a distant third as a PTI candidate back then. Before that, between 2008 and 2013, Syed Inayat Ali Shah was a PPP member of the National Assembly. Zulfiqar Ali Shah was Chiniot's tehsil nazim between 2001 and 2009 and has been the initiator of many development schemes. He also enjoys strong support among the local Shia population (which traditionally votes for PPP).
If a PTI surge uproots PMLN from NA-107 AND NA-108 too that will mean that Nawaz Sharif's monopoly over central Punjab's politics is well and truly over — at least for the 2018 elections.
Electoral politics changes only slightly in Faisalabad district, with parties playing a relatively bigger role than other factors.
Voters and 'electables' in the district are also good at following the direction of the political wind: in 2002, six of Faisalabad's 11 seats were won by the nominees of PMLQ that subsequently formed the government; in 2008, six seats were won by those associated with PPP which later came into power; in 2013, the district was swept by PMLN that ruled the country for the next five years.
Following their political instincts, local 'electables' have now joined PTI in droves. It remains to be seen whether voters will also support the same party.
In NA-101, PTI's candidate is Zafar Zulqarnain Sahi whose uncle Afzal Sahi was Punjab Assembly's speaker in 2002-07. The Sahi family enjoys a positive public image (notwithstanding frequent changes in its party affiliations) due to its ability to bring government money into the area for development projects and provide jobs in the public sector.
PMLN has not awarded its ticket to anyone here but an independent candidate, Chaudhry Muhammad Asim Nazir, enjoys its support. He has previously won three times as a member of the National Assembly and happens to be the younger brother of district council Faisalabad's chairman Chaudhry Zahid Nazir. He also has strong biradari links with local Arain elders who possess sizeable vote banks.
PPP's nominee, Tariq Bajwa, has also won the same constituency in the past and has the potential to give a strong fight to other contenders.
PTI has awarded its ticket in NA-102 to Nawab Sher Waseer who was previously in PPP. He is pitted against former state minister for interior Talal Badar Chaudhry who seems to be facing trouble in convincing his constituents to vote for him again. People complain he was seen more on television screens than among his voters during his tenure in power. It was mainly for this reason that his own uncle Akram Chaudhry decided to run against him but senior members of their biradari have effected a truce between the two. Now, Akram Chaudhry is a covering candidate for Talal Chaudhry who is facing a contempt of court case at the Supreme Court. If he is disqualified then his uncle will contest the election in his place.
All three main contenders in NA-103 come from Baloch families who have been winning from this area for the last three decades. PMLN has awarded its ticket to Ali Gohar Khan Mahar whose elder brother Rajab Ali Baloch won the poll in 2013 but died of cancer in May this year. PTI's nominee, Saadullah Baloch, is their nephew. He polled only 11,000 votes on the same party's ticket in 2013.
PPP has fielded Shahadat Ali Khan Baloch who took more than 23,000 votes in the last election but has the potential to snatch the seat from his rivals this time round.
In NA-104, PMLN's ticket has gone to former member of the National Assembly, Shahbaz Babar whose family has always been loyal to his party. In contrast, PTI's candidate, Sardar Dildar Ahmad Cheema, has contested elections from the platform of many parties. He is also known for spending big on his election campaigns. His vast Jutt vote bank, however, could be damaged by an independent candidate, Khalid Mehmood Gill.
PPP's candidate in this constituency, Rana Farooq Saeed, is also an old war horse. He has previously worked as a federal minister and has influence over a large network of biradari-led vote banks. But he may still be haunted by the poor performance of PPP's 2008-13 government. A triangular fight between PMLN's experienced parliamentarian Mian Farooq, PTI's Raza Nasrullah Ghumman and Chaudhry Masood Nazir, the son of district council Faisalabad's chairman Chaudhry Zahid Nazir, is taking place in NA-105. The last candidate's late grandfather Chaudhry Nazir Ahmad Kohistani (who made his name and money by running a successful bus service in the 1980s) won three elections from this constituency. A critical role will be played here by committed party voters. Whichever party is able to bring out its core voters in big numbers on polling day will win the seat.
A cliffhanger of a competition is expected in NA-106 where two-time former member of the National Assembly, Nisar Ahmed Jutt of PTI, is running against PMLN's former Punjab law minister Rana Sanaullah Khan. The former has been in various parties since 2002, including in PMLN. The latter is one of Shehbaz Sharif's closest confidants.
Though he is running for the first time for a National Assembly seat, Rana Sanaullah Khan is deftly deploying his influence over local government representatives in Faisalabad to his advantage. What may go against him is his defence of PMLN in the wake of the controversy over changes in electoral forms last year. Many Sunni-Barelvi votes in his constituency are likely to go to his opponent.
Within Faisalabad city, PMLN looks stronger than PTI on both NA-107 and NA-108. In the former constituency, Akram Ansari will be attempting to record his sixth win. His PTI rival, Sheikh Khurram Shahzad, will require a massive shift in voting patterns in this constituency to be able to cause an upset. The latter constituency, too, has been a PMLN stronghold since the 1990s and PTI's Farrukh Habib does not look like he is capable of changing that.
If a PTI surge uproots PMLN from these two constituencies too that will mean that Nawaz Sharif's monopoly over central Punjab's politics is well and truly over — at least for the 2018 elections. In the next two constituencies, NA-109 and NA-110, PMLN is already struggling. Its candidates, Mian Abdul Mannan and Rana Afzal, respectively, are facing formidable challenges from their PTI rivals Faizullah Kamoka and Raja Riaz.
Party politics in the neighbouring district of Toba Tek Singh district is next to absent. It hosted a historic conference of peasants in 1970 but, today, local politics is all about influential individuals and biradari-based vote banks.
An intense contest is expected in its NA-111 constituency between two brothers, Chaudhry Khalid Javed Warraich (running on a PMLN ticket) and Amjad Ali Warraich (contesting as the nominee of his own party, Pakistan National Muslim League). PTI, too, has fielded a strong candidate, Osama Hamza, whose father, Hamza, retired as a PMLN senator in March this year and has strong support in the area. Hamza will further benefit from the political influence of Khalid Bashir, a known local transporter, who is running on a PTI ticket for a provincial assembly seat. In NA-112, PTI has fielded its 2013 runner-up Chaudhry Muhammad Ashfaq, the owner of ChenOne luxury stores, against PMLN's Junaid Anwar who won the seat in the last election. Ashfaq, though, may have an upper hand this time round.
PTI has made an interesting decision to award its ticket for NA-113 to former federal minister Riaz Fatiyana who had also formed his own party recently. He is believed to be capable of defeating PMLN's Chaudhry Asadur Rehman whose close ties with Nawaz Sharif through his brother, former Supreme Court justice Khalilur Rehman Ramday, are a major factor in his electoral prowess.
The trend of personality-based politics has been even stronger in Jhang district. So has been the flight of 'electables' from the PMLN camp here. The party has all but disappeared in all three local National Assembly contests.
In NA-114, PTI's Sahibzada Mehboob Sultan is running against a formidable foe, PPP's Faisal Saleh Hayat. The former is heir to Sultan Bahu, a famous Sufi saint, and the latter is the custodian of a revered shrine in his hometown of Shah Jewna. The contest is evenly poised. Ghulam Bibi Bharwana, who quit PMLN only months ago to join PTI, is running in NA-115 against Sheikh Waqas Akram (who is contesting as an independent after having rejected a PMLN nomination). The two have their own distinct electoral legacies to carry forward. Ghulam Bibi Bharwana is the granddaughter of Ghulam Haider Bharwana, one of the first politicians in the district to deploy the Sunni-Shia divide for his electoral benefit. Sheikh Waqas Akram's family has also been in local politics since the 1980s, mostly in opposition to sectarian mullahs.
The third main contender here, Muhammad Ahmed Ludhianvi, is the inheritor of another political bequest — of violent anti-Shia sectarianism. He, however, is embattled from within his own camp. Masroor Jhangvi, whose father Haq Nawaz Jhangvi founded Sipah-e-Sahaba Pakistan to have Shias declared as infidels, is up in arms against Ludhianvi's nominee for a provincial assembly seat, Muavia Azam, who happens to be the son of another Sipah-e-Sahaba Pakistan stalwart Azam Tariq. This infighting will further diminish the already eroded influence of sectarian politics on the local electorate.
On a recent Sunday evening, a Tehreek-e-Labbaik Pakistan rally holds sway over empty roads that pass through PMLN's home turf: National Assembly's constituencies between Lahore's Qartaba Chowk – on the confluence of Jail Road and Ferozepur Road – and the shrine of Data Gunj Bukhsh. It passes through an election office inaugurated only days earlier by former chief minister Shehbaz Sharif's son Hamza Shehbaz. The office is eerily quiet.
For only the second time since 1985, Lahore is witnessing an election campaign that does not feature Nawaz Sharif and his PMLN. At least not as prominently as in the past and certainly not as conspicuously as the party's real and self-imagined challengers – PTI and Tehreek-e-Labbaik Pakistan, respectively – do in the city.
This may have to do with many factors. Firstly, PMLN is distracted due to Nawaz Sharif, and his daughter Maryam Nawaz, being in jail. Secondly, the Election Commission of Pakistan's code of conduct has sucked all life out of electioneering. Strict limits on the size of campaign banners and fliers, etc and where they can be displayed or not, have dampened the spirit of festivity usually associated with election time. Lastly, general political uncertainty and a widespread perception that the election process and its outcome are rigged have diluted popular excitement about and engagement with campaigning. As a collective result of all these factors, we are having an election that does not even remotely look like what we had in 2013. That election could well have taken place in a different country.
Back in Lahore's various constituencies, many of PMLN's National Assembly candidates are confused at best and inactive at worst. They are finding it difficult to engage their constituents in voter mobilisation events. In any case, many of these constituents are unhappy that their lives have changed little over the last five years when the party was in power. Others are angry that their elected representatives did not maintain in regular touch with them.
In 2013, PMLN's top leadership was out and about to address such problems. Nawaz Sharif was mobilising core PMLN supporters all over the country with big public gatherings. Shehbaz Sharif was ensuring that many public grievances were addressed there and then through his strong sway over Punjab's bureaucracy and many second-tier leaders went from street to street to urge people to get out and vote for the party. Returning to power in Punjab was a certainty. Making a government in Islamabad also appeared a strong possibility.
All that is absent this time round — as is the certainty that PMLN will sweep polls in Lahore. In NA-123, the party's two-time member of the National Assembly, Muhammad Riaz Malik, is struggling to retain a seat that he won in 2013 by a comfortable margin of around 60,000 votes. For the upcoming election, he is facing a new PTI challenger, Wajid Azeem, who polled more than 35,000 votes in 2013 in a provincial assembly constituency. In a subsequent by-election, he only lost by just over 300 votes to a PMLN candidate despite the fact that the party was ruling both in Lahore and Islamabad at the time. Yet the seat is PMLN's to lose.
What may work in Riaz's favour is PTI's internal discord. Some old party workers are unhappy that they have been overlooked in the nomination process and, instead, Azeem has been imported into the constituency from another part of Lahore. In NA-124, Hamza Shehbaz will romp to victory as he did in the last election. His PTI opponent, Nauman Qaiser, is a resident of another part of the city and his nomination, at the expense of the party's 2013 nominee Muhammad Madni, has not gone down well with many PTI activists in the constituency.
In NA-125, PTI heavyweight Dr Yasmin Rashid looks ahead of a rather lightweight PMLN nominee Waheed Alam Khan, who in 2013 fought election from a different constituency. She has old family ties in some parts of her constituency and knows it well, having served as a gynaecologist in various hospitals located here. Maryam Nawaz was originally nominated to run in this constituency but she later decided to contest in NA-127 and was then disqualified altogether from running.
PMLN's cause will be further hurt here by its dissident Zaeem Qadri running as an independent and the candidates of Tehreek-e-Labbaik Pakistan and other religious parties. Between the three of them, they can poll many thousand votes at the party's expense. Former Punjab governor Mian Azhar's son Hammad Azhar will have a re-run of his 2013 election contest on a PTI ticket against his PMLN rival Mehar Ishtiaq Ahmad in NA-126. The contest may go down to the wire.
The same can be said about NA-127 where Ali Pervaiz, son of PMLN leader Pervaiz Malik, is contesting his first election against PTI's Jamshed Iqbal Cheema. It looks like a safe PMLN seat but the party's candidate is inexperienced and lacks political stature which may lead to a tougher than expected fight.
Though PMLN's Sheikh Rohail Asghar has lost a big chunk of his traditional stronghold north of the historic Shalimar Gardens, he is still the strongest contender in NA-128. His PTI challenger, Ijaz Ahmad Diyal, may have support in some rural parts of the constituency thanks to his family's history of winning – and losing – elections in this part of Lahore but he does not look like a winning horse.
NA-129, however, may see one the toughest electoral battles in Punjab's capital. While former National Assembly speaker Ayaz Sadiq will be trying to score his fourth election win in a row as a PMLN nominee, senior PTI leader Aleem Khan will be trying to secure a victory that eluded him by an extremely narrow margin in a 2015 by-election. The contest is as even as it could have ever got.
In NA-130, PTI's Shafqat Mehmood will be trying to ward off a challenge from PMLN's Khwaja Ahmad Hassan. The same two candidates were squared off on this seat in 2013, with Shafqat Mehmood winning by a margin of more than 7,000 votes. While PTI is expected to do well in rich and middle-class areas such as Model Town, Gulberg and Muslim Town, PMLN's neighbourhood-level network may help its cause in the less well-off parts of the constituency. And even though many voters are unhappy that Shafqat Mehmood did not pay them much attention in the last five years, this is unlikely to slow down PTI's electoral juggernaut by much. The fight is too close to call.
The next constituency, NA-131, will similarly see a very close contest between PMLN's Khawaja Saad Rafiq and PTI's chairman Imran Khan. Consisting of some of the city's most upscale areas of Cantonment and Defence, the constituency looks like an archetypal PTI stronghold – with highly educated, high-income constituents for whom ideas like justice, merit and transparency hold higher value than development schemes. If, however, they do not come out in large numbers to vote for PTI as they did in 2013, the contest will be decided in the poorer parts of the constituency where the two sides are evenly poised, with PMLN having a bit of an edge.
In NA-132, Shehbaz Sharif is expected to win easily though he will face some resistance from PPP's Samina Khalid Ghurki (who has won twice in 2002 and 2008 from areas that form the northern parts of this constituency) and PTI's Muhammad Mansha Sindhu who enjoys considerable support in many southern neighbourhoods.
PTI's senior leader Ejaz Chaudhry, PPP's Aslam Gill and PMLN's Pervaiz Malik are all outsiders to NA-133 which consists of many middle-class and working-class localities in the southern part of the city. None of these three candidates is a vote-puller on his own. It is here that the relative strengths of the three main parties will be decided on their very own merits or demerits. PMLN, though, may receive some damage from its dissident, Zaeem Qadri, who is running as an independent.
In NA-134, PTI's Zaheer Abbas Khokhar is pitted against PMLN's Rana Mubashir Iqbal, who won a Punjab Assembly seat from this area in 2013 but was later disqualified from being a member of the legislature. The former won from this part of the city in 2002 on a PPP ticket but has failed to repeat that since. Odds still seem to be in favour of the PMLN candidate unless a PTI wave sweeps across Lahore and also carries its local candidates to victory.
NA-135 and NA-136 see contests in which two Khokhars from PTI are running against two Khokars from PMLN. The latter also happen to be brothers.
PMLN is facing many challenges here due to the incumbency factor. One of its candidates, Afzal Khokhar, was a member of the National Assembly between 2013 and 2018. The other, Saiful Mulook Khokhar, was a member of the Punjab Assembly in the same period, apart from being a confidant of Hamza Shehbaz. Their constituents complain the two have not looked after their voters as they should have.
The two still look stronger than their PTI counterparts, Karamat Khokhar and Malik Asad Ali, who both have not won an election so far. If PMLN's campaign fails to gain momentum but that of PTI does take off in a big way before polling day, close fights will be expected on both these seats. While PMLN looks decidedly ahead of PTI in Lahore, electoral battles in nearby Kasur will all be hard fought. The former party has fielded its tested candidates — except in one case where its former member of the National Assembly, Sheikh Waseem Akhtar, has been disqualified from running in election and his son, Saad Waseem, is now contesting in his place. The latter party has given tickets to 'electables', as it has done elsewhere in Punjab.
In NA-137, PTI's candidate is former foreign minister Sardar Aseff Ahmed Ali who joined the party in 2012, then left it only to rejoin again recently. He comes from an old elite family and brings its influence to bear upon election results — and that is what counts for PTI.
His main rival is PMLN's Saad Waseem who, because of his youth, may not be as effective a campaigner as his jailed father would have. The third notable contestant is PPP's Chaudhry Manzoor Ahmad who is running probably his best campaign since 2002 when he won in the same constituency.
Malik Rashid Ahmed, a PMLN nominee in NA-138, will be trying to retain the National Assembly seat he won in 2013 by fighting off a challenge from PTI's Rashid Tufail whose late father Sardar Tufail Ahmed was a member of the National Assembly and Punjab Assembly in the past. The contest in the constituency is a tough one and will be ultimately decided by whether enough local voters believe that PTI will come into power after the 2018 elections. That is not a difficult thing to believe in this election.
A tough fight is expected in a constituency that includes Sahiwal city.
In NA-141, PTI has fielded Azeemuddin Lakhvi who was in PMLQ in 2013 — and before that in PMLN. His PMLN rival is Rana Ishaq Khan whose brother Rana Muhammad Iqbal has worked as the speaker of the Punjab Assembly between 2008 and 2018.
In NA-142, a traditional rivalry between the Ranas and their Nakai opponents has taken the form of a clash between two parties. Here, Rana Hayat Khan is representing PMLN and Sardar Talib Nakai is a PTI nominee. The former seems to have an edge.
In Kasur, as in Lahore, PMLN's electoral monopoly does not appear to be as total as it was in 2013 though there have been no notable defections from the party to PTI. In the neighbouring districts of Sheikhupura and Nankana Sahib, though, the party has lost only one of its members of the National Assembly, Bilal Virk, to PTI. He is now contesting against PMLN's star candidate in the area, Chaudhary Barjees Tahir, in NA-117. This is not Bilal Virk's home turf. Since his own constituency has disappeared amid redrawn constituency boundaries, he does not seem to pose a serious threat to his opponent.
Another PMLN defector to PTI, Chaudhry Asghar Ali, is a former Punjab Assembly member. He is running in NA-120 against former federal minister Rana Tanveer Husain who – along with his brother Rana Afzal Hussain (contesting in NA-119) – has been a serial winner in this part of Punjab. PTI's search for winning 'electables' has been unsuccessful in these two constituencies. Still PTI seems to be offering a strong fight in a couple of constituencies in Sheikhupura — as in NA-121 where PMLN's Mian Javed Latif is facing a serious PTI challenger, Saeed Virk, besides having to contend with a local revolt within his own party. Another strong candidate in this constituency is former member of the National Assembly, Khurram Munawar Manj, who is running as an independent. His father, Munwar Manj, also won from Sheikhupura in the 1990s before his arrest and conviction in a drug smuggling case.
In NA-122 Ali Salman – whose father, Salman Siddique, is a former federal secretary – is running a strong campaign as a PTI candidate. He is pitched against PMLN's many-time winner Sardar Irfan Dogar.
In district Nankana's second constituency, NA-118, PMLN's Shazra Mansab Kharal is facing multiple challengers but the most serious of them is PTI's Ijaz Ahmed Shah who polled 56,050 votes in this constituency as an independent in 2013, coming second by a narrow margin of around 5,000 votes.
In Sahiwal division, a mélange of factors constitute local politics — political parties being an important part of it. Though influential families and individuals dominate the political scene across the division, many of them seem to realise that they cannot win an election without party support. This explains their desperate search each election cycle to get into a party that helps them win. The most notable change in the division has taken place in PPP's camp in Okara district. After its 2013 rout in Punjab, the party was hoping to revive itself in the district, relying on its central leader Manzoor Ahmad Khan Wattoo's ability to regain his own electoral strength in his home district but then all those hopes came crashing down. He first refused to contest election in NA-144 on a PPP ticket and then let his son and daughter get PTI's nominations for provincial assembly seats.
His main challenger, Mian Moeen Wattoo, has been representing PMLN since long and will be a tough competitor to beat. If, however, Manzoor Ahmad Khan Wattoo succeeds in making an alliance with a PMLN dissident, former provincial minister Raza Ali Gilani, his chances will be boosted, particularly given that PTI is also supporting him.
Raza Ali Gillani is upset with his party because, rather than nominating him from his provincial assembly constituency, PMLN is supporting an independent, Lahore-based journalist Jugnu Mohsin, who is also the wife of Pakistan Cricket Board's chief Najam Sethi. Her father's family has also remained active in Okara's district politics in the past.
PTI's National Assembly nominee in this area, NA-143, is a former parliamentarian, Syed Gulzar Sabtain, who has been in PMLN and PMLQ previously and appears well-suited to give PMLN's ticket holder Rao Ajmal a run for his money.
In NA-141, another party hopper Syed Sumsam Ali Bokhari, who was a state minister in PPP's 2008-13 government, is running on a PTI ticket against PMLN's 2013 winner Nadeem Abbas Rabera. The latter has the wherewithal to beat the former.
Riazul Haq, running from a constituency that includes Okara city, famously won a by-election in 2015 as an independent on the back of his ghee manufacturing family's deep pockets and then joined PMLN. The party has given him the ticket, pitching him against PTI nominee Rao Hasan Sikandar whose father, Rao Sikandar Iqbal, was a PPP stalwart before he joined Pervez Musharraf's government in 2002.
Compared to these frequent changes in party affiliations, Sahiwal district looks like an island of consistency. Most battles here are being fought along the same party lines as in 2013. A tough fight is expected in a constituency that includes Sahiwal city between Chaudhry Naurez Shakoor on a PTI ticket and PMLN's 2013 winner Imran Shah whose lead in his last victory may prove too much for his competitor to nullify. A PTI surge, that has yet to materialise in the district, is the only way for Chaudhry Naurez Shakoor to score a win.
Another major contest in the district is expected in NA-149. PTI's candidate here, Rai Hasan Murtaza, is the nephew of Rai Hasan Nawaz, a former parliamentarian who was disqualified after winning the 2013 elections, also as a PTI nominee. In a subsequent by-election, PMLN's Tufail Jutt defeated Rai Hasan Murtaza. The two rivals are facing each other again – and none seems to have an advantage.
In a bid to revive its declining vote bank, PPP has also fielded its candidates on three seats in Sahiwal. If they get more votes than their party did in 2013 here that would give them hope that all is not over yet. Otherwise, a PPP revival will become a dream that never gets realised. In Pakpattan district, both PTI and PMLN are facing internal challenges. The former party's nominee, Muhammad Shah Khagga, is being challenged by Rao Naseem Hashim, PTI's own district president. Similarly, Mansib Ali Dogar, a two-time member of the National Assembly and a previous PMLN nominee, is running as an independent against his party's ticket holder Ahmed Raza Manika whose brother Khawar Raza Manika's former wife Bushra Begum is Imran Khan's third wife.
In NA-146, Pakpattan's second constituency, PMLN's Rana Iradaat Sharif and PTI's Mian Amjad Joyia are pitted against each other. The former's father Rana Zahid Hussain was a member of the National Assembly from this area but he has been barred by a court from taking part in the polls.
PTI's candidate looks better placed on this seat even as he is being challenged by his own party's Waseem Zafar Jutt who is contesting as an independent. Rana Iradaat Sharif will have to work hard to convince many disgruntled voters to support him. He will also have to neutralise the electoral impact of another PMLN associate, Talha Saeed, who is running as an independent.
In all three divisions in southern Punjab – Multan, Dera Ghazi Khan and Bahawalpur – tribal chiefs, pirs, influential land owners and even some businessmen dominate the electoral scene. They also often change parties in each election cycle and have done the same this time round. This has resulted in PMLN losing a large number of its 2013 winners to defections. They are now either in PTI (having taken a brief detour through Junoobi Punjab Suba Mahaz, a hurriedly put together platform to justify their desertion from a ruling party that they remained a part of for five years).
In five districts in this region that together have 25 National Assembly seats, PMLN seems to have been left with just seven notable local candidates: Awais Leghari and Shamoona Ambreen in Dera Ghazi Khan; Abdul Ghaffar Dogar and Syed Javed Ali Shah in Multan; Haroon Ahmed Sultan Bokhari in Muzaffargarh; Arshad Leghari in Rahim Yar Khan; and Alam Dad Laleka in Bahawalnagar. These are all legacy politicians with solid electoral records but only one of them, Awais Leghari, looks in a position to win his seat in the 2018 elections (provided there are no dramatic changes in local politics).
In contrast, PTI's camp is brimful of 'electables'. Just to name a few: Shah Mehmood Qureshi, Fatima Tahir Cheema (wife of former PMLN member of the National Assembly Tahir Bashir Cheema), Mustafa Khar, Zulfiqar Ali Khan Khosa and Makhdum Khusro Bakhtiar. Those who have not joined PTI – such as the Gorchanis in Rajanpur – are running as independents.
In Bahawalpur, PTI has, additionally, cut seat adjustment deals with both PMLQ and the family of the former nawab of Bahawalpur. It is also supporting Ziaul Haq's son Ijazul Haq on a National Assembly seat in Bahawalnagar (that he has won multiple times in the past) in return for his support for PTI's provincial assembly candidates.
And in at least three districts, PPP appears well-placed to win a few seats.
Former prime minister Yousaf Raza Gilani and his two sons (in Multan); Mehr Irshad Sial, former foreign minister Hina Rabbani's brother Raza Rabbani Khar and renowned politician Nawabzada Nasrullah Khan's son Nawabzada Iftikhar Ali Khan (in Muzaffargarh); and Murtaza Mehmood and Mustafa Mehmood, both sons of former Punjab governor Ahmed Mehmood (in Rahim Yar Khan) may romp home, barring some last minute developments.
In five other districts in the region, PMLN still has a strong list of candidates in most of their 16 constituencies: Riaz Hussain Pirzada, Muhammad Balighur Rehman, Saud Majid and Najeebuddin Awaisi in Bahawalpur; Siddique Baloch and Abdul Rehman Kanju in Lodhran; Sajid Mehdi, Saeed Ahmad Manais and Tehmina Daultana in Vehari; Sahibzada Faizul Hassan and Saqlain Bukhari in Layyah; Aslam Bodla, Iftikhar Nazir and Muhammad Khan Daha in Khanewal. How many, and which, of these seats PMLN can win is not easy to answer but a mere look at the roster of its opponents shows that its own 'electables' are being matched constituency by constituency by those in PTI's camp. Raza Hayat Hiraj, Ahmed Yar Hiraj, Zahoor Hussain Qureshi and Ghulam Murtaza Maitla in Khanewal; Akhtar Kanju in Lodhran; Ishaq Khakwani, Aurangzeb Khichi, Khalid Mehmood Chohan and Tahir Iqbal in Vehari; Syed Samiul Hasan Gilani and Khadija Amir Warran in Bahawalpur and Niaz Ahmed Jhakkar in Layyah — this list is as impressive as there can be in this part of the country.
The contest on these seats is further complicated by the presence of many strong independents such as Syed Fakhar Imam in Khanewal and Ayesha Nazir Jutt in Vehari and also by an occasional notable nominee by PPP such as Natasha Daultana, also in Vehari. South Punjab, it seems, is all set to do what it always does best: finding the direction of political wind and moving along it.
---
Danyal Adam Khan, Sher Ali Khan and Amel Ghani are staffers at the Herald. Umer Farooq is an Islamabad-based journalist with an interest in politics, security and foreign policy issues. Danial Shah is a travel photographer and writer. Rizwan Safdar is a PhD scholar of sociology at Government College University Faisalabad and contributes regularly to the Herald. Shafiq Butt is associated with Punjab Lok Sujag, a development organisation focusing on governance. Fareedullah Chaudhry works as a district correspondent for daily Dawn.
---
This article was originally published in the July 2018 issue of the Herald. To read more, subscribe to the Herald in print.