If things are falling apart for the established political order in entire Pakistan, the centre does not hold in Malakand division either. And yet, the 2018 election brings a semblance of hope to a region recovering from years of devastating militancy and displacement.
Voters in the country's first National Assembly constituency, NA-1 Chitral, have traditionally rallied around religious parties and the Pakistan Peoples Party (PPP) for ideological reasons. Pervez Musharraf left a big impression locally by building the Lowari Pass – originally envisioned by Zulfikar Ali Bhutto – giving the remote mountain district access to the rest of Pakistan.
With ideology out and money in, the crony-capitalist model of politics practiced by the Pakistan Muslim League-Nawaz (PMLN), and the depending-on-influential-electables model being tested by a buoyant Pakistan Tehreek-e-Insaf (PTI), have found cachet in a region where politics was once a philosophy.
Come polling day, two significant shifts in voters' attitudes will decide where their votes go in Chitral. The first – a divide between Sunnis and Ismaili Shias – always existed as a social fault line but is manifesting itself politically only now. In the past, most Sunnis would vote for religious parties while most Ismailis would vote for PPP – and later for Musharraf's nominees – regardless of the sectarian affiliation of candidates themselves. The two groups may now vote for candidates only from their own sects.
This surge in political sectarianism will deprive PMLN of Ismaili votes but will win it Sunni support because its candidates come mainly from Sunni-dominated lower Chitral. The Muttahida Majlis-e-Amal (MMA), an alliance of five religious parties including the Jamaat-e-Islami (JI) and Jamiat Ulema-e-Islam-Fazl (JUIF), will have even wider support among the Sunni population. Its ranks in Chitral, however, are rent by divisions. These splits will strengthen PTI, which is expecting the sectarian, tribal and youth vote, alongside that of the disgruntled JI supporters.
Across the Lowari Pass, in Upper Dir district, the election brings hope that women will be enfranchised after decades of voting bans, enforced through mutual agreements between political parties, both religious and secular. New election rules require that at least 10 per cent of valid votes polled in a constituency must be cast by women. Female madrasa students of JI, a major political force locally, are mobilising women to vote. Other parties are asking for separate polling stations for women with women staff. Still, bringing out women to vote will be a challenge in the northeastern reaches of the district where tribalism is dominant and people are deeply conservative. As for the women themselves, says a Dir-based observer, they have little choice and even less political consciousness. "Some are happy with the Benazir Income Support Programme but cannot stand up to pressure from men in the family. Their vote will go to whoever the men vote for."
JI has been a main political force in Lower Dir too, thanks to having placed its candidature in influential families – the Sahibzadas, for instance – to the extent that it is hard to say whether the party made them or they made the party. Its local prominence is matched only by that of PPP. The hold of the two parties has been so strong that they are rumoured to have entered pacts in the past to deny space to a third player in the district.
This changed in 2013 when JI sought PTI's support for one of the two National Assembly seats in Lower Dir. The 'third force' has upset more than just the established political structure. In keeping with its brash image, PTI has hit the very factor – the influential family – that has kept older political groups entrenched. The traditional voting pattern steeped in rural Pakhtun values of loyalty to the family or elders has been eroded, in part by the young, who are more susceptible to social media trends than decisions taken in hujras or mosques.
The same family that supported only JI in the past is now split into four, with brothers and cousins contesting under competing banners. JI has also lost its star candidates to PTI. One disgruntled candidate even left to join the Pak Sarzameen Party (PSP) — not to win but to fragment his former party's vote. Even as JI still leads, with PPP and PTI close behind, it does so as a much weaker, riven force — a trend also evident in the rest of Malakand, including Buner where JUIF has all but disappeared and JI is in total disarray.
The other political player in the area, PPP, too has to work hard to retain its support base in the neighbouring Malakand district. This much can be gauged from the fact that the party's chief Bilawal Bhutto-Zardari has chosen a National Assembly seat (NA-8) from Malakand as one of the three constituencies (apart from his native Larkana, and Lyari in Karachi) from which to launch his electoral career. He probably wants to minimise the damage that a group of dissidents, headed by a senior party leader, Lal Mohammad Khan, can do to PPP's vote bank. He is also seeking to offset Imran Khan's appeal too. "Imran cannot be young. He is 65. [But] Bilawal is," says Humayun Khan, PPP's president in Khyber Pakhtunkhwa.
But the politics of money and electables has bolstered PTI and PMLN respectively and has shrunken PPP in Malakand too.
Party politics die out almost completely in Kohistan and the focus shifts to tribal allegiances and individuals
Ameer Muqam, a PMLN stalwart and a native of Malakand division's Shangla district, brings a 'contractor's approach' to politics, responding to local demands for roads, electricity and gas. This has made him popular not just in Shangla but also in Swat, where he is contesting on NA-2.
PMLN has also fielded its chief Shehbaz Sharif in Swat's NA-3, mostly banking on Muqam's engagement with local voters. "Voters in Swat remember how Shehbaz Sharif, as the chief minister of Punjab, turned away people displaced from Malakand due to militancy in 2009," says a political observer based in Mingora. "If they vote for him, it would only be on the condition that he does not vacate the seat later." An embattled PMLN may find it difficult to make such a decision right away.
Perhaps the greatest hope that Swat offers is for the Awami National Party (ANP) — if not to win then to figure back into local politics. Its rank and file were decimated by militancy and insecurity in the district and beyond. Suffering from the trauma of a calculated slaughter of its leadership – as part of a peace committee that resisted the Taliban in Swat – an anxious ANP could not campaign freely due to threats during the 2013 election. It has been quietly reorganising since then to reclaim territory ceded to PTI. A group of workers unhappy with the way PTI's affairs are handled by its top leadership have set up a nazaryati, ideological faction that may help a resurgent ANP in at least one National Assembly constituency in Swat.
All this party politics, though, has not supplanted traditional power brokers. Clan affiliations are strong and tribal chiefs exert influence over the voting of their communities. They will decide who wins.
Any observer of electoral dynamics in Khyber Pakhtunkhwa will testify that Hazara division is a PMLN stronghold but the party is struggling to maintain its support base here.
The three lower districts of the region – Haripur, Abbottabad and Mansehra – are at the heart of PMLN's electoral politics because it is here that five out of seven National Assembly seats in the division are located. The remaining two are spread over the Pakhtun-dominated districts of Battagram, Kohistan and Torghar. This geographical division manifests itself in electoral politics as well. Religious parties are dominant in Pakhtun areas. Other parties have generally done well in the lower districts where speakers of Hindko are in majority.
The regional politics has changed little over the last many election cycles even though PTI, with an agenda of change, has been a major challenger to PMLN here since 2013. Ethnic splits, religious associations, clan-based vote banks and, most importantly, the dominance of political heavyweights, remain major factors that will decide the outcome of the upcoming election.
For decades, the region's politics revolved around Ayub Khan's Tareen clan and former chief minister 'George' Sikandar Zaman's Raja family. Omar Ayub, PTI's candidate from NA-17 Haripur, is the son of former National Assembly speaker Gohar Ayub and the grandson of military dictator Ayub Khan. He served as a state minister in the Musharraf-led government between 2004 and 2007 but could not win in two previous general elections. In 2013, he was defeated as a PMLN candidate by a Raja family scion, Amir Zaman, who was a PTI nominee at the time. It is a testament to the personality-based politics of Hazara that the two families have now switched parties.
Omar Ayub's main rival for this election is Babar Nawaz Khan. He is in his early thirties, represents a recently moneyed family, has a PMLN ticket and is backed by Zaman. Babar, much like his father Akhtar Nawaz Khan who was killed in 2008, is perceived to be an easily approachable candidate. This reputation is marred by widespread allegations that he and his family are involved in drug smuggling and human trafficking. In fact, he is facing court cases linked to these very allegations.
In NA-16 in Abbottabad city, PTI appears decisively ahead of its competitors. In 2013, Dr Azhar Khan Jadoon, a PTI candidate with no previous electoral success to his credit, won the seat by a wide margin. His opponent, Sardar Mehtab Ahmad Khan Abbasi, had not lost any election since 1985, having worked as a federal minister many times and also as chief minister of Khyber Pakhtunkhwa.
Azhar Jadoon's unremarkable record as a public representative has prompted his party to award the nomination to Ali Jadoon, the young son of a former federal minister, Amanullah Jadoon. The new candidate had made his political mark only a few months ago by winning as district nazim, a post he has now vacated to run in the general election.
Facing him from the PMLN camp after a last minute change is Malik Mohabbat Awan, who is known to have a close association with Nawaz Sharif's son-in-law Captain (retd) Muhammad Safdar. Awan was not his party's original choice. The nomination was first given to Sardar Mehtab Ahmad Khan Abbasi's son Sardar Sherhyar Khan. This changed when the party refused to give Abbasi senior a ticket for the neighbouring constituency, NA-15, as well. Incensed that the ticket went to a Safdar loyalist, Murtaza Javed Abbasi, both the father and the son decided not to contest the poll.
Ali Asghar Khan, the man PTI has chosen to run against Murtaza Javed Abbasi, is equally divisive. He enjoys a clean reputation bolstered by his late father Air Marshal (retd) Asghar Khan's larger than life personality and his own professional status as a UK-trained architect. He has failed to win any election so far and his progressive but docile politics seems distant to local voters. A PTI dissident candidate, Sardar Mohammad Yaqoob, who had been elected as a member of the National Assembly from the same area in 2002, may further damage Ali Asghar's prospects.
Probably the closest contests in the Hazara region will take place in Mansehra's NA-13, where former religious affairs minister Sardar Muhammad Yousaf's son, Shahjehan Yousaf, is pitched on a PMLN ticket against a powerful independent, Haji Saleh Mohammad Khan.
Shahjehan Yousaf is seemingly the guaranteed recipient of Gujjar votes – the second-largest tribe in Mansehra after the Swatis – because of being Gujjar himself, but his rival not only has the potential to consolidate all non-Gujjar votes but also has the backing of both PTI and a Safdar-led group within PMLN. The contest is delicately poised.
An erstwhile predictable contest in the nearby constituency, NA-14, has suddenly become highly interesting. The constituency is home to PMLN's Safdar. He contested his first election from here in 2013 and won by a whopping margin. With a resourceful federal government on his side, he is said to have pumped in a good four billion rupees into the area. This, of course, is quickly countered by allegations that he made massive amounts of money through kickbacks and launched schemes of personal benefit. His imprisonment in a corruption reference involving his in-laws' London properties has only intensified these allegations. Yet he would have easily won — but for his disqualification to contest the polls. His brother, Muhammad Sajjad Awan, has now replaced him as a PMLN-backed candidate.
Confronting Muhammad Sajjad Awan is PTI's regional president Zar Gul Khan, who most recently won a provincial assembly seat in Kohistan district without a contest. Along with his brother, Zareen Gul, he had considerable say in who got a PTI nomination in Hazara and who did not, resulting in multiple conflicts between the party's old workers and new entrants. Further up the mountains, Battagram district is famous as a JUIF stronghold that, except for a loss in 2008, has maintained a consistent winning streak for both federal and provincial legislatures. Its candidate, an unassuming Qari Muhammad Yousuf, is a close aide of the party's chief Fazlur Reman.
His rival, Nawaz Khan, heads the one-time ruling family of Allai area – now a tehsil in Battagram district – and had won the seat in 2008 by a thin margin. He joined PTI after losing the 2013 elections as an independent and is hoping that a JI-associated candidate, Rasheed Ahmed, remains in the run so that MMA does not put up a united front against him.
Party politics die out almost completely in Kohistan and the focus shifts to tribal allegiances and individuals.The district has been divided recently into three parts – Upper Kohistan, Kolai-Palas and Lower Kohistan – but there is still only one seat for all three districts.
Before the 2013 elections, Kohistanis from the central district got together to form the Pattan Muttahida Qaumi Mahaz, an unofficial alliance of local tribes. The joint candidate of this alliance defeated Mehboob Ullah Jan, a former member of the National Assembly who also comes from Pattan.
This time round, the Mahaz has selected Dost Muhammad Shakir, though he does not enjoy support from all the tribes. Residents of Kolai-Palas are split between Shakir, Jan and PTI's Malik Aurangzeb. Shakir is facing a tough fight from another candidate from Dasu in Upper Kohistan, Afreen Khan, who is a newcomer to politics but has MMA's ticket. The fact that PMLN's nominee, Haji Misar Khan, has withdrawn his candidacy in Afreen Khan's favour, makes him a strong contender.
Habiba Falak, a young lawyer at Charsadda's sessions court, subscribes to a Pakhtun nationalist ideology. She hopes ANP revives itself in the upcoming election but knows "the chances of that are very bleak".
Charsadda district is home to Khan Abdul Ghaffar Khan, who is known as Bacha Khan, and who set up his red-shirted Khudai Khidmatgaar social welfare movement in the early 20th century. He was also one of the chief exponents of Pakhtun nationalism and, thus, the ideological father of ANP, which is led by his grandson Asfandyar Wali.
Over time, religious politics has made strong inroads into this erstwhile bastion of Pakhtun nationalism. JUIF's Hassan Jan first defeated ANP's then chief Abdul Wali Khan in the 1990 election. In more recent times, PTI has also been gaining popularity in the district.
The oldest challenge to ANP in Charsadda came from the Sherpao family that, initially from the PPP platform and now through its own Qaumi Watan Party (QWP), has been a strong contender for power in the district. The scions of the two families do not fight elections against each other any longer, but their rivalry still impacts poll results throughout the district.
Consider Charsadda's first constituency, NA-23, formerly known as NA-8. Aftab Sherpao, as a QWP nominee, won here by a thin margin. His main rival, JUIF's Musammir Shah, was only around 3,000 votes behind him. PTI, too, polled more than 30,000 votes against him. All these contenders are in the run again which makes ANP's role crucial. Its candidate won approximately 16,000 votes in 2013 and can hurt any of the three main candidates by polling the same, or possibly a higher, number of votes.
Aftab Sherpao remains a strong candidate though. His son Sikandar Sherpao has succeeded in bringing four billion rupees of government money to the district for irrigation projects while he was irrigation minister in the last provincial government. But PTI seems to have an advantage here: more than 90,000 new votes have been added to the constituency and many of them are young voters who may prefer PTI over other parties.
In the second constituency, NA-24, Asfandyar Wali Khan bagged 38,264 votes and came third, trailing the winner, JUIF's Muhammad Gohar Shah, by more than 15,000 votes. JI's candidate was fourth: he secured 22,664 votes.
MMA, which now combines JUIF and JI, is a leading contender in this constituency. On the other hand, PTI is struggling because it did not launch any major development projects in Charsadda district. What may offset this is the addition of 87,296 new votes, mostly of the young, to the constituency.
In neighbouring Nowshera district, however, PTI seems in the lead. It has nominated former chief minister Pervez Khattak on NA-25 while his son-in-law Imran Khattak is its nominee for NA-26. This hogging of party nominations by a single family has caused some resentment among many PTI supporters but it may not have any electoral impact.
What may have an impact is that Pervez Khattak is facing a PPP rival, Khan Pervez, who has the potential to woo away many of Khattak's voters living in 22 villages of Nizampur area. This may benefit ANP's Malik Juma Khan, though he may still fail to beat Pervez Khattak.
In NA-26, ANP's candidate, Jamal Khan Khattak, appears to be a strong challenger to Imran Khattak mainly because Pakhtun nationalism here is stronger than the Khattak tribal links. A district where PTI appears in even better shape than it does in Nowshera is Peshawar (which now has an additional National Assembly seat, taking its total to five). During the last election, PTI won all four seats from Peshawar district but has not awarded tickets to any of its previous winners.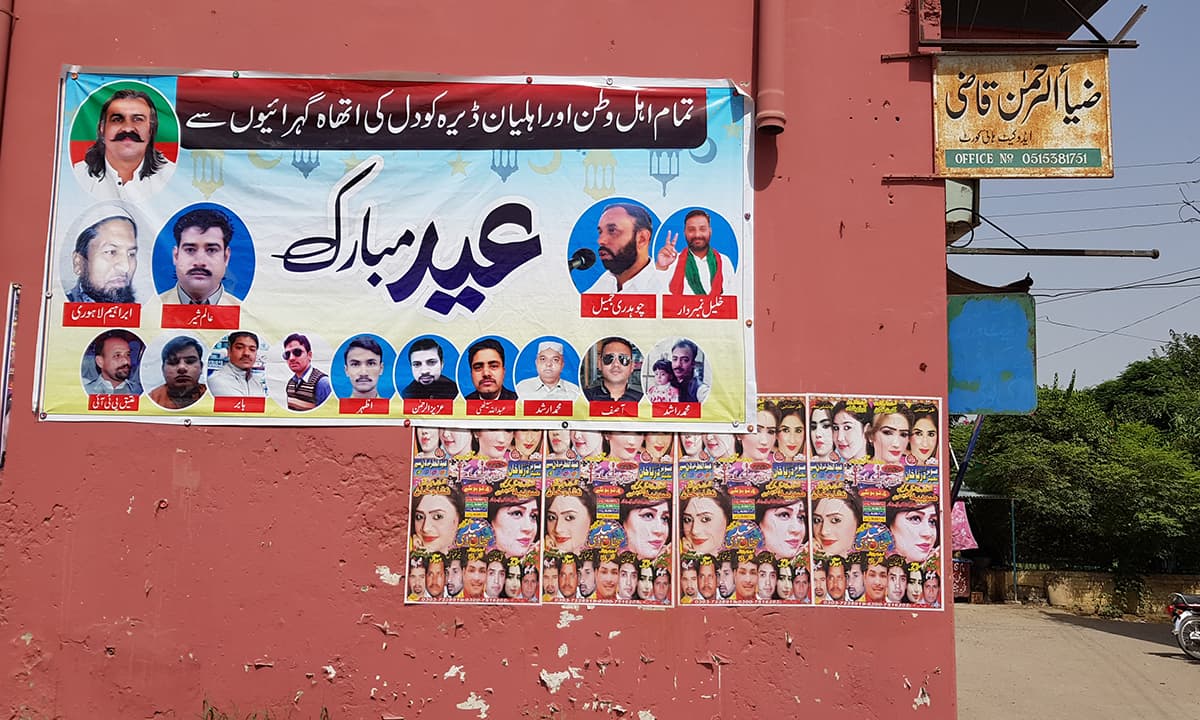 All five of its candidates for the 2018 election belonged to other parties in 2013. The policy of fielding 'electables' to ensure election victories, indeed, has started from what can be called PTI's alternate home to Mianwali and Lahore.
In NA-27, the PTI nominee is Noor Alam Khan, who contested the 2008 and 2013 elections on a PPP ticket. His former party has fielded Asma Alamgir who – though she is the daughter-in-law of former chief minister Arbab Jehangir Khan Khalil – has two disadvantages: she is contesting on a general seat for the first time and is running from the conservative Pakhtun-dominated suburbs of Peshawar where a woman's ability to canvass voters remains limited. Another major candidate here is MMA's Haji Ghulam Ali, who previously headed Peshawar's local government but does not seem to be in a strong position.
In NA-28, PTI has fielded Arbab Amir Ayub who ended his family's decade-long association with ANP in 2017 to fight a by-election on a PTI ticket, and won it by a margin of 20,000 votes. His family has strong influence in the constituency so his departure is a major setback for ANP, whose candidate, Shafi Akbar, does not seem to be doing well. The same is true for MMA's candidate Sabir Hussain Awan who, at best, may retain around 28,000 of the votes that JUIF polled in this constituency in 2013.
Nasir Khan Musazai, who was defeated as a PMLN candidate by Arbab Amir Ayub in the 2017 bypoll, has also joined PTI and received the party's nomination for NA-29. He will face a tough contest from PMLN's Amir Muqam, who has proven himself a skillful public mobiliser. Arbab Kamal Ahmed of ANP is also a serious candidate in this constituency.
A tough contest between PPP's Arbab Alamgir and Sher Ali Arbab (both close relatives) is expected in NA-30. The former's father, Arbab Jahangir Khan Khalil, never lost an election in this constituency even though he changed parties on a regular basis. The latter enjoys nomination from PTI, which has developed a considerable vote back of its own in the last five years.
PTI chief Imran Khan won NA-31 (previously NA-1) with a huge margin of 65,000 votes in 2013, but his party could not retain the seat in a by-election and lost it to ANP's Haji Ghulam Ahmed Bilour who is in the run this time too. On July 10, Haroon Bilour, a nephew of Ghulam Ahmed Bilour, was assassinated in a terrorist attack during a campaign event in this very constituency — as was his father, Bashir Bilour, six years ago in similar circumstances. This may hamper the Bilour family's – and by extension, ANP's – campaigning in Peshawar as well as other parts of Khyber Pakhtunkhwa.
Though a non-Pakhtun family, the Bilours have always enjoyed strong support among Pakhtun Mohmands living in various Peshawar neighbourhoods. PTI's candidate, Shaukat Ali, who is a former PPP member, may succeed in breaking this association and garner a sizeable portion of votes from the Mohmands since he himself belongs to the same tribe.
PTI's electoral success in Mardan division in 2013 was only marginally less remarkable than it was in Peshawar — that is, in terms of seats won.
The party won two out of the three seats in Mardan district. On the third seat, it was only marginally behind the winner, Amir Haider Khan Hoti, who had carried out development projects worth billions of rupees in Mardan as chief minister in 2008-13.
But these results become a little less impressive if deeply looked into. On the two seats that PTI won, its total votes were less than the combined votes of the candidates from JUIF and JI. In NA-20, PTI's Ali Muhammad Khan secured 46,531 votes but the joint votes received by the two MMA component parties were 58,376. Similarly, PTI's Mujahid Ali received 38,233 votes in NA-21 whereas the total votes the candidates of JI and JUIF received for the same seat were 42,159.
The fact that JI and JUIF have now joined hands and formed MMA may make it difficult for PTI to repeat its 2013 performance. An additional factor going against the party is that its local members of the National Assembly have alienated their supporters. Ali Muhammad Khan, for instance, was seen more often on television talk shows than in his own constituency. PTI has also launched no development projects in the area with which to woo voters.
Possibly to overcome some of these problems, the PTI leadership decided to replace Ali Muhammad Khan with former provincial minister Iftikhar Mohmand as its election nominee but changed the decision later. Mohmand could have attracted voters from his own Mohmand tribe that has a large presence in the constituency. PTI is now banking on possible support from the 263,642 new voters registered in Mardan between 2013 and 2018.
In Swabi district, too, PTI's win was facilitated by divisions among its rivals. The party's stalwart, Asad Qaisar, in fact, polled around 1,500 fewer votes than his two main opponents, JUIF's Attaul Haq and PMLN's Iftikhar Ahmed Khan.
Swabi's second seat was secured by Usman Khan of the Tarakai family that is famous for its highly profitable tobacco business. The family formed its own party, Awami Jamhoori Ittehad, in the run-up to the 2013 elections and romped to victory on one National Assembly seat and two provincial assembly ones. The party has since merged with PTI, with one member of the family having now became a PTI senator.
The combined votes polled by PTI's own candidates in 2013 and those supported by the Tarakai family exceeded the combined votes of other major candidates in almost all local constituencies. This gives a strong boost to PTI's electoral fortunes in the district.
PTI's 'wave' in the last general election helped it win all three National Assembly seats in Kohat division. For the 2018 elections, the going has gotten a little tough.
When Shehryar Afridi won the sole National Assembly seat in Kohat district with 68,129 votes on a PTI ticket in 2013, his vote tally was more than double of his nearest rival's, but he is not comfortably placed for the upcoming election. Like in most parts of Khyber Pakhtunkhwa other than Peshawar and Nowshera, PTI has not initiated any noticeable development schemes in Kohat. Additionally, Shehryar Afridi did not maintain contact with his electorate during his stint as a member of the National Assembly. His party was initially reluctant to give him an election ticket for that very reason. What may still go in his favour is that 96,924 more votes have been added to the district recently. A large number of them are young people who may favour PTI over other parties.
Shehryar Afridi's main rival, JUIF's Gohar Muhammad Khan Bangash, locally known as Gohar Saifullah, was a distant runner-up in the last election. He is now running on a ticket from MMA that includes a Shia party, Tehreek-e-Jafaria Pakistan. This may help him get Shia votes in his constituency through a Shia associate running for a provincial assembly seat in the same area.
Abbas Afridi, a PMLN candidate, is also being considered a strong candidate because of what is locally known as 'transformer politics' — providing electricity connections and carrying out other development work.
Karak, the second district in Kohat division, is known for being a stronghold of religious parties, particularly JUIF, but its only seat was won by a PTI candidate, Nasir Khattak, in the last election. PTI is still popular among the youth. Many of the 89,492 new voters the district has added may also vote for it.
The main challenger to PTI's new candidate Shahid Ahmad Khattak is Mir Zakim Khan, an MMA nominee, but his prospects have been impacted negatively because many senior JUIF officials have announced that they will not support him.
Another notable candidate in the district is PMLN's Rehmat Salam Khattak.
In Hangu district, it is PTI that is riven by divisions. Some of its activists are not happy over provincial assembly nominations and their dismay has the potential to hurt the party's National Assembly candidate, Khial Zaman Orakzai, as well. He, in any case, is being criticised for residing in Dubai most of the time and only occasionally visiting his constituency. PTI is also facing criticism over its poor performance in terms of developing the district.
What adds to Khial Zaman Orakzai's woes is that his victory margin was thin. His opponent, Mian Hussain Jalali of JUIF, was only 2,930 votes behind him. Most of the votes polled by Jalali will now go to Atiqur Rahman, MMA's candidate for the upcoming election, who additionally enjoys good ties with the local Shia community that has 15-20 per cent of the total votes in the district.
Bannu division has been a JUIF stronghold for the last decade. The party stemmed a PTI tide here by winning both National Assembly seats in 2013.
For the upcoming election, Imran Khan himself has opted to contest from the seat won in the last polls by JUIF's Akram Khan Durrani (who is now an MMA candidate). The PTI chief's personal charisma has the potential to take over Durrani's stronghold in the district though it will require a lot of doing. In his tenure as chief minister in 2002-07, Durrani had invested huge amounts of government money in the district.
Wrangling between JI and JUIF, however, does not augur well for him. A number of senior JI members have decided to support Imran Khan against him.
PTI is also being supported by Nasim Ali Shah, a JUIF dissident, who bagged over 45,000 votes against Durrani's 78,294 votes in the last election — PTI's own candidate secured 25,392 votes. In order to cement its ties with Nasim Ali Shah, PTI's provincial government allocated hundreds of millions of rupees earlier this year for his madrasa, Al-Markaz Islami.
The addition of 134,872 new votes to the district gives PTI another advantage (though many of the young, first-time voters in Bannu could be students of madrasas run by JUIF).
MMA and PTI are also vying for Lakki Marwat's lone National Assembly seat. It was won easily by JUIF chief Fazlur Rahman in the 2013 elections but his brother, Attaur Rahman, could not retain it in a by-election and lost to PTI's Amirullah.
In the upcoming election, MMA has pitched a strong candidate, Muhammad Anwar, while PTI has made an alliance with the famous Saifullah family of Lakki Marwat that has had multiple members in various legislative houses for decades, representing different parties at different times. PTI reportedly gave the family a free hand to choose election nominees in the district. This resulted in the party's National Assembly ticket going to Ishfaq Ahmed Khan who joined PTI in April this year and got only 39 votes in 2013.
This has upset Akhtar Munir, a brother of the late parliamentarian Anwar Kamal Khan Marwat. Having secured more than 22,000 votes in 2013 as a PMLN nominee on a provincial assembly seat, he was expecting a PTI nomination for the National Assembly. His unhappiness may go in MMA's favour.
A commuter in his mid-twenties gestures towards newly built roads as he rides a motorcycle-rickshaw on the main highway that links Dera Ismail Khan with Bannu. He says Ali Amin Gandapur, a confidant of Imran Khan and a former provincial minister, has changed Dera Ismail Khan for the better. He also credits Gandapur for setting up the city's first public park where "no hooligans are allowed" and where women and children have exclusive entry rights a few hours each day.
Gandapur is now a candidate for NA-38, one of the two National Assembly seats in Dera Ismail Khan. He is counting on development schemes – a new emergency ward at the district hospital, sewerage lines in some neighbourhoods, roads and solar-powered street lights in others – as well as the popularity of his party, PTI, especially among young voters.
His opponent is a political heavyweight, Fazlur Rehman, who has deep-rooted political and religious influence in Dera Ismail Khan, and beyond. His family has been politically active in the district since the days of his illustrious father Mufti Mehmood back in the 1960s. Fazlur Rehman has also capitalised on the anxieties of the district's Pakhtun population vis-à-vis its relatively larger Seraiki population. He opposes the merger of Dera Ismail Khan with a proposed Seraiki province if and when that materialises. To his advantage, none of his opponents have the ability to consolidate the Seraiki vote, a big chunk of which in recent times has gone to PTI.
Faisal Karim Kundi, another serious contender in the constituency, has been trying to win over Seraiki voters but success has eluded him. Otherwise, he has sizeable support thanks to the political legacy of his father Fazal Karim Kundi who won the local National Assembly seat as a PPP candidate in 1990.
The other major political fault line in the district is the difference between urban and rural voters. The former vote on the basis of party-ideology-performance and the latter on the basis of tribe, clan and other social and religious considerations. How the two main candidates utilise this difference will largely determine their victory or loss.
Fazlur Rehman is also a candidate in Dera Ismail Khan's second constituency. In this mainly rural Pakhtun-dominated area, he is depending on the conservative and religious ethos of his constituents for support. One of his main rivals is Sardar Umar Farooq who has developed a strong electoral machine in the constituency, mainly working through kinships, tribal affiliations and patronage distribution networks.
The second district of the division, Tank, has always followed Dera Ismail Khan's politics, mostly because the two districts shared a National Assembly constituency until recently. It is for the first time that Tank has got its own constituency, though its politics it still tied to its larger neighbour.
One of the main contenders here is Maulana Fazlur Rehman's son Asad Mahmood. His father secured this seat, along with two others, in 2013, but then a PTI candidate, Dawar Khan Kundi, won it in a by-election.
Asad Mahmood's main challenger is Habibullah Khan Kundi, a PTI nominee who was earlier in PMLN, but Dawar Khan Kundi is also in the run as an independent. This will divide the votes of the Kundi tribe that resides in both Tank and Dera Ismail Khan, and will also split the anti-JUIF vote.
There is, essentially, nothing new about these electoral battles. What is new is how some voters are behaving towards candidates. In one neighbourhood in Tank city, people have asked for two million rupees for 1,200 votes. They say they need the money to get gas connections. In another part of the city, people are asking for 15 million rupees in exchange for around 800 votes. They want to use the money to build a five-kilometre road.
Another major election issue here is the scarcity of irrigation water. Many candidates are promising that they will address the problem by building small dams. Whom the voters trust will be known only after polling day.
---
Danyal Adam Khan and Ghulam Dastageer are staffers at the Herald. Aurangzaib Khan is a Peshawar-based freelance writer. Danial Shah is a travel photographer and writer.
---
This article was originally published in the July 2018 of the Herald. To read more, subscribe to the Herald in print.