People
&
Society
Tapestry
A patriotic song blares through speakers placed on either side of the stage. The Urdu ditty that talks down terrorists was produced and released by the army's public relations department in response to the 2014 Army Public School attack in Peshawar. The audience, a chirpy mix of men, women and children, is gathered for the Qaumi Nifaz-e-Urdu Conference. They all await the guest of honour inside Aiwan-e-Quaid at Islamabad's Fatima Jinnah Park on the morning of July 24, 2016.
The atmosphere within the venue is gregarious. Outside, it is oppressively hot and humid even though it rained the previous night and drizzled the same morning. A wrinkled banner on a sidewall asks: "If we are a nation then where is the national language?" Another reads: "Mohsin-e-Urdu Justice Jawwad S Khawaja ki jura'at ko salaam (salute to the courage of Urdu's benefactor Justice Jawwad S Khawaja)."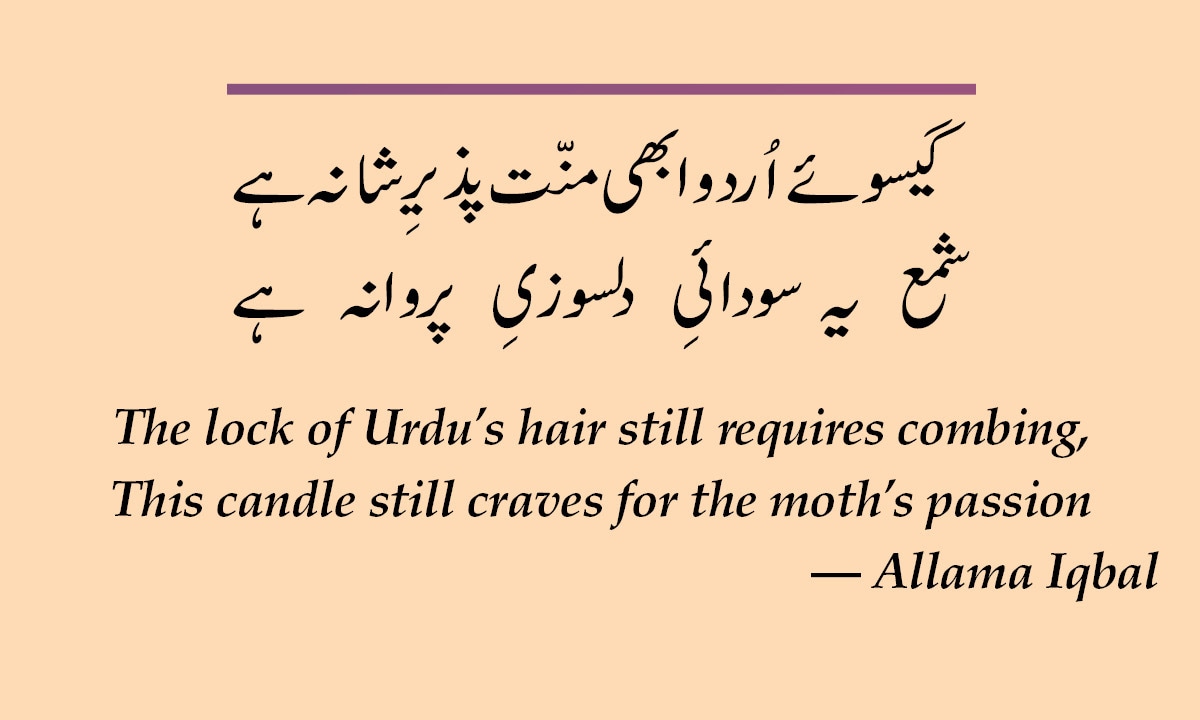 The event, put together to call for the adoption of Urdu as Pakistan's official language, morphs into a prolonged standing ovation as atomic scientist Dr Abdul Qadeer Khan enters the venue. Speakers later emphasise that Urdu strengthens Pakistan's ideological foundations (even when it is the mother tongue of approximately eight per cent of the people in a country of nearly 200 million). It is also the language of Islam, most argue.
At one point, a female teacher rises from the audience and says that Arabic should be compulsory in schools. At this, some people at the back start shouting "Urdu ko band karo (shut down Urdu)". While some speakers, too, advocate making Arabic the medium of instruction, others skirt around the topic. None of them, however, disowns Arabic.
When Abdul Qadeer Khan makes his speech, he admits he could not have made the atomic bomb had he not learnt English. He nevertheless insists that Urdu unites people and it is imperative that we become "proactive in its implementation".
He is joined on stage by Irfan Siddiqui, adviser to the prime minister on national history and literary heritage. A veteran Urdu columnist, he is known to have the ear of Prime Minister Nawaz Sharif. "I have a spiritual connection with Urdu. I have studied, taught and written Urdu," he says to highlight his affinity with the language. But, he adds, he cannot implement Urdu as the official language because "it is not part of my job".
Abdullah Gul, son of the late pro-Taliban spymaster General Hamid Gul, apologises for being late. He was held back by a delegation that came to see him on behalf of Afghan President Ashraf Ghani without prior notice, he deems it necessary to tell the audience. Then he mentions a television interview of his. "I told Al Jazeera that Urdu is the second most spoken language in the world. You should start a channel in it."
Once food is announced, the crowd bursts out of the hall. Chicken pulao and shami kebabs in styrofoam boxes are hastily distributed by volunteers as people find a suitable spot to consume their meal in the oppressive heat.
The 1973 Constitution recognises Urdu as Pakistan's only national language. It also promises to make it the official language of the state. Article 251 of the Constitution says "arrangements shall be made for [Urdu] being used for official and other purposes within [next] fifteen years". A subclause allows the use of English until those arrangements are made; another subclause permits provinces to promote "provincial languages" alongside Urdu.
Dutch anthropologist Oskar Verkaaik calls this recognition of Urdu part of the "ashrafization" of the language that began long before Partition. In his 2004 book Migrants and Militants: Fun and Violence in Urban Pakistan, he defines ashrafization as a "long-term process of making Urdu the language of cosmopolitanism and distinction". A necessary corollary of ashrafization, according to him, has been that regional languages including Sindhi and Bengali were deemed "inferior" in Pakistan.
Since the adoption of the Constitution about 44 years ago, the process of Urdu's implementation is still far from complete. In many areas, it has not even started. The 15-year time frame given in the Constitution has passed almost thrice but English remains an administrative, economic and social necessity. As regional languages experience an unprecedented revival in the age of smartphones and social media, where these technologies have democratised activism, Urdu's status as the "language of cosmopolitanism and distinction" seem to have fallen by the wayside.
Nothing reflects this more than a 2015 Supreme Court decision. A three-member bench led by then chief justice Jawwad S Khawaja combined different petitions – that came up for hearing 18 times in 2015 alone – over the violation of Article 251. One was filed in 2003, by lawyer Kaukab Iqbal, and the other by Syed Mehmood Akhtar Naqvi, known for being a serial petitioner, in 2012. The case received immediate public attention. In proceedings spread over seven months, the judges observed they were "not informed of satisfactory arrangements by the government" for Urdu's adoption as the official language.
The court issued its verdict on September 8, 2015, directing the federal and provincial governments to make Urdu the official language within three months. "In the governance of the federation and the provinces there is hardly any necessity for the use of the colonial language [English] which cannot be understood by the public at large," the judgment noted. The judges, however, recognised "the importance of English as a language used in international commerce".
They also carefully avoided demographic and political questions surrounding Urdu by using words that sound more sacred than realistic. "We are tasked to both obey the Constitution and to enforce it, and we cannot shy away from our obligation to the same while the nation suffers even if some may (from habit or training) find it more convenient to continue using the colonial language [English]."
The judges left the ball in the government's court — implement the Constitution or change it.
Dr Sharif Nizami is a chemist by profession and a Jamaat-e-Islami activist by choice. Born in Punjab's Vehari district on January 1, 1947, he runs an organisation called Pakistan Qaumi Zaban Tehreek. It was this organisation that made last year's Qaumi Nifaz-e-Urdu Conference in Islamabad possible. It was also the force behind Kaukab Iqbal's petition at the Supreme Court.
Pakistan Qaumi Zaban Tehreek – that, according to Nizami, runs on "contributions from supporters" – was formed on November 5, 2010 in the drawing room of his Rehmanpura Colony residence in Lahore. He and 11 of his associates decided to bring it about when, in 2009, the Punjab government announced that English will be the medium of instruction at primary schools. The organisation has been making minor stirs through opinion pieces in Urdu dailies as well as with sessions meant to bring round people of power and influence to the cause of Urdu's implementation.
It is already midnight but Nizami is as energetic as ever (he says he has been used to all-nighters ever since his time as a student at the Punjab University). "We are not against English. We are against the slavery of English," he says as he points towards a cardboard effigy standing shyly in one corner of the drawing room. Dressed in western attire, the effigy has something written on it: "Pakistan — the born slave of English". Another inscription displays the mobile phone numbers of the organisation's office-bearers. Nizami plans to parade the effigy outside educational institutions in Lahore.
He sees the Supreme Court verdict as a "victory that we could not have imagined in our dreams". There was no hope in sight until Justice Khawaja came along.
With a tendency to break into monologues about Pakistan's ideological foundations, laced with verses from Allama Iqbal, Nizami insists in an interview conducted last month that service to Urdu is service to Islam. "Our first step is the implementation of Urdu across all sections of society," he says, "the second step will take time but it would be ideal if we could adopt Arabic in the future."
Prime Minister Nawaz Sharif approved the implementation of Urdu as the official language even before Justice Khawaja came out with his judgement — perhaps to evade censure by the court. The Cabinet Secretariat issued a memo on July 6, 2015, directing all ministries and divisions of the federal government to translate their paperwork, signboards and websites into Urdu. The memo stated that all government representatives will make speeches in Urdu, even outside Pakistan. Sharif himself would not follow that directive in multiple foreign visits he made subsequently.
The language of the memo certainly needed clarification — duly provided by Federal Minister for Planning, Development and Reforms, Ahsan Iqbal, in a July 18, 2015 interview with Time magazine. "Urdu will be a second medium of language and all official business will be bilingual," he said.
Less than a month later, he announced the introduction of 'Urdish' in schools — a mixture of Urdu and English. At the launching ceremony of an educational reform programme on August 14, 2015, he said Urdish "would get rid of the English- medium/Urdu-medium controversy which had damaged education standards and adversely affected the growth of young minds in contrast to the world practice of educating children in their native languages".
English, being the global language of knowledge production, is increasingly becoming important for Pakistanis looking for jobs in services and other high-tech sectors both within their country and abroad. Urdu, consequently, has lost its salience within Pakistan's education sector as a facilitator for high-paying jobs — a view adopted by the provincial governments of Punjab and Khyber Pakhtunkhwa when they announced to make English language the medium of instruction in schools, in 2009 and 2014, respectively.
Outside the government education system, English-medium schools have sprung up in every nook and corner of the country. They form a major part of private sector education that, according to a report by Islamabad-based Institute of Social and Policy Sciences, has seen a 105 per cent rise since 2000.
The linguistic divide between private schools (imparting education mostly in English) and government schools (mostly Urdu-medium) is widening the gap between rural Pakistan (where majority pupils still go to government schools) and urban centres where private education has become, arguably, the norm. It is similarly perpetuating existing class divides between the English-speaking haves and the Urdu-trained have-nots – and generating new ones – between the expensively educated and the cheaply qualified.
Linguist Dr Tariq Rehman has written about these divisions in his 2005 paper titled Passports to Privilege: The English-Medium Schools in Pakistan. "All the products of English schools, even those that are English-medium only in name, agree in regarding themselves as an elite … with regard to talent and knowledge," he wrote.
As English ensures surer and faster social and economic mobility than Urdu does, who wouldn't want their children to study in English?
Competitive examinations for civil services manifest how resort to Urdu is no longer a judicial or a constitutional affair alone. The Supreme Court judgment mentioned these exams as an area where Urdu should be used. In February 2017, Lahore High Court went a step ahead and issued a verdict, directing the Federal Public Service Commission to conduct the 2018 Central Superior Service exams in Urdu. The commission appealed the decision, saying time is a constraint. A different bench of the same high court repealed the decision on March 29, 2017.
The 18th Constitutional Amendment could also have a role in delaying Urdu's implementation. It allowed the provinces to make their own decisions about syllabus and medium of instruction (that is exactly what Punjab and Khyber Pakhtunkhwa have done vis-à-vis English). No central authority exists in the country with the constitutional power to implement a particular syllabus in a particular language – citing them as prerequisites of national ideology and cohesion – as was the case with reference to Urdu and religious subjects in the not-so-distant past.
The garden, covered in a marquee, is swept by a pleasant sea breeze and a soft chatter of salutations. The first three rows of chairs under the marquee are already full, with volunteers helping elderly guests find suitable places to sit. It is 11 am on February 11, 2017, and a session at the 8th Karachi Literature Festival at Beach Luxury Hotel is just about to start.
The session is titled Urdu Nu Kia Hua?. It reminds one of a Karachiite trying to speak Punjabi. Its ostensible objective is to bring under the microscope the "Punjabisation of Urdu". Whether the insertion of a single Punjabi preposition in an Urdu phrase as opposed to having the entire title in Punjabi is a gimmick or an innocent pun, it does illicit a confused response from the audience during questions and answers towards the end of the session.
Saif Mahmood, a Delhi-based translator, is present on stage to moderate the session that has nothing to do with the state of Urdu in his country. He is flanked by Lahore-based educationist Arfa Sayeda Zehra and novelist Ali Akbar Natiq and Karachi-based poet and translator Afzal Ahmed Syed.
There is little disagreement among the panelists about whether Punjab has added to Urdu's flavour. Syed admits that Punjabi – even though he is not exposed to it directly – has seeped into his writing because of what he calls the homogenisation of cultures in Pakistan. To illustrate how Punjab has also benefited from Karachi's Urdu-speaking culture, he cites an example from a ghazal of Punjab-born Urdu poet Zafar Iqbal: Maloom nahin ishq ke sauday mein khasara, mere ko ziada hai ya tere ko ziada (Don't know whether loss in the deal of love, mine is more or yours is more). The use of mere ko (mine) and tere ko (yours), Syed argues, is a compliment to Karachi's street slang.
Other than quoting from Mir Taqi Mir, Insha Allah Khan Insha and Daagh Dehlvi, Natiq reads out his Urdu poem, Laqa Kabootar Kisne Palay? (Who raised fantail pigeons?), which in spite of being in Urdu, derives heavily from the Punjabi social and cultural ethos.
Zehra says it is only logical that Urdu is changing as a result of its interaction with other languages in Pakistan. For her, Urdu is held hostage today by anchorpersons on television, but she is not entirely unhappy with that either. "If language is used for informing, its disrespect is acceptable."
A woman in the audience asks why the decay of Urdu as a language is not being questioned, as opposed to celebrating linguistic amalgamation. She does not get an answer. The microphone passes on to the next questioner.
Marvi Memon was at one point Pakistan's youngest female chief executive, heading a firm that offered the country's first satellite tracking system. After the 2008 general election, she became a member of the National Assembly from Punjab on a reserved seat. She was a nominee of Pakistan Muslim League–Quaid-e-Azam.
In 2010, Memon tabled a private member bill in the National Assembly to declare Balochi, Punjabi, Pashto, Sindhi, Shina and Seraiki as national languages alongside Urdu. The bill was shot down, mainly because it was seen as clashing with Article 251.
Memon joined Pakistan Muslim League-Nawaz (PMLN) in 2012 — just in time as the party won the next general election. She again became a member of the National Assembly — on a reserved seat but this time from Sindh. Her new party was convinced that Pakistan could not have a single national language. "In most nation states all major mother tongues are national languages," its 2013 election manifesto said. It promised to set up a "National Language Commission … to develop criteria for giving the status of national language to all major languages."
The party made its federal government soon after that election, but the commission is yet to come about. Memon, who now heads the government-run Benazir Income Support Programme, managed to retrieve her 2010 bill from the legislative archives, bringing it to the National Assembly's committee on law and justice in February 2014, now as a draft constitutional amendment. It suggested two major changes in Article 251. "The National Languages of Pakistan are Balochi, Balti, Brahvi, Punjabi, Pushto, Shina, Sindhi, Seraiki, Hindko, Urdu and all those mother tongues as deemed to be major mother tongues of Pakistan by the National Language Commission," read one of them. The other stated that a fund would be set up for language promotion and Arabic and Persian would be "taught as subjects at school level".
The bill was rejected by the committee on July 16, 2014. Even though Memon protested that it was in line with the PMLN manifesto, her own party colleague, Mahmood Bashir Virk, who headed the committee, voted against it. He was persuaded by law ministry representative Justice (retd) Raza Khan that Article 28 of the Constitution already calls for the preservation of Pakistani languages and that Pakistan suffered in 1971 mainly due to the recognition of Bengali as a national language alongside Urdu. Awami National Party's Haji Adeel is reported to have made a similar failed attempt in the Senate to get other Pakistani languages the same national status as Urdu enjoys.
Article 251 simply cannot be touched.
Amid the whirring of generators and appetising smell of fried savouries, Abdul Razzaq Janjua is perched on a stool, wearing a white prayer cap and looking around with an empty gaze. His Olympia typewriter is facing him; he himself is facing a line of desks with computers, printers and busy customers haggling with the operators of those devices.
At Lahore's District and Sessions Court, time is precious but Janjua seems to have plenty. Ever since the arrival of computers and more energetic competitors at his workplace, his time is mostly spent daydreaming and exchanging pleasantries with old acquaintances.
He retired from his revenue department job in Gujranwala 32 years ago and became an application writer at the court. Every morning, his son drops him at the court entrance. In the evening, he packs up and catches the metro bus to his house in Shahdara, on the other side of the Ravi river.
For a few hundred rupees, he can type anything for you in English. For drafting in Urdu, he relies on longhand. The two languages are still being used together at the court, the Supreme Court's order notwithstanding. "Urdu might be our national language but this [implementation] won't work," he says. "The whole world is using English. We are subjects of English speakers. How will Urdu work?"
His younger counterparts, Zain and Zafar, two Punjab University graduates, left their jobs last year to form a drafting and composing start-up. On a good day, they take home about 1,000 rupees. A former employee of German IT firm Rocket Internet, Zain knows Punjabi, Urdu and English but he can draft a legal document even in Chinese, Persian and Arabic (a sure sign of the changing nature of court work). How? That's a trade secret, he responds with a smug smile.
The two believe Urdu can still benefit the common people. Seated with their machines not far from Janjua's perch, Zain entertains a customer as Zafar plays a computer game. A Punjabi by ethnicity, the former considers Urdu his mother tongue and points to its currency among the poor. "The common man understands Urdu so it is good if all his documents are in that language," the latter chimes in, as he shuts down the game to open an unlicensed version of InPage, the premier Urdu word processing software introduced in 1994.
Conversations at Lahore's upscale grocery stores, restaurants, rickshaw and taxi stands in middle-income and posh areas is mostly in Urdu, dashed here and there with phrases or jokes in Punjabi. Generally in the city, speaking in Urdu makes one look either sophisticated or docile — or an outsider from Karachi. Umair Arshad Rana, a Rajput by caste and a Lahori by residence, says his friends refer to those talking in Urdu as 'Mummy Daddy' — a term used for someone who does as their parents say. He studied marketing at a British university and works as a part-time sales manager at a steel company in the mornings. In the evenings, he drives a Careem taxi.
Rana believes people do not think much about the language question in urban Punjab. Or, maybe, they just do not talk about it.
Shahbaz Ali, another resident of Lahore who also drives a cab, aspires to one day speak English with impressive fluency. From within Pakistani languages, he prefers Urdu over Punjabi.
"Urdu is a sweet language and Punjabi is a dirty language," he says. His father addresses him in Punjabi but he hesitates to respond in the same language — out of respect. "I speak Punjabi only when I am with my friends," he says.
This may explain why hundreds of thousands of Punjabis from the educated, urban middle classes are reported to have marked Urdu as their mother language in the 1998 census. An equal number, if not more, is expected to do the same during the ongoing census.
Lahore-based Punjabi poet Mushtaq Soofi sees Punjab's colonial history at play behind this attitude. "When the Punjabis say that Punjabi is a dirty or ill-mannered language, it is our colonial history that is talking," he says.
The British annexed Punjab on April 2, 1849, almost 10 years after the death of Ranjit Singh — the founder of the Lahore-based Sikh Empire. It was one of the last few states in the Subcontinent to fall to them. By that time, East India Company had governed some parts of India for almost 100 years and had devised a language policy as an instrument of control.
This was done mainly through the English Education Act 1835. Thomas Babington Macaulay's infamous Minute on Indian Education surfaced on April 2 that year as the British parliament started debating expenses to be made on providing 'western' education in India. Macaulay emphasised the need for teaching English to "native subjects" and letting the "masses" acquire education in vernacular languages. Sir Charles Trevelyan, who in 1838 wrote a book with the self-explanatory title On the Education of the People of India, also advocated the same.
The dual-language policy the British adopted underwent a change in Punjab. To facilitate the north Indian bureaucracy that the British had brought with them to Lahore, they enforced Urdu as the vernacular language here, instead of Punjabi.
This begs the questions: Why was there no resistance? Was the acquiescence because Muslims and Hindus deemed Punjabi as the language of Sikhs?
Hundreds of thousands of Punjabis from the educated, urban middle classes are reported to have marked Urdu as their mother language in the 1998 census.
Soofi argues that "economic compulsion" is often overlooked in finding answers to these questions. "The British brought with them a whole new system of railways, telegraph, telephone, hospitals, courts, police stations … a whole new job market was created where Urdu and English [were both used]," he says. This occasioned the birth of an Urdu-speaking middle class among Punjabis.
The canal irrigation system subsequently built by the British in Punjab initiated a whole new age of zameendari (landowning) and gave the British an ally to perpetuate their colonial project. That also helped English and Urdu spread across the canal-irrigated regions.
A Sahiwal-born PTV veteran, Soofi vigorously champions the cause of Punjabi language and culture in his newspaper columns. After a stint with Lahore-based music recording company, Sachal Studios, he has recently joined an upcoming liberal arts university whose campus on Lahore's Raiwind Road is near completion. It will be the first university in Pakistan to officially adopt Urdu, English and Punjabi as mediums of instruction and will add more languages depending on the linguistic diversity of its student body. "Language is the best product of mankind. If there is only one standard of being human, it is language," he muses. "The problem starts when one language is used to repress another."
Soofi started taking Punjabi seriously during his time at the Government College, Lahore. He now heads the Punjabi Adabi Board, an independent institution formed in 1975 for reviving Punjabi language and literature. The board filed a writ petition in the Lahore High Court last year for the implementation of local languages, including Punjabi, Seraiki and Pothwari, in primary schools of Punjab, mainly as a means to counter urban biases towards these languages. "Urban Punjabis shy away from talking in Punjabi out of contempt of their rural brethren who are considered lesser humans," Soofi remarks.
It is clear that Urdu's implementation in Punjab during the British period happened at the expense of local languages. But who did it benefit? "It benefited Urdu," says writer and critic Nasir Abbas Nayyar, who heads the Urdu Science Board in Lahore and did his post-doctorate at Heidelberg University, Germany, with a focus on Urdu syllabi in colonial India. "In the 20th century, all giants of Urdu literature were from Punjab."
The Urdu publishing industry in Punjab has experienced a simultaneous rise. "We are unable to meet the appetite of the market," says Afzaal Ahmed, owner of Sang-e-Meel Publications, one of the country's largest publishing houses. A Mercedes is parked outside its multistorey office-cum-bookstore on Lahore's Lower Mall road. The firm has a policy to tolerate shoplifting — to encourage a culture of reading, says Afzaal Ahmed.
His father Niaz Ahmed opened Sang-e-Meel Publications in a single-storey office in 1962 on the same premises. One may not find populist writers such as Umera Ahmed and Hashim Nadeem on its catalogue, but its market share – with 200 annual publications – is still considerable.
"Books of Mustansar Hussain Tarar, Dr Muhammad Younis Butt, Intizar Husain, Bano Qudsia, Ashfaq Ahmed and Qurratulain Hyder sell like hot cakes," Afzaal Ahmed says, mentioning writers who all made it big in the latter half of the 20th century.
Almost 70 per cent of Sang-e-Meel Publications' titles are in Urdu — 29 per cent of them are in English (mostly non-fiction by foreign writers) and only one per cent in Punjabi. Why does Sang-e-Meel refrain from publishing in languages other than Urdu? Pakistani English writers are yet to write something that is relevant to the Pakistani common man, Afzaal Ahmed responds. That is a surprising answer coming as it does in a city where the language of choice for aspiring young people is English, not Urdu.
Athar Tahir, who heads the International Centre for Pakistani Writing in English established at Lahore's Kinnaird College in July 2014, says there has been a history of hostility towards Pakistanis writing in English, mainly for ideological reasons. Back in the 1950s and the 1960s – when poets like Taufiq Rafat were pioneering a Pakistani idiom in English – those writing fiction and poetry in English were considered anti-Pakistan, he explains. Only in recent decades has Pakistani English-writing gradually begun to gather an audience within Pakistan, he says. But that audience remains small.
A former federal secretary of the education department, Tahir pairs his kameez shalwar and waistcoat with Oxford cufflinks. "Language can shape your identity in the sense that it can influence your mannerism," he says. It does not make you a traitor nor can it supplant, or transplant, your identity, he suggests. "If you have your feet firmly planted in the soil then any language can sing the song of the soil."
A Punjabi speaking with a fellow Punjabi in Urdu and learning English at school will remain a Punjabi — just like an Englishman will remain an Englishman in the United States where most people speak the same language that he does.


At Dhaka University's convocation on March 24, 1948, Governor General Muhammad Ali Jinnah delivered a speech that is spoken of to this day. "In my personal opinion, Pakistan's official language – which will become a source of communication between its different provinces – can only be one and that is Urdu. No language other than Urdu," he said.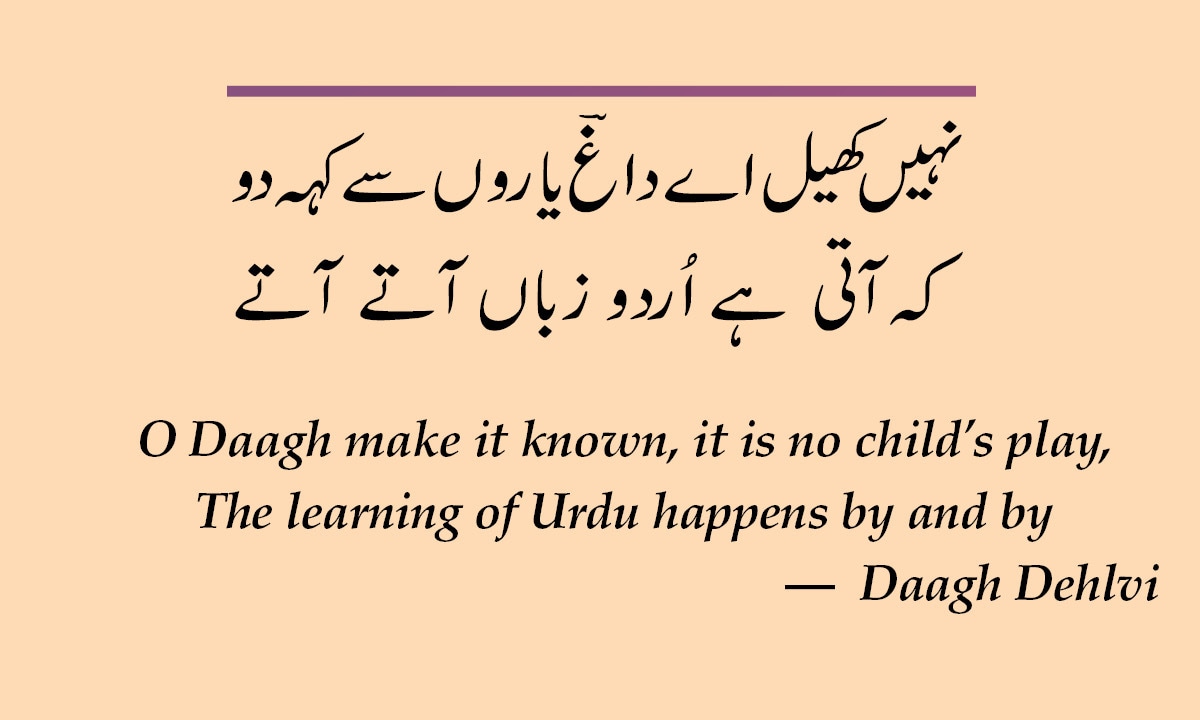 Jinnah was responding to those who were asking for Bengali's adoption as the second national language. Four years later – on February 21, 1952, to be exact – the state responded to the same demand with brute force, arresting and killing many students, teachers and intellectuals at the same Dhaka University.
It was in the memory of that bloodshed that the United Nations Educational, Scientific and Cultural Organization (Unesco) celebrated its first International Mother Language Day on February 21, 2000. Since then the day has become an annual fixture — as a stark reminder of how Pakistan has massively mishandled its national language question.
On this year's International Mother Language Day, Pakistan Academy of Letters put together a two-day event in Islamabad. Littérateurs, scholars and journalists from across the country were invited. At the concluding session, Marvi Memon's constitutional draft came up for discussion. She was subjected to a number of emotional and academic questions. Some of those questions later became the basis for editorials in literary journals.
Karachi-based scholar Rauf Parekh, who was present at the event, took exception to a clause in her draft (carried forward from Article 251) that provides for an additional 15-year period for Urdu's implementation. Another 15 years? He asked in a scathing March 2017 editorial in the monthly journal Qaumi Zaban. "Whenever there is talk of Urdu's implementation … to make Urdu and other Pakistani languages clash, a new controversy is initiated," he further wrote.
As Memon was defending her proposition at the event, Senate's Standing Committee on Law and Justice was holding a public hearing on two private members' bills – one presented by Sassui Palijo and Mukhtiar Dhamrah of Pakistan Peoples Party (PPP) and the other by various members of PMLN and PPP – both calling for similar amendments in Article 251. A February 21, 2017 news report in daily Dawn says legislators and people from different walks of life present at the hearing agreed with the proposals to give national language status to a number of regional languages.
Post-independence, changing the state's administrative idiom from English to Urdu was one of the first challenges policymakers faced.
The agreement would have been an abomination to Sardar Abdur Rab Nishtar, one of the founding fathers of Pakistan. "No one can dare make any language other than Urdu the national and official language of Pakistan," he once famously proclaimed in a 1951 speech.
Urdu, after all, was a major symbol of the Pakistan Movement.
Post-independence, changing the state's administrative idiom from English to Urdu was one of the first challenges policymakers faced. They started by setting up institutions. The Urdu Dictionary Board was set up in 1958. Prominent writers like Qurratulain Hyder, Jamiluddin Aali, Ghulam Abbas and Qudratullah Shahab among others formed Pakistan Writers Guild in January 1959. It was the country's first state-backed literary organisation dedicated, at least on paper, to promoting literature in all Pakistani languages and protecting the rights of those producing it. The guild was modelled after the Union of Soviet Writers set up in the wake of the Bolshevik Revolution in Russia in 1917 as well as India's Sahitya Akademi. In practice, the guild was seen by many leftist and pro-democracy writers and poets as a handmaiden of General Ayub Khan's military regime.
Many other institutions followed soon afterwards — such as Writers and Scholars Foundation, National Book Foundation, Pakistan Academy of Letters, National Language Promotion Department.
Poet Iftikhar Arif has spent nearly 24 years of his life holding key positions at all four. He claims credit for initiating the construction of both buildings — Pakistan Academy of Letters and the National Language Promotion Department. He has served at the former twice and is in his second stint at the top of the latter. If Faiz Ahmed Faiz is to be believed, Arif has made Urdu fashionable.
His first major literary assignment, however, was not in a state-owned institution. He joined the Third World Foundation's Urdu Markaz in Piccadilly, London when it was founded in 1981 and worked there until it shut down in 1990. The Markaz was funded by the Bank of Credit and Commerce International (BCCI), set up by renowned banker Agha Hasan Abedi who came from an Urdu-speaking family that had migrated to Karachi from Lucknow.
Urdu Markaz served as a home away from home for Pakistani writers and poets forced into exile during General Ziaul Haq's military regime. It was also a meeting point for Urdu littérateurs from around the world.
In a recent interview at his residence in Defense Housing Authority, Islamabad, Arif says literary institutions have an important role in the evolution of a language and its literature. "Such organisations exist in every progressive society the world over," he says.
What about military rulers such as Ayub Khan and Ziaul Haq using these organisations to cultivate an intellectual atmosphere in their favour? "That does not invalidate their existence. Zia came and used the Pakistan Academy of Letters for his own ambitions. That does not make the academy purposeless," he responds.


The Pakistan Academy of Letters and National Language Promotion Department sit across each other on Islamabad's Pitras Bukhari Road. Going by what their staffers say, the two institutions also sit across from each other on almost everything.
There is a turf between the two that, thankfully, does not go beyond mutual recrimination in private conversations. Their staffers differ on the implementation of Urdu as the official language. The people at the academy take an idealistic view and want to ensure its implementation at any cost; those at the department are not so sanguine even though the implementation is essentially their official raison d'être. There is another, rather personal, reason: Arif, who heads the department, does not seem to like the way the academy is being run. His prejudices echo among his staff.
Formed on July 7, 1976, the academy has a mission to promote literary activities through awards, grants and publication of books and journals. It is also mandated to ensure the welfare of people of letters through insurance packages and stipends — a purpose not exactly different from that of the Pakistan Writers Guild. It pays 7,000 rupees each to the families of nearly 500 writers every month. The amount will be raised to 13,000 from July 1, 2017.
The academy recently gave its highest honour, Kamal-e-Fun Award (carrying one million rupees as prize money), to poet Kishwar Naheed only to the chagrin of poet Zafar Iqbal's supporters. This is not the first time – and will not be the last – when sections of the Urdu literati stand diametrically opposed to each other.
Within the academy, however, the atmosphere is as staid as in any office in Islamabad.
Akhtar Raza Saleemi had done his masters in Urdu from Sargodha University when he saw an advert in the newspaper about a clerical vacancy at the academy. Almost 11 years later, and at the age of 42, he is working as an editor here. A Hindko speaker from Haripur district, he has authored two novels and four poetry collections — all in Urdu.
His office cabin smells heavily of tobacco. Those who know Urdu cannot do much except write or teach, he says. "The problem is that English has become the standard for being knowledgeable." He fetches a packet of cigarettes from his coat's front pocket and clarifies that his views are personal and do not reflect the position of the academy. "The national language is just a symbolic thing. Our national game is hockey. You know how it is [faring]."
Every subsequent generation of bureaucrats and politicos has preferred to defer the matter to those who came after them, so it seems.
Dr Qasim Bughio, the academy's chairman, does not seem to have many friends within Pakistan's literary circles. During the Gwadar Book Festival, held between February 16 and 19 this year, not a day went by when he was not condemned by the speakers and the audience for one thing or the other.
Old associates of the academy accuse him of removing plaques that had their names on them. "Bughio is part of the government's conspiracy to delay Urdu's adoption [as the official language]," says a poet in Karachi, requesting anonymity. "He deliberately invited Marvi Memon to the event last month to make [the adoption of Urdu] controversial."
The National Language Authority was set up on October 4, 1979 as an autonomous entity to facilitate the adoption of Urdu as the government's official language. On August 17, 2012 it was renamed as the National Language Promotion Department and was attached to the federal information ministry as part of a larger institutional overhaul.
The department's headquarters in Islamabad is surrounded by lawns and an odd silence. It provides jobs to as many as 100 people, only five of them women. Its library is stocked with 40,000 books and around 15,000 journals — almost all of them donated to it. "We publish [Urdu] dictionaries of technical terms, pure sciences and vocalisation that no private institution has the capacity to work on," says Safdar Rasheed, 45, a language developer at the department. He holds a doctorate in Urdu.
When the department was an autonomous institution, it used to translate documents for various government departments for a fee that would get deposited in what was called 'Services Fund', which was mostly used for language promotion activities. Now that fund has ceased to exist, as have language promotion activities.
Dr Fateh Muhammad Malik, 74, served as the department's chairman from December 20, 2000 to August 27, 2005. In his resignation letter, he wrote the department had already fulfilled all its responsibilities. These days he spends his time working on his writings at his Islamabad residence. "We even translated the bureaucracy's bible, ESTA Code. For federal ministries and divisions that wish to switch over to Urdu, the department has already published 29 essential manuals and 96 books of Urdu terminology, all available on its website."
It is clear that Urdu's implementation in Punjab during the British period happened at the expense of local languages.
Malik narrates an anecdote about the 15-year clause in the Constitution. When the clause was being enacted back in the 1970s, senior bureaucrats at the time thought they would have already retired before that period expired. That is why they did not object to the clause, thinking that dealing with it would be the headache of their successors and not their own, he says.
Every subsequent generation of bureaucrats and politicos has preferred to defer the matter to those who came after them, so it seems.
"Nobody is serious about it," says a senior official at the department, requesting anonymity. "In one official briefing, Irfan Siddiqui himself said let things run the way they are running."
Yet, the Supreme Court verdict has stirred things a little. Nubla Pirzada, head of the translation section at the department – and who has a degree in geography from the Punjab University – has overseen the translation of over 3,000 pages of official documents for 56 government and semi-government institutions and reviewed the translations of an additional 3,000 pages of official documents for 25 institutions since the verdict was issued.
Pirzada is one of the department's longest-serving officers. She has been here since 1986. Her own children went to The City School, an English-medium school right across the street from her workplace. "Knowing English is as important as knowing Urdu," she says.
The Urdu Science Board was set up on May 24, 1962. Called Markazi Urdu Board originally, it has its head office in Lahore and regional offices in all four provinces. It was also an autonomous institution before it was attached to the federal information ministry in 2012.
The board has approximately 40 employees and houses a library stocked with nearly 10,000 titles. It has so far published 900 books. Nasir Abbas Nayyar took over as its youngest director general on December 21, 2016.
The board has a revolving fund of five million rupees, generated by book sales, that it uses for publishing Urdu books on social, pure and applied sciences, though according to Nayyar, it published "only five to six books last year". The target, he says, is to publish 50 to 60 books this year.
A Punjabi born in Jhang, Nayyar has dedicated his life to Urdu literary criticism. He stresses the need for promoting the study of linguistics as a subject.
Rather than playing politics on the issue of language, promotion of a literate culture could be a better way of improving language literacy — of Urdu and all other languages spoken in Pakistan. "There is decadence in general when it comes to languages," says Nayyar.
Sitting in his cabin that overlooks a well-kept garden within the board's offices on Upper Mall, Lahore, he says that the time is gone when people would come out onto the streets for Urdu. Why should they? The state has used Urdu for perpetuating a particular national narrative, making both the language and the narrative sound sacred. "Speakers of other languages feel their rights are being usurped," he says.


"If we leave Urdu to its fate or the forces of nature, its blooming garden will turn into a withered heap," thus spoke Maulvi Abdul Haq, the language's most ardent champion in the middle decades of the 20th century. At the time of Partition, he was working as the secretary of Anjuman Taraqqi-e-Urdu, founded in 1903 under the auspices of the All-India Muslim Educational Conference to promote Urdu and counter the influence of Hindi in north India.
He brought with him one part of Anjuman to Pakistan after 1947, along with as many books as he could. The other part still operates from New Delhi. The government is building the Anjuman's headquarters – called Urdu Bagh – in a 5,331-square yard complex in Karachi's Gulistan-e-Jauhar area.
Educated at Aligarh University, Haq is lovingly called Baba-e-Urdu (Father of Urdu). In 1948, he set up Federal Urdu Science College in Karachi to impart higher education in Urdu; it became Federal Urdu University of Arts, Science and Technology in November 2002.
Land for Urdu Bagh was acquired as far back as June 1987 but construction began only after President Mamnoon Hussain – himself an Urdu speaker – took personal interest in the project that is receiving almost 30 million rupees from the federal government. If all goes well, the Anjuman's offices will be shifted here on Haq's 56th death anniversary on August 16, 2017.
The Anjuman is a private entity but it receives an annual grant of 10 million rupees from Karachi's city government. It also receives money from the Pakistan Academy of Letters for book publishing — in 2017 it will receive 2.5 million rupees to publish 24 books.
The Anjuman owns as many as 60,000 books and 30,000 magazines that are stacked on the first floor of its current abode — a 1,000-square yard house in Gulshan-e-Iqbal area. Its catalogue has been recently digitised and boasts of rare, historical documents such as Kulliyat-e-Mir published by Fort William College, Calcutta, in 1811. Due to a lack of space, 2,500 of these rare manuscripts are housed at the National Museum in Karachi.
The Anjuman has seen many presidents come and go but it has had only three secretaries — poet Jamiluddin Aali succeeded Haq and handed charge to Dr Fatema Hassan on March 24, 2014, after occupying the post for over 50 years.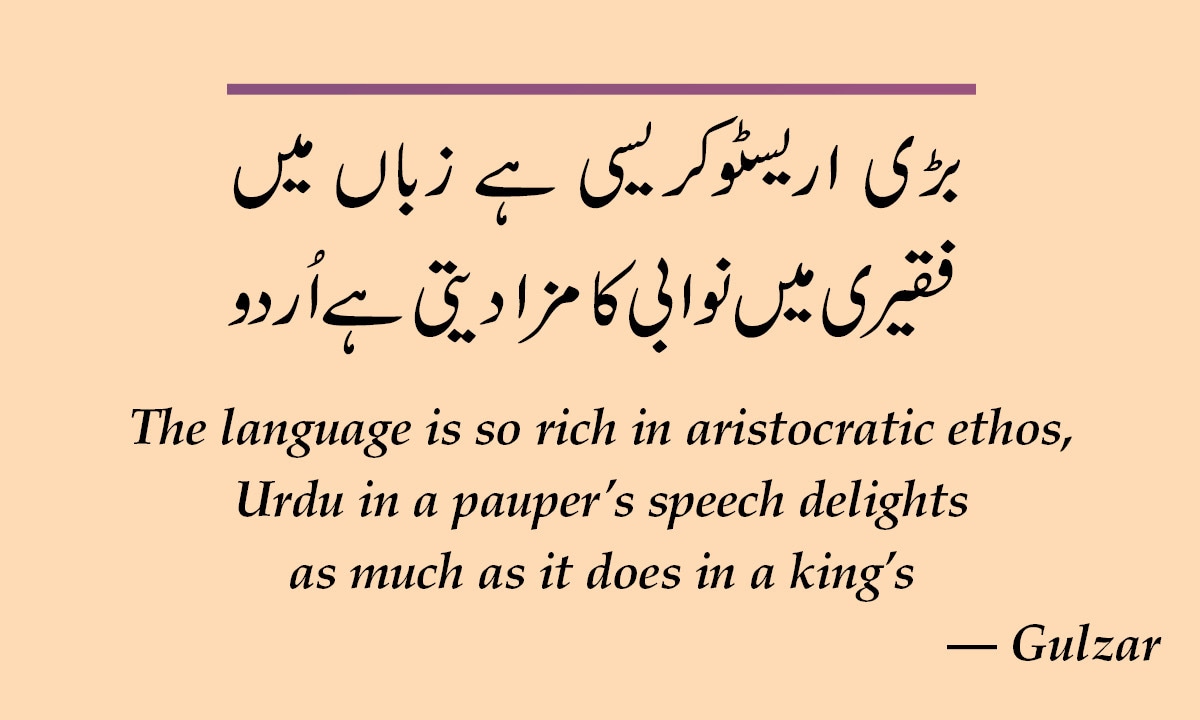 Following the 1970 general election, National Awami Party-Wali (NAPW) and Jamiat Ulema-e-Islam formed a coalition government in North West Frontier Province (NWFP), present-day Khyber Pakhtunkhwa. Mufti Mahmud, a Deobandi scholar and head of the latter party, was elected as chief minister. In Balochistan, Sardar Ataullah Mengal of NAPW became the chief minister of a coalition of the same parties.
Both governments enforced Urdu as the official language of their provinces. "A note by a former chief secretary of NWFP highlights the fact that as a result, available human and financial resources of both provincial governments were optimised," reads the Supreme Court verdict on Urdu's implementation.
In Punjab, under the aegis of then chief minister Hanif Ramay, Dr Fateh Muhammad Malik was working at Majlis-e-Zaban-e-Daftari — a committee that, according to American historian Alyssa Ayres, was formed by Punjab's governor in 1949 to coin new Urdu words. The Majlis had prepared the necessary groundwork for implementing Urdu in Punjab government's offices when then prime minister Zulfikar Ali Bhutto called up Ramay and asked him to slow down. "He said if you don't go slow, you will cause immense problems for me in Sindh," Malik recalls.
Muhajirs, indeed, are an amalgamation of numerous migrant groups and each group has a distinctive vocabulary, vocalisation and literary culture of its own.
The problems did emerge — though from a different source.
Zulfikar Ali Bhutto's cousin Mumtaz Bhutto led the provincial government in Sindh then. With overt support from him, the provincial assembly passed the Sindhi Language Bill, 1972, on July 7 that year, declaring Sindhi as the official language of the province. Resistance to the imposition of Sindhi from the Urdu-speaking residents of the province – most of whom were muhajir (migrants) from north India – was both swift and severe. It resulted in deadly riots across urban centres in Sindh. The riots in Karachi were the most widespread.
" … The mother tongue of a very big ethnological minority [almost 30 per cent in Sindh] happens to be Urdu and this community is as deeply attached to Urdu as every old Sindhi is attached to Sindhi. Moreover, Urdu has been declared the national language of Pakistan and the provincial language in the Punjab, NWFP and Balochistan," is how leftist intellectual Sibte Hasan wrote about the origin of the riots in the Herald's August 1972 issue. The slogan for a separate province of Karachi, called Muhajiristan, was first raised in the wake of those riots, Hasan said.
A telltale photo published in the Herald back then showed a couple of young people holding a placard that "warned" the police and buses that their entry had been banned "till further orders". More ominously, the placard read — 'province: Karachi; capital: Liaquatabad'.
No exact figures are available on how many people died in the riots which were quelled days later after the army took control of Karachi and other cities, and imposed curfew.
In My Life's Journey: The Early Years (1966-1988), published in 2011, Muttahida Qaumi Movement (MQM) founder Altaf Hussain thus commented on the riots: "The language clashes in Sindh were the result of a conspiracy whose purpose was to fan conflict between the Sindhis and the Mohajirs while the exploiting class retained their positions in the government."
This political proclamation aside, language riots were a major reason why Hussain formed MQM in 1984. The other factor in the party's rise was a gradual fading away of the Urdu-speaking elite's dominance of federal bureaucracy, judiciary, intelligentsia and banking/business sector. It was being replaced by the newly rising Punjabi power elite, backed by the Punjabis' numerical majority in institutions like the military and law enforcement agencies. A resurgent Sindhi nationalism, another perceived threat to Urdu-speaking muhajirs, was yet another factor.
Along with religion and class, Urdu is one of the most significant factors contributing to what MQM calls the muhajir identity. The party made that identity the centre of its politics to highlight, protect and promote the rights of muhajirs. " ... Urdu which is the mother tongue of a majority of the muhajirs ... [and] muhajir culture and civilization are also in harmony with the demands of the modern age," Hussain said. "In contrast, the other languages spoken in Pakistan … have still not been successful in assimilating modernity," he said, not concealing his cultural superiority complex.
Karachi-based writer Asif Farrukhi has immaculate credentials for being a member of high-minded ahl-e-zaban – people of north Indian origin where Urdu first flourished as a language of culture and commerce – whom Hussain pointed to his book. He is the son of Lucknow-born literary scholar Aslam Farrukhi and heads the Arzu Center for Regional Languages and Humanities at Karachi's Habib University. But he believes deeming only ahl-e-zaban as the genuine speakers of Urdu "is very exclusionist and outdated".
For him, literary achievement and expertise in language are what make someone ahl-e-zaban. "I refuse to accept any definition of the word Urdu speaker which would include a gentleman sitting in London (Hussain) but leave out Shaikh Ayaz (a Sindhi), Allama Iqbal (a Kashmiri-Punjabi), Faiz Ahmed Faiz (a Punjabi) and Saadat Hasan Manto (a Kashmiri-Punjabi). To me, all of them were Urdu speakers."
Language riots were a major reason why Altaf Hussain formed MQM in 1984.
Mushtaq Soofi sheds light on the same problem from another angle. He blames Urdu-speaking muhajirs living in Sindh's cities for siding with parties such as Jamaat-e-Islami and MQM which, respectively, have exhibited extremist and fascist tendencies, heavily laced with violence against their opponents. "Muhajirs are mostly educated, urban people. They should have an inclination towards democratic values," he says. Because they are not seen by Punjab-based intelligentsia as siding with democratic forces, he says, there is "no sympathy for Karachi's Urdu-speaking people in Punjab".
Even when there is a lot of respect, to some extent even mobilisation, for the language and the cultural values it represents, people in Punjab do not find it convincing when MQM talks about the marginalisation of Urdu speakers.
Jawaharlal Nehru, India's first prime minister and one of the most revered leaders of the Indian National Congress, seems to have made the rural-urban distinction with reference to Urdu much before MQM did. "Urdu is the language of the towns and Hindi is the language of the villages. Hindi is of course also spoken in towns but Urdu is almost entirely an urban language," he once said.
With some minor adjustments, this is probably true of today's Pakistan, too. While Punjabi, Sindhi, Pashto, Balochi, Seraiki, Hindko, etc, remain the main, in some cases the only, languages in the villages where their respective speakers live; urban Pakistan mostly, if not entirely, converses in Urdu of various tints and hues. Its widespread use in government-provided education over the last seven decades and in mass media such as newspapers and television has spread all across the country, enabling people everywhere to acquire some level of proficiency in it that helps them talk to their compatriots who are native speakers of a tongue other than theirs.
Even among Karachi's ahl-e-zaban population, Urdu has as many variations as it has elsewhere in Pakistan. Muhajirs, indeed, are an amalgamation of numerous migrant groups and each group has a distinctive vocabulary, vocalisation and literary culture of its own.
Consider the residents of Banarasi Mohalla in the heart of Baloch Goth in Karachi's Orangi Town. They originally came from Banaras, present-day Varanasi, in India's Uttar Pradesh state. Their older generation speaks a mélange of Banarasi Boli, Bhojpuri and Hindi/Urdu. The younger ones speak state-standardised Pakistani Urdu, with a smattering of English they picked up at private English-medium schools they attend.
Like most other Banarasi families, Tanveer Esaar's parents settled in the area in 1983. Born in 1960, he has five children: three daughters and two sons — three of whom live with him in a single-storey house that comprises two bedrooms and a small workshop where he and his sons weave cloth for menswear. Of the nine languages listed on the census form, he is marking Urdu as his mother language because, he says, it is associated with the "Pakistani" identity.
His affinity with this trans-ethnic identity is a sign of changed times in Karachi. As MQM is losing its monopoly over the city's politics, its constituents, the ahl-e-zaban, feel increasingly unsure which way to look for support and protection. Esaar's insistence of being a "Pakistani" is more a bid to survive in a highly polarised society than an expression of cultural preferences. The late Jaun Elia, a Karachi-based poet who was born in the Uttar Pradesh town of Amroha before Partition, has captured the ethos of Pakistan's Urdu-speaking muhajir community such as those living in Banarasi Mohalla in a poignant half-verse:
Additional reporting by Ali Haider Habib
---
This was originally published in the Herald's April 2017 issue under the headline "A language in search of a nation". To read more subscribe to the Herald in print.
---
The writer is a staffer at the Herald.