A large body of Bani Abidi's works was recently on display at Gandhara Art Space in Karachi as part of the gallery's anniversary celebrations. Titled intriguingly as Look At The City From Here: The most amount of people standing still, screaming and laughing, the exhibition opened on July 13 and ran through the first week of August. The exhibits were a series of films, still photos, videos and photographic explorations that draw attention to history, time and space, and raise questions about the nature of viewership, ownership, representation, self-representation and artistic aesthetics.
Abidi grew up in Karachi. After her graduation from the National College of Arts (NCA), Lahore, in 1994, she did her master's at the Art Institute of Chicago in 1999. Since then she has produced artworks exploring private and public spaces through a complex critique of the social and the political. After dividing her time between Karachi, Delhi and Berlin for some time, she has settled in Berlin and shown her work at as many as 80 shows worldwide, including at dOCUMENTA (13) in 2012, Devi Art Foundation in 2011, VM Art Gallery in 2010, Green Cardamom in 2008 and 2010, the 7th Gwangju Biennale in South Korea in 2008, the Singapore Biennale and the Frieze Art Fair, London, in 2006.
Also read: A different stroke — Unseen works by Sadequain
In a recent conversation in Karachi, Abidi discussed concerns about her medium and what it means to show one's works in close proximity to the people and spaces those works have emerged from. Excerpts follow:
Q. How were you drawn to Karachi as an artist? How did you connect to the public spaces that your works on display at Gandhara Art Space are engaged with?
A. The work on these particular films started two years ago. It was commissioned by the Berlin Biennale. I told the curators that I did not want to do a pre-planned work. They were very much in agreement. So I came to Karachi to work for three months. I started off with a photograph of Clifton beach that [appeared] on [architect and urban planner] Arif Hasan's blog. It was a picture of food carts for the poor near Dolmen Mall. Everything there costs five rupees. They place these plastic chairs – sometimes even in water – spread out in clusters. You can have juice and samosas there. I thought that was really poetic; at the end of your day, you can go there and turn your back to the city. That image got me thinking about public spaces. I was interested in social and economic divisions that exist everywhere — even on the beach, the areas for the poor and the elite are separated.
It is like producing some kind of fiction – but [at the same time] also by understanding that the city is full of ideas.
Q. What is it like showing your work after six years in the city which has always been in your imagination?
A. It is most fulfilling. I said at the opening talk [for the exhibition] that I could show [my work] all over the world and nobody would know if I was right or wrong. I feel nervous while showing [my work] in Karachi because my audience here is most knowledgeable. I am a product of this place. That's why it's so important for me to show here. Yesterday, someone said there was a lot of sadness in my work and one person said it was the first time that they thought they had understood what art was. That was a huge compliment. What has been an imagined audience suddenly becomes real [when I show my work in Karachi].
In a way, I am pulled out of the city so my depiction in this series is of a dystopic, melancholic abandonment which is an exaggerated representation of a city devoid of people. I am asking: "Where did everyone go?" It is also my voice and my story. In any case, there is a very thin line between what is real and what is fictional. In one of the still video works, I have photographed a few people and photoshopped them to make it appear as if there is a crowd protesting. It is my way of creating a fictional protest out of a crowd that is just standing still. I know that in reality this protest will not happen.
I have recreated imaginary places from real spaces in the city. That's a choice I have made. For example, in one of the films, there is a solitary man trying to retrieve parts of Nishat Cinema that was burnt down some years ago. The metal containers for keeping cold drinks are still there but the seats are melted and destroyed. There are lots of remnants of people's bodies. You feel like it is a mortuary.
Also read: What is Pakistani art?
The city itself has a lot of living spaces that can trigger [artistic] responses. Funland was a major part of our childhood recreation. Even now its gates open at 4 pm and it is full of people till 2 am every day. I went to film it when the rides were being tested but there were no people. I superimposed a sound track to the film. It is like producing some kind of fiction – but [at the same time] also by understanding that the city is full of ideas.
Q. As a storyteller, you seem to dismantle the artistic conventions and take the story to the public domain and that alters the nature of representation and viewing. There is a story outside the 'art' space that you create and narrate to bring it to your audience. It feels as if the viewers themselves are in the story. Is that a correct assessment of your work?
A. It is, also because I don't think that I am looking through a window. My lens is [placed] within the space [I am representing]. I work with video because it allows for the layering that I want and it satisfies my needs. I want to deal with the poetry of short images. There is so much potential to play if you videograph something for five minutes and it is very slow.
Also read: Seeking paradise — The image and reality of truck art
Q. Is it right to say that you draw on the most complex and make it seemingly lighthearted?
A. Humour is my strategy for dealing with complexities. Somebody at the opening of the exhibition thought I was completely mad and I took that as a compliment. As it is, I am interested in madness. The work in the upper gallery of this show is all about eccentricity for that is the only way one can survive in [Karachi]. It is the biggest statement of independence. For example, there is this man who broke the Guinness World Record by breaking the most number of walnuts with his head. I take these kinds of eccentricities and build my narrative. The fictitious representation of a man who is banging his head against a wall is also suggestive of the social and the political as they affect us. The premise of the work is that the true potential of public space does not exist [to allow] all classes and communities to come together.
Karachi is totally divided at this point in time. It wasn't so when we were growing up. It wasn't such a big city. There was much more intermingling and there was less fear. For some people, it is because of the fear of dirt, heat and danger; [they see the city] as unsafe for their children. For another set of people, it is because of the barriers and containers that prohibit movement, or that [living here] is expensive.
As it is, I am interested in madness
Q. So you are looking into multiple perspectives as well as perceptions of the private space in relation to the public space. You are also consciously aware of the challenges of connecting with many spaces in Karachi and of the distinctions within those spaces. As you have said, there is that awkwardness in approaching places where you do not belong. These very distinctions are disregarded when the upper middle class elite establishes a relationship with public spaces in our cities.
A. Yes, it is about what you can access and what you cannot. In fact, we reside in the city in very different ways. For example, look at the question of flyovers or underpasses. These facilitate some people and not others. In Cairo, you literally have to climb a structure to reach the flyover to catch a minibus that you could catch without all this when there was only a road there. So, one set of people are totally disregarded in planning the city. The ability to be citizens of a city together is reduced because there is no place [for all the citizens] to come together. Diverse [groups of] people do not find shared places to come together.
Q. You look at spaces much like a sociologist does. Your approach diminishes the divide between art and life. Your work is removed from the sterile gallery space yet it brings the public space you address to the gallery which seems to serve as a meeting point…
A. I have a tendency to work with research. There are a lot of people, such as anthropologists, writers, and historians who are my friends and who inspire me. It is not just through art that my aesthetics are formed. Life is infinitely more beautiful than art.
Q. You are based in Berlin but you travel to Karachi regularly. How do you mediate the distancing that comes with this? Is something being lost in translation, in transporting an idea to a different context?
A. Yes, [it results in] both a loss and another understanding of the artwork and its context. I think that distancing helps. People can now afford to live in between points A and B. This is unlike the 1970s when you really became a diasporic artist if you left [home] to live in Europe or elsewhere. You stayed there and your imagination had issues of nostalgia. I travel to Karachi for many months in a year. This is my working place. I seek spaces here. I film in Karachi and do the rest of the work in Berlin. I am always on WhatsApp, discussing my ideas with friends such as people in the Tentative Collective.
Also read: Lahore Biennale — Art for the public
I was recently thinking about Abbas Kiarostami whose films are all about Iran but have never been shown in Iran. What is really interesting for me is that his imagined audience was always Irani. Whether that audience saw his work or did not get to see it is inconsequential. When my imaginary audience and the imagined space in my work come together, my work is created. What happens to a work is a secondary concern.
Q. How do you view the contemporary dynamics between art, artist, audience and gallery? How do you engage with these dynamics?
A. It is quite sad for me that the appreciation of art in Karachi or Pakistan is still about the ownership of a beautiful object. It is not a reflective space. Most people want artworks to be spectacular. To them, art is either pretty or not pretty.
The lack of support for artists is a big challenge. As an artist working in film, I need projectors and equipment to be able to show my work. My art has to be viewed in a public space. I am showing it in Karachi after many years because it has become possible only now with the support provided by Gandhara Art Space. Commercial galleries have their limitations. They are not discursive spaces.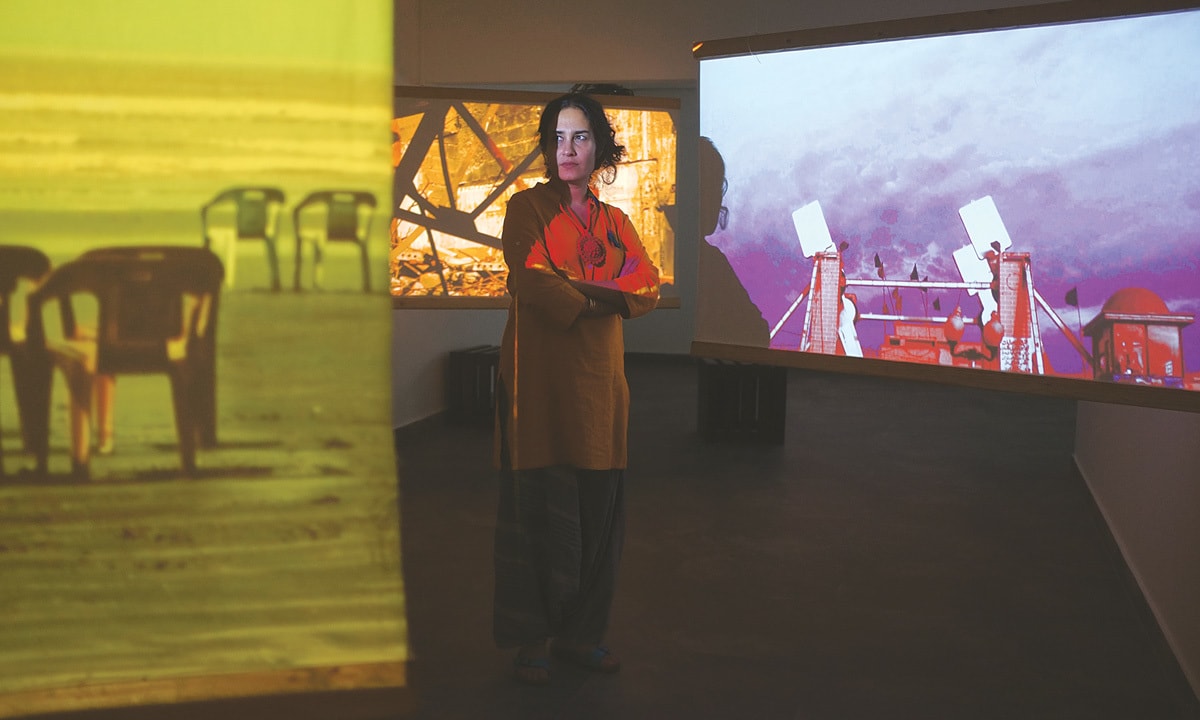 Q. You have shown in many biennales yet I would not consider you a 'biennale artist'. How do you negotiate your voice within the international art scene?
A. My work is very different in nature from the work of many contemporaries who are showing internationally. When I showed abroad, I did not include text to explain the work. I let people do their homework and seek the content. I am very anti-globalisation. I feel it is a neoliberal way of arranging the world in which you are killing the agency that artists, intellectuals and creative people have in relationship to their own history and politics. You are making them effete.
Q. But don't biennales do exactly that?
A. Biennales and residencies have to be studied very carefully. In fact, there should be more [local] biennales [than international ones] – like a Gulshan biennale, a Nazimabad biennale, a Clifton biennale, a Multan biennale, a Bahawalpur biennale. Venice and Documenta biennales should definitely not matter at this point. We need to empower people at this time.
This was originally published in Herald's August 2016 issue. To read more subscribe to the Herald in print.
Amra Ali is a Karachi-based art critic and curator. She is also a co-founder of NuktaArt magazine.