Once upon a time, Narayanpura, a neighbourhood by Ranchore Line in Karachi's Saddar area had eight entrances. During Christmas, Hindu and Sikh residents joined their Christian neighbours to sing carols and decorated the alleys with lights and candles. On Holi and Diwali, everyone participated in the celebrations regardless of their faith.
But when, in 1992, Hindutva activists demolished Babri Masjid in Ayodhya in Uttar Pradesh, India, Narayanpura was set ablaze. Since then, four of its entrances have been closed for security reasons. Yet, as one of Karachi's most religiously diverse neighbourhoods, the locality still thrives on what the locals call bhai chara, or brotherhood.
With an estimated population of 10,000, according to its residents, Narayanpura has been home to Sikhs, Christians and Hindus since around 1824. Its three main Hindu temples, three main churches and a Sikh gurdwara have existed side by side since the early part of the 20th century.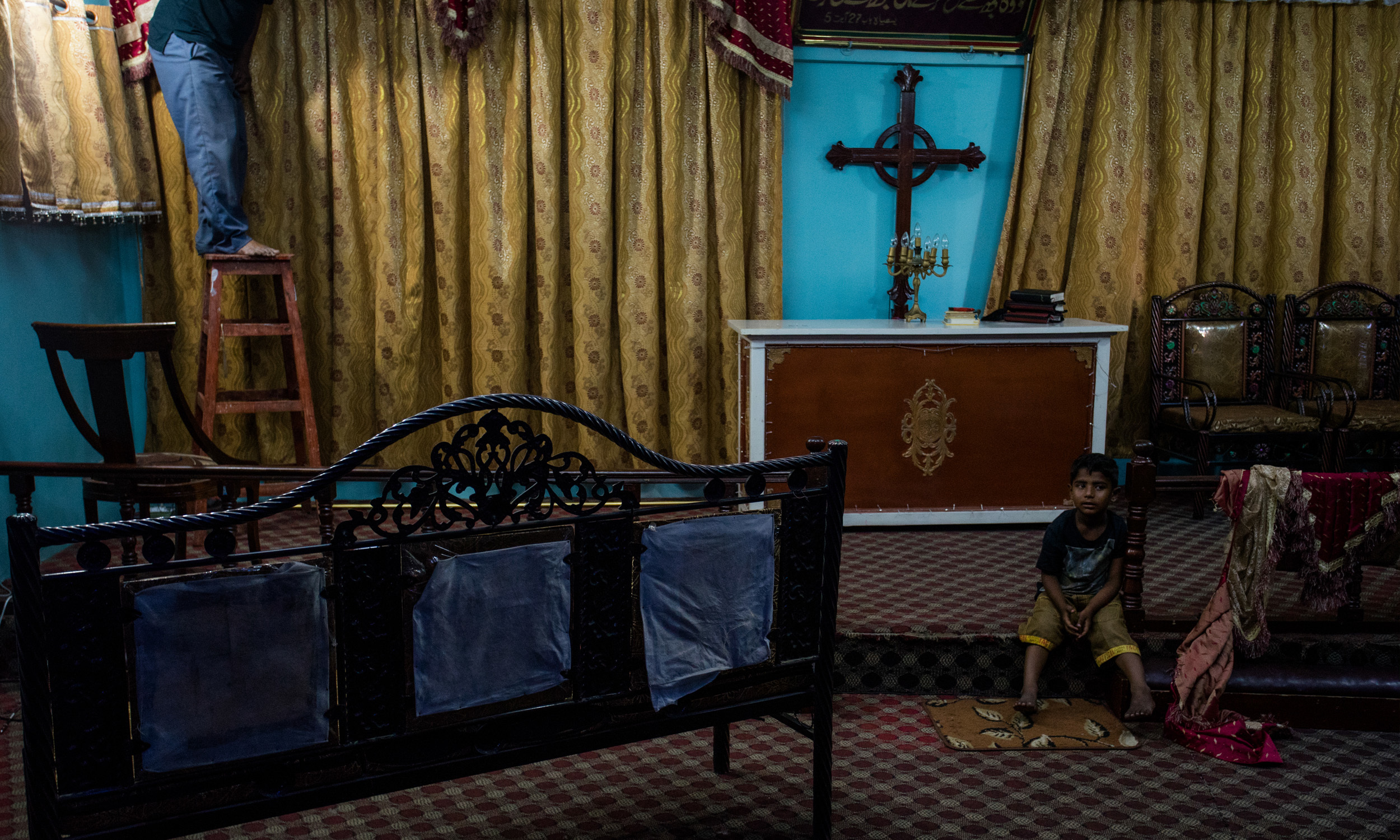 On an evening in April, Amar Singh* and Santosh Kumar* walk through garbage piled up in the narrow lanes of Narayanpura. Singh was born and raised near the 105-year-old gurdwara that is being given a wash on that sweltering day. Only the caretakers can enter. Two old men sit on the stairs leading to its heavy bronze door that is partially open. Children are out playing cricket in the nearby streets; their fathers stand on the balconies, fanning themselves with newspapers while watching the game. No outsider can tell who belongs to which faith — the only resident who stands out is a little Sikh boy who can be spotted in a red turban. He drags a heavy cricket bat behind him as he stomps towards the other players.
The gurdwara has a courtyard with marble flooring. The noise of traffic outside and the Muslim call to prayer pervade the air and the spire of a Hindu temple looms large over its boundary wall. A small shrine on a raised platform in one corner of the courtyard is dedicated to Granth Sahib, the Sikh scripture.
Also read: A train to Balochistan
Singh repeats the word bhai chara. Without it, he says, they would all be displaced. Kumar, standing next to Singh, nods in agreement. The two explain that each community within Narayanpura has a committee — Kumar being a member of the Hindu committee. If anyone needs space or resources, the members of the committees join hands to arrange that.
Kumar points to a church built recently in the place of an abandoned house. In another church around the corner, built on the second storey of a house, a middle-aged man is setting up curtains and tables for Sunday's morning mass. He found faith three years ago, after spending years as a drunkard, and shifted to Narayanapura because of the love and support he and his family receive here.
The sense of brotherhood, though, has failed to address many other problems. When asked about the heaps of garbage outside the neighborhood entrances, Kumar says an empty plot of land reserved for waste disposal has recently been purchased by someone politically connected. He stares at the mess, rubs his eyes and his hands move up to massage his temple. He looks worried. "This is our identity now," he says.
**Lyari is a** kaleidoscope of colour and shapes. One second you pass by the freshly painted brick-red walls of Shaheed Benazir Bhutto University where the Sindh Rangers roam the campus and the next moment you move along the congested Chakiwara Road lined with crumbling lower-middle class apartment buildings — once perhaps a pristine white but now a dull shade of grey.
The neighbourhood is home to a large number of adherents of the Zikri Muslim sect. They have about half a dozen places of worship, known as zikr khanas, here.
It is Friday afternoon and worshippers can be seen scurrying to their zikr khanas. One zikr khana is situated on the street where Fazal Habib*, a local social worker about 50 years of age, lives. It is divided into two sections — one for men and the other for women.
Habib points to a brick wall, a fading strawberry pink. "This is the men's section and over there to the right is the women's." About 10 steps away is a house painted in shades of brown, with an iron gate marking the entrance. It is hard to tell it apart from the rest of the buildings on the street. Inside, it is just a large empty room with polished floor and no furniture — only a bookshelf built into the wall contains several copies of the Quran. This is the women's section.
Also read: Are Ahmadis just as persecuted in other Muslim-majority countries?
In another street nearby, a recently renovated zikr khana is slowly filling up with men. In 10 minutes, the men will begin their zikr which is performed five times a day. The neighbourhood will echo with their rhythmic chants; it will only get louder when the women join in from the other side of the street.
Jhimpir, about 112 kilometres to the east of Karachi, has many distinctions to boast of: it is the location of Pakistan's first wind power plant; it is endowed with dolomite, an essential ingredient of steel-making; and it is the site of Keenjhar Lake, one of the country's largest freshwater reservoirs. It also houses one of the oldest Ismaili jamaat khanas in Sindh.
Members of the Ismaili sect living in Karachi visit the place in large numbers every month. Luxury buses, with Bollywood music blaring from their sound systems, are parked along a road winding around the lake. Men in their Reebok shorts and Polo shirts can be seen spreading out bed sheets and towels in front of the huts normally occupied by local villagers who number just about 100.
The road ends at a gated courtyard with a white marble floor. A low wooden door in a shaded part of the courtyard opens into a cavernous structure with a very low ceiling. It is furnished with glittering cots and is adorned with colourful upholstery. "This is a natural structure. We only added a few things to it to keep it cool," explains a caretaker.
The cave at the bottom of a hill is full of mysteries — one of them being a small opening into a tunnel. The caretaker narrates: some people say the tunnel goes to Karbala; others say an imam would say the afternoon prayer in Jhimpir and would use this tunnel to offer the evening prayer in Medina. "People say these kinds of things all the time," he adds with a laugh.
Also read: Republic of fear—by Asma Jahangir
A mosque reportedly built by Mughal Emperor Shah Jahan is located at the top of the hill. The stairs that go up to the mosque appear quite old. Away from the ruinous stairs is a massive hall that works as the jamaat khana. A man sits on its floor on an early May day – crouched over cooking utensils – next to a portrait of Aga Khan IV, hung on the main wall.
The lack of communication and transport facilities has helped the Ismailis to keep the place little known. As a minority religious community, says the caretaker, "we have to be cautious".
**Two fires have** been burning for more than a century in the heart of Karachi – one in Saddar and the other near Pakistan Chowk – at two temples. These Zoroastrian places of worship have existed for over 140 years.
Sheltered from the outside world, the fires are kept alive by feeding sandalwood to them. The fire condenses the sandalwood to ash which, the Zoroastrians say, cannot be further disintegrated and is, thus, the purist form of matter. If you get close enough, you can smell the scent enveloping the temples. By religious law, however, non-Zoroastrians are not allowed to enter them.
An old priest dressed in customary white sits on a plastic chair at the entrance of one temple. A 16-foot space separates him from the gates of the temple. If you are not a Zoroastrian, you cannot move beyond the point where the priest is sitting.
Zoroastrians have always kept a low profile in Karachi and have significantly shrunk in size over the last few decades. By one estimate, there are just 1,300 of them living in Karachi. By another estimate, their number is as low as 800. Many of the young members of the community are moving abroad for higher studies; others are focusing on their professional careers in different parts of the world rather than settling down in the city.
One wonders what will happen to the fire in the temples once there are no Zoroastrians around.
**The names of residents have been changed to protect their identity*
---
This was originally published in Herald's June 2016 issue. To read more subscribe to the Herald in print.
---
The writer is a staffer at the Herald
Opening photo: The inside of a mosque's dome dating back to the 16th century in Jhimpir, Sindh | Tahir Jamal, White Star