A visit to Dhaka can be an overwhelming experience — not just because of the traffic, pollution, congestion or humidity, but also due to its history. As a Pakistani, I felt remorse, guilt and shame every time I walked into the corridors of Dhaka University. The names of the students, intellectuals and teachers, who died as a result of Pakistani military actions in March to December 1971, are prominently displayed. A number of other historical sites are also located on the campus or situated close by.
Shaheed Minar, the memorial for those who lost their lives in the language riots of February 21, 1952 – remembered in Bangladesh as Ekushey and celebrated by the United Nations as World's Mother Language Day – and Bangla Academy, established in the wake of the rise of the Bengali Language Movement in the 1950s, are part of the university campus. Opposite Bangla Academy is the famous Ramna Race Course (now called Suhrawardy Udyan) where Sheikh Mujibur Rahman made his famous speech on March 7, 1971, which ended with these ominous words: "The struggle this time is for our freedom. The struggle this time is for our independence". The surrender ceremony of the Pakistani military also took place here on December 16, 1971.
Adjacent to Suhrawardy Udyan is another building which has become largely irrelevant for most Bangladeshis. Generally referred to as the Mausoleum of Three Leaders, this multi-arched structure built in the 1960s is the resting place of three Bengali politicians: Huseyn Shaheed Suhrawardy (1892-1963), A K Fazlul Haq (1873-1962), and Khawaja Nazimuddin (1894-1964). Suhrawardy and Nazimuddin served as prime ministers of Pakistan in the 1950s and Haq was one of the movers of the Lahore Resolution of March 1940, later renamed as Pakistan Resolution. The lack of interest in this mausoleum is reflective of the general apathy among Bangladeshis towards pre-1971 history.
Since 1971, anything honouring the founding figures of Pakistan have been renamed or removed. Jinnah, too, has not been accorded any respect because he had declared Urdu the official language of Pakistan while addressing a gathering in Dhaka in 1948. Post-1971, Jinnah College became Titumir College and Jinnah Avenue became Bangabandhu Avenue (Bangabandhu meaning 'a friend of Bengal' was a title given to Sheikh Mujibur Rahman in 1969 after he was released from prison, following his arrest and trial for what is known as the Agartala Conspiracy Case). The vast area which now houses several government buildings – including the national parliament – was developed during the 1960s and was originally named Ayub Nagar after Ayub Khan. It is now called Sher-e-Banglanagar to honour Haq.
These changes are symptomatic of a selective historical narrative that leaves out many developments that took place between 1947 and 1971 but do not help explain how and why the need to turn East Pakistan into an independent state became urgent and unavoidable. These changes include most of Sheikh Mujibur Rahman's political career during that period. Like Suhrawardy and Haq – and, indeed, many other prominent politicians in East Pakistan – he was not always the separatist nationalist he is projected to be in both Pakistan and Bangladesh. During the 1960s, his Awami League was an active participant in mainstream Pakistani politics as part of the opposition alliance against Ayub Khan. He had also worked as a political lieutenant to Suhrawardy in the first decade and a half of united Pakistan and was a prominent participant in Fatima Jinnah's presidential campaign in 1965. Even his famous six-point charter of demands was first presented in Lahore in 1966 at a meeting organised by the opposition parties.
It can be argued that Sheikh Mujibur Rahman took centre stage in East Pakistan's politics only during the mid 1960s, when the three towering figures of the region's politics – Suhrawardy, Haq and Nazimuddin – died in quick succession, leaving a huge political void. He seemed to be aware that, on his own, he would find it difficult to fill that gap and, therefore, requested Justice (retd) Muhammad Ibrahim to take up the reigns of the Awami League. Ibrahim retired as a judge of the high court's Dhaka bench in the 1950s and later served as law minister under Ayub Khan from 1958 to 1962. He made several entries in his diary, which he wrote between 1960 and 1966, about Sheikh Mujibur Rahman's repeated offers to him to lead his party.
There were at least 3,000 trained personnel of the three forces who switched loyalties and joined the rebel ranks. The renegades from the security forces mostly fled to India where they joined the Mukti Bahini.
Although he had joined Ayub Khan's military government, Ibrahim was a staunch Bengali nationalist. Ayub Khan disliked him immensely and bypassed him completely while drafting the 1962 Constitution. Not only did Ibrahim frequently voice his concerns in cabinet meetings about the injustices meted out to East Pakistan but also suggested remedies. One of these remedies bore close resemblance to a demand later made by Sheikh Mujibur Rahman in his six points: create separate currencies for West Pakistan and East Pakistan. The idea – also known as the "two economy thesis" – was, in fact, first floated when Pakistani economists met in Dhaka to discuss the first five-year plan. As recorded by Bangladeshi academic Rounaq Jahan in her 1972 book Pakistan: Failure in National Integration, Bengali economists were cognisant of the historical roots of underdevelopment in East Pakistan and did not entirely blame the central government for their region's poverty and backwardness. They simply demanded that East Pakistan be given preferential treatment in social and economic development, treating it as a special economic unit distinct from West Pakistan. Their demand, however, fell on deaf ears.
Ibrahim blamed the Punjabi bureaucracy for this indifference and predicted the break-up of Pakistan because of the intransigence and greed of Punjabi bureaucrats. "The Punjabis want to rule Pakistan and they think that they have a right to do so," he wrote in his diary. He also recalled telling a friend in 1947 that, "Punjabis are Pakistan's Jhopar Kural (an axe used for felling a clump of bamboos)". What he meant was that Punjabis would cut down the roots of the newly set up country.
In a lecture I delivered at Dhaka University, I made a passing reference to Chaudhry Rahmat Ali. From the audience's response, I could gather that they did not know him. When I asked the students whether they knew about him, they all said no. This says a lot about the course the study of history has taken in Bangladesh since 1971: most pre-1947 political developments are not considered relevant. This explains why the likes of Ali do not figure prominently in the historical narrative of Bangladesh, even though Bangladeshi nationalists could have used his story to strengthen their claim to independent nationhood. After all, the word 'Pakistan' as coined by him did not have any reference to Bengal. Similarly, because of a general lack of interest in the Pakistan Movement in Bangladesh, Bangladeshi historians barely notice that the Lahore Resolution demanded multiple "states", rather than a single country, for the Muslims of India.
Bangladesh's official and popular historical narrative refuses to take a long view of Bengali identity formation during the colonial period, in general, and the contribution made therein by the Pakistan Movement in the 1940s, in particular. This has created confusion in Bangladesh about whether the people of the country are Bengalis or Bangladeshis. Pakistanis, too, have a poor understanding of Bangladesh's history. They simply look at the country as a product of an Indian conspiracy. The full extent of Bengali identity formation in the British colonial period and the developments which took place after 1947, resulting in the alienation of East Pakistan, are lost upon them. This is because books on the history and politics of Bangladesh are hard to obtain in Pakistan. Publishers in Pakistan have mostly shown interest in reprinting and translating books which support Pakistan's version of the 1971 war rather than the ones that look at the fateful events of that year in their complete historical context.
In order to have a fuller picture, it is essential to go through such works as Sufia Ahmed's Muslim Community in Bengal, 1884-1912 and Rafiuddin Ahmed's The Bengal Muslims, 1871-1906. These writers have traced the history of various developments during the late 19th century, when a distinct Muslim identity was taking shape in Bengal. Two of the best books to have come out in recent years covering this subject are Neilesh Bose's Recasting the Region: Language, Culture and Islam in Colonial Bengal and Taj ul-Islam Hashmi's Peasant Utopia: The Communalization of Class Politics in East Bengal, 1920-1947. Bose has been able to build upon earlier works and also explore extensive new material from political archives and cultural productions to find the link between Bengali Muslim identity and the popularity of the idea of Pakistan in Bengal. In the rural hinterland of East Bengal – that was both undeveloped and snubbed by Calcutta-dominated Bengali Hindu elite – Pakistan was a utopian land for Bengali peasants.
But the euphoria around the Pakistan Movement dissipated as quickly as it had come about. The frustration and disappointment with Pakistan developed almost immediately after 1947, as is documented by Ahmed Kamal in his book State Against the Nation: Decline of the Muslim League in Pre-Independence Bangladesh. Kamal's book suggests that the provincial assembly elections held in East Pakistan in 1954 largely sealed the fate of Pakistan — much before the general elections of 1970, which are usually credited or blamed for the creation of Bangladesh. The Muslim League suffered a massive drubbing in those polls and could win only less than a dozen seats in an assembly of 309 seats. The Jugto Front or the United Front, comprising almost all the parties in East Pakistan except the Muslim League, won a whopping 223 seats. Yet, the central government dismissed the United Front's provincial government only a few weeks after it came to power. The central government also made attempts to create fissures in the ranks of the United Front so that its majority in the provincial assembly could be whittled down.
Books on the history and politics of Bangladesh are hard to obtain in Pakistan. Publishers have mostly shown interest in reprinting and translating books which support Pakistan's version of the 1971 war.
A historical narrative that covers all these complex subjects will bring a nuanced understanding of the creation of Bangladesh. There is no doubt that 1971 will always remain the most important time as far as Bangladesh's history is concerned but, on its own, it will never be able to explain the origins of Bengali Muslim identity in the region. It was the evolution of this identity which led the Muslims in East Bengal to demand, and have, a homeland for themselves, separate from Hindu-dominated West Bengal — initially as part of a united Pakistan and, since 1971, as an independent state of their own.
Like all other nation states, Bangladesh has been struggling to construct, and impose, a single national historical narrative. But even in a state like Bangladesh, where ethnic and linguistic variations are few – if any – the process of identity formation remains contested. This explains why, in a state created on the basis of regional autonomy and cultural and linguistic rights, the tribes living in Chittagong Hill Tracts objected to the constitution adopted in 1972 which called the citizens of the country as Bengalis. As quoted by the academic Jahan in an edited volume, Bangladesh: Promise and Performance, Manabendranath Larma, representing the people of Chittagong Hill Tracts, instead suggested the citizens of the new state be called Bangladeshis.
But this suggestion only half-addressed the problem. While being Bangladeshi, as opposed to being Bengali alone, allowed non-Bengali citizens to feel included in the national fold, it led to a differentiation between Bangladeshi Bengalis – who were mostly Muslim – and Indian Bengalis – who were mostly Hindus – thereby creating a de facto religious divide between the two. This differentiation contradicted Bangladesh's constitution which, in its original version, had declared nationalism, democracy, socialism and secularism as its guiding principles. The constitution has been rewritten repeatedly since then and secularism has been replaced with "absolute truth and faith in Almighty Allah". Yet, Bangladesh's quest for a unique identity which emphasises its Bengali origins without compromising its political sovereignty continues.
One interesting manifestation of this quest is the use of Urdu words in Bangladesh. During the 1970 election campaign, Sheikh Mujibur Rahman used to raise the 'Joy Bangla' ('Long live Bengal') slogan. At a ceremony to administer oath to the Awami League's parliamentarians on January 3, 1971, he ended the event with two slogans: 'Joy Bangla' and 'Joy Pakistan'. On the other hand, as reported by Khan Md Lutfor Rahman in Nation Building Problems in Bangladesh: A Socio-Economic-Political Perspective, when Sheikh Mujibur Rahman was killed along with almost all of his family on August 15, 1975, Khondaker Mushtaq Ahmad – the puppet president installed by the military – ended his radio speech with, "Bangladesh Zindabad".
The use of 'zindabad' was clearly meant to send a positive signal to Pakistan which was promptly reciprocated by despatching a shipment of food grains to help the famine-stricken Bangladesh — a humanitarian crisis which has played a significant role in building up public resentment against Sheikh Mujibur Rahman's totalitarian rule. Though this does not mean that Urdu has, since then, become acceptable in Bangladesh, the use of the word 'zindabad' indicated a major policy change in the cultural politics of Bangladesh and had an impact on its domestic and foreign policy orientations as well — moving away from secular nationalism and India but tilting towards religion and Pakistan.
Regardless of the difference in orientation, both the language-inspired Bangladeshi nationalism and its religion-driven alternative do not regard hundreds of thousands of Biharis living in Bangladesh as legitimate citizens of the state. The forefathers of these Biharis had migrated to East Pakistan in 1947 from the Indian state of Bihar and they come from an ethnic and linguistic stock different from that of Bengalis. Even though most of them want to become Bangladeshi citizens, they still live in squalid camps as "stranded Pakistanis". There are 400,000 to 500,000 of them living in makeshift settlements in Dhaka and other Bangladeshi cities. "I wouldn't advise you to go to these camps", said a cab driver to me. "They will recognise that you are from Pakistan and may get aggressive. They will say you guys are having so much fun there and we are suffering here because of you."
These Biharis are essentially stateless people as neither Pakistan nor Bangladesh is willing to accept them as citizens. Earlier this year, the Foreign Office in Islamabad told the Supreme Court that Pakistan had already resettled about 170,000 Biharis within Pakistani territory and those still living in Bangladesh were no longer Pakistan's responsibility. In Bangladesh, they are not even eligible for citizenship despite the fact that they were living in the country when it became an independent state. Even though a vast majority of those living in the camps were born in or after the 1990s – or, at the least, after 1971 – they are still seen as traitors who collaborated with Pakistan's security forces against the local people. "They were razakars (volunteers). They were involved in the genocide [of the local people]. We cannot forget that," a professor in Dhaka told me.
Possessing no identity documents, the Biharis are largely confined to heavily overpopulated ghettos where they receive education and health facilities through non-governmental organisations and aid workers. Their presence manifests a contradiction inherent in every nation state: that it has the impulse to minoritise some segment of the population on some basis. There will always be communities within nation states which are not 'French enough' because they don't give up the hijab or tweet the hashtag Je Suis Charlie.
I happened to be in Dhaka at a time when Indian Prime Minister Narendra Modi was on an official visit there. The people I spoke to – and I make no claims of having met a large number of people from different sections of the society – were being critical, albeit cautiously, of their own government for having signed agreements which promoted Indian interests at the expense of Bangladesh. India, for instance, managed to get official Bangladeshi approval for a transit route through Bangladeshi territory to create a direct connection between the Indian mainland and the seven north-eastern states squeezed between Bangladesh on the West and Burma on the east. Bangladeshis were shocked that India had got what it wanted without having to give anything in return. They had expected some development on the long-standing issue of water sharing – especially the use of the Teesta river – and the construction of dams by India.
India also finally ratified a border agreement which Bangladesh had ratified in 1974. The ratification will lead to land swaps at a number of small enclaves stranded on the wrong side of the border between the two countries but, as many Bangladeshis pointed out to me, it does not address the killing of Bangladeshi civilians by the Indian Border Security Force (BSF).
It may look like a long shot but the truth is that the Bangladeshi's hatred for the BSF helped me understand the idea of Pakistan. This idea has come to exemplify different things to different people in South Asia, depending on their differing contexts. Crowds waving Pakistani flags in Kashmir do not do so because they deem Kashmir as the unfinished agenda of Partition but because they live as a persecuted community. For them, Pakistan signifies the will to power of a community that has established its own sovereign political authority which employs overt symbols, notions and laws representing its religion. The idea of Pakistan for Kashmiris, therefore, is akin to freedom from oppression or freedom from being relegated to a minority.
Crowds waving Pakistani flags in Kashmir do not do so because they deem Kashmir as the unfinished adgenda of Partition but because they live as a persecuted community.
In Bangladesh's case, the idea of Pakistan resides in the desire to be on par with India. This parity was central to Muslim politics, including those in Bengal, during the decades preceding Partition. The All-India Muslim League and its leaders – especially Jinnah – argued at the time that Muslims in India needed to be treated as a special minority and, therefore, must be entitled to disproportionate representation, especially in the central legislature and constitution-making bodies. The Cabinet Mission Plan of 1946 offered exactly this kind of parity by allowing provinces to come together into geographically contiguous units, which would then join an all-India federation as regions with considerable financial, economic and political autonomy. The two proposed Muslim-majority units, Jinnah expected, would enable Muslims to achieve parity with the rest of India as far as the protection of their economic, political and cultural rights was concerned.
How is this idea of parity relevant to Bangladesh today? To find a detailed answer, one may have to look into the history of the relationship between East Bengal and West Bengal before Partition, East Pakistan and India between 1947 and 1971, and Bangladesh and India since 1971. At the surface level, however, most Bangladeshis talk about military parity. "Prior to 1971, if BSF killed one [Pakistani], East Pakistan Rifles would kill two [Indians] in retaliation," is how one Bangladeshi put it. He then complained that Bangladesh could no longer afford to do that. "Look at the situation now. Indian BSF kills dozens of innocent Bangladeshis everyday on our borders and we are so helpless about it."
Such will to power – the ability to respond to an act of aggression – was a strong factor in the movement for Pakistan and it continues to shape the idea of Pakistan for both Pakistanis and non-Pakistanis. Even certain sections of the Muslim population in India share this idea. When Nurul Islam – a Harvard-trained economist who had served in key government positions in Pakistan during the 1950s and the 1960s – went into exile in Calcutta in 1971, he found his Bengali Muslim host opposing the cause of an independent Bangladesh. In his book, Making of a Nation, Bangladesh: An Economist's Tale, Islam recorded his host as saying that a "strong and united Pakistan was a balancing factor against India and provided some constraint on India's discriminatory, if not outrightly hostile, treatment of the Muslims". He also suggested that the "Muslims in the East should have settled their differences with Pakistan peacefully, without destroying its integrity". Indian nationalist politicians, such as Nehru, and historians, such as Bipan Chandra and Mushirul Hasan, dismiss this idea of parity either as communalist or false consciousness. They fail to understand that it was, and continues to be, popular. There has to be some rational explanation for it.
The popularity of the idea of parity, however, does not make it right. It is inherently confrontationist because it is premised on the equality of response the two sides can give to each other in economic, political, cultural and, most importantly, military terms. It also has the tendency to create a fascist sense of supremacy and the desire to wipe the other out of existence. As we see around us, this idea of parity is shaping the worldview of Pakistan's burgeoning urban middle class which champions conservative and orthodox social practices, hates India (and Hindus) and glorifies military power. Those seeking parity with India in military terms also fail to understand its implications: a state with stunted political structures and limited economic resource base investing disproportionately in military expenditure to compete with a state six times its size, and with far bigger economic resources, will end up having its military as an overdeveloped institution. The necessary corollaries of this will be jingoistic rhetoric dominating the public sphere and endemic system failures in the political arena.
The controversy about India's involvement in the 1971 war resurfaced while I was still in Dhaka. This happened because of Modi's statement glorifying the role played by India in the liberation of Bangladesh. The Foreign Office in Islamabad responded by calling his statement an official admission by New Delhi of its guilt in bringing about the dismemberment of Pakistan in violation of the United Nations charter. This response not only lacked context, it also exhibited a woeful disregard for history.
While the rest of the world is already aware, the majority of Pakistanis must also be apprised of the events which culminated in Bangladesh's independence. Most importantly, Pakistanis should know that the conflict in 1971 was the climax of a long struggle by the people of East Pakistan for acquiring autonomy through political means. It was only after the military operation of March 1971 that radical, pro-independence militant elements acquired widespread popular support in East Pakistan. It is also about time that Pakistanis acknowledge the terrible crimes committed by Pakistani administrative and security institutions in East Pakistan. To cite just one example, scores of Bengali intellectuals, journalists and student activists were brutally killed on the night of March 25, 1971, during a military operation inside Dhaka University's Jagannath Hall. The hostel was targeted because most of the boarders there were Hindus.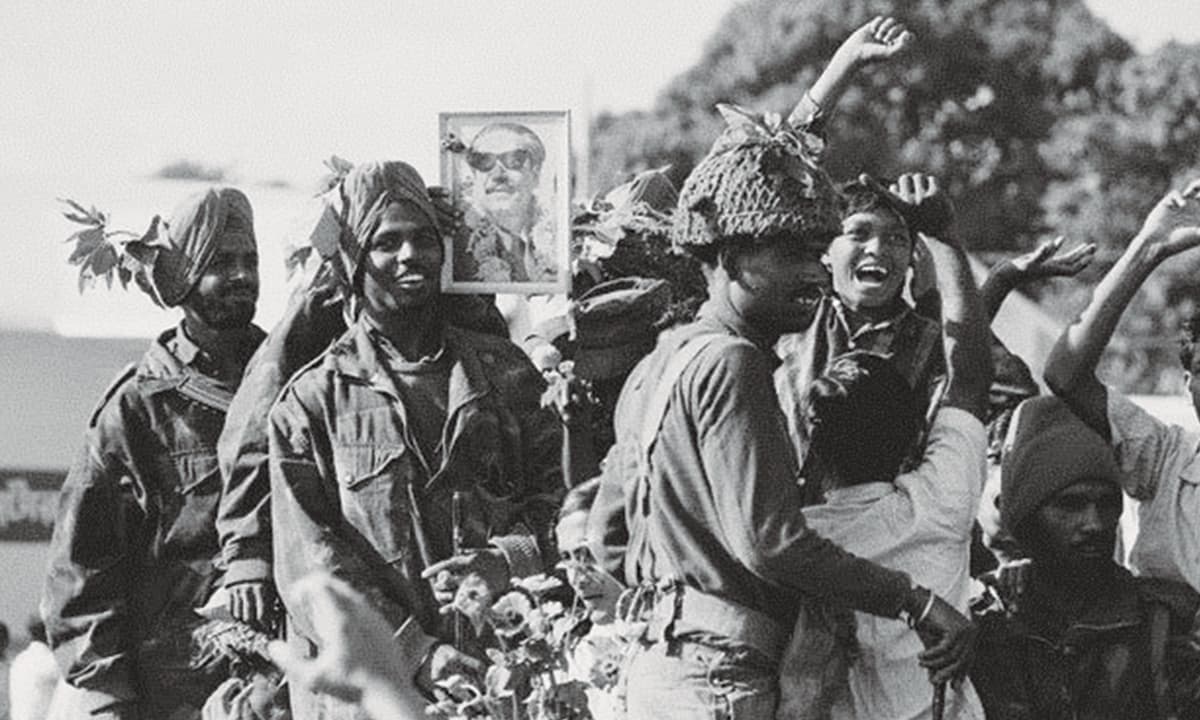 The resentment over the operation was so pervasive that the military found its own personnel seething with anger. Soon, East Pakistanis working with the police, East Pakistan Rifles and even the Pakistan Army started deserting their jobs. According to one estimate, there were at least 3,000 trained personnel of the three forces who switched loyalties and joined the rebel ranks. The renegades from the security forces mostly fled to India where they joined the Mukti Bahini under the military command of Colonel Osmani and the likes of Major Ziaur Rahman, who later became the president of Bangladesh. According to Colonel Osmani, as quoted by Bangladeshi economist, diplomat, and minister A M A Muhith in his book Bangladesh: Emergence of a Nation: "If the Pakistanis had only limited their action against selected politicians, Bengalis in the army and the police force might have stayed neutral. It was only when information got around that the Pakistan Army was out to kill Bengali intellectuals and servicemen as well that we revolted to a man."
There is no doubt that 1971 will always remain the most important time as far as Bangladesh's history is concerned but, on its own, it will never be able to explain the origins of Bengali Muslim identity in the region.
The desertions were not limited to the security forces. When a government of Bangladesh in exile was set up in April 1971, the entire Pakistani mission in Calcutta switched loyalties and supported the government in exile. This was a huge embarrassment for the government of Pakistan, which responded by becoming more suspicious of its Bengali diplomats around the globe who, nonetheless, continued to quit the comforts of a diplomatic life to make their contribution to what they saw as a war of liberation.
From March 1971 onwards, the conflict in East Pakistan became a civil war in which the rebels enjoyed massive popular support. The means employed by Pakistani authorities to crush the rebellion during this period became extremely brutal. About 10 million people from East Pakistan had to flee their homes and seek refuge in India. Thousands of Bengali women were raped. Immediately after the war, international medical agencies rushed to Bangladesh to help with abortions. Others helped by offering to adopt children born out of this traumatic experience. Even the most conservative estimates suggest that hundreds of thousands of people died due to the combined impact of military operation, migration and war.
The government of Bangladesh insists the death toll was close to three million and calls it genocide. While this is considered an exaggeration by most independent observers, what is unfortunate is the way the figure is disputed by revisionist historians and their eager supporters in Pakistan — as if bringing the number down to under a million would make it more justifiable or explicable. They also try to shift the focus by highlighting the atrocities committed by the Mukti Bahini against Biharis during 1971 and even afterwards. There is no denying that killings, torture, plunder and sexual crimes were committed against Biharis but that does not become a balancing factor. I do not have to recall crimes against Biharis in order to exonerate myself of what Pakistani forces did to Bengalis.
Those indulging in such tricks must remember that Bangladeshis need closure for what happened to them during their war of liberation. By trying the members of pro-Pakistani militias such as al Badr and al Shams for war crimes, Bangladeshi Prime Minister Shiekh Hasina Wajed is playing politics rather than working for a closure. This is why these trials create more conflict and polarisation in Bangladeshi society. Bangladesh will not be able to get closure without our help.
Pakistan formally issued a half-hearted apology in the past but it does not mean anything. The official Pakistani policy since the issuing of that apology is to refer to the past as a closed transaction, urging everyone to move forward. But forgetting the past and moving forward is not a solution in this particular case since it involves large-scale death and suffering remembered as a lived experience by millions in Bangladesh. It cannot be forgotten, though its emotional and psychological scars can be healed if ordinary Pakistanis are proactive.
For that to materialise, we need to know the details of what happened to the people of East Pakistan — especially during March 1971 and December 1971. It won't take much to empathise with them and feel their agony and pain. As a starting point, as suggested by Salil Tripathi, the Indian journalist who has recently written The Colonel Who Would Not Repent: The Bangladesh War and its Unquiet Legacy, let us petition for a memorial to be built in Pakistan to honour all those who died or suffered during 1971. Germany has done this for the victims of the Holocaust and the United States has done the same for those who died in the Vietnam War. Why can't we?
---
This article was originally published in the Herald's September 2015 issue. To read more, subscribe to the Herald in print.
---
The writer is an assistant professor of history at the Lahore University of Management Sciences.