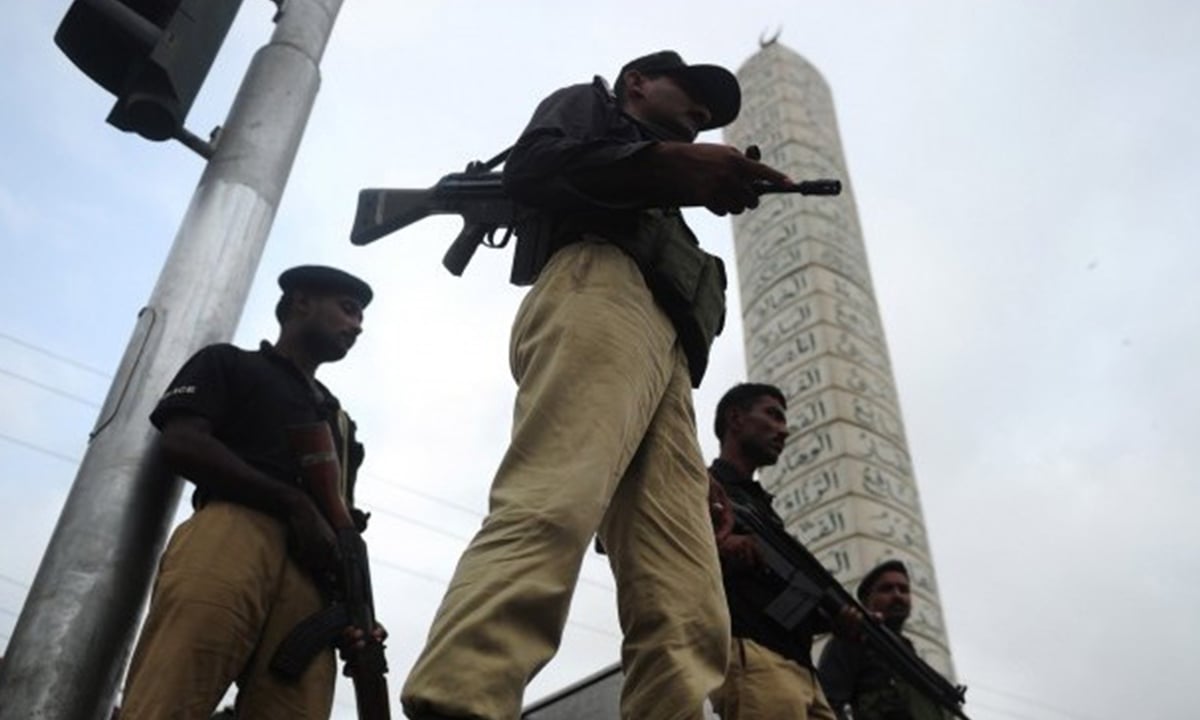 Ayesha Nazeer saw her elder brother Hassan bin Nazeer change dramatically in the last year or so. Even though he has been advising her since 2016 to cover her face, he started forcing her to do so in 2017. "Every time I went out, he [wanted me to] make sure that I observed purdah," she said in a statement to the police. He also became an angry person, she added. Every time she asked him where he was if he was out late, "he would lose his temper". She stopped asking the question out of respect for him.
Born in 1990, Hassan bin Nazeer came from a highly educated family. His father, Dr Nazeer Alam, has a PhD and has been a professor at the National University of Sciences and Technology since 2002. His mother, Dr Syeda Arfa, has worked as a doctor at different hospitals in the city and his sister is studying medicine.
Hassan bin Nazeer himself had a bachelor's degree in electrical engineering from Sir Syed University of Engineering and Technology in Karachi, and a master's degree from NED University of Engineering and Technology. He was working as a lab engineer and a teacher at Dawood University of Engineering and Technology, Karachi, earning 40,000 rupees a month, according to Arfa.
Even though Hassan bin Nazeer had kept a beard since 2013, his interest in religion initially remained limited to offering prayers, she told the police. Changes in his personality became apparent at the start of 2017, she said. "At least once or twice every month he would come home very late. When asked about the reason for being late, he would get very angry." He, indeed, "would get angry at everything," she disclosed.
These changes have their roots in 2015 when Hassan bin Nazeer first went to a mosque at Nipa Chowrangi in Karachi, Nazeer Alam stated in his interview with the police. The mosque is associated with Tanzeem-e-Islami, a small religious group founded by Dr Israr Ahmed, a radical preacher from Lahore who quit Jamaat-e-Islami decades ago over its decision to join parliamentary democratic politics. Ahmed, instead, championed a caliphate. Hassan bin Nazeer would offer his taraweeh prayers there, Nazeer Alam said.
Hassan bin Nazeer also left Karachi in 2015 for 20 days. His parents were extremely reluctant to let him go but he persuaded them, saying he was going on a preaching mission. He later told them that he had preached in a slum in Quetta though he never named the place. He sought permission to travel to other cities multiple times after that, said Nazeer Alam, but "we did not allow him".
Though Hassan bin Nazeer had a job, Arfa stated, he would give no money at home. "He used to say that he was donating all his salary for the construction of a mosque in Hyderabad … He never told us where that mosque was located," she said.
For the last year and a half, Hassan bin Nazeer had been talking a lot about a mufti whom he saw as a mentor and a religious adviser. He did not share the mufti's name or personal details with his parents — where he lived, what he did, how Hassan bin Nazeer met him first. But in August this year, he told them that the mufti lived in Hyderabad and often travelled to Karachi. He was so beholden to the mufti that he made his parents change their schedule to perform umrah. "Hassan told me that the mufti wanted us to wait till Muharram," said Arfa.
That conversation happened "10-15 days" before Khawaja Izharul Hassan, a senior member of the Muttahida Qaumi Movement (MQM) and the leader of the opposition in the Sindh Assembly, was attacked on September 2. He was coming out of a mosque in Karachi's Buffer Zone area after offering his Eid prayers. The police guards accompanying him engaged the three attackers – who were dressed in police uniforms and were riding three motorcycles – in a crossfire that resulted in injuries to several policemen and civilians. "The motorcycle of one of the attackers hit a footpath and fell down," reads a First Information Report (FIR) of the attack. The assailant tried to run away, firing towards the police, but was hit in the head by a police bullet and died on the spot. He was carrying two pistols – one in his hand and the other in his pocket – and several bullets, according to the FIR.
The dead assailant was soon identified to be Hassan bin Nazeer.
Forensic evidence collected from his body would provide investigators with some important leads. One of the pistols he was carrying was also used in the killing of two guards at the Karachi offices of the Federal Board of Revenue on August 28, says Fayyaz Qadri, an inspector working at the Sindh Police's Counter Terrorism Department.
Hassan bin Nazeer never went to a preaching mission in Quetta. He, instead, received training to shoot and kill somewhere in Balochistan, says Qadri. "He had links with Lashkar-e-Jhangvi", an anti-Shia militant organisation and, along with one Abdul Karim Sarosh Siddiqui and a few others, was a founding member of Ansarul Sharia Pakistan. A former student of applied physics at the University of Karachi, Siddiqui is deemed by the police to have masterminded the attack on Khawaja Izharul Hassan. He is still on the run after he escaped from his family home in Karachi's Kaneez Fatima Society area on September 3 during a police raid.
Investigators claim to have found that Ansarul Sharia – like some other Pakistan-based terrorist groups that are directly or indirectly linked with the Islamic State of Iraq and Syria (ISIS) and the Al-Qaeda in the Indian subcontinent – had some association with Tanzeem-e-Islami. Probes into these links helped law enforcement agencies in arresting one Mufti Habibullah from Pishin district in Balochistan on September 6. He ran Tanzeem-e-Islami-linked madrasas in Karachi. The same day the police arrested a former University of Karachi teacher, Mushtaq, from Quetta. He was teaching there at the Balochistan University of Information Technology, Engineering and Management Sciences and is known to have radicalised many of his students including Siddiqui.
The third person arrested around the same time was Ansarul Sharia's spokesperson Abdullah Hashmi. He was held during a raid in a housing society off the M9 motorway that links Karachi with Hyderabad. Siddiqui is reported to have lived in the same place for some time in 2017 when Ansarul Sharia was set up.
Omar Shahid Hamid, a senior counterterrorism police officer in Karachi, believes Ansarul Sharia is most likely a splinter group of older militant outfits. "Its members appear to be highly educated with expertise in technology," he says in an interview. They are young, they come from Urdu-speaking families and they are familiar with Karachi's neighbourhoods, he says.
Hamid does not see Ansarul Sharia as a part of ISIS but, he says, both groups partake in the same "global narrative" about the suppression of Muslims and the need for a Muslim caliphate. "This global narrative can be seen attracting youth in France and the United Kingdom as well."
Hamid says it is difficult to pinpoint the reason why Ansarul Sharia targeted Khawaja Izharul Hassan. The organisation usually attacked policemen, seeing them as the protectors of a "corrupt" system of governance, he explains. Seen from this point, an attack on a politician could be an attack on another protector of the same system, he adds.
"And, of course, it is easy to attack a politician to spread instability and fear."
---
After the publication of the article, Ayub Baig Mirza, Nazim of Press and Publications Section, Tanzeem-Islami Pakistan, sent us the following letter:
To set the record straight, Tanzeem-e-Islami would like to provide the real facts viz. the fabricated statements, the unverified comments, the unsubstantiated conclusions drawn and the slanderous judgments passed on the organization in the above mentioned parts of the published article.
Tanzeem-e-Islami has no mosque associated with the organization at Nipa Chowrangi in Karachi.

Hassan bin Nazeer, the slain member of the terrorist outfit named Jamaat Ansarul Shariah Pakistan (ASP), had no affiliation with or endorsement of Tanzeem-e-Islami for his brutal actions.

Late Dr. Israr Ahmed quite Jamaat e islami in 1956. Jamaat e Islami entered the arena of electoral politics in 1951 and after dismal shows in consecutive elections, Dr Ahmed along with several others, including some of the Jamaat's founding members, reached the conclusion that the aim of making Pakistan an Islamic Welfare State could only be achieved through a non-violent mass movement instead of electoral politics. Tanzeem-e-Islami was founded by Dr Ahmad in 1975. The stated aim of the organization is to "establish an Islamic Welfare State on the lines of the one established by Prophet Muhammad (peace be upon him) in Madinah and succeeded by the first four Khulafa in Islamic history, in the context of the modern age." The bottom line is that Dr Ahmed never championed "a Caliphate" but worked towards convincing people of Pakistan in favor of a system of Government based upon the principles of "the Khilafah" described above. Tanzeem-e-Islami is striving towards that goal by pursuing a non-violent non-militant revolutionary mass movement even today, a fundamental right that the 1973 constitution of the Islamic republic of Pakistan guarantees. These are well established facts that can be verified from numerous sources.

Tanzeem-e-Islami is a respected, non-violent religious organization with no links to any terrorist or military entity whatsoever. Moreover, Tanzeem-e-Islami has never been placed on any list of banned or watched organizations by any security or law enforcement agency of Pakistan.

Tanzeem-e-Islami has no member named Mufti Habibullah. Moreover, Tanzeem-e-Islami does not run any madrassas. Period. Any teaching and learning centers associated with Tanzeem-e-Islami are called "Qur'an Academy" and "Qur'an College". Being a responsible religious organization, Tanzeem-e-Islami ensures that these independent entities do not allow any militant or extremist individual, group or organization to infiltrate, let alone run, any of these teachings and learning centers, whether they are located in Karachi or any other region of Pakistan. In light of the above, Tanzeem-e-Islami considers the fictional link of Tanzeem-e-Islami with banned militant and terrorist outfits such as Jamaat Ansarul Shariah Pakistan (ASP), the Islamic State of Iraq and Syria (ISIS) and the Al Qaeda in the Indian subcontinent, imagined by the authors of the article and published in The Herald, not only irresponsible and preposterous but an outright attempt to damage the reputation of Tanzeem-e-Islami by spreading false, destructive, defamatory rumors about the organization. Tanzeem-e-Islami finds it surprising that the article published in a magazine considered a proponent of responsible journalism fails to mention the fact that no member of the terrorist outfit ASP is a member of Tanzeem-e-Islami, though one or more of them may have attended the "open-to-all" Qur'anic Sessions or the "open-to-all" Tarawee prayers during Ramadan organized by Tanzeem-e-Islami and may have used the organization's name for their nefarious designs. It must also be noted that the Tanzeem-e-Islami has the stringent process of keeping an eye on the activities of its members and there are measures in place at various levels for monitoring and guiding the activities and personal conduct of members and any visible sway of any member towards ideology that may lead to militancy, terrorism or any other anti-state activity is promptly addressed for rectification and correction which may result in the revocation of membership.
---
This was originally published in the Herald's October 2017 issue. To read more subscribe to the Herald in print.