"I'll take you to Bundal Island", I said to a friend visiting from out of town. "What's Bundal Island?", she asked.
"It's this huge island next to the mouth of the Malir river." I told her. "You can see it from the reclaimed lands of Defence Housing Authority (DHA) Phase 8. It's got white sand dunes, streams, mudflats teeming with mudskippers and small crustaceans ... and the mangroves! It's hard to believe there are forests in Karachi, but we do have them on the coast. And at dusk, pink flamingos and other cute migratory birds gather on the island's edge in a last feeding frenzy of the day ... diving into the water, catching small fish before disappearing into the golden sunset."
"Please take me there," said my friend.
And so we started planning a trip to explore a natural wonderland right on the eastern edge of Karachi. Most Karachiites haven't been to Bundal Island. Many have never even seen mangroves. Karachi's 70-kilometre long coastline stretches from Cape Monze in the west to Port Qasim in the east. Karachi has very little green cover, but it does have 100,000 hectares of lush mangrove forests on its coast.
Mangroves are trees that grow in a mixture of saline and fresh water. They are a nursery for shrimp and fish and are an important part of the ecological food chain.
"Mangroves are a natural barrier to storms and cyclones and they prevent erosion. They provide shelter to migratory birds, 110 species of which arrive between October and January along the Indus Flyway from Siberia. These include ducks, pelicans and flamingos," says Babar Hussain, a natural resource management expert at the International Union for Conservation of Nature (IUCN). A few years ago I made a documentary called City by the Sea: The Future of Karachi's Coastline for Shehri-Citizens for a Better Environment. It was about how development projects along Karachi's coast are having an adverse effect on its residents and the environment.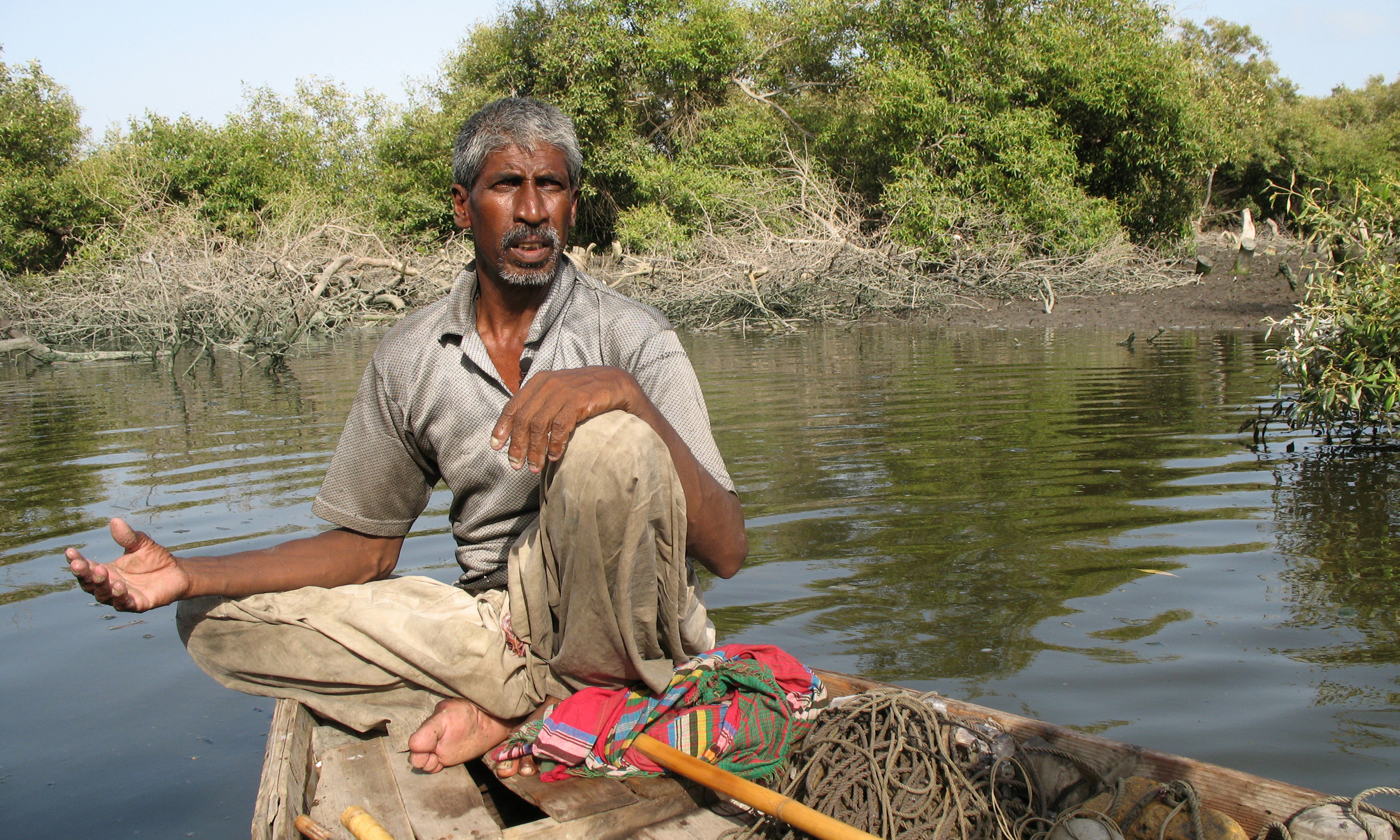 Karachi's coast is prone to cyclones. The biggest one was in 1906. Seawater entered the city crossing Manora breakwaters and Sandspit beach.
"Terrific waves from the ocean rolled in, sweeping before them everything that could give way. The waters flowed over the harbour's sandy ridge, and wiped out the village of Bhit. The city was flooded and the whole country for miles around was submerged," is how the Sindh Gazetter from 1906 describes the storm.
"Such a cyclone can come again. It is the mangroves and mudflats that can prevent damage from cyclones to some extent," urban planner Arif Hasan once told me.
One day while filming we took a boat ride into the mangroves next to Baba Island, just off Keamari and came across a few men busy cutting a tall mangrove tree. It must have taken at least 20 years to grow that big. It came crashing down as we were filming — just one of many casualties of human footprints on nature. Venturing further into the channels we saw dozens of stumps of large mangrove trees ruthlessly cut down by the timber mafia. Such destruction continues unchecked to this day.
When the Mai Kolachi bypass was built in 2002, it cut through a lush mangrove forest in Chinna Creek, also called Boat Basin. The forest was a safe refuge and feeding ground for thousands of migratory birds. Over the years, the birds have stopped coming to the area. The bypass has been an ecological disaster. Built on a natural rain drain, the Mai Kolachi bypass hinders the rainwater from going straight into the sea, reducing the width of the drain by half. This is why the old city floods during rains. The mangroves, too, have vanished completely on one side of the road.
"All land reclamation must be stopped immediately. The backwaters should be returned to their natural state and a flyover constructed where Mai Kolachi passes over the natural drains," said the late urban planner and architect Perween Rahman, director of the Orangi Pilot Project, when I interviewed her once. "At least one flyover should be made for the fish and mangroves. Why just for the cars? Fish also need to cross to the other side. We've killed them and finished them off," she had continued, sardonically.
I remember going to Gizri Creek in the early 1990s. There was no Creek Club, no Marina Club and certainly none of the fancy high-rises that now dot the city's shores. When Marina Club was built in 1991, there was no road beyond the club. It was all wetlands and there were lots of mangroves. What was once precious wetlands and a haven for migratory birds is now a barren wasteland ripe for construction of mega towers.
"It is extremely unfortunate that our precious mangrove ecosystem is being rapidly degraded due to human action. Cutting for fuel, fodder and home construction and reclamation of coastal land for unplanned construction are activities causing alarmingly high reductions in our mangrove forest reserves," says Farhan Anwar, the executive director of Sustainable Initiatives, an independent think tank.
We should question what sort of development goes on in our city. Who benefits from such development?
As Rahman once said, "This is just concrete, construction, contracts and commission. This is not development. Development should be human development; it doesn't come from concrete." Hasan summed it up nicely."It's quite simple, really. If the green turtle is affected, or the egret is affected, or if the mangroves are affected, or if the crab is affected, then we don't want such development."
Imagine how wonderful it would be if we could go for nature walks right through the mangrove forests in the city. Imagine the wonderful birdwatching opportunities! It would be a photographer's delight and such an educational resource for our children, to be so close to nature and wildlife.
---
This was originally published in the Herald's March 2016 issue. To read more subscribe to the Herald in print.
---
All photographs are by the author. Mahera Omer is a documentary film-maker based in Karachi.