Dog shows may not be marked on everyone's calendars and may not generate the same enthusiasm as the upcoming annual literature festivals do, but dog lovers, like book lovers, treasure their objects of affection deeply. Enter a ground in Lahore, Islamabad or Karachi where a dog show is being held and you can get a sense that human beings and their best friends have come out of the woodwork and, well, kennels. Doting dog owners are as big a fraternity as the festive literati.
The show season ends this month in Lahore with the last show slated for mid-February. Generally, dog shows are held in the winters, as the weather is pleasant enough to spend long hours outdoors under the warmth of the sun. And it is, indeed, a long day when there are over a hundred dogs strutting the tracks to be judged.
The number of those who enter dogs in shows has grown steadily over the past 10 years, with the last two years specifically showing a striking increase, according to Ahmed Virk, a permanent member of the Kennel Club of Pakistan (KCP), a judge for the All Breed Dog Shows and group breed warden for the German Shepherd Dog Club of Pakistan (GSDCP). The organisers have had to cap entries at 125 in order to ensure that each dog can be judged properly as it is a time-consuming process.
Like any other sporting event, this is a competition to take home the Best Dog trophy. The best dog is judged on the basis of qualities that exemplify its breed most perfectly. A male or female dog will be evaluated against standards which define the traits of the specific breed it belongs to. Each breed's national club maintains official written standards which include specifications for structure, temperament and movement.
---
Also read: The market for luxury cars in Pakistan
---
Judges examine each dog to see if their teeth, muscles, bones and coat texture match the standards. Each dog is examined in profile for general balance and for its gait, or the way it moves (as movement is regarded a good indicator of structure and temperament). It is also judged on how all of those features fit together in action. For spectators and those who are scouting for a new pet, dog shows are an event where they find themselves interacting with each other and dog handlers and owners in the midst of a multitude of dogs of all breeds.
In Pakistan, specialty-breed shows that cater to a specific breed or group of breeds, are held more often than all-breed shows. The Rottweiler Club of Pakistan (RCP) and the GSDCP are the most prominent in this field along with the Labrador Retriever breeders registered with the KCP. The family of Imran Husain, from Germany, the president of the GSDCP, has been showing dogs in as far back as the 1950s. The club, the country's oldest specialty-breed club, was founded in 1981 and has overseen proliferating activity in holding shows in the major cities of the country. About eight years ago, the Dawn Media Group started playing a major role in the German Shepherd shows by featuring them under the umbrella of its annual Lifestyle Exhibition which further helped bolster the club.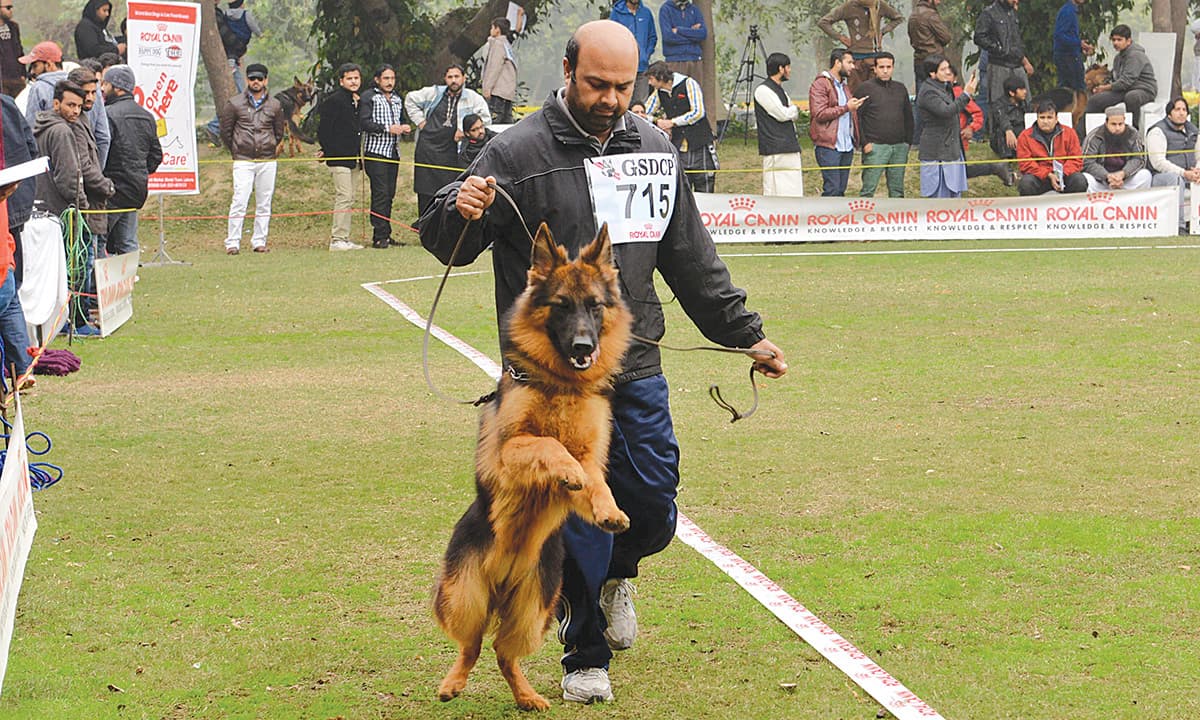 Husain, who started to judge German Shepherd shows overseas in 1977, says his father Muzaffar Husain was behind the revival of the KCP. "The first dog show was held in Islamabad and [a few years later] we started holding shows all over Pakistan." In early 1981, the first show was held in Karachi in a ground next to the Mohatta Palace. Later, the shows were taken to Lahore and then back to Islamabad. "We used to have four shows a year, now we have about 13 a year," says Husain.
The demand for dogs in recent years has grown hugely, especially in Punjab. The centre of action for some reason moved from Karachi to Lahore, perhaps due to the changing lifestyle in the former city where people are moving into apartment homes and are unable to keep pets as they could in bungalows. Husain also suspects that the domination of one family winning a lot of shows in Karachi has also led to the change in the prominence of the two venues. This is the reason he himself stopped showing dogs: "I thought others should have a chance."
German Shepherds, Rottweilers and Labrador Retrievers are the most commonly shown breeds in Pakistan. Only pure-bred dogs can be registered with the KCP, which issues a pedigree certificate to each dog owner for the purpose of illegibility to enter a contest. Registration means a dog, its parents and its ancestors are pure-bred but it does not indicate their health or quality.
Dog owners may prefer to take their pets through the events of the competition themselves or hire a handler, a professional who will take a dog into the ring or walk it through other performance events. Training dogs involves making them exercise three to five times a week as well as keeping them groomed and fed on a good diet. All of this is happily provided by pet owners who are advised by expert breeders of dog clubs.
Previously, dogs would be tattooed for identification, which meant tagging inside the right ear of a dog. As this was a painful process, it has now been replaced by microchipping; a dog is injected with a chip above the withers when it is young.
People enjoy participating their dog in the shows partly because of the desire to win and the pride of having an animal that wins. This would be true of any other pets, whether horses or cats, but dog shows are done in an organised manner and they are done well. Apart from the aspect of competing for a trophy, shows are events where dog fanciers and enthusiasts meet each other and enjoy interacting with their favourite animals.
These shows are social equalisers like any other convention for various hobbyists. You may own one dog or 10, you may have hired a professional or walk your dog yourself, you may have equipment for the care and comfort of your pet worth thousands of rupees or just the bare requisite to keep it comfortable, here everyone can interact with everyone. "It's not an elitist thing. If you look at it from the point of view of the dog fanciers or the exhibitors, there's hardly anyone among them who is from the elite," says Husain.
---
This was originally published in the Herald's February 2016 issue. To read more subscribe to the Herald in print