Part one
Hameed Jan Haji knows what it means to be inside a coal mine. A septuagenarian, he no more does heavy work of cutting and extracting coal but still clears coal dust or cooks for the miners in Machh, Balochistan — making 400 rupees a day. Gap-toothed but sturdy, he confidently fishes out an identity card as if his whole being is dependent on it. The card is issued by the Pakistan Mineral Development Corporation (PMDC), a public sector agency, and shows him as a registered miner.
It does not seem to matter to him that the mere mention of PMDC invokes memories of a spate of tragic incidents over recent years. In 2011, methane gas accumulated in a poorly ventilated PMDC-owned mine in the Sor Range area outside Quetta, causing multiple explosions that decimated the colliery and killed 45 miners. In May last year, 23 miners died in two separate incidents on the same day in different parts of Balochistan. Seven of them were working in a PMDC mine.
It was also in one of the subterranean burrows of another PMDC mine that Haji got trapped. He was busy doing tikkum – breaking coal – when the mountain above him groaned. It was a 'bump' — a seismic event caused by an explosion or the collapse of wooden cross-beams that support a mine's roof. On hearing the rumble, he told his companions to leave. He was about to pick up his implements before rushing to the exit when the roof collapsed and blocked the mine's shaft. He found himself confined in a narrow space with his back against the coalface.
"When a mountain falls inside [a mine], it sucks away all air," says Haji. Wrinkles in his face deepen as he strains to recall that day in the year 2000. Or was it 2002? He is not sure. "It got suddenly hot in there. I turned and buried my face in coal." It was moist from water sprayed to keep coal dust from rising.
Three days and nights, he stayed trapped in that spot — no more than a foot in length and width because he could only either sit or stand. He would stand when his legs ached from crouching, hurt from being pressed against the rock face, and would sit when he got tired standing. Occasionally – only when he heard the mountain creak, afraid it would come down on him – he turned on his headlamp, mindful that its battery may run out.
"I did not know what would happen to me," he says, solemn in the way characteristic of miners resigned to the inevitability of a disaster or having survived one. "I knew death was inevitable but my only regret was that my family would not find my grave. And if they did, they would only find my bones here."
Haji had no way of knowing that his colleagues, busy digging up the place for days to rescue him, had brought along a coffin to carry his supposedly decomposing remains for a quick burial.
He waited and prayed. Sometime during that long agonising wait, he fell asleep. "I was terribly thirsty. I dreamt that two men, their faces black from soot, came to me with a bottle. They asked me to drink from it. I took a sip and woke up protesting that it was some medicine. There was nobody around but I felt refreshed as if I had drunk from a cool well."
On the third day, his limbs gave up. "My body went lifeless but my hope was intact." Some air, he says, must have trickled in from somewhere to keep him alive.
Later that day he heard the diggers plowing. 'Digging' in mines entails a lot more than just removing layers of earth. It means supporting a dug-up tunnel with wooden cross-beams before moving ahead. It is a painfully slow and painstaking process.
Eventually they came, having dug a hole barely enough for him to squeeze through. "I did not cry on seeing them but they did," Haji says.
After he walked out alive, he did not think for a minute that his was a dangerous vocation. He could not give up mining. If not for himself, he had to work for his dependents — his wife and nine-year-old son. And he did not know what else to do.
Back in Shangla district, in northern Khyber Pakhtunkhwa, his family did not know what he had been through. He went home to see them soon after his rescue but returned to work in coal mines only a few days later — like he has been doing since 1953 when, as a 12-year-old, he first came to Balochistan along with his father. To get a job, he told a mine contractor he could cook.
That is exactly what he does now after having spent decades working inside mines. "I have ended up where I started," Haji says. "What did I do with my life?"
As one goes down a mine, claustrophobia immediately sets in. It is like the panic one may feel at being buried alive. Only, at 3,700 feet under, it is much worse than being in a grave. A mine has the feel of an ocean without the weight of water. The only burden one feels is that of emptiness, of darkness swirling around. One does not even feel the weight of tonnes of land mass above the mine's roof held aloft by cross-beams made out of eucalyptus or poplar, the most fragile of trees.
Being inside a mine dissipates all sense of time except one associated with darkness. It is like an endless night. There is no view beyond what the spotlight of a headlamp reveals: the maw of a tunnel that disappears into the bowels of the earth or a wall that abruptly ends the possibilities of vision and movement. The limited sight one has inside a mine makes one realise why moles are blind, why cavefish do not have eyes and why miners suffer from nystagmus — an ocular condition caused by living in poorly-lit places for long periods of time.
In evolutionary terms, darkness degenerates eyesight. Inside the pit of a mine, however, one may be grateful for a limited vision. Even if one could see, one would only be looking into a black hole — through the narrow confines of a tunnel that goes on and on without an end in sight.
Darkness and the limits of sight allow one to imagine. One could assume there are no walls around, no roof above; as if one is in an otherworldly place. The feelings – fear and shock – that come along with being in a mine can be called only as phobias. As with fear of depths, heights, tight places, the panic it causes can be felt but not described.
Miners are 'terra-nauts', negotiating the subterranean. Their experience is as surreal – and scary – as of those who go into the space or under the ocean. In Balochistan, there are mines as deep as 7,000 feet, much deeper than the average depth of Arctic Ocean. No one can survive at those depths without oxygen tanks — except that miners do somehow.
This comparison of mines with space and ocean is not an idle thought. The subterranean is as perilous as the aqueous and the airless. For if one stands vulnerable against hostile forces of nature in sea and space, then in mines there are parallels aplenty.
"In space, no one can hear you scream"– the ominous tagline for the 1979 horror/sci-fi flick Alien – rings just as true inside a coal mine at 3,700 feet below the earth's surface. If a disaster strikes within these dark subterranean dungeons, no one can hear coal miners scream.
The centuries will burn rich loads
With which we groaned,
Whose warmth shall lull their dreaming lids,
While songs are crooned;
But they will not dream of us poor lads,
Left in the ground.
– Wilfred Owen
The West needed colossal amounts of coal for the Industrial Revolution. Among the nameless multitudes of miners who made it available was Ellison Jack. 'Ellison who?' one may ask.
An eleven-year-old girl in Britain, she did 20 journeys a shift carrying a tub of coal that weighed 200 kilogrammes. And if she slackened on the job, she got whipped.
Her story was a part of the shocking Mines Report the British parliament published in 1842 to shed light on the terrible state of coal mining in Britain. It brought to public knowledge how children under five years of age worked underground — for 12 hours and for two pennies a day. Carrying coal far too heavy than their own bodies caused deformities in them.
In Pakistan, we have no miner girls but we do have boys, some as young as 13, who regularly leave homes to work in mines.
"Most of those who die in mine accidents are between the ages of 15 and 30 because, being young, they are physically fit to do hard labour underground," says Alibash Khan, a social activist. He lives in Shangla from where hail a large number of colliers working in coal mines scattered across the country.
As Pakistan carousels on its great coal ride, the electricity we get from power plants, the homes we build with bricks made in coal-fired kilns and bags of cement we churn out in millions each year — all owe to the sweat and blood of young miners like Pir Mohammad, 13, in Dukki, Balochistan; Abdul Salam, 30, in Shangla, Khyber Pakhtunkhwa; or Hameed Jan Haji, 70, in Machh, Balochistan.
Like Ellison Jack, they are the nameless and faceless dynamos of our development. With stories and characters straight out of a bleak Dickensian world, these toilers of the dark, invisible subterranean places live, work and die far from sight, away from the luxuries built and developed on their labour.
They grow old in some distant, soot-blackened land at the end of unpaved roads no one but the miners take, their lives often spent living in hovels and holes in the hills. In the day, they toil in poorly-lit mines, coming out at night to live in settlements without electricity.
Mining landscapes – because they are remote and far removed from our everyday lives and experiences – challenge the visual quality one commonly associates with reading about a landscape. As Edge Effects, a digital magazine of the Nelson Institute for Environmental Studies at the University of Wisconsin–Madison, notes:
"Many mining activities take place deep beneath the earth, in hidden warrens of shafts and chambers which sometimes leave only the slightest material traces above ground. Because of this inaccessibility – and also because of the cultural ambivalence of remembering a kind of labour that some would prefer to forget – the historical memory of these places is often buried away. Mine shafts become both literally and metaphorically sealed."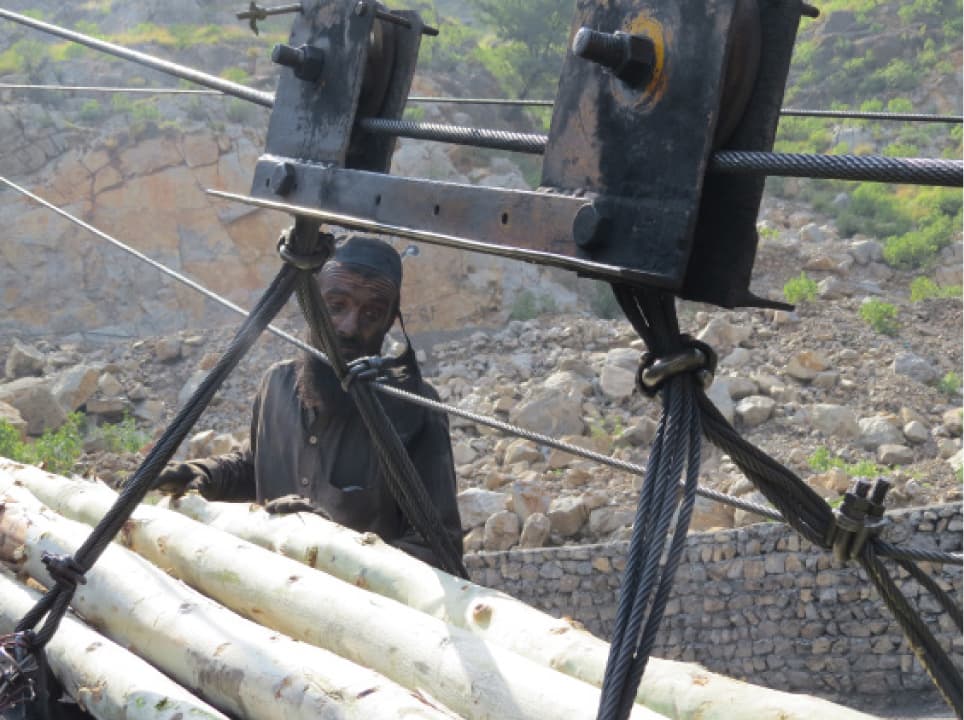 Coal may be a source of carbon that is choking the planet. In Pakistan, however, it is the new gold. From Thar in Sindh – with reserves of over 175 billion tonnes – to Dukki in Balochistan, it is lightening up lives with the happy prospect of employment and power generation.
As of today, however, little of it is being used for producing electricity. Most of it goes into firing smoke-spewing brick kilns which forced the smog-choked Punjab province – that guzzles most of the coal produced in different parts of Pakistan – to seek their closure in October last year.
The World Energy Council estimates that Pakistan's total coal reserves are "some 185 billion tonnes". Out of these, 3.45 billion tonnes are already "measured" reserves, nearly 12 billion tonnes are "indicated" reserves and 57 billion tonnes are "inferred" reserves. The rest – 113 billion tonnes – are only "hypothetical" reserves. The country's daily production of coal amounts to 2.33 metric tonnes (of oil equivalent) so far.
The world's romance with coal bloomed with the Industrial Revolution but has lately cooled down. Many parts of the globe have fully or partially banned coal mining (Meghalaya in India, Wales in the United Kingdom, many regions in Australia, Germany and other European countries).
Pakistan is certainly behind the rest of the world as far as its relationship with coal is concerned but now that we have started using it, the industrial prosperity of the developed world could well be our own. At the very least, that is what the official rhetoric tells us even though many an energy expert has already warned us against a 'misguided' pursuit of the black gold. The prosperity will not come without a price, they say.
The human cost of our intensifying love affair with coal is already too obvious to ignore.
Spin Karez is a vast expanse of land outside Quetta, bleached and baked hard by the harsh sun. It is a haunting terrain where wind howls and dust devils rise out of nowhere to waltz jauntily before disintegrating and disappearing. Low hills, with barely any human habitation or vegetation, swell and surge like ripples in land on both sides of the road that leads to the place. Further ahead, mountain peaks take on anthropomorphic contours: Koh-e-Murdar looks like a sleeping beauty gazing at a cloudless sky.
Along the way to Spin Karez is a coal depot, a land basin with low buildings and heaps of coal out in the open. Mining units are spread over a soot-blackened landscape here, livened up by colourful and bright trucks — some parked, others moving along the road, still others being loaded with coal. All day long, small trucks arrive at the depot from nearby mines to unload coal which is then loaded on to bigger trucks that take it to other parts of the country.
On a wintry Friday last year, the road from Spin Karez to Quetta has trucks and pickup vans carrying coal as well as coal miners, their faces covered for protection against wind and dust. These men, mostly from Swat, are going to Quetta to spend a weekly holiday. Next week, they will stay back at coal mines and another group will go on leave.
In Quetta, they meet friends and family members working in other mining areas in Balochistan. They also send money to families back home through miners going back to Swat. They crowd restaurants on Tughi Road, the focal point for miners from Swat, watching Bollyood films on a satellite television.
Contractors, too, frequent these restaurants to recruit coal miners, brandishing advance money as an incentive. On joining a coal mine, a labourer may make as little as 10,000 rupees a month or as high as 60,000 rupees a month — depending on his experience and the physical strength the work requires.
Mining season peaks in winters so the demand for miners increases between October and March every year. In summers, coal production goes down as miners stay in their villages doing farming.
While at work, miners stay in the pits from 6:00 am to 2:00 pm and return to their dwellings to sharpen pickaxes, wash themselves, cook for themselves and, in some places, feed donkeys they deploy for transporting coal from mining pits to warehouses. As bent and broken as these men are in body and spirit, the plight of donkeys working alongside them is no better — or no worse.
The wind that leaves a mine is damp and thick with choking coal dust. It is also heavy with the smell of human bodies and the whiff of the beasts' urine and dung. As one miner puts it, mines are where "donkeys and men live as one, with no difference in their living conditions."
Dukki is a small mining district in Balochistan — 228 kilometres to the east of the provincial capital, Quetta. It has more coal mines than any other part of the province. Leave its eponymous headquarter town and you will see mounds of excavated coal piled on lands along a road that goes to Barkhan and then onwards to Dera Ghazi Khan, farther in the east.
In places, mining seems to be happening right underneath the road or even beneath houses on the sides (whose owners get a royalty of 800-1,000 rupees a year).
Dukki town can be mistaken easily as an Afghan settlement. For one, members of a Pashtun tribe, Nasar, form a majority of its population and they have close relatives across the border in Afghanistan. Secondly, a large number of colliers working here are also Afghans. Together the two give the town a peculiarly Afghan ambiance that no other mining area in Pakistan has.
By the look of it, the state of Afghan miners is more desperate than of those from Pakistan. They are willing to work in conditions where no one else dares to tread — sometimes working in pits that are as deep as 7,000 feet.
They also exist in a legal vacuum — without valid documents to stay and work in Pakistan. Pakistani miners can invoke the law of the land when negotiating with mine owners or mine contractors. Afghans, like Abdul Manan – who comes from Kalat province in Afghanistan – are entirely at the mercy of their employers.
A miner for 35 years, Manan has not received any of his wages from a mine where he worked the whole of last year. A bearded, turbaned man with a grimy waist jacket and a grey wrinkled face – coal soot deposited like pigment in the folds of its skin – he claims the mine contractor has expelled him rather than paying his wages. His cousin, too, has not received any salary for the last three years, he further claims.
To get paid, Manan cannot do anything but request his employer — and then wait and pray. "If a contractor does not pay local miners, they can force him to pay by taking away his car. If we even threaten him, he reports us to the police," he says. "If we report against a contractor for not paying us, the police puts us in jail [for not having a work permit] instead of him."
Rolling rosary beads with his fingers, Manan describes how unpaid wages are not the only problem that Afghan miners face. "When one of us dies, the contractors do not give us identity cards showing us as mine workers so that we can take our dead back home through regular routes."
When they travel without those cards, the Frontier Constabulary (FC), a paramilitary force, and the police harass them, he says. "We cannot even go to Quetta for treatment if we get injured or fall sick."
Travelling to and from Afghanistan is similarly fraught with risks. To cross the border, they need proof that they have been registered as Afghan refugees even if they carry cards that show them as mine workers. When they cannot produce the proof of registration, they become suspects, liable to action by the police or FC.
Mining department employees in Quetta admit that some of these complaints are true. If and when an Afghan miner dies in a mining accident, his contractor puts his body on a truck, gives some money for travel and burial to his relatives working at the same mine and sends them off, say these officials. That is where the contractor's responsibility to the dead miner, or his heirs, ends. They never get any compensation.
##Part Two
In Quetta, people are fond of pets — particularly birds. If you know the city, you would also know how so many folks here own a mynah, a dove, a canary, a parrot or two: birds of the singing, talking kind. In some crowded street, it is not rare to come across a shop with a bird cage hanging by the door or placed atop a counter.
Quetta also has a large bird market but no one there would say they have ever sold a canary to a miner. Until the year 2000, if you went to any of the mining regions in Balochistan – Machh, Muslim Bagh, Dukki, Chamalang or Quetta – you would find a small aviary at every colliery. The miners kept pigeons and some canaries, their cages hanging out in the vast silences of drought-stricken, barren mining zones where the wind howls like phantoms and no bird sings.
It was not for their songs that the miners kept birds. They brought birds to mines to die so they themselves could live.
A canary in a coal mine serves as an advance warning system about things not going well. British physiologist John Scott Haldane (1860-1936) was responsible for giving currency to this expression. He experimented on himself – and on his three-year-old son who, like his father, went on to become a great scientist – by breathing in a cocktail of lethal gases like methane and carbon monoxide, which are both naturally found in underground mines, to record their effect on human mind and body. He found out that carbon monoxide, when combined with haemoglobin in blood, turns the skin a deep cherry red. This is why when colliers die of carbon monoxide poisoning, they have flushed, red faces.
Haldane suggested miners use a "sentinel species" like the canary, as an early warning system. On exposure to lethal gases, a canary gets sick quicker than a human being, alerting miners of an impending disaster and allowing them time for an escape.
All through the 20th century, it was the humble canary that came to the rescue of miners. Here in Balochistan, miners would place a cage with a canary atop a steel trolley going down a mine shaft on iron rails. If the canary came up alive, they knew the mine was free of dangerous gases.
Mercifully, canaries are no more sacrificed so colliers can live.
In time, mines have shifted to using safety lamps whose flames help detect poisonous gasses in a mine. If the flame gets smaller, it indicates the presence of blackdamp — a mixture of asphyxiating gases like nitrogen and carbon dioxide that suck oxygen from the air. If the flame enlarges, it indicates the presence of methane, an explosive gas.
Lamp flames, though, can be hazardous. They can cause explosions in the presence of methane — an occurrence common to mines in Pakistan. An alternative to them is an electronic gas detector which, being expensive, is not something mine owners in Pakistan often invest in.
But even when mine managers insist on the use of safety lamps or electronic gas detectors, frequent mine accidents suggest that there is something else that needs to be fixed: the casual attitude miners have towards their own safety. So, while the canary lives, miners continue to die in isolated, out-of-the-way places mainly because they go into mines without taking the required precautions.
If their death toll is high, media rushes to bring home the horror of it. What does not make news is the anguish of those in homes and hospitals who suffer and die in silence due to chronic conditions inflicted on them by occupational hazards of being in the coal mining industry. Nor does the human and environmental cost of mining figures anywhere in the policy debate over coal and development.
The dilemma of coal miners is that they work underground, invisible to the rest of the world. A collier in Choa Saidan Shah in Punjab's Chakwal district puts it eloquently: "We only become visible when we are dead."
Mohammad Atif is a mine inspector in Quetta. He has a mop of greying hair and a tentative but helpful manner.
On a recent workday, he goes inside a PMDC mine along with a supervisor, Mamoula Khan, their headlights illuminating spots that look rather precarious to a layman: the mine roof in these places is held back with broken shale rock which, in turn, is supported by thin eucalyptus logs. Many of these logs are snapping under the weight of rock above them and have been chalk-crossed for replacement.
Mining engineers advocate that a mine's roof must be supported by cross-beams made from keekar (wild acacia) tree and not from eucalyptus which snaps easily under pressure. But keekar is expensive and eucalyptus cheap — it makes economic sense to mine owners to use the cheaper option.
Labour union leaders like Manzoor Ahmad Awan argue that the safety standards spelled out in the 1923 Mines Act can reduce deaths if stringently adopted. Yet mining coal from the earth's bowels throws up many challenges that no amount of safety precautions can overcome.
Deep inside the earth, mine shafts are only as wide as to allow a small steel trolley to pass through as it runs between several levels, each one deeper than the one that comes before. This trolley is so small that it can carry only three men together — that too, if one is crouching in its belly and two are standing on his sides. The trolley is held on rails with steel wires attached to an engine operated by a mechanic sitting in a cold and ill-lit chamber at some level inside the mine. With no way of seeing into the black hole below, he operates the trolley with sign language. Above him is a bell hooked to a wire that goes deep into the mine shaft. Occasionally, it tinkles three times — a signal from an underground level that the trolley is full of coal and ready to be pulled out. In case of an emergency, the bell will ring five times.
The trolley comes and goes every now and then. It appears as if from nowhere and then disappears into the dark maw of the tunnel, carrying a haul of coal or men. Being on the trolley is like being on a rattling train journey to the centre of the earth, only many times more uncomfortable and terrifying.
Shafts plunge precariously downwards, perpendicular to the earth's surface. At right angles to them are tunnels leading to the coalface. The colliers work inside those tunnels with the single-mindedness of a beaver. They play music on their phones as they cut and carry coal, their naked torsos glistening in dim light and the white of their eyes showing prominently in their blackened faces. The tunnel around them is dark and damp, its air redolent of their oily sweat. In this particular mine being visited by Atif, miners are breaking the coalface 3,700 feet below the earth's surface. They load the mined coal into wheelbarrows and carry it to the mine shaft where they load it into the waiting trolley. They are also busy putting in place wooden arches to support the tunnel as the coalface advances further as a result of excavation.
Along the shaft run 'intakes' — pipes bringing air and water inside the mining tunnels from all the way up. Each mine tunnel has two openings above the earth — located as close to each other as nose is to mouth on a human face. These openings help air to filter through a shaft and allow the mine to breathe.
For ventilation to be effective, air pressure in the tunnels is kept at 5,000 cubic feet per minute. Anything more than that causes spontaneous combustion because coal here is volatile. Anything less causes the highly inflammable methane gas to accumulate. The level of methane concentration in a mine needs to stay below one per cent — a level that can only be achieved through efficient ventilation. Any concentration between five to 15 per cent can be highly explosive.
Ventilation, therefore, is cardinal to the safety of a mine. "An explosion's intensity increases by 50 per cent if a mine is not properly ventilated," says Asmatullah Awan, a contractor at Habibullah Coal Mining Company in Sor Range.
Deadly gases like methane are naturally trapped inside coal seams. The thicker a coal seam, the more gases it will have. Mines in Quetta, with seams as thick as three feet, are gassier than those in Dukki, for example. Also, underground mines have more gases trapped inside than open-pit mines which, in Pakistan, are present only in Thar desert.
The other dangerous gas found inside coal mines is carbon monoxide. It is formed as a result of oxidation (spontaneous combustion) of coal in cold temperatures. It does exist inside mines at all times and can be removed only through active ventilation. There is one small consolation for miners exposed to it: their death is not painful. "You just fall asleep and die," says Atif.
The average emission and prevalence of various dangerous gases in Pakistani coal mines, particularly in Balochistan, exceed the internationally permissible limits, says Dr Salahuddin Azad who teaches at the National University of Science and Technology, Islamabad. These gases, he writes in a paper titled Impacts of Coal Mining in Balochistan, "are the source of high death ratio" in the province's mines.
Azad notes that the "concentrations of coal dust" in Balochistan's mines too, exceeds the permissible thresholds. It "is not only a source of health problems like routine headache, irritation in throat, nose, and eyes, drowsiness, shortness of breath, nausea, pneumoconiosis, tuberculosis, chronic obstructive bronchitis, heart problems, respiratory irritation, [asthma] and even lung impairment and lung cancer…but is causing severe damage to the environment."
As daunting as these odds are, the risk of accidents multiplies manifold when unskilled workers either do not know or violate safety protocols knowingly. Some of them, according to Atif, "die for having lit up a cigarette inside a mine".
Digital multi-gas detectors attached to the waist belts of Atif and Mamoula Khan show zero readings for gases as the two go down a coal mine near Quetta. Like earliest versions of mobile phones, these detectors are chunky and have illuminated screens.
Imported from China, the United States, Germany and Japan, the detectors are expensive and require resetting every two years. They need to be sent back to manufacturers abroad for the purpose — a process that also requires money.
Mine owners and contractors do not want to pay for their purchase and resetting. Consequently, a tax of five rupees per tonne of coal a miner extracts is deducted from his salary and is deposited in a government account which is then used for purchasing and maintaining the detectors.
Money in the same account is also used for providing safety training which remains in short supply. Even when some training is offered by local or international labour support organisations, workers do not turn up unless training organisers offer them money as an incentive. They do not want to lose the day's wages.
Labourers, mining union leaders and government officials all agree that the most effective way of ensuring that miners attend safety trainings is that these are organised by their own employers. But contractors such as Awan will not invest any of their money in them. "I have no way of knowing if a trained miner will stay with me," is how he explains his unwillingness to spend money on this count.
Training is also expensive. It takes as much as 40,000 rupees to train a single miner in safety protocols, says Irfanullah, a director at Khyber Pakhtunkhwa province's labour department. Many mining operations are not large enough to afford that kind of money.
Most mines are so small that they operate informally — being unregistered with the government, and owned and operated by individuals, not companies. A single mining zone spread over, say, a four-square-kilometre area may have as many as 200 mines all owned and operated by different people, says Irfanullah. "It is not financially feasible for such small mine owners to fully implement occupational safety and health regulations," he adds.
It is for the same financial reason that Pakistani mines do not have the latest mining equipment. It can increase work safety but is expensive. A hydraulic fixer – which prevents broken rocks from falling – costs about 1.8 million US dollars. Even a stone cutter costs about 200,000 US dollars. Mining companies do not invest in these gadgets lest their profit margins come down. Mining practices in Pakistan, therefore, remain undeveloped — even primitive.
Where a mine offers better working conditions, it provides less wages to workers because of having to invest money in safety measures. Workers themselves leave such a mine because they can earn more elsewhere. "Mines are poisoned with asbestos in Khyber Pakhtunkhwa's Hangu district. No mine driller can survive its poisonous effects. And still they go there to work because mining companies give an extra 50,000 rupees a month for drilling work," says Awan. "The miners do not ask why a contractor who does not give them 1,000 rupees in loan is offering them 50,000 rupees extra each month," he adds. "Everyone here is ready for suicide."
Roshaan Wazir, a mining inspector working with the Fata Development Authority in Khyber Pakhtunkhwa, has something similar to say about the casual attitude that coal miners have towards their own safety. He has met mine workers who have all the safety gear they need but do not use it. "They say helmets make them sweat and masks interfere with their breathing."
It is a Wednesday morning and Atif is on his way to Sor Range, a mining zone in Spin Karez. Some of the leading coal mining companies operating in Balochistan run their mines here. These are not rathole mines — the ones that dot Dukki in the east. Working conditions at mines in Spin Karez are relatively better than those at countless other informal mines.
Atif's trip is not aimed at inspecting mines but to talk to managers at a PMDC colliery so as to convince them that they provide on-site residence to mine inspectors. Their presence in the field will ensure safety, he says. The coal depot near Spin Karez shows that mines do not just need to be secured from inside but also from the outside. An FC-managed truck weighing station is operating here even though there are no uniformed men in sight.
Depending on the size of a truck and the amount of coal it can carry, operators of the weighing station charge it a certain amount of money as security fee. This is in lieu of the protection FC provides to local coal mines against attack by Baloch separatist insurgents or from tribal clashes over mine ownership. A few years ago, there were no security personnel in most mining areas in Balochistan but then the Baloch Liberation Army, a separatist militia, abducted and killed seven miners and one doctor from Sor Range in July 2012. Similarly, Marri Balochs have been fighting Luni Pashtuns over the ownership of coal mines in Chamalang, a remote area in Balochistan's Kohlu district, for years. These mines are known to have 500 million tonnes of coal worth 2,000 billion rupees but no mining could take place there due to tribal rivalries. It was only after the paramilitary personnel took over the security of mining fields in 2006 that excavation of coal started in Chamalang.
Dukki faced a similar situation.
Back in the 1980s, when the land was cheap here, members of the Nasar tribe bought much of it. A large number of local coal mines, therefore, fall in the lands owned by the tribe. Its members also built the local truck terminal to facilitate the transportation of coal. The advent of industrial coal mining since then has intensified the tribe's pre-existing feuds with other local tribes. Dukki is now divided into nearly exclusive neighbourhoods controlled by Nasar, Tareen and Luni tribes. Clashes between them became so frequent and deadly over the past decade that the FC finally stepped in to restrain them.
Elsewhere in Pakistan, too, mines and miners are not always safe. In Darra Adam Khel, for instance, coal mines are guarded by the personnel of the FC against tribal feuds as well as attacks by militants associated with the Tehreek-e-Taliban Pakistan (TTP). They charge a fee – 1,500 rupees – for each truck that passes through FC checkpoints to get out of Darra Adam Khel.
Local mine owners also have to maintain detailed records of their workers so that no anti-state elements get mixed among them. Miners, too, are kept away from local population to avoid conflicts between the two.
Bad things keep happening still. Law enforcement agencies had to conduct an operation in January this year for the release of 14 miners kidnapped after a dispute between mine owners and a local jirga in Darra Adam Khel.
And Abid Yaar, a member of a coal miners association in Shangla, carries with him a list of 11 missing miners. They were all working in mines in Khyber Pakhtunkhwa's tribal districts along the Pak-Afghan border when they disappeared.
The presence of security forces has been a godsend for the mine inspector posted in Dukki. Since the district is a tribal area, with no formal police force and government-run courts, enforcement of official rules and regulations here has always been a big challenge. Mine owners would not allow the inspector to check mines let alone close one for violations of rules.
Now that FC is deployed in the district, mining officials take action without having to fear retaliation from powerful tribal chieftains. Their work, however, has made few improvements, if any at all. This is because there are too many mines in the province and too few inspectors, argues Iftikhar Ahmad, Balochistan's chief inspector of mines. Dukki alone has 800 coal mines but it has only one mine inspector.
Ahmad and his subordinates are tasked with keeping 5,000 mines safe for nearly 80,000 workers in Balochistan's five different mining zones: Quetta, Loralai, Shahrag, Machh and Kalat.
Each zone includes areas which are sometimes hundreds of kilometres apart from each other. Quetta zone, for instance, starts from the provincial capital and goes all the way to Taftan on Pak-Iran border in south-west. Loralai division includes Dukki, Chamalang and Muslim Bagh areas; Shahrag division comprises Shahrag, Khost and Harnai regions; Machh division is spread from Machh in central Balochistan to Naseerabad on Sindh-Balochistan border; and Kalat division includes Mastung in western Balochistan and Hub that is in the south-east of the province.
A single inspector oversees mining operations in each of these five divisions. Two sub-inspectors are supposed to be working under each inspector but most of these positions are lying vacant. (For the whole of Chakwal district in Punjab, similarly, there are only two inspectors. They are supposed to oversee as many as 1,200 mines.)
Inspectors are first responders and rescuers when accidents happen in mines, often facing the ire of miners' families and questions from the news media. Their meagre number suggests that it is not possible for them to inspect each mine at regular intervals.
Given that distances between Quetta and other parts of the province are extremely long, a mine inspector can spend no more than three days a week in the field before returning to the provincial capital to report to his superiors. In those three days, he can inspect no more than three to four mines because often a single mine requires a whole day for inspection. Imagine how long it will take to inspect a 3,500 feet long mine which has 35 to 40 mining tunnels at different levels.
Going by this weekly rate, an inspector will be able to revisit a mine after many years. Atif and his colleagues in the mines inspectorate are aware of their limitations. To make up for their small number, they keep themselves available 24/7. Since mining never really stops and a crisis can unfold anytime, they are available on call any time of the day, any day of the year — "even Eid and Independence Day".
Miners, contractors and trade union workers still blame mine inspectors for not turning up frequently for inspections. And when they do, goes the allegation against them, they largely depend on a mine supervisor to report if a mine is safe for work. Some inspectors do so because, according to Mamoula Khan, they have a fear of pits. "Who would want to enter into a lion's jaws?"
The reliance on supervisors for mine inspections is not altogether unlawful. The Coal Mines Regulations 1926, which still form the bedrock of mine safety rules all over Pakistan, in fact, make it mandatory for a mine manager or a mine owner to prepare a daily report on mine safety. The mining permits issued by the inspectorate of mines necessitate that the owners/managers inspect their mine every day, maintaining a log for safety concerns so that a visiting inspector can check them later.
Mine inspectors can lodge cases against mine owners for not maintaining these logs as well as for neglecting safety inside mines. Many of them have been prosecuted in recent years. Just in Balochistan, as many as 300 cases have been registered against mine owners over various violations of safety rules.
Yet, this number sounds suspiciously low considering that there are thousands of mines in the province and hundreds of miners lose their lives in Pakistani mines each year. What makes this number even more insignificant is the fact that hardly any of these cases leads to the imposition of penalties.
Mine owners are often influential – and political – figures who have the clout and the capital to avoid being punished. When, for instance, a recent accident killed seven people at a mine owned by a senior member of the Balochistan Awami Party, that leads the coalition government in the province, a judge ordered him to be present in a court to stand trial but he did not.
The Mines Act 1923 does provide that a mine closed down due to a safety breach can be allowed to reopen — but only once its owners make repairs and take measures to ensure safety. In this particular case, the owner submitted no safety clearance report to mining authorities before reopening the mine.
Some recent legal changes, too, have proved ineffective to improve the situation. The number of accidents has remained the same as before – if not increased – even though penalties for violating safety rules were revised upward under the Balochistan Mines (Amendment) Act in 2011 from a negligible Rs 2,000 to Rs20,000 in one case. The consequences of a loose oversight are quite obvious. Hardly anywhere in Balochistan, Punjab or Khyber Pakhtunkhwa one finds a mine that is fully equipped to deal with, let alone pre-empt and prevent, emergencies. And knowledge about safety protocols remains abysmally low among mine workers in every mining zone. Their primary concern, and that of their employers, is to get to work without wasting a moment in preparations or trainings.
"The labourers do not think in terms of psychological or physical hazards of mining. They are not moved by accidents big or small," says Atif, the mine inspector. "Years of work in mines have hardened their bodies and spirits."
He describes how a miner did not go back home with the dead body of his son who had lost his life in a mining accident. "He thought someone else would replace him in his job," says Atif. "So he put his son's body on a bus and returned to work."
Atif himself has undergone some kind of a psychological transformation. "When I came to the mines first, I could not look at a dead body without losing sleep. Now I see them often and nothing stirs in me."
The government's response, too, remains casual. It usually forms a committee to investigate a big accident, says an official in Balochistan's directorate of labour welfare, but this committee never does any research on the ground or makes any useful recommendations.
No other official action is taken. Political and economic considerations often take precedence over the lives of coal miners.
When All Pakistan Labour Foundation, a workers' welfare association, recently suggested to the Senate's functional committee on human rights to close down mines where owners compromised on safety standards, the committee chairman Senator Mustafa Nawaz Khokar expressed his inability to so. "We cannot close down mines because of the peculiar political dynamics of Balochistan," he is quoted as saying by a source in the foundation.
These political dynamics could include the influence of mine owners and a fear of protests by Baloch nationalists groups who could portray the closure of mines as a conspiracy to choke the provincial economy.
Ahmad, the chief mine inspector, also advances an economic argument to justify the government inaction. "We can close a mine in no time but what will thousands of people – directly or indirectly attached to the mining sector – do since the province has nothing else to offer by way of employment opportunities?" he asks. "Those people will either die of hunger or become terrorists."
In many parts of Pakistan, coal is mined by unregistered contractors from privately owned lands. These mines and their operations are not under any active government supervision.
In Dukki district, in the frontier regions of Khyber Pakhtunkhwa and in the province's tribal districts such rathole mining is rampant. Even in Choa Saidan Shah, where all coal mines are leased out by the government, only less than half of 300 local mines are registered with the Employees' Old-Age Benefit Institution, a government department that takes care of old and infirm workers.
It is at these unregistered mines that a majority of accidental deaths occur each year. If an International Labour Organization (ILO) report is to be believed, the number of deaths in such mines may be rising.
"In Pakistan, we have to 'enforce' the law, as opposed to the West where people willingly follow the law," says Irfanullah, a former mining engineer who now works as a director in Khyber Pakhtunkhwa's labour department. Mine owners here, according to him, hire managers or supervisors who know how to dodge the law.
Even in registered, formal coal mining, owners hire workers for less than 90 days because an employment for three months or more makes them eligible for benefits such as overtime, paid leaves and pension. Being migrants, workers also rarely stay at the same mine for three months. Sometimes, they switch jobs frequently as a way to increase their wages.
Sharafuddin, who heads Quaid-e-Azam Union, a trade union of mine workers in Choa Saidan Shah, has a solution to the problem. "Miners do not need to work with the same company for three months to be eligible for benefits," he says. "Once a worker has been enlisted anywhere in the country, he should be considered a bona fide miner regardless of whether he works with one company or another."
On a recent morning, Sher Alam is sitting with a labour union leader in Choa Saidan Shah. He has been running around for quite some time to get injury compensation for a paraplegic cousin whose spinal cord was broken while working in a mine in the nearby Kallar Kahar region. The mining company did initially pay for his surgery but it owes him compensation now that his condition has worsened.
The union leader makes a few phone calls in order to facilitate the release of compensation. He speaks to a mine supervisor who informs him that the mine owner has gone abroad. He has been saying this for eight months now.
The owner does not want to support the injured worker, arguing that the mine was being run at the time of the accident by a manager without his permission. There is no help from the mine inspectorate either. Officials there say the mine was closed as per their record and, in any case, there is no evidence that the injured miner worked there.
Injured, incapacitated labourers or the heirs of miners killed in mine accidents spend a lot of time, money and energy on getting compensation. They travel great distances, frequently appearing before labour tribunals and other government officials.
When they cannot get the compensation, they engage union leaders, lawyers, the inspectorates — basically, anyone who can help. In the process, palms are greased and favours are given in exchange for bribes. Alam claims to have paid 80,000 rupees to different people, including the officials of a mine workers union.
Mine owners, on the other hand, spend more money to win a case than what they may need to pay as compensation. In one instance, an owner spent 400,000 rupees to avoid the payment of 20,000 in compensation. They do this to prevent a precedent from being established. Once a certain amount of compensation has been won by a worker, they argue, it will only encourage others to make similar claims.
Mine owners – who actually do not own mines but get them on lease either from government or from individual land owners – erect multiple buffers between themselves and mine workers to avoid responsibility for an accident. This is mainly done through subletting coal mines even though the Balochistan Minerals Rules of 2002 clearly state: "No licensee or lessee shall sublet the mine for the purpose of extraction of the mineral".
And, yet, there is hardly a mine in Pakistan that is not subcontracted. Some mines have been sublet twice or three times over.
The lease agreement is done only with a lessee, says Irfanullah. This means the government can exercise its authority only over him as far as the protection of the rights of miners are concerned. "Since coal mines are sublet to middlemen and from there to contractor and sometimes even to workers, many barriers to the implementation of the law arise."
Aseer, a miner at Choa Saidan Shah, lost his brother to a mining accident in June 2014. Since then he has been expecting the government to give him a death grant of 500,000 rupees from its Workers Welfare Fund.
The fund collects money from employers all over the country – two per cent of their "accessible" income – and distributes it among workers (and their families). There are four major heads under which the money is distributed in Punjab — educational fees and scholarships (ranging from 800 rupees a month per child to 3,500 rupees per month per child), marriage grants (100,000 rupees), death grants (500,000 rupees) and subsidised housing schemes.
Until September last year, according to a worker union leader, the fund had been holding back a massive 124 billion rupees in unpaid death grants. That month the Supreme Court ordered it to release the grant for the families for 327 coal miners who had died in various parts of Balochistan and in Darra Adam Khel over the previous eight years.
The case of Aseer's brother has been made complicated by the fact that he came from Khyber Pakhtunkhwa but died in a mine in Punjab. The mine owner and officials in the latter province have to process his case first and send it to the government in the former province which will then make the payment.
The payment of grant is also conditional. The government pays it only if mine owner has already paid a similar amount in compensation to the family of a deceased miner. If owners do not pay – which they often do not – labourers stand to lose the government's assistance as well.
Workers allege that they do not get a fair deal even while they are alive and working. Desperate as they are, they cannot refuse when they are asked to sign on salary receipts that are sometimes 20 per cent higher than what they actually get. These receipts are allegedly produced in front of government officials and courts if and when a mining company is accused of paying its workers less than the official minimum wage of 13,000 rupees a month. To address these allegations, the government has now made it mandatory that salaries and other benefits are transferred through cheques but the workers and their unions are still unhappy. Most workers are illiterate while many of them do not have official identity documents so they cannot open bank accounts, they contend.
Abdul Rashid, an assistant mines labour welfare commissioner in Choa Saidan Shah, believes workers have to suffer all this exploitation because of "poverty and lack of solidarity" among them. "Even when they threaten to go on a strike, many of them are so financially desperate that they will come in to work anyway," he says. This desperation came to the fore one more time in September 2018. After the Punjab government decided to close down brick kilns to address the problem of smog caused by the burning of coal – among other things – miners all over Punjab and Sindh went up in arms. As brick production went down and coal piled up unsold, they feared millions of them will lose their jobs so they came out in the streets to protest.
Towns like Dukki and Choa Saidan Shah will, indeed, go bust if coal mines there get shut down. "Business from shopping done by miners touches 20 million rupees on each Friday in Choa Saidan Shah Bazaar alone, says a local shopkeeper. "Every bazaar from here to Kallar Kahar is full of miners shopping on Friday when they get their wages.
##Part Three
There is little to excite children in Dukki. On a recent Friday, 13-year-old Pir Mohammad and some others of his age are busy clearing a truck of black coal dust in the town's truck terminal. Their faces are as grimy as their clothes.
Pir Mohammad is a local resident — as are his young co-workers. Cleaning a truck earns them 300 rupees. For now, they are happy with the money they have made.
Several other children stand leaning by or sitting on the bumpers of trucks they have just cleaned, counting and comparing money they have earned. Their conversation betrays a streak of competition even when they appear friends. They exhibit a certain maturity beyond their age — a worldly, wise manner learnt from being exposed to a world of adults.
For a small town, Dukki has an unusually high concentration of men. It also has a very high incidence of death. Deadly accidents in coal mines here are more frequent than anywhere else in Pakistan.
Every Friday, though, death seems to be farthest from everyone's mind. Many thousand miners – estimates vary between 35,000 and 50,000 – descend on the town from nearby mines. There is a feeling of release in the air as crowds of colliers move about local markets, reminding one of the flight of subterranean termites growing wings after rain and reaching out for a source of light.
Kohl-eyed and black-nailed from the ash in mines that even the hardest of detergents can barely remove, they ripple through streets like water after a dam break. They hang around in groups, seeking entertainment and largely finding it in the act of consumption. They throng at restaurants, tea stalls, grocery shops, garment sellers and mine supplies stores.
They also meet their kin from other mines whom they have not seen for an entire week. Over cups of tea and plates of rice and meat, they socialise and exchange news from a distant home.
At Pishin Hotel, its owner Daroo Khan says he looks forward to Fridays. "I make 3,500 rupees on an average day. On a Friday, my earning is 13,000 rupees," he says, juggling between making tea and filling plates with cakes and biscuits for customers.
In the next shop, old Haji Sardar Nasar is sitting wrapped in a woollen shawl. He looks like a lord surveying his little kingdom of mining implements as his sons deal with customers. He is warm and hospitable. Before becoming a hardware store in response to demand from the burgeoning mining sector, his shop sold cloth. Nasar claims coal business in Dukki is at least 60 years old. "A labourer would buy a bag of coal for 12 annas (75 paisas), take it to Harnai and from there to Punjab," he says of the earliest days of coal trade. "As people in Punjab moved from rural to urban settings and demand for bricks increased, so did the demand for coal to be used as fuel in brick kilns." Other than miners, it is the truckers who abound in Dukki. Like colourful beetles, their trucks crawl around the town — on roads, at filling stations, outside restaurants.
At the heart of the town is a truck terminal where, Haji Adam Gul, its owner, sits in a chair outside his office, dozing in the sun on a cold day. Around him trucks wait for their turn to move out and drivers sit on ground in front of a restaurant, sipping tea.
From this terminal alone, everyday 250 trucks are loaded with up to 35 tonnes of coal each and sent off to other parts of the country. The amount of money involved in local coal trade is staggering. Consider the numbers below:
One tonne of coal is worth 14,000 rupees. If one truck carries coal worth 490,000 rupees, the total worth of coal loaded in 250 trucks can be as high as 122.5 million rupees. The price of coal transported from this terminal each month, thus, can easily reach a whopping 3.67 billion rupees.
"There is no other job here," says Gul. "No agriculture. Just minerals."
Dukki did have agriculture once. Even though coal mining has existed here long before the recent spells of drought, local people still believe mining became possible after drought over the last few decades devastated their farmlands.
Whatever the truth, one thing is certain: Dukki remains among the least developed districts in the least developed province of Balochistan despite its thriving coal mining business. A member of the Senate (Yaqoob Nasar), a member of the National Assembly (Israr Tareen) and a member of Balochistan Assembly (Masood Luni) all belong to the town and yet it remains without basic services.
The three cases of polio identified in Pakistan in early 2018 were all spotted in Dukki.
The golden statue of Ajab Khan is standing in the town square of Darra Adam Khel. Carrying a gun on his shoulder, he looks fierce. A central character in the kidnapping of Molly Ellis, the daughter of a British officer Major Ellis who was posted here during the colonial rule, he is remembered as a freedom fighter in the folklore of Afridi tribe that lives in and around the town.
Darra Adam Khel, 45 kilometres to the south of Peshawar, is known for crafting guns. It is just as well that the statue is not made of bronze or iron. The Darawalls – as the local denizens are called – would have taken the statue and turned it into guns and bullets, says Saif-ur-Rehman, a journalist turned health worker in the local coal mines.
Of late, the place has acquired another reputation — of being a coal mining hub. According to some estimates, 1,000 tonnes of coal are already being extracted daily from Darra Adam Khel — as well as from some other parts of what until recently were the Federally Administered Tribal Areas (Fata). Deposits in Akhorwal part of Darra Adam Khel alone are reported to be larger than those in the rest of Khyber Pakhtunkhwa province put together.
Coal mining officially started here in 2010 even though it has been going on in a rudimentary, and also illegal, way since 2006 — the year the Taliban militancy reached here. The TTP presence in the area and frequent military operations to get rid of it did not allow local coal mining to flourish earlier.
The mountains of Darra Adam Khel are now speckled with lights as miners work through night shifts in around 300 coal mines. About 70 per cent of the 15,000 miners working here, according to the manager of a mining company, come from Shangla and Swat.
People avoided coming to these mountains once. They were known as the abode of jinns. That fear is gone after people have seen, in the shape of Taliban, fiends more ferocious than those fabled beings of fire.
Colliers working in local coal mines, too, are not so much worried by jinns in mountains as they are scared of death lurking underground. When nine miners were trapped inside a mine at Akhorwal after an explosion in September last year, their colleagues had to remove 700 tonnes of coal debris to reach their dead bodies. Two more mine accidents around Darra Adam Khel claimed another five lives last October.
Now that Fata has been merged with Khyber Pakhtunkhwa, provincial authorities promise to improve safety inside local mines. As a first step, the writ of the province's inspectorate of mines will be extended here soon, they say. "We did not have access to Fata which resulted in lack of supervision of mining activities there," says Shaukat Yousafzai, Khyber Pakhtunkhwa's minister for information and public relations. "Now that we have access, the situation will improve."
To streamline working conditions for coal miners, he says, the provincial government has also "proposed a monitoring unit that will ensure that mine inspections happen regularly".
Compared to their workers, mine owners are already enjoying a higher lifestyle. Breaking with tribal traditions of trafficking in guns and narcotics, they are sending their children to schools and colleges. Many have shifted to Peshawar due, in part, to their new-found fortunes in coal.
Their prosperity is quite visible in and around Darra Adam Khel.
This could be due to a peculiar property ownership structure here: each local mountain is owned collectively by a whole clan. Some clans own more than one mountain. The profits from mines located in these mountains, locally called sarsaya, are also distributed among the whole clans. Each adult clansperson gets 25,000 rupees on average. Even a child gets as much as 8,000 rupees a month. On average, a whole household gets 120,000 rupees each month from mining profits. For a bigger family, the amount may go up to 400,000 rupees.
To cite just one example, there are as many as 1,420 shareholders in a single local mining complex situated in Old Bazikhel area. Its mining activities are supervised by a management committee on behalf of all the shareholders. "The day a woman marries into a family of shareholders, she also becomes a shareholder. When she gives birth, her child also becomes a shareholder," says Zafar Afridi, whose clan owns and operates a number of mines in Darra Adam Khel. It does not come as a surprise that families here are generally large.
The whole local economy has changed due to coal mining. Hardware stores and wood stockyards have opened up everywhere. The amounts of money changing hands are alluring: a single mine uses wood worth 3.1 million rupees a month to support the roofs of its mines; it also uses 23,000 litres of petrol in a single month and pays 300,000 rupees every month for buying gunny bags to carry coal.
Coal miners complain the benefits of this coal bonanza do not flow to them. Their monthly earnings remain as meagre as 25,000 rupees each and their living conditions are horrible. They use water from an open tank that contained dengue larvae last year. They contract malaria frequently, living and working as they do under the sky. Contagious diseases like tuberculosis, gastroenteritis and hepatitis are common among them, so is trauma from bone fractures and spinal injuries.
"The mining inspector comes here once a month but he does not inspect mines," says a miner. "How can then conditions improve?" Mining companies here do not allow miners to unionise to seek their rights through collective action. As Zafar Afridi contends, once unionised, they "do not work and become a nuisance."
##Part Four
Saeed Khattak's father was a soldier who became a coal-cutter after his retirement from the army. He brought his son from their native Karak district in Khyber Pakhtunkhwa to Choa Saidan Shah in 1976 and enlisted him in the army. When he retired from the army, Khattak joined irrigation department in Bannu (in his home province). Soon afterwards, he would became the general secretary of Kurram Trade Union Federation, an alliance of associations formed by workers employed by the government and the private sector.
In 1982, his father came down with a pulmonary condition. He was "hollow from inside," the doctors told Khattak.
It was the death of his father from pneumoconiosis that prompted him to mobilise miners against the dire working conditions in coal mines. "At the time, there was no trade union, no trained leadership," he says. When Khattak first organised a protest, it was not against a mine owner but against the police who, he alleges, were used by mine owners to torture, arrest and imprison miners on flimsy charges if they demanded their rights. "As a leader, you organise people against an immediate problem," he says as he explains the rationale for the protest. As the chairman of Pakistan Mine Workers Federation, Khattak tried to change things around by changing the idiom usually employed by trade union leaders. He would talk of setting up "welfare facilities" for workers as opposed to given them their "rights". Owners agreed with him in that they did not want sick and disabled labourers on their hands, he says. This is how he managed to realise his biggest goal — a hospital for mine workers in Choa Saidan Shah.
Khattak has developed what he calls Ra Saeed Vision 2015. A little pompous perhaps and also past its time already, the vision imagines a model coal mining operation. One that not only offers safe working conditions but also addresses the dire economic condition of colliers.
This vision notwithstanding, the general impression about trade unions is negative. Mine owners consider them as a disruptive, blackmailing nuisance out to pitch workers against employers. Colliers call them frauds, always prone to siding with owners for the personal benefits of their leaders. Many trade unions, indeed, are known as 'pocket unions' for being the agents of the employers. Union leaders also become mine contractors over time because they have sway over labour and are knowledgeable enough to extract the most tonnage out of a mine.
There are also groupings as well as rivalries – sometimes even deadly – within trade unions. Established unions usually discourage rival neophytes from taking roots.
In Choa Saidan Shah alone, there are two trade unions: Khattak's Pakistan Mine Workers Federation and Sharafuddin's Quaid-e-Azam Union. The former is dominated by workers and leaders from Karak, which, like Shangla, is home to a large number of coal miners, and the latter's members mostly come from Swat. Depending on which union one talks to, it is always its rival that is corrupt.
"Union leaders are not angels," says Khattak, "but it is important to take into account the need to make compromises." He, then, gives an example: If workers are asking for 100 rupees and the owner is not willing to pay anything, should we not ask for 50 rupees then? "Maybe we can bring the owner around to pay 100 rupees later."
Also, as Khattak argues, trade unions tackle labour rights only within a state's existing legal framework. "We do not have the power to influence policy. We are not organised enough to do that."
The workers, though, have the right to participate in a "tripartite mechanism". This is based on the principle of dialogue and cooperation between governments, employers and workers as enunciated by the ILO. It allows workers to not just critique policies but also call for their revision and reform.
Admittedly, this right is limited in Pakistan in many ways, most importantly because the country is not a signatory to the ILO's convention on safety and health in mines. Union leaders attribute the government's unwillingness to become a part of the convention to the fact that mines in general and coal mines in particular are owned by powerful politicians and influential industrialists.
##Part Five
["T]here is a patient here in every house," Abdul Salam points at a green valley so scenic it is hard to imagine that disease is eating away at its vitals. His eyes look large and luminous in a gaunt face. His complexion is pallid like a cloth washed too often. His thinning hair is plastered to a skull that looks shrunken like the rest of him.
It is late in the afternoon and Salam is sitting on a charpoy on the edge of his house, looking out at life in the valley below. A narrow tree-lined path links his house with a broken road down the mountain. The path runs past baskets full of persimmons – locally known as Japanese fruit – lying under trees heavy with their orange-red produce. The road snakes further downwards along steep cliffs, all the way to a river cutting through the rocky heart of Shangla.
Sunlit houses, their corrugated-sheet tops winking silver, dot mountain cliffs surrounded by poplars ablaze with the flaming colours of autumn. Deep green conifer trees turn the valley into pools of dappled light and cloak villages in their silent, shaded dignity.
Salam's house falls somewhere in the middle of a mountain's incline. There are layers of terraces above and below where people reside. He sits at his home all day, hardly ever leaving his perch, always looking down at the path and people who traverse it. Around him, bees buzz about on their way to a hive in the wall of his mud house. Quietly, they settle on the whitewashed wall, a blurry traffic of moving wings, limbs and antennae, single-minded in their pursuit of nectar, hurrying into a round hole.
"That is the guard bee," says Naseebdara, Salam's mother, pointing at a watchful insect at the entrance of the hole. Small and wizened, she is 70 but moves around in quick bursts of energy that belie her age. Much like the bees in a hive, she hovers around her sick son, fussing over him just as she might have done when he was a baby.
Naseebdara goes inside the room where a small box is fixed on the other side of the hole. Inside it is a beehive. Put an ear to the wooden box and you hear the bees buzzing inside. They sound like a thousand low volume conversations taking place in a small room.
"God sends them," Naseebdara speaks of the bees as a sign of good luck, "so I take care of them." Her own name means "a lucky woman".
Honey in the hive draws insects, ants and spiders. She cleans them up. The bees do not sting her as she scoops up a plate of honey directly from under them.
Beekeeping was once a hobby for Naseebdara. Now it is a necessity. Salam needs the goodness of honey, its fabled healing powers, to cure his failing lungs. He has Chronic Obstructive Pulmonary Disease (COPD) – or the 'miner's disease' – caused by coal dust. In his case, it has been caused by asbestos.
The disease turns lung cells into a hard plaque overtime. Every day, the room for air in Salam's lungs shrinks a little. He coughs and sputters when he talks, breaking conversation to catch his breath. It is November in Shangla, cold and windy, but he is drenched in sweat from the enormous effort of talking.
"You are lucky to reach 50 here without catching COPD," rasps Salam. He is only 30 but looks as old as 60.
He caught the disease in the coal mines of Hangu, a district in south-western Khyber Pakhtunkhwa, where asbestos fibre runs through coal seams. He operated a drill to break the seams made hard by asbestos. "The rock is even harder than iron. On drilling, it melts due to heat and gets into lungs," says Salam.
Even though mine owners and managers usually know about the presence of asbestos and its toxicity, uneducated labourers like Salam have little awareness about it. He, therefore, initially believed that he got COPD not because of asbestos but from 'iron' fibre in the coal seam, which is how the contractors and owners describe asbestos — as iron.
As toxic as asbestos is, wearing a mask while drilling could have protected his lungs. Mining rules, too, state that labourers working in mine should always wear masks. But asking for one, says Salam who worked for nine years in Choa Saidan Shah and Quetta before moving to Hangu, means asking to be laid off. "If we do not work in mines, we run the risk of baypardagi (social humiliation)."
On his bed are several plastic bags, full of medications, lung X-rays and medical prescriptions. When Salam first came down with COPD, the damage to his lungs was 15 per cent. It has worsened since then. His lungs are now 80 per cent damaged despite the fact that he has been taking many medicines, he says.
He knows there is no treatment for COPD. No cure. "Every patient deteriorates to a 100 per cent."
What he needs is a lung transplant for which he has no money. He has already spent 1.5 million rupees – a huge amount for a poor family like his – on his failing health. The expenditure wiped out all that he had earned from working in mines. "He worked nine years in the byabaan (wasteland), earned a lot but now it is all gone," says Naseebdara.
Salam's brothers, also coal miners, now foot his medical bill.
The mining rules say mine owners should pay compensation to labourers but that is in case of death or a trauma that needs emergency treatment. Debilitating diseases like COPD and injuries that need long-term treatment – leaving miners like Salam bedridden or wheelchair bound – are left for labourers themselves to pay for.
In case of a medical emergency, Salam goes to a healthcare centre in Alpura, district headquarters of Shangla. The doctors there give him medication for tuberculosis. All the patients at the centre are miners, he says. The total number of COPD patients in the district, according to one estimate, is as high as 1,700.
Winters worsen his condition because people in his village burn coal to stay warm. But worse than living with a disease is the realisation of a creeping death. He cannot lose sight of it even if he wants to.
His village of Mian Kalay, dubbed locally as da yatemmano kalay or "the village of orphans", gives him almost a daily reminder about the inevitability of death. From his bed on the terrace, Salam watches the village, each day anticipating the news that someone there has died of COPD. After hearing the news, he goes to sleep thinking it will be his last night alive. Every time, he has a respiratory seizure, he fears death is coming. "When I hear that those in a better condition than mine have died, I lose hope."
Once it snowed heavily in mountains in Shangla. The snow melted slowly, water seeping imperceptibly into the ground. Local streams and aquifers were recharged and the soil stayed moist for cultivation throughout the summers. There were beans and corn in abundance both for people and their cattle.
In warm season, they grew crops and saved their produce for winters. Villages got by on the back of their own bounties. Poor though they were, the villagers knew no disease except fever or flu. Even when they left to work in mines in distant places, it was only to pay off debts or make some money to marry off a sister or a daughter. After a few months of work, they returned to resume life in their villages.
Now in the village of Kundao – which means ruins in Pashto – young men can be found with their families only during eids. As if they are guests in their own homes, they leave on the third day of the two festivals for remote coal mining towns — Darra Adam Khel or Hangu in Khyber Pakhtunkhwa, Khushab and Choa Saidan in Punjab, Quetta or Dukki in Balochistan, Thar or Hyderabad in Sindh.
They cannot stay away long from their jobs lest these are taken by someone else. It does not snow in Shangla anymore — at least not as much as it used to. Environmental degradation due to deforestation and climate change has stunted sustenance received from nature. As water becomes scarce, people in mountains – almost the entire Shangla population – are getting increasingly desperate. They are going down from their villages to live and work by the river along the road – opening a teashop here, a workshop there. There are no jobs in Alpura either. Still they go looking – if only to cover the cost of travelling – in the town's small market or beyond that.
Like others in his village, Hussain Ali Hairan also wants to go down to work in Alpura. His family worries about the diminishing water supplies but he has his own reasons for wanting to go. In his house in Mian Kalay, he can only move inside a large open room on the first floor. A veritable prisoner, he is wheelchair-bound.
To traverse even an inch beyond the door of his house, someone has to carry him and his wheelchair. To go down the mountain or travel beyond, he depends on his brothers to piggyback him to a car. He must stay close to the road if he is to overcome this dependence.
A poet with an innocent, childlike demeanour, Hairan has a broken back. He leaves his bed and returns to it with help from his brothers. At 17, he followed his father to the coal mines of Balochistan. Later, he went to Punjab and Kurram in former tribal areas and then moved back to Balochistan. It was from there that he was brought home on a gurney. His back broke when the roof of a mine shaft fell on him, fracturing his spinal cord. "Since that day, I have been looking at the door for the company owner or the contractor to come to me but no one has," he says.
Now 28, Hairan also went to a labour court with a broken back to secure compensation from the owner of the mine where he had met the accident. The lawsuit helped him get 300,000 rupees. He has already spent double that amount on his treatment.
Since Hairan suffered the injury, he has taken up the cause of paraplegic miners of whom there are 200 in Shangla. He is on phone all day, speaking to miners incapacitated like him by accidents, assuring them of help.
Mohammad Qayyum, a blind man with nine children, is visiting Hairan on a recent winter day. He went to Quetta for mining when he was 19. From there, he moved to Hyderabad and Cherat to work in coal mines there. In Cherat in 2009, while digging in a mine 1,600 feet deep, his pickaxe hit a live explosive left behind by someone.
Miners are not allowed to handle explosives. Sometimes, in a bid to dig more because wages correspond to the tonnage of coal they extract, they ignore safety instructions and clandestinely take explosives inside the mines to shatter coal with them. It was one such ghal surang – a thief explosive – that Qayyum hit with devastating effects.
His cousin, who was with him in the mine that day, says Qayyum was brought out of the mine a "misshapen lump" of flesh and bones. His shin bones stuck out of skin, marrow oozing out of them due to the intense heat from the blast. A stone had lodged in one of his eyes and the other had been licked by flames. They wrapped him in a gunny bag and brought him to the Lady Reading Hospital in Peshawar where doctors had no time for him because of a terrorist bombing in the city's Khyber Bazaar that day.
With many dead and injured to attend to, they neglected his eyes and bandaged his legs in a hurry. Stones are still visible in his deformed shins, like lumps under his skin.
Qayyum has spent 500,000 rupees to treat his legs and another 100,000 rupees on the treatment of his eyes. The mining company gave him only 100,000 rupees and that too only after he went to its office "to beg them in this broken state".
For many others, injuries just prove fatal. In May 2018 alone, 23 dead bodies were brought to Shangla and its neighbouring districts after mine accidents in Balochistan and Punjab. The month before, 19 men from Shangla and Swat had died in different mine accidents. August came with more bad news: 19 miners died in a single accident at Sanjidi, near Quetta, on the 12th of the month. On average, says Fiaz Mohammad Khan Papa, a Shangla notable, the district receives a dead miner a day.
In Mian Kalay, there are as many dead miners as there are living ones. Their children are often left in the care of family members who may also be taking care of other relatives with debilitating injuries or diseases inflicted by coal mining.
The miners are caught in a seemingly endless cycle of death and poverty. Most of them stay poor, spending the money earned from mining on debilitating health conditions caused by mining. They then pull their children into mining because there are no economic opportunities in their home region. This is how – and why – men like Qayyum end up sending their children to coal mines.
The inverse is just as true. Even if people do not get sick or disabled, they see mining as the only industry that offers employment even to the unskilled. Miners just need to be strong. Wages in coal mining are also higher compared to the price of physical labour of other kinds.
"Coal mining is also inherited," says Gul Rehmat, a miner at Sor Range near Quetta. "Our fathers and grandfathers used to do it. Now it is us." So, when it is time for a miner to leave mining due to old age or injury, he is replaced by his children.
Colliers from Shangla also pull in others from their villages to work in mines — just as Azad Kashmiris in Bradford and Pashtun tribesmen in Dubai do. When someone among the miners manages to escape the cycle of poverty, disease and debt, he becomes a contractors who then brings more unskilled relatives and acquaintances from back home to work in coal mines. Jobs are given as favours, with wages paid in advance to keep labourers obliged to work for the same contractor till the time advances are paid off. Coal mining, thus, becomes a regional profession — perpetuated by the poverty of the people caught in it. Many of the miners in Shangla – as well as in other mining zones – have stories of adversity and survival writ large on their bodies and souls. They sit in ill-lit rooms, in isolated coalfields or back home in their villages, sharing a camaraderie that is not unlike the military's — men bonding in the face of calamity, watching out for each other. They crack jokes over cups of tea – black humour that turns their pathetic condition into a laughable nuisance – to blunt their sharp-edged reality.
Every time they hear someone is dead, they murmur a quiet Inna lillah-e-wa inna alaih-e-raje'oon — surely we belong to Allah and to Him shall we return. They are resigned to the fact that their death, whenever it comes, will be in a coal mine or because of it. So, they go on with their lives, taking risks even when they know from others around them that such attitude can only bring grief.
This fatalism makes them indifferent to the human cost of mining; perhaps the indifference helps them keep fear at bay. It helps them live — disregarding disease and death around them.
In Mian Kalay, everyone laughs when Hairan's father, a birdlike man who eats crushed cornbread in lassi and smokes despite a rattling cough, says he has an MA in mining — a self-mocking reference to 40 plus years spent in coal mining doing every imaginable labour in subterranean dungeons.
You eat with them and think: amazing that these people can laugh.
---
The author is a Peshawar-based freelance writer.
---
The article was published in the Herald's May 2019 issue. To read more subscribe to the Herald in print.