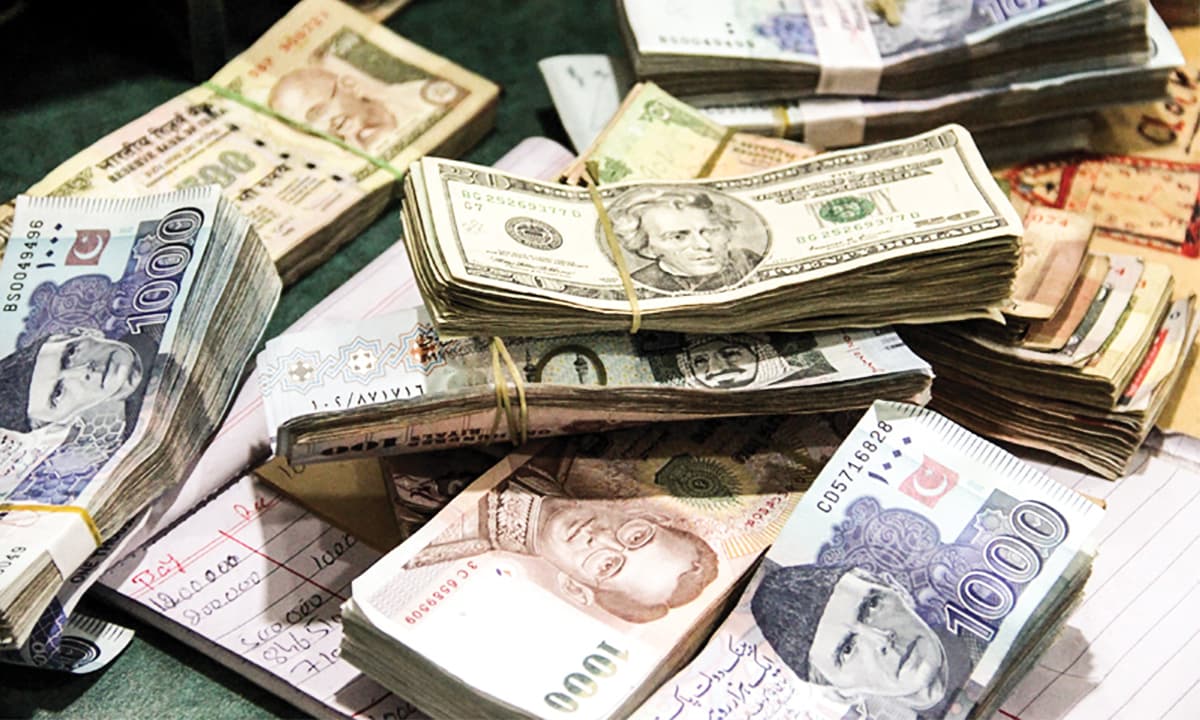 Part one
Saira Jamal* wanted to send 5,000 euros to Germany in September 2018 to her sister, a student at Berlin University. No bank in Karachi, she says, was ready to send the money that her sister needed to pay her university tuition fee and cover her living expenses.
This was rather strange. Only in 2017, Saira had sent 4,000 pounds sterling to the United Kingdom to her brother studying there and had faced no problem at all. When she asked officials at various banks, including those owned by the government, as to why they were refusing to send the money abroad, she got no clear answer. They just said they could not — despite the fact that all commercial banks are authorised by the State Bank of Pakistan to transfer money out of the country for lawful purposes.
After the banks refused, Saira decided to check with some foreign exchange companies. Those, too, refused to send the money to her sister.
Someone then advised Saira to contact the National Bank of Pakistan's foreign exchange company. She only got a cold response there. "A woman officer started questioning me as if I was a criminal," says Saira.
The first question the officer asked her was about the source of the money she wanted to send to Germany.
Saira presented her own salary slips as a proof and also showed the officer a receipt from a goldsmith whom she had sold some gold ornaments belonging to her late mother. The officer did not accept the receipt as valid proof and, instead, told her to show a document that reflected the true value of the gold she had sold.
Saira met her demand. The officer was still not satisfied and asked her to bring a certificate from her employers, verifying her salary. When she presented that certificate too, she was told to procure a document from the Higher Education Commission (HEC) to prove that her sister was eligible for admission in Berlin University.
A long argument followed. In the end, the officer conceded that the HEC document was not needed but then she raised another objection: why was Saira sending less money than the university had mentioned in its documents as tuition fee?
Saira tried to point out that the difference was not big — just a couple of hundred euros. Still, the officer refused to send the money. "The attitude of the people at the company was frustrating," says Saira. She finally tapped a personal contact in a private foreign exchange company. That proved helpful. After some necessary verifications, the company sent the money to Germany.
Prior to 2002, receiving and sending of foreign currency remittances was the sole mandate of commercial banks. That year, Pervez Musharraf's regime promulgated Foreign Exchange Regulation (Amendment) Ordinance that provided for the formation of foreign exchange companies that could exchange currencies at market rates, receive and send foreign currency remittances and also export and import permissible foreign currencies.
The new regulatory framework required a foreign exchange company to have a minimum capital of 200 million rupees and deposit 25 per cent of it with the State Bank of Pakistan as statutory liquidity. This requirement left out many money changers who were earlier authorised to sell and buy foreign currencies.
In 2004, the government changed the law again. Authorised money changers were allowed to operate as foreign exchange companies but with a reduced capital requirement of only 25 million rupees. The main difference between the companies with higher capital requirement – put in A-category – and those with lower capital requirement – put in B-category – is that the latter can only work as money changers. They cannot send or receive foreign currency remittances and are not allowed to export or import currencies.
Muhammad Zafar Paracha, executive director of Paracha International Exchange Private Limited and the general secretary of the Exchange Companies Association of Pakistan, alleges B-category companies often indulge in illegal foreign currency transactions. This, according to him, sometimes leads to the impression that all foreign exchange trade is bad.
The recent "unannounced" restrictions on sending money abroad should be seen in this context, he says. These have been imposed since the government believes that the earlier rules and regulations are being violated by currency traders. The restrictions, however, are also being applied to transactions declared lawful in the State Bank of Pakistan's own foreign exchange manual, last updated in March 2019, he adds.
Otherwise, he says, Saira should have been able to send money to Germany through any commercial bank or any A-category exchange company. A parent, or a legal guardian, can remit up to 70,000 US dollars – or equivalent – every year to a child studying abroad in an accredited and recognised institution, he says. "All they need to remit this amount of money is to fill in an application form and attach valid identity documents as well as a letter of admission and fee details issued by the foreign college or university," Paracha says.
This can change only if the government outlaws studying abroad, he argues. Seeking medical treatment in a foreign country and even travelling abroad fall in the same category: money required for them can be remitted abroad unless a ban is imposed on them.
The government, on its part, says it has not imposed any new restrictions on foreign currency transactions recently. The only restriction that already exists is that these transfers must comply with the requirements put in place for preventing money laundering and for combating the financing of terrorism, says Abid Qamar, chief spokesman of the State Bank of Pakistan. These requirements, he says, are meant "to ensure the bona fides of the remitter and the genuineness of the underlying transaction".
This helps explain why, of late, banks and foreign exchange companies have become overcautious in dealing with foreign currency. Pakistan, after all, is under intense pressure and monitoring from the international community to curb terrorism financing and put an end to other illegal forms of money transfers.
If Paracha is to be believed, however, the heightened caution is proving only counterproductive. It is increasing illegal transfers of money abroad rather than decreasing them, he says. "When people cannot transfer money out of Pakistan through legal means for their legitimate needs, they resort to illegal means such as hundi and hawala."
Part two
When the price of one US dollar nudged above 140 Pakistani rupees in the official interbank market late March this year, the open market rate rose even higher. For a few days, it hovered above 143 rupees to a single US dollar and has come down only marginally since then. At one stage a few weeks ago, many money exchange companies were reportedly refusing to sell US dollars at any price, citing a drastic shortfall in their supply in the market.
Dr Mushtaq Khan, who worked as the chief economic adviser of policy development at the State Bank of Pakistan between 2009 and 2015, says the open market for foreign currency is volatile because of what is known as a balance of payment crisis.
There is an "unsustainably large" gap between the money we receive from abroad (through remittances, foreign investments, export proceeds and loans) and the money we have to send abroad (as the repatriation of profit on foreign investment and to pay for imports as well as to return and service foreign loans), he says.
Another factor behind the volatility is a financial assistance package that the government is expecting from the International Monetary Fund (IMF), says Khan who runs a business consultancy, Doctored Papers. The package may result in changing how Pakistan manages its own currency vis-à-vis others. "If the official rate [of Pakistani rupee] is adjusted further downwards (which is expected) and if the determination of the rupee's value is to be left to the market (which is what the IMF wants), then people will naturally try to buy dollars (to hedge themselves against an increase in dollar prices). This itself is creating a panic in the market," he says.
A shortfall of dollars, therefore, was an indication that those who have them are holding them back anticipating an increase in their price. On April 5, the government announced that it will bring all such people to book. The then information minister Fawad Chaudhry tweeted that day that the government has directed the Federal Investigation Agency (FIA) "to launch a full-fledged operation" in coordination with the State Bank of Pakistan and the federal finance ministry.
Over the next few days, FIA conducted half a dozen raids in different cities and claimed arresting several people allegedly involved in hoarding dollars and doing illegal trade in foreign currencies.
On April 7, three people were arrested from a Lahore-based foreign exchange company, DD Exchange. Foreign and local currency worth 40 million rupees was reportedly recovered from them. Another person was arrested on April 10 in Rawalpindi. Local and foreign currency worth one million rupees was reported to have been recovered from him. A day later, FIA conducted a raid on Al-Sahara Money Exchange Company Private Limited and recovered from it 2.7 million rupees in addition to 3,500 euros, 1,275 pound sterling, 4,004 Saudi riyals, 500 Canadian dollars and 520 Emirati dirhams.
On April 12, FIA's zonal director in Karachi announced at a press conference the arrest of three suspects and the recovery of foreign and local currencies worth 420 million rupees from them. The same day, two money exchange companies were raided in Islamabad, reportedly leading to the recovery of 6,960 Saudi riyals, 1,000 euros, 2,640 pounds sterling, 3,100 Australian dollars, 5,030 US dollars, 6,335 Emirati dirhams, 100 Qatari riyals, 401 Chinese Yuan and 4.3 million Pakistani rupees.
Paracha is not impressed with these measures. On the contrary, he alleges these arrests and recoveries have resulted in suppressing genuine business activity. "The raids have created an atmosphere of fear in which both the buyers and the sellers of foreign currencies are reluctant to operate, fearing arrests and ignominy," he says.
Economist Khan agrees that the monthly turnover of the foreign currency market may have actually shrunk. According to him, 700-750 million US dollars change hands under normal circumstance in the open market every month. This figure may have come down by 20-25 per cent due to the "recent scrutiny," he says. But he dismisses outcries over the raids. It "is in the interests of money changers (and foreign exchange companies) to play up the panic", he says. "They exaggerate [these reports] in the media to push back the regulators."
Khan justifies the arrests and recoveries as part of a broader economic situation the government is contending with. "If the currency regime is to be changed and the State Bank of Pakistan wants the transition to be smooth, then keeping money changers under strict scrutiny makes sense," he says.
This argument notwithstanding, Paracha still sees the raids as illegal. He says no Pakistani law prohibits anyone from possessing, buying or selling foreign currency. The government, therefore, has no right to confiscate foreign currency from individuals or companies, he says.
The chief spokesman of the State Bank of Pakistan agrees — partially. "Individuals are free to hold foreign exchange," he says. But, he adds, this "freedom does not apply" to certain types of transactions. These, according to him, include: "receipts of money on account of goods and services exported from Pakistan, purchase of foreign currency from banks/exchange companies and some other modes by which foreign exchange is received in Pakistan."
If the crackdown was aimed at stabilising the foreign currency market, the people behind it can already take credit for its success. The difference has narrowed down considerably between foreign exchange rates obtaining in the open market and the ones prevailing in the interbank market, Paracha acknowledges.
For Khan, too, it is not the quantity of money recovered that matters. The raids have achieved something more important, he observes. "It was a good way to discourage dollarisation because [under the pressure of the crackdown] money changers will tell their clients that they should be careful as all buyers' information is being collected and sent to the authorities," he says. "The point is to deter behaviour that could further destabilise the currency markets."
**Name has been changed to protect identity.*
---
The writers are staffers at the Herald.
---
The article was published in the Herald's May 2019 issue. To read more subscribe to the Herald in print.