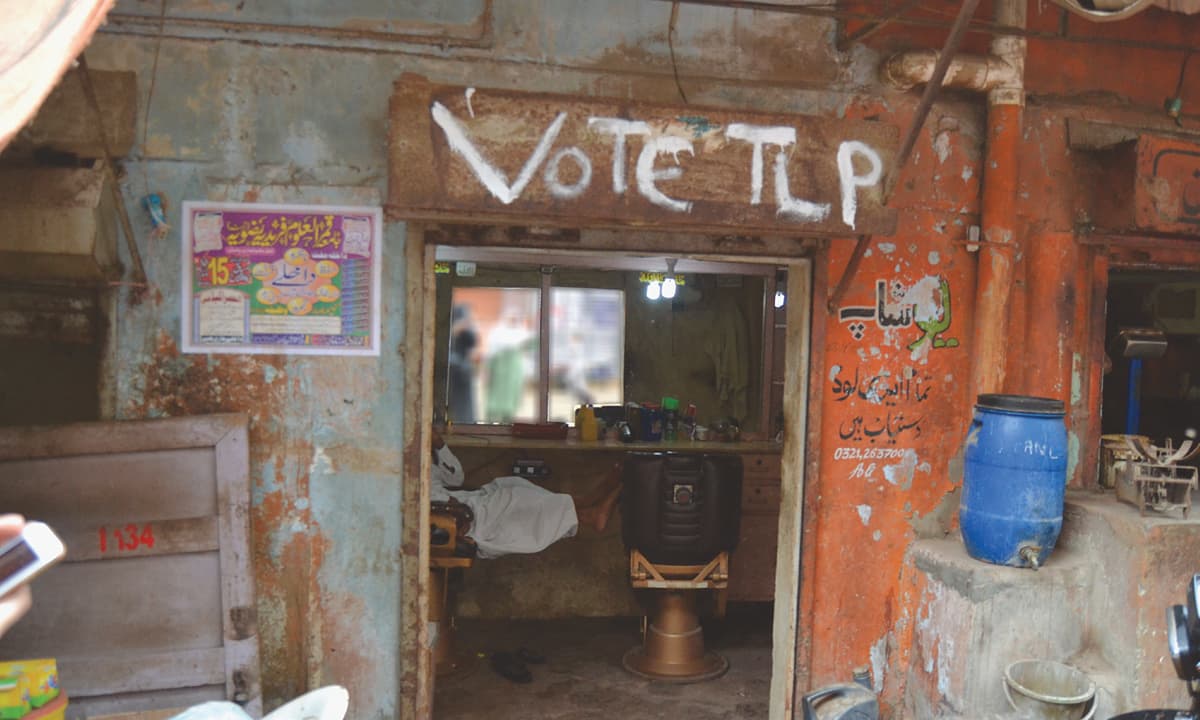 The 2016 execution of Salman Taseer's assassin Mumtaz Qadri came as a shock for Muhammad Imran, a Karachi-based businessman in his late 30s. He saw the police guard – who, in 2011, had used his official rifle to murder Taseer, governor Punjab at the time – as a champion of laws that concern the namoos (honour) of the Prophet of Islam (may peace be upon him) and the finality of his prophethood.
"None of the blasphemers has been executed in our country but Qadri, who took action against blasphemy, was hanged," Imran says as he argues that no political party has raised a voice "against this injustice". So, he decided he would back any party that promised to do something about it.
This was certainly not on the agenda of the Muttahida Qaumi Movement (MQM) — the party he regularly voted for in previous elections. One organisation that he saw as working proactively on the issue was Tehreek-e-Labbaik Ya Rasool Allah but it was a protest movement, not a party. When one of the movement's founders, Khadim Hussain Rizvi, had Tehreek-e-Labbaik Pakistan registered in the summer of 2017 as an entity eligible to take part in elections, Imran immediately decided to vote for it.
Apparently hundreds of thousands of others in Karachi made the same decision.
When Pakistan went to polls on July 25 this year, a Tehreek-e-Labbaik Pakistan candidate ended up getting 20,733 votes in the National Assembly constituency, NA-245, where Imran lives. This was the third highest tally of votes in the constituency — after 56,664 votes polled by the Pakistan Tehreek-e-Insaf (PTI) and 35,429 votes secured by the Muttahida Qaumi Movement (MQM).
That the winning candidate, Aamir Liaquat Hussain, and the runner-up, Farooq Sattar, are known not just in Karachi but across Pakistan makes the high number of votes won by Tehreek-e-Labbaik Pakistan's unknown candidate, Muhammad Ahmad Raza, even more significant.
The constituency was earlier an MQM stronghold. It comprises many working-class areas such as Pakistan Quarters, Patel Para, Lasbela Chowk, Martin Quarters, Teen Hatti, Lines Area, PIB Colony; it also includes a number of middle-class and upper middle-class localities — Soldier Bazaar, Nishtar Road, Tariq Road, PECHS and Nursery.
A large number of local residents belong to various Urdu-speaking communities but Memons, Punjabis, Seraikis, Kashmiris, Pakhtuns and Sindhis also live here in large numbers. As do Bohri and Ismaili Shias and Christians. It is impossible to ascertain as to how many Tehreek-e-Labbaik Pakistan voters came from which of these neighbourhoods and communities.
In another part of Karachi, this may be a little easier.
In the National Assembly constituency NA-247, Tehreek-e-Labbaik Pakistan's Allama Syed Zaman Ali Jafri – whose name does not generate even a blip on the political radar – secured 24,680 votes, finishing second after PTI's Arif Alvi who got 91,020 votes. In a provincial assembly constituency, PS-111, that comprises a little less than half of NA-247 and includes high-income areas such as Defence Housing Authority (DHA) and parts of Clifton Cantonment, Tehreek-e-Labbaik Pakistan received only 1,477 votes.
PS-110, the other provincial assembly constituency that is part of NA-247, consists of middle-class neighbourhoods – such as Karachi Cantonment, Saddar and Civil Lines subdivisions and portions of Garden subdivision – and also includes commercial and working-class localities such as Lighthouse, Kharadar, Aram Bagh and Burns Road. Here, a Tehreek-e-Labbaik Pakistan candidate received 11,165 votes. It is easy to surmise that a large number of the party's voters in this constituency came from the Memon community that is heavily concentrated in some of its parts.
This perception is further strengthened by the high number of votes – 26,248 – that Tehreek-e-Labbaik Pakistan polled in PS-107 to beat a PTI candidate by a big margin of more than 10,000 votes. A part of this provincial assembly constituency – that falls in NA-247 – is inhabited by the Memon community, known for its trading acumen and religiosity. Many of its members follow Dawat-e-Islami, a non-political Barelvi missionary organisation, that also has its origins in the same area.
The Memon population also spills over into those parts of PS-107 that fall within NA-246 which comprises Lyari subdivision — an erstwhile bastion of the Pakistan Peoples Party (PPP).
In the second provincial assembly constituency in Lyari – PS-108 – a Tehreek-e-Labbaik Pakistan candidate polled 7,958 votes and came fifth. A possible explanation for this could be that this constituency is dominated by a Baloch population which mostly, if not entirely, votes along ethnic lines rather than religious ones. That a candidate of the Muttahida Majlis-e-Amal (MMA), an alliance of religious parties, has won this constituency in a four-way tight race this time round could still be put down to various ethnic and political splits here between the Baloch and non-Baloch residents of the area.
In PS-109, the third provincial assembly constituency in Lyari, Tehreek-e-Labbaik Pakistan came in second, securing 19,913 votes. Its candidate for NA-246 also came second by securing 42,345 votes — 3,020 votes ahead of PPP chief Bilawal Bhutto-Zardari and 10,405 votes behind PTI's Abdul Shakoor Shad.
Lyari Town on the whole is a working-class area with a mixed population — comprising the Baloch, Kutchis, Memons, Punjabis, Kashmiris, Pakhtuns, Urdu-speakers and Seraikis. As a political scientist based in Lahore says, the weakening of other civic forums – such as trade unions, grass-roots level political associations and ethnicity-based organisations – is leaving industrial and commercial workers, especially those who have migrated to a big city from elsewhere, with little option but to seek and find support from religious groups formed around neighbourhood mosques and madrasas. "This explains why Tehreek-e-Labbaik Pakistan has attracted a very high number of votes in mostly low-income neighbourhoods in large cities," he says.
His argument may also explain why a Tehreek-e-Labbaik Pakistan candidate came second in NA-240 in Korangi district, a low-income constituency with large populations of industrial workers who have come to Karachi from various parts of Pakistan.
A similar explanation can be given for the results in NA-249 in District West where Tehreek-e-Labbaik Pakistan came third by securing 23,981 votes — after PTI and the Pakistan Muslim League-Nawaz (PMLN), each of which got around 35,000 votes. These numbers are remarkable for the fact that PMLN's candidate here was former Punjab chief minister Shehbaz Sharif whereas Tehreek-e-Labbaik Pakistan's candidate was little known even among voters of the constituency.
PS-115, where Tehreek-e-Labbaik Pakistan polled 21,596 votes, a clear 6,000 plus votes ahead of PTI, to win its second provincial assembly seat from Karachi, is also a part of the area that comprises NA-249. Mainly consisting of Baldia subdivision – where migrant industrial workers from all over Pakistan live alongside large Urdu-speaking communities with a similar demographic profile – this was a made to order playing field for Tehreek-e-Labbaik Pakistan.
The weakening of ethnicity-based politics – expedited after the official ostracising of MQM founder Altaf Hussain's image and voice from Karachi's politics since his August 2016 speech and subsequent squabbles among the leaders of his party – could be another major factor behind a rather unexpected number of votes Tehreek-e-Labbaik Pakistan has polled in the city. This perception is backed by the fact that its candidates have gained a large number of votes in District Central where Urdu-speaking voters – the core of MQM's support – far outnumber those from any other community.
In three of the four National Assembly constituencies in the district – NA-253, NA-254 and NA-255 – Tehreek-e-Labbaik Pakistan came third to MQMP and PTI. It received 24,794 votes in the first constituency, 28,546 votes in the second and 21,289 votes in the third.
In a few constituencies where the party has done badly, there seem to be some other factors at work.
In District Central's fourth seat, NA-256, Tehreek-e-Labbaik Pakistan secured only 9,144 votes and came fifth. This is mainly a middle-income constituency with a long-settled mixed population divided along ethnic lines. The religious vote here has been claimed by an MMA candidate who came third by securing 22,364 votes.
The other part of Karachi where Tehreek-e-Labbaik Pakistan's performance has been lacklustre is District East. In three of its four National Assembly constituencies, the party failed to get past 10,000 votes, recording its lowest tally of votes, 870, for a provincial assembly seat – PS-99 – in the same district. Like in NA-256, this probably owes to the fact that most of these constituencies mainly consist of middle-class and upper middle-class neighbourhoods where voters rallied more for PTI than for any other party.
Similarly, Tehreek-e-Labbaik Pakistan has performed rather poorly in NA-236 and NA-237 in District Malir — gaining only 4,516 votes in the former and 11,660 in the second. These constituencies include many rural parts of Karachi where Sindhi and Baloch communities have a dominant presence. In NA-238, also in the same district and dominated by indigenous fishing communities and migrant industrial workers, the party did not even have a candidate.
Two shopkeepers – one living in Lyari and the other in PIB Colony; one clean-shaven and the other bearded – used to vote for PPP and MQM, respectively. Their votes went to these parties because they needed to maintain a good relationship with the dominant political players in their respective areas since they run businesses that require protection both against criminals and rapacious government officials. Those parties, though, often failed to come up to their expectations, they say.
The two voted for Tehreek-e-Labbaik Pakistan in this year's election — not for any worldly reason but because they see it as a party that represents their religious ideals most strongly.
As did Zeeshan Attari.
A bearded man in his mid-thirties, he is among the senior Karachi leaders of Tehreek-e-Labbaik Pakistan. He belongs to an Urdu-speaking family and, for a decade, had been an active member of Dawat-e-Islami. He has also participated in protests that demanded Mumtaz Qadri's release and then agitated against his execution.
Attari, however, has not voted for any religious party in the past. In the 2008 elections, he cast his vote for MQM. In the 2013 polls, he gave his vote to PTI because he was influenced by its anti-corruption slogans.
On July 25, he not only voted for Tehreek-e-Labbaik Pakistan but also convinced many others to do the same. "I worked on young people who were members of different WhatsApp groups," he says. One such group included more than 10 young voters who were not religiously inclined but they agreed to vote for Tehreek-e-Labbaik Pakistan when he asked for their votes for the sake of protecting namoos-e-risalat (honour of the prophethood).
As is obvious from these instances, many people voted for the party as a religious duty. A retired college teacher, who also happens to be the caretaker of a Sufi shrine in a part of NA-245, puts it succinctly: Allah might reprimand me on the Day of Judgement if I had not voted for Tehreek-e-Labbaik Pakistan, he says.
Many other cite a similar reason: that they could not deny their votes to the party because it was canvassing in the name of the Prophet of Islam (may peace be upon him).
As a middle-aged voter in NA-254 in District Central put it, he is not impressed with Khadim Hussain Rizvi but "could not stop himself from voting" for Tehreek-e-Labbaik Pakistan "because it was asking for votes in the Prophet's name". Seeking anonymity, he adds: "I do not know whether the party will come up to the expectations of its voters or not but at least I have fulfilled my duty to seek the Prophet's blessings."
Many first time voters in Karachi felt the same way on election day.
The shrine's bearded old caretaker wearing a white prayer cap never cast his vote before because no political party attracted him. Not wanting to be identified by his name, he sees Tehreek-e-Labbaik Pakistan as a "true" champion of Barelvi beliefs that puts love for the Prophet of Islam (may peace be upon him) ahead of every other consideration.
Basit Ali, a clean-shaven 28-year-old man in District Central, offers another reason: he voted for Tehreek-e-Labbaik Pakistan because its National Assembly candidate in his area leads Friday prayers in a local mosque and has the reputation of being a pious person. "I am sure he would have never committed any corruption if he were to be elected," Ali says.
Secondly, he says, being based in the neighbourhood mosque the candidate is more readily accessible to voters than other local politicians.
Tehreek-e-Labbaik Pakistan seems to have succeeded where many other Barelvi parties have not — becoming an almost unanimous and dynamic platform for the members of the Barelvi school of thought across Pakistan. And by doing so, it has surpassed the electoral performance of all other Barelvi parties in recent times.
Two Barelvi parties – Jamiat Ulema-e-Pakistan and Sunni Tehreek – have been present across Pakistan in general and Karachi in particular over the last three decades but with modest electoral success. The former had its heyday in the 1970s, when it won many National Assembly seats in Karachi, Hyderabad, Muzaffargarh and Jhang districts, but could not remain united afterwards.
The latter first appeared as a militant Barelvi outfit to take on Deobandi sectarian organisations such as Sipah-e-Sahaba Pakistan but soon found itself pitched against MQM. It lost a large part of its leadership to target killings and bomb blasts and has never succeeded in mobilising large-scale support around a Barelvi agenda of upholding anti-blasphemy laws, excommunicating Ahmadis and protecting the honour and finality of the prophethood.
Barevlis, according to Attari, were disappointed because Jamiat Ulema-e-Pakistan and Sunni Tehreek were not actively pursuing what these voters wanted but instead busied themselves in power politics and sectarian violence, respectively. An incident like Qadri's execution could not have happened if these two parties had strongly resisted it, he says.
Barelvi voters were also electorally confused because no other party fit into their religious ethos. Finally, he says, they have found a party worth voting for — one that also comes from their own school of thought.
Dr Riaz Ahmed Shaikh, a social scientist at Karachi's Shaheed Zulfikar Ali Bhutto Institute of Science and Technology (SZABIST), endorses these views. "Attacks on Sufi shrines and Qadri's execution had generated a sense of victimisation among Barelvis," he says. "They are drawn towards Tehreek-e-Labbaik Pakistan because of its uncompromising politics of agitation which they see as the only way to attract the attention of the state and have their agenda implemented."
Some analysts posit that Tehreek-e-Labbaik Pakistan might have made its electoral mark but it will be able to achieve much less through its miniscule legislative presence than it could through its aggressive street politics and disruptive sit-ins. They point to MMA, an alliance of many religious parties including Jamiat Ulema-e-Pakistan, which could not do much for its agenda of Islamisation even though it remained both in Parliament and in power between 2002 and 2007.
The alliance tried to make a comeback in this year's election but could not repeat its previous performance. Barelvi voters across Karachi seem to have avoided it in droves in the July 25 polls even when Jamiat Ulema-e-Pakistan was still a part of it. Many of these voters believe they feel no political affinity with MMA because it did not come on the streets to launch a protest campaign against Qadri's execution.
There is also the sectarian divide.
The largest constituent of MMA – Jamiat Ulema-e-Islam-Fazl – belongs to the Deobandi school of thought which most Barelvis consider as a rival religious group. The second most prominent party in the alliance – Jamaat-e-Islami – is also seen as unsympathetic to Barelvi causes.
"I was never attracted towards MMA because its leadership is not in the hands of JUP," says Attari. Many others agree. "MMA is not acceptable to us because many of its constituents do not have the same religious ideology that we have," says the shrine's caretaker.
He is happy that Tehreek-e-Labbaik Pakistan has not formed any electoral alliance because that would have diluted its ideology.
---
The writer is a staffer at the Herald.
---
This article was published in the Herald's September 2018 issue. To read more subscribe to the Herald in print.