Ahmed Omar Saeed Shaikh
A British national, Omar Saeed Shaikh was born in England in 1974. In 1987, Shaikh's family moved to Lahore where he attended Aitchison College but was expelled from there for rowdy behaviour. He returned to England to study at the London School of Economics but only remained there for two years.
Shaikh's first real brush with 'jihad' occurred when he joined the Harkatul Ansar – rechristened Harkatul Mujahideen after the US banned the group in the mid-1990s – and became one of the key infiltrators into Indian-controlled Kashmir where he was arrested by the Indian security forces in 1997 during a sting operation. He remained incarcerated until December 1999, when the hijackers of an Indian airliner in Kandahar demanded his release along with Maulana Masood Azhar and Mushtaq Zargar. Later, Shaikh ganged up with Masood Azhar to form Harkat's breakaway faction Jaish-e-Mohammad.
On February 11, 2002, Shaikh was arrested by Pakistani security agencies for his alleged involvement in the murder of American journalist Daniel Pearl. He was awarded the death penalty by the court but his lawyers have appealed against the verdict. Despite being in jail, Shaikh is suspected to be in contact with the militants. Military investigators believe Shaikh drew up the earliest plans for Musharraf's assassination in 2002 and raised funds for the attacks. He is also suspected of involvement in the attack on the Indian parliament in early 2002, which started a year-long massive troops mobilisation by India on the border with Pakistan.
Amjad Hussain Farooqui
Was he shot dead in a gun battle in Nawabshah on September 26, 2004, as the Pakistani authorities claim, or was he killed by the authorities after keeping him in custody for at least two months, as Farooqui's family has claimed? In either case, Farooqui has been linked to a number of suicide bombings, hijackings, the killing of American journalist Daniel Pearl and at least two assassination attempts on General Musharraf long before he met his end.
In his early thirties, Farooqui belonged to a refugee family that had migrated from Indian Punjab and settled in district Faisalabad. He became a fund-raiser for the defunct Harkatul Ansar in the mid-1980s and was the most effective leader of the sectarian outfit Lashkar-e-Jhangvi as well as Jaish-e-Mohammad at the time of his death. Farooqui is reported to have fought in Afghanistan during the Soviet occupation and was also linked with the Taliban regime when he reportedly developed close contacts with the top hierarchy of the al-Qaeda network.
Farooqui ran militant training camps in Afghanistan and Pakistan, keeping lists of all those who attended training courses. He is also known to have sheltered al-Qaeda's Khalid Shaikh Mohammad until the latter's capture near Islamabad on March 1, 2003. Thereafter, Farooqui worked with Abu Faraj al-Libbi and Omar Saeed Shaikh, during which time he allegedly recruited and trained Pakistan Air Force personnel for the December 14, 2003, attack on Musharraf that blew up the Jhanda Chichi bridge near the 10-Corps headquarters. Reportedly, he also hired the suicide bombers for the December 25 attack.
After Shaikh's arrest, Farooqui is credited with planning and coordinating a number of bombings, including the suicide attack on then prime minister-designate Shaukat Aziz on July 30, 2004, and one on the US consulate in Karachi on June 14, 2002, that killed 12 Pakistanis.
Abu Faraj al-Libbi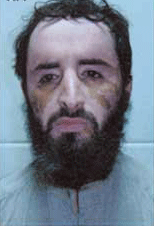 The al-Qaeda number three arrested from Shahdand Baba village near Mardan on May 4, al-Libbi is wanted in connection with two attempts on the life of General Musharraf in December 2003. In addition, he is regarded as the prime suspect in a number of bombings in Pakistan, including an attempt last year to kill then prime minister-designate Shaukat Aziz.
The 40-year-old Libyan national who suffers from leucoderma, a skin disorder, is said to be fluent in Urdu and Pashto besides Arabic, his mother tongue. Libbi is known to have spent 18 years in Pakistan, mostly in the tribal region, and has married a Pakistani woman. He appeared on Pakistan's most-wanted list in August last year with a reward of 20 million rupees on his head. A frequent visitor to Afghanistan during the Taliban rule, al-Libbi received guerrilla training at the camps run by Arab militants. After the fall of the Taliban, al-Libbi is believed to have been in active communication with al-Qaeda operatives outside Pakistan, especially in the UK.
Al-Libbi took over al-Qaeda operations in Pakistan after the March 1, 2003, capture of Khalid Shaikh Mohammad, alleged to have been a key planner of the September 11, 2001, attacks in the US. Authorities accuse al-Libbi of exploiting the anger of the local 'jihadi' groups against the Pakistani leadership. His arrest reportedly came about when Pakistani security agencies intercepted his phone calls and managed to locate him. ■
---
This factbox was originally published in the Herald's June 2005 issue. To read more subscribe to the Herald in print.
---