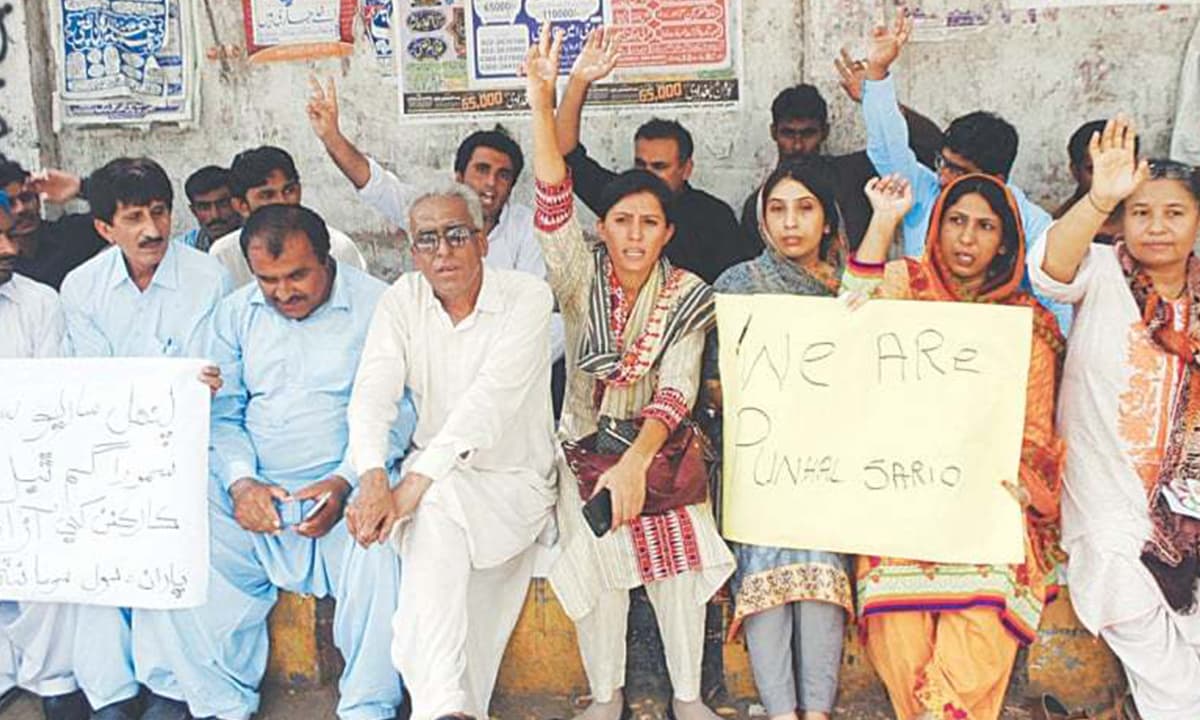 G M Syed's birthday was coming up but he was under pressure from the government to call off public celebrations. Pakistan was under General Ziaul Haq's military dictatorship. No political activity could be allowed — not even a celebratory event. Syed called a meeting of his senior comrades in his Sindhi nationalist movement at his native town of Sann to seek their views. Everyone favoured the cancellation. Everyone except Mohammad Rahimoon. He stood up and made a passionate argument in favour of holding the event. "I know a G M Syed who has always stood up to authority. I do not know a G M Syed who is willing to make a compromise," he said. Syed had to let the celebrations proceed.
That was 32 years ago.
On February 25, 2017, Rahimoon appeared before the media in Golarchi town of Badin district to announce that he had quit politics. This was also his first appearance in public after he had gone missing on November 22, 2016. He sounded bitter, according to a report in daily Dawn. The practitioners of Sindhi nationalism, he said, "did nothing when I was taken away".
Rahimoon has maintained public silence since then. He does not want to identify who kidnapped him or any details about where they took him and why. "I was treated well," is the only thing he says of his time in disappearance. "They, indeed, are good people," he says of those who had kept him in detention during that time.
His reluctance to give any other details has generated all kinds of stories. One legend goes that he was briefed about the activities of different Sindhi nationalist groups — that they have good relations with intelligence agencies, that they are not sincere to Sindhi nationalism, that they are opportunists. Another anecdote suggests he was shown a video about the lavish lifestyle and playful activities of Shafi Burfat, head of the outlawed Jeay Sindh Muttahida Mahaz (JSMM), who lives in Germany. This video is also said to have images showing the pain and misery of the families of those Sindhi nationalist activists who have either disappeared or have died.
These stories remain unconfirmed but their variants are pervasive in different parts of Sindh. Whenever a Sindhi nationalist activist announces his departure from politics, similar rumours and speculations circulate around his decision. And there have been many such announcements in recent months. In April this year, 22 activists in Ghotki district dissociated themselves from Sindhi nationalist politics; about five months later, 35 others did the same in Badin district; in September, three people in Tharparkar district's headquarters, Mithi, renounced their links to Sindhi nationalist ideology.
Most of them have called it quits from politics altogether. Others have joined non-nationalist parties — Nasrullah Kaladi being one of them.
He was heading the Jeay Sindh Qaumi Mahaz-Bashir Qureshi Group (JSQMQ) in Ghotki district when he addressed a press conference in May 2017 and said he was moving away from the politics of Sindhi nationalism. About 50 other office holders and members of the JSQMQ made the same announcement along with him. Kaladi later joined the Pakistan Peoples Party (PPP). One rumoured reason for his change of parties is that he had been receiving threatening phone calls that alluded to his political activities. He does not confirm or deny this.
Whether his move will protect him from more threats is not known yet.
In at least one case, that of Nangar Channa, disavowal did not prevent disappearance. A writer from Larkana, Channa made a public declaration earlier this year that he was no longer associated with any Sindhi nationalist group. He still went missing on September 5, 2017. One of his friends links his disappearance with reports that he had renewed telephonic contact with his former political comrades. The truth is near impossible to find.
Punhal Sario has been leading a campaign for the recovery of people going missing in Sindh. In May 2017, he was instrumental in setting up the Voice for Missing Persons of Sindh (VMP-Sindh), a group that includes human rights activists and the families of those who have disappeared.
As the founding convener of the group, Sario led a long march from Hyderabad to Karachi in July this year. He was to hold a seminar in Hyderabad on August 4 but he went missing a day earlier. He was travelling in a car in Hyderabad with his friend Dr Haresh Kumar when, at about 11:00 pm, men in police commando uniforms took him away. He came back home on October 18.
After his disappearance, Sorath Lohar has assumed his responsibilities at VMP-Sindh. Her father, Hidayatullah Lohar, has been missing since April this year. A primary school headmaster and an ironsmith in his spare time, he was a supporter of Jeay Sindh Qaumi Mahaz-Arisar Group. "We do not know if he is still alive," she says.
Sorath, who has a postgraduate degree in computer science and is studying law at Sindh Law College, Hyderabad, continues to organise protests for the recovery of missing persons even though she knows the risks involved. "Sometimes shopkeepers refuse to make banners for our protests at the eleventh hour. My younger brother gets threatening phone calls and has been warned that he would be abducted like our father if we continue participating in demonstrations," she says. "Strangers often follow me. They make it obvious to me that they have pistols under their clothes."
While Sorath's association with the disappeared is obvious, others have faced problems even for raising a voice for them.
Qadir Bakhsh Zaor and Shams Meerani, both associated with a lesser known group, Jeay Sindh Liberal Front (JSLF), had placed an order at a shop in Thatta city for a banner that they would take to a protest for Sario's recovery and release. On September 10, 2017, they were standing at that shop when a man approached Zaor and told him to follow him to a jeep parked nearby. He was told to get into the vehicle. Meerani joined him soon.
"They handcuffed and blindfolded us and kept driving around for an hour and a half. They were abusing and hitting us, all the while demanding we reveal our links with Punhal Sario," says Zaor.
When the two were taken off the jeep, they were beaten badly and ushered, one by one, into an air-conditioned room where some officers asked them various questions — where do you get money from; are you in touch with Shafi Burfat; have you ever been to India. After the interrogation, they were shifted to separate cells. Some officers came to Zaor's cell later and told him that the JSMM had released Facebook posts about his disappearance. "I said I had nothing to do with the JSMM," he says.
A few hours afterwards, Meerani and him were taken to the historic graveyard of Makli and were released, but not before warning them that they needed to quit their group or else they would be picked up again.
The disappearances of people linked to Sindhi nationalism, both directly as activists and indirectly as defenders of the rights of those activists, have increased significantly in 2017. Data collected by the Human Rights Commission of Pakistan (HRCP) states that 110 nationalist activists as well as human rights defenders in Sindh disappeared between the months of January and August this year. In 2016, the number of such disappearances was six — though all of them still remain untraced.
Sindh Human Rights Defenders (SHRD), a volunteer organisation campaigning for the recovery of the disappeared, puts the number of people having gone missing in the province this year at 123 — only nine of them have come back home. Though such incidents have been taking place for years, their frequency has increased dramatically in the last few months, according to Ali Palh, a lawyer associated with the SHRD. "As many as 170 cases of enforced disappearances of Sindhi nationalists, students and human rights activists have been [recorded] … during the last five years. More than two-thirds of them have disappeared in 2017 alone," he says.
These numbers are mostly based on cases either reported to the police or by the media. In many other instances, people went missing for a short while –sometimes even less than a day – and came back home before the police or the media were informed about their disappearance. Some of them claim being kept in detention by intelligence agencies and tortured. While in captivity they were often accused of trying to give the military a bad name. They were also told that their leaders were getting money from India and that the children of those leaders were either studying abroad or at renowned institutions within Pakistan even as the children of ordinary activists lived miserable lives.
According to G M Bhagat, an Umerkot-based writer and researcher approaching 70, a major reason behind the latest increase in enforced disappearances is the multibillion-dollar China-Pakistan Economic Corridor (CPEC). "The intelligence agencies treat [the critics of CPEC] as their enemies," he says. "Those who even whisper against CPEC are either kidnapped or killed." Bhagat himself has been picked up four times by the intelligence agencies between the 1990s and 2006. When he was last taken away, he spent a whole year in their custody.
The other known reason why so many Sindhi nationalists have gone missing is their alleged or actual involvement in anti-state activities such as burning of Pakistan's flag, an allegation that is said to be behind the September 25, 2014 disappearance of a JSQM activist, Waheed Lashari, from Larkana. He was later found dead in Gulshan-e-Maymar, Karachi, on November 27 that year.
These incidents may have some connection with the Pakistan Army too. An affidavit signed recently by a large group of Sindhi nationalists renouncing their political ideology ends on "Pakistan Zindabad, Pak Fauj [army] Zindabad". It reads like an oath of allegiance: "We vow to be faithful to Pakistan. It is our country and we … will more than eagerly take part in its progress."
Real or suspected links with the JSMM – a government-declared terrorist organisation that wants Sindh to become an independent state and that has accepted responsibility for a number of terror attacks in the province in recent years – ranks at the top of the list of reasons for the missing persons phenomenon. Many of the disappeared are known to have been warned during captivity: end links with the JSMM or else be prepared to face the music.
Zakir Bozdar paid the ultimate price for ignoring this warning. Associated with the JSMM, he first disappeared in May 2012 but came back home five months later. In December 2016, he disappeared again. Five days later, his body was found in his native Ghotki district. He was 30 at the time. "He had been told by his captors to quit the JSMM but he did not," says one of his relatives.
Some veterans of Jeay Sindh movement believe these capture and kill tactics may be unnecessary. In their estimation, disillusionment with the politics of an independent Sindh, or Sindhudesh, is pervasive and the struggle for it has already lost its ideological and political vigour. Most Sindhi nationalist leaders and activists have become opportunists, says Juman Darbadar, a Sindhi language poet from Umerkot who is known for his eulogies and elegies of Sindh.
He joined the Jeay Sindh movement in 1978 as a young man and became quite close to its founder G M Syed. He soon wrote a poem that is regarded as Sindi nationalism's anthem: "Wathi har har janam warbo, mitha Mehran mein milbo (We will be born again and again until, my sweetheart, we meet in our own land of Mehran)". Sung by many popular Sindhi singers and employed as a rallying cry for various Sindhi nationalist groups, the first couplet of this poem is inscribed at the entrance to Syed's mausoleum in Sann.
"Even those who are quitting Sindhi nationalist groups and joining other parties are doing so for personal and financial reasons more than anything else," Darbadar remarks.
---
An earlier version of this article was published in the Herald's October 2017 issue. To read more subscribe to the Herald in print.
---
The writer is a staffer at the Herald.