Several hundred people throng the entrance to a building near Lahore's Model Town area. It is the Lahore secretariat of Pakistan Tehreek-e-Insaf (PTI) and the party's chairman, Imran Khan, is holding a series of meetings inside. Those outside cannot wait to have him amid them — and yet they do not show any signs of going away any time soon.
He emerges from the gate a little while later in a big black four-wheeler, with his party's secretary general Jahangir Tareen in the driving seat. The windows of the vehicle are not rolled up and the two can be seen talking to party officials who are walking along the car. When Imran Khan notices the crowd, he steps out and waves briefly. Then he is gone in a jiffy.
The encounter takes place at the start of a week that is to end with a massive PTI public meeting on September 30 this year.
Imran Khan first announced the meeting this April at a gathering held in Islamabad to celebrate his party's 20th foundation day. Only a couple of weeks before the announcement, leaked papers belonging to a Panama-based law firm had revealed that Prime Minister Nawaz Sharif's children owned assets worth billions of rupees in England. Imran Khan told his foundation day audience that the time had arrived for a protest movement around what is now variously known as Panama Papers and Panama Leaks.
The venue for the protest, he said, was not to be Islamabad's D-Chowk where he had held his prolonged 2014 sit-in against election rigging. The site of his latest agitation was to be the private estate of Prime Minister Sharif and family — just outside Lahore.
Six months after the announcement in Islamabad, Imran Khan wanted to swarm the place with his supporters. The rank and file of his party at first seemed disorganised, if not ill-prepared, for the task. He needed to awaken and unify them first.
But before that he had to watch them bring their conflicts right in front of the media's glare. He left the stage in disgust as PTI members and supporters pushed and shoved each other during a workers' convention in Islamabad on September 18.
The same day, a long-standing member of PTI's central secretariat, Saifullah Niazi, resigned from his post as additional general secretary. He cited differences with Tareen and disagreement with his policies about the party's labour and youth wings.
The rank and file of his party at first seemed disorganised, if not ill-prepared, for the task. He needed to awaken and unify them first.
By September 26, Wajihuddin Ahmed, a retired Supreme Court judge and a PTI member who was also a presidential candidate in 2008, left the party. Imran Khan had made him the head of a commission to probe irregularities in the party's first internal election held in early 2013.
Other parties in the opposition were also not happy with his plans.
Also read: National Assembly meaningless to people of Pakistan: Imran Khan
Pakistan Peoples Party (PPP), Pakistan Muslim League–Quaid-e-Azam (PMLQ), Jamaat-e-Islami (JI) and Pakistan Awami Tehreek (PAT) did not approve of his idea to hold a public meeting next to the private residence of his political opponents. Some of them saw it as socially unacceptable; others viewed it as a violation of democratic norms.
PAT chief Tahirul Qadri, whose party staged a simultaneous sit-in with Imran Khan in 2014, would leave Pakistan. He announced that his party did not want a repeat of the Model Town incident in which about 14 PAT activists had lost their lives in clashes with the police.
Imran Khan's aides responded by claiming that protests around political opponents' houses were not new: workers of Prime Minister Sharif's Pakistan Muslim League–Nawaz (PMLN) tried to besiege the private farmland and residence of Farooq Leghari – president of the country at the time – in Dera Ghazi Khan district in the 1990s. Participants of anti-rigging protests that began immediately after the general elections in 2013 also gathered in front of PMLN leader Khawaja Saad Rafique's house in Lahore in large numbers. But, then, those protesters were all PTI's own members and supporters.

Imran Khan arrives in Lahore from Islamabad on September 26. The public meeting near the Sharifs' estate is only four days away.
He is immediately thrust into a series of meetings with his party's representatives in local governments and provincial and national assemblies. The next round of meetings is with various PTI wings — students, the youth, women and labour, among others. Shah Mehmood Qureshi later joins him for a dinner with the newly-appointed Punjab office-bearers of their party.
Imran Khan listens to his party members during these meetings. When he speaks to the lawyers, he tells them to secure the release of the party's protesters if they get arrested. He advises the youth wing to prepare itself for tackling any roadblocks the government may erect to stop the gathering. He also warns them about the possibility of a sudden crackdown by the police.
Talking to women, Imran Khan emphasises their importance in nation-building. One activist asks him to get the support of foreign countries and Chief of the Army Staff Raheel Sharif for the party's cause.
"We do not need [the support of] anyone except the public. Shah of Iran had the support of America. What good can that do if your people are not with you," Imran Khan responds.
Also read: From the archives—Who's afraid of Imran Khan?
Two days later, he starts a rally; with his core team in tow, he passes through all 10 points where camps are set up to mobilise participation for the gathering. The rally continues well into the night. His audience is small and his address to them brief but the rally helps change the atmosphere in Lahore in favour of the public meeting.
The gathering is to take place at Adda Plot, a bus stop on the road between Lahore's southern edge in Thokar Niaz Beg and Raiwind town in the east. The Sharifs' estate is about three kilometres to the south of the venue.
The area has seen an enormous amount of urbanisation and development over the last twenty years. Once the stomping ground of Qizilbash nawabs, it has changed dramatically after the Sharifs set up their estate here in the 1990s.
The area falls in the home constituency of PTI's rural Lahore president, Zaheer Abbas Khokhar — a traditional politician from the Khokhar clan which resides here in large numbers. (He won the local National Assembly constituency as a PPP candidate in the 2002 election but defected to the Pervez Musharraf-backed patriot faction of the party.) He has been given the task of putting together volunteer teams, providing boarding and lodging for out-of-town protesters and making overall arrangements at the venue.
"We do not need [the support of] anyone except the public. Shah of Iran had the support of America. What good can that do if your people are not with you," says Khan.
Adda Plot and its surroundings sport a festive feel, a day ahead of the public meeting. People with their faces painted in red and green can be seen everywhere. Their slogans reverberate through the dark streets leading to the venue.
The night before the public meeting is the time for a sort of reunion of workers and supporters who have participated in various earlier PTI rallies and protests. "This is our chaand raat (pre-festival celebration)," says Zeeshan Ali Majid, draped in his party's colours, as he hugs a couple of PTI workers from Gilgit. This is a PTI tradition for all its major events, he says.
Also read: Pakistan's thriving culture of corruption
He has never met a lot of the people who are here but he has communicated with them on Facebook. "Now we are all meeting in person." Majid, a middle-aged man from Lahore, has just completed a long week of making arrangements for the public meeting. He says he is as committed to his party as he was when he joined it in 1999. He belongs to the group of people who were inspired by Imran Khan's work as a cricketer and a philanthropist.
Before he says anything else about himself, he quickly introduces another PTI supporter: an engineering student in Dubai who has returned to Pakistan to participate in the public meeting. They hug each other and immediately start discussing the role of corruption in ruining institutions. "Purana (old) Pakistan is running on a manual system. We want to bring about a system in which institutions will not be run on the whims of individuals. They will be made for us, the people. That is what naya (new) Pakistan is all about. This is what this movement is all about," says Majid.

A large part of PTI's ideological cadre has its roots in the lawyers' movement.
Imran Khan was a part of the All Parties Democratic Movement (APDM), a multiparty alliance for the restoration of Chief Justice Iftikhar Chaudhry sacked by then president Pervez Musharraf. He utilised this platform to reach out to students and a new generation of activists from the middle class who had either abandoned other mainstream political parties or were not members of any party to begin with.
Ahsan Rasheed, a businessman who has been with Imran Khan and PTI for years, took over the party's reins in Lahore and slowly started expanding its base. The first meetings between Imran Khan and the students took place following the imposition of emergency rule by Musharraf on November 3, 2007.
Imran Khan went to the Lahore University of Management Sciences (LUMS) to address students even though orders for his arrest were already issued. He went underground immediately after the address.
Next day, the first meeting of what would become Insaf Students Federation (ISF) was held at his Zaman Park residence, says Zubair Niazi, a former student leader who later contested the 2013 elections for a Punjab Assembly constituency in Lahore on a PTI ticket and lost.
Less than two weeks after the imposition of emergency, Imran Khan was arrested from the Punjab University where activists of Islami Jamiat-e-Talaba, a student organisation affiliated with JI, beat him up and handed him over to the police.
Bushra Rehman recalls how in the midst of the fundraising frenzy she turned to Imran Khan and said: "The country needs you as prime minister."
His arrest did not deter his plans to mobilise the youth. In one of her first encounters with Imran Khan in 2008, Andleeb Abbas, a management consultant-turned-political activist, recalls a meeting where PTI discussed plans for the 2013 general elections. "We identified that the largest sector for political mobilisation would be the youth," she says.  
Abbas, who headed the subsequent mobilisation campaign, says it was in 2010 that the first youth-centric initiative was launched. It was branded as Jaag Utho (wake up).
Also read: From the archives—Public speaking is not my strength: Imran Khan
The party invited singers like Shahzad Roy to sing political and patriotic songs at its public meetings in several cities to mobilise urban middle-class youth. But these activities garnered no substantial media coverage beyond the broadcasting of music.
It took the party some months to realise that its plans were not working. By the close of 2010, Imran Khan started talking of changing strategy and making public meetings newsworthy.
That kick-started his country-wide protests against drone strikes in the tribal areas by the United States and his moves to stop war supplies through Pakistan to foreign – mostly American – troops in Afghanistan.
The timing was immaculate: anti-America sentiments in the country were at their highest then.
In January 2011, an American intelligence contractor, Raymond Davis, shot dead two people in Lahore but managed to fly out of Pakistan without any trial, let alone punishment. In May that year, an American raid in Abbottabad killed al-Qaeda chief Osama bin Laden. Towards the end of the year, foreign forces in Afghanistan bombed a Pakistani check-post on our side of the border, resulting in the death of at least 24 Pakistani soldiers.
And throughout the latter half of 2011, controversy raged around a memo allegedly written by Husain Haqqani, the then ambassador of Pakistan in Washington DC, to American officials. He was reportedly seeking American support for the civilian government in Islamabad against the military establishment.
It took the party some months to realise that its plans were not working. By the close of 2010, Imran Khan started talking of changing strategy and making public meetings newsworthy.
Imran Khan mobilised people to protest on all these issues. This made him the strongest face of anti-Americanism for many Pakistanis who felt frustrated by what they saw as a lacklustre response by the PPP government and the PMLN leaders to the real and imagined transgressions by the US.
He was also able to tie this in with his anti-corruption agenda. This clicked instantly with young middle-class Pakistanis raised on a steady diet of stories of massive corruption by the PPP leadership and, to a lesser degree, by those in the PMLN.
The mobilisation culminated in PTI's first massive, and by its own reckoning, historic public gathering at Minar-e-Pakistan on October 30, 2011. "That was the year the party became a political phenomenon," Abbas says.
Hundreds of thousands of young people present at the gathering instantly pledged allegiance to Imran Khan and PTI, she says.

Imran Khan once openly disavowed politics and dismissed suggestions that he join or launch a political party.
In late 1994, he joined hands with former Inter-Services Intelligence (ISI) chief Hamid Gul and Muhammad Ali Durrani — the latter, at the time, was heading Pasban, a breakaway youth wing of JI. They planned to launch what they called a 'pressure group'. Short of being a political party, it was meant to work as a civil society watchdog for the government of the day.
In the February 1995 edition of the Herald, the three spoke about how the group was to be a social movement rather than a political entity. They also saw it becoming a "third force" and "the first middle-class movement in the land".
The pressure group never materialised. Imran Khan quickly became uncomfortable with the idea of being seen as a puppet in the hands of Gul, according to Zaigham Khan, the Herald staffer who reported on the trio's plans.
Also read: Jahangir Tareen—PTI's money man
Zaigham Khan remembers Imran Khan telling him that political leaders in Pakistan do not just land in the corridors of power. "They are carefully and meticulously cultivated by the powers that be." He clearly did not want to be "a carefully and meticulously cultivated" leader.
Bushra Rehman, a veteran of both writing and politics, has a similar but much longer story to tell about Imran Khan's first brush with politics.
"It is the army that parachuted Nawaz Sharif into politics and made him the youngest chief minister of Punjab," Rehman says.
Married to a businessman in Lahore, she has been a member of the Punjab Assembly and the National Assembly multiple times since 1985. She also writes regular columns in Urdu for the Lahore-based daily Nawa-i-Waqt.
Bushra Rehman comes from a politically influential family in Bahawalpur and is related to Mujataba Shujaur Rehman who is Punjab's excise and taxation minister (his father Mian Shujaur Rehman was Lahore's mayor in the 1980s). She has never contested elections but has been in provincial and national legislatures on reserved seats as a member of one faction or the other of Pakistan Muslim League.
There is an aura of respectability around Bushra Rehman as she sits in a quiet office in Lahore's Johar Town area where she writes her columns and books. Head covered, hands neatly folded, she frequently punctuates her speech with an apologetic "I am but a woman". 
"It is the army that parachuted Nawaz Sharif into politics and made him the youngest chief minister of Punjab," she says. "General Ziaul Haq wished for his own years of life [to be] added to Nawaz Sharif's," she adds. "Governor [Lieutenant General] Ghulam Jillani was asked to nurture him as a politician and to prepare him for national politics," she recounts. "We stood by Nawaz Sharif and watched him rise to the highest seat of power in the 1990s, propped up against Benazir Bhutto."
She describes the political turbulence of the 1990s as a battle between two "wrestlers" who cheated at the game. "Both [Prime Minister Sharif and Benazir Bhutto] were considered corrupt to the core so the establishment felt there was need for an honest leader who truly served the country and the people of Pakistan."
They saw that in Imran Khan, she says. "In fact, many of us did."
Back in the early 1990s, Bushra Rehman accompanied Imran Khan on his tour of Bahawalpur to raise funds for Shaukat Khanum Memorial Cancer Hospital and Research Centre. In a column for Nawa-i-Waqt she wrote after the tour, she described it as one of the most touching experiences she had ever had: "Dressed in ordinary clothes, riding an ordinary jeep, Imran uses simple words to move thousands of people. They line the streets he passes through and bring in hundreds of thousands of rupees. Yet, Imran hugs the person who donates a single rupee with the same vigour as he does the wealthy trader who gives him millions [of rupees]."
Bushra Rehman recalls how in the midst of the fundraising frenzy she turned to Imran Khan and said: "The country needs you as prime minister." 
He laughed it off. He hated the idea, she says.
Soon afterwards, Mujeebur Rehman (her husband's friend who had retired from the army as a lieutenant general and who had worked as Haq's information secretary for years) discussed the same idea with her. He and some other "retired generals" were envisioning a political future for Imran Khan, he told her. "I immediately told him that Imran Khan would never agree," she says.
"Both [Prime Minister Sharif and Benazir Bhutto] were considered corrupt to the core so the establishment felt there was need for an honest leader who truly served the country and the people of Pakistan."
Mujeebur Rehman's powers of persuasion were legendary and he thought he could convince Imran Khan to come into politics, she says. Persuasive sweet talk with the regime's opponents, journalists and intellectuals was, after all, one of his main tools of trade when he worked with Haq. He did not identify with the military dictator's religious ideology but, in the words of senior journalist Ghani Jaffar, "was simply good at his job".
Also read: Shah Mehmood Qureshi—Always next in line
Mujeebur Rehman became close to the military dictator when, in 1980, he unveiled a coup attempt by a retired major general, Tajammul Hussain Malik, and his revolutionary council.
Mujeebur Rehman asked Bushra Rehman to invite Imran Khan to dinner at her place.
On September 28, 1995, Imran Khan and three of his friends arrived at her residence. "Before dinner, they sat together with Mujeebur Rehman who presented Imran with a proposal."
Imran Khan voiced some reservations and put certain preconditions on his entry into politics. A series of secret meetings followed, she says. In April 1996, Imran Khan eventually launched his own political party.
Mujeebur Rehman's persuasion seemed to have worked.
Over the next three to four months, a document would be prepared in bits and pieces and put together under the title Blueprint for a Democratic Revolution. "There were two copies of the document. I kept one and gave the other to Mujeebur Rehman," says Jaffar.
After the party's formal inauguration, Mujeebur Rehman became its first secretary general. His association with Imran Khan did not last long, though. When he was asked about it later, he responded: "There is nothing I can do; he [Imran Khan] listens to no one."
Another prominent Pakistani – with a completely different background from Mujeebur Rehman – would say the same thing seven years later.
Mairaj Muhammad Khan, a Karachi-based politician who started his career as a left-wing student activist in the 1960s and who once was close to – and later in serious discord with – Zulfikar Ali Bhutto, joined PTI in 1998. He resigned five years later, saying the party was not serious about building an organisational structure and had done little to prepare for the 2002 general elections and local government elections held a little earlier.
Mairaj Muhammad Khan alleged that "non-political" members of the party wanted a shortcut to power. He also lamented that PTI failed to protest various violations of the Constitution under Musharraf's rule – and even endorsed the referendum that he had organised to elect himself as a president in uniform. Mairaj Muhammad Khan concluded by saying that he respected Imran Khan but he had the tendency to take a "solo flight".


Imran Khan and Prime Minister Sharif were once together in APDM. The alliance had decided to boycott the 2008 polls in protest against the imposition of emergency rule by Musharraf in 2007. But Benazir Bhutto convinced Prime Minister Sharif to take part in the elections. The rest of the APDM constituents, including PTI, accused him of betrayal.
Over the next three years, Imran Khan struggled to find a political niche for himself. He had no voice in the parliament where PMLN had virtual monopoly over the opposition benches. Even in the streets, his party was outnumbered by a massive margin when Prime Minister Sharif and the leaders of the lawyers' movement marched to Islamabad for the restoration of the judges forced out by the emergency.
When the political landscape changed again in 2011, however, Imran Khan was ready to seize the moment. First, he broadened his party's agenda from a narrow focus on justice for all to the removal of corruption from high places and resistance to American policies towards Pakistan. Secondly, he opened PTI's doors to new entrants, relaxing the criterion for their admission.
Qureshi was one of the first major political stalwarts to join. He had left the PPP government – in which he was the foreign minister – over the Raymond Davis affair earlier in the year. Weeks later, Javed Hashmi of PMLN and Pervez Khattak – who was a provincial minister in a previous PPP government in Khyber Pakhtunkhwa – as well as Musharraf-era minister Jahangir Tareen would also join.

The string of current events around PTI and Imran Khan began unfolding when he decided to take to the streets again on September 30, 2016 — after a hiatus of more than a year and a half. This time round, the reason for his protest movement was corruption at the highest level of the government.
The furore that followed the revelation of Panama Leaks lasted a while before ebbing. The government initially denied any wrongdoing by the premier and his family. That gave way to a lengthy and on-again, off-again process of negotiations between the ruling PMLN and the opposition parties. Committees were formed, terms of reference drawn up, scratched, drawn up again — the government wanted the probe to be headed by a retired judge, PTI wanted the sitting Chief Justice of Pakistan to lead it and PPP wanted it done through a parliamentary committee.
After six months of unpromising back and forth, PTI decided to take its case to the people. Not that everyone in the party favoured the idea. There were many critics within the party who talked of a protest fatigue that resulted from 126 days of sit-ins in Islamabad back in 2014 — only to turn back empty-handed, PTI sources say.
Senior PTI members were also sceptical about the benefits of being seen in a state of perpetual agitation — an old accusation against PTI. Once the party chief made the final call, though, the debate died down.
Imran Khan's message at the Adda Plot gathering was two-pronged. The first, and longer message, was delivered to the Sharifs. Using slideshows, audio recordings and interview clippings, he demonstrated a detailed account of contradictions in their statements regarding their wealth and properties abroad. The second was a warning message directed at Indian Prime Minister Narendra Modi.
There were many critics within the party who talked of a protest fatigue that resulted from 126 days of sit-ins in Islamabad back in 2014 — only to turn back empty-handed, PTI sources say.
Then he went on to make a highly anticipated announcement: Islamabad was to be "locked down" until Prime Minister Sharif either resigned or submitted himself for an investigation into his wealth abroad.
Imran Khan ended up calling off the protest — without getting either of his two demands. The anticlimax came when, on November 1, the Supreme Court started hearing many similar petitions over the Panama Leaks.
Many had called his protest plans either audacious or suicidal. They ended in pyrrhic proclamations of victory by him, after oscillating between being audacious and suicidal for quite a few weeks.
His party's detractors may be gloating. They will gladly point out that this is not the first time that Imran Khan has backtracked. He withdrew his demand for Prime Minister Sharif's resignation in 2014, too. And he got nothing out of his prolonged protests that year except a promise for electoral reforms yet to materialise and a judicial commission that did not vindicate his allegations of pre-planned rigging in the 2013 elections.
Since the call for his latest agitation was premised on a clear, one-point ultimatum, it had much less room for ambiguity than there was in the list of demands made back in 2014. What does it mean for Imran Khan and PTI to have taken it back? Could this lead to a decline in the party's popularity and credibility? Will anyone take him seriously if and when he gives another call for a protest — which he may sooner than later?
No matter what the answers to these questions are, Imran Khan's single-minded focus on holding a protest near the Sharifs' estate and following it up with warnings to close down Islamabad has troubled almost every other political party in the opposition.
"The ostensible purpose of his [Islamabad] sit-in [was] to protest against Panama Leaks and to that extent we agree with PTI," says Pakistan Peoples Party (PPP) spokesperson Farhatullah Babar. "All of the opposition parties are united in bringing this scandal to its logical end." But, he adds, Imran Khan was adamantly seeking a solo flight, once again, by bringing the matter to the streets. "It may well be within your constitutional rights to protest but you cannot make a unilateral decision to lock down the capital," Babar says.
"The only thing that PTI achieved out of the protests in 2014 [was] to lend legitimacy to the security establishment, instead of the [institutions of the] state," he argues.

The much rumoured collusion between the military establishment and PTI that resulted in the anti-rigging sit-ins, indeed, became the reason why Hashmi would leave the party in the middle of the protests. While resigning from PTI, he said Imran Khan was "conspiring" with the powers that be to dismantle democracy.
Closely tied to even his latest protest are subjects pertaining to the relationship between civilian and military institutions.
Firstly, there is the much discussed appointment of a new Chief of the Army Staff and a new Chairman of the Joint Chiefs of Staff Committee. Linked to these is Pakistan's tense relationship with India and the differences between the military and the civilian leadership over how to resolve it.
"The ostensible purpose of his [Islamabad] sit-in [was] to protest against Panama Leaks and to that extent we agree with PTI," says Pakistan Peoples Party (PPP) spokesperson Farhatullah Babar
Secondly, an investigation into leaked information about a high-level meeting involving participants from the two sides only complicates their mutual equation further. How much did Imran Khan and his protest add to the pressure on the civilian government in this regard is anyone's guess.
The sudden moving of the judicial wheel is another factor that Imran Khan did not take into consideration before giving his call for shutting down Islamabad.
The Supreme Court hearing over the Panama Leaks petitions is a major step for a court that had returned similar petitions filed by JI and PTI on August 27, 2016, and August 31, 2016, respectively, terming them "frivolous". It suggests that Imran Khan had not fully exhausted all legal and judicial options available to him before giving the call to lockdown Islamabad. Or, perhaps, he believes that a street protest is the only way to make these options become not just available but also meaningful.
"My hope [was] that when the hearings [began] on [October] 20, they will continue on a daily basis," says PTI spokesperson Naeemul Haq. "If the Supreme Court had chosen to disqualify Nawaz Sharif within a week or ten days, we would not have needed the sit-in."
Other PTI leaders have similar opinions. "[Panama Leaks] is a black-and-white case," says Asad Umar, a senior leader of the party and a member of the National Assembly. He suggests that once the investigations take place, there will be only one outcome — Prime Minister Sharif found guilty as charged. Yet, he asks: "Do you really think Nawaz Sharif is crazy to allow an investigation into Panamagate without a protest?"
The furore that followed the revelation of Panama Leaks lasted a while before ebbing. The government initially denied any wrongdoing by the premier and his family.
What about political risks to PTI as a result of its protests fizzling out one after the other? "Will Imran Khan be finished if his stated objective is not achieved immediately? Not a question," says Umar. He confirms reports that a lot of senior PTI members had questions about the risks associated with the protests. "Then Raiwind happened and I saw the dynamics change in front of my eyes," he says. "Even PTI leaders were caught by surprise seeing the number of people who showed up."
Imran Khan and his party got that kind of impetus first in a 2011 public meeting in Lahore. The crowd that showed up at Minar-e-Pakistan was unprecedented compared to any political event in the city after Benazir Bhutto's homecoming rally in 1986. It firmly established PTI's status as one of the most popular parties in the country.
It also highlighted several facets of Pakistan's changing political landscape. For the first time in the country's post-1971 history, the urban, professional, affluent middle class deigned to come on to the streets and join a public meeting. In another first for post-Musharraf Pakistan, the liberals and the conservatives were seen together, standing right next to Imran Khan. The same party stage where he offered his prayer in full public view later echoed with the beat of music and PTI-themed songs.
So, who does PTI really represent? Why do people on opposite sides of the sociocultural and ideological spectrum support it? Is it a party that, in the words of its critics, "means whatever you want it to mean"?
Umar offers this explanation, quoting Imran Khan: "The politics of right and left has been replaced by the politics of right and wrong." According to him, "PTI is not confused — you are merely trying to force-fit our thinking into a 20th century political divide."
An ideological divide does not exist anymore in politics, says Umar, and what we are left with is the politics of delivering justice to the people. "It is not just about good governance, alongside which an extremely unjust system can still thrive."
There are many other questions about the party — some of them raised by its own disillusioned supporters.
Soon after an October 2011 public meeting, PTI became the Pakistani party à la mode, its critics say.
"Will Imran Khan be finished if his stated objective is not achieved immediately? Not a question," says Umar.
Many political leaders who did not fit into the top echelons of dynasty-based parties such as PMLN and PPP rushed to join PTI. A number of constituency-level politicians – driven either by the prospect of winning an election on the back of the party's popularity or by the absence of any other prospects for them – made a beeline to be accepted into PTI's fold.
Critics say the two groups of new entrants brought with them the same political baggage that Imran Khan has been vowing to fight against — corruption, misuse of authority, nepotism and political opportunism.
After remaining in political wilderness for 15 years, the temptation to induct these heavyweights – electables, to use a term favoured by the media and analysts – was too big to resist for Imran Khan. This is how Umar defends it: "The bigger issue is not whether an individual is a good person or not. It is whether the party changes its politics based on the induction of those people. Did Imran Khan's or PTI's stance on corruption change because of it? In the bigger picture, no individual has enough of an impact to steer the party from its course — they will have to merge into the party, not the other way round."
A couple of admittedly theoretical questions remain unaddressed: if PTI fields a tainted candidate in an election, is it being hypocritical to the people of that constituency due to the gap between what it preaches about clean politics and what it practices? If many PTI electables have a chequered political history, will they change their conduct if and when they get into power as part of a PTI government? Most importantly, if you cannot find enough clean – and electable – people to get a party into power, how will you find enough clean and competent people to run a country?
Abdul Aleem Khan was a PMLQ candidate in southern Lahore against Tahirul Qadri for a National Assembly seat in 2002, but he lost by a margin of less than 5,000 votes. He then contested and won a Punjab Assembly seat from central Lahore in a by-election in January 2003 – again as a member of PMLQ – and became a provincial minister. He is known to have spent tens of millions of rupees in campaigns for each of the two contests.

Abdul Aleem Khan joined PTI in 2012.
It was people like him who were at the centre of subsequent grouping within the party — at least in Punjab and Lahore.
The crowd that showed up at Minar-e-Pakistan was unprecedented compared to any political event in the city after Benazir Bhutto's homecoming rally in 1986.
When Imran Khan decided to hold the first internal polls of the party in early 2013, Hashmi and Qureshi were visibly at odds with each other. The former enjoyed the support of those PTI members who had defected from JI – the likes of Ijaz Ahmed Chaudhry and Mahmoodur Rasheed – as well as students and the youth. The latter commanded the respect of those who had defected from PPP and PMLQ and a significant number of PTI's left-of-centre, liberal members. Abdul Aleem Khan would emerge as PTI's Lahore president in the party election.
By that time, many senior PTI members had already made their displeasure public over prominent party positions going to new entrants. In September 2012, Shireen Mazari, who was then the central vice president of the party, resigned from her position after alleging that the party programme had been "taken over by big money". She said the membership drive was also hijacked by big money and that "has compromised the party elections". She, however, did not leave PTI.
Admiral (retd) Javed Iqbal, who had been a PTI member since 2004, resigned a month later for the same reasons. "Companions of former army ruler Musharraf have assumed control of the party and have introduced a philosophy that has no link with PTI's established viewpoint," he told the media after resigning.

Imran Khan proudly announced the arrival of many political stalwarts into his party to tens of thousands of his supporters gathered next to Quaid-e-Azam's mausoleum in Karachi on December 25, 2011. Prominent among them were Hashmi and former foreign minister Sardar Aseff Ahmed Ali.
The public meeting was a highly impressive show of strength, even by Karachi's standards where Muttahida Qaumi Movement (MQM) and PPP have managed to pull record crowds over the decades. It gave Imran Khan the reason to believe that, come 2013, PTI could snatch some legislative seats in the city from the traditional occupants of its politics.
A beaming Imran Khan left Karachi, not to return for the next couple of years, putting Karachi in the hands of leaders who all wanted a slice of a pie that none of them wanted to bake.
By the time Imran Khan began giving serious thought to PTI's internal polls, the 2013 general elections were already around the corner. His party's first tier leadership decided to run for legislative positions, leaving the party organisation in the hands of the second-tier and the third-tier members. The party, however, left its internal polls incomplete and stepped into its first major electoral contest, almost unprepared.
Yet, it surprised many of its own leaders by its strong showing. While it won only a handful of seats – one for the National Assembly and three for the Sindh Assembly – it polled the second-highest number of votes in the city after MQM.
A beaming Imran Khan left Karachi, not to return for the next couple of years, putting Karachi in the hands of leaders who all wanted a slice of a pie that none of them wanted to bake.
Over the years, PTI's Karachi office never moved from Sharae Faisal, as the party struggled to make room for itself in the megacity. Firdous Shamim Naqvi, PTI's Karachi president says, "Its prospective members were often bullied to keep them away from it. When students and young people signed its membership forms, their worried parents would force them to return those. Doing politics on the MQM's turf, with its much feared street power, was never easy."
The general elections of 2013, however, suggested that PTI may break that barrier. The party snatched a National Assembly seat that MQM had won in the 2008 polls and many PTI candidates in the city's south, west and central districts garnered votes in tens of thousands.
Things, however, have gone downhill since then. The party was barely visible in this year's local government polls in Karachi.
The reason: PTI, like elsewhere in the country, has been plagued with grouping in Karachi. When there is no head of the family, its disintegration is only natural, is how PTI's Sindh spokesperson Dawa Khan Sabir comments on the situation.
The organisational structure of the party's city chapter has remained missing for prolonged periods of time and in the absence of a permanent president, it has lost most of the ground it had gained during the previous general elections. This vacuum has allowed PTI's internal fissures to only deepen. "Everyone became a leader here during this period, making fun of each other. This is the worst thing for a party," says Naqvi.
He believes the lack of structure at the grass-roots level has led to the emergence of factions and caused the local government poll debacle. He says he needs four to six more months to enforce discipline.
His opponents believe he will only clamp down upon voices of dissent in the name of discipline. They point out that Naqvi and his long-time associates – Arif Alvi, Imran Ismail, Samar Ali Khan and Najeeb Haroon – are referred to as 'panjtan' or the 'Karachi cartel' that has tightened its grip over all things PTI and Karachi.
There are many other questions about the party — some of them raised by its own disillusioned supporters.
The impact of the organisational vacuum is easy to find even in the party's day-to-day affairs. Walking into Insaf House, PTI's new Karachi headquarters, also on Sharae Faisal, one is greeted by a giant banner that explains the importance of women in society and why the party focuses so much on their active participation in politics. It is 7 pm and a party meeting has just ended, with men scurrying in and out of different rooms. Not a single woman is in sight.
The influx of people that PTI experienced during 2011 and 2013 led to the consolidation – at least in Karachi – of its old guard whose members identify themselves as ideological workers. The presence of people they call political opportunists in the party irks them immensely. "We suspect that some within our ranks are working for the interests of their former parties," says PTI Karachi's senior vice president Khurrum Sher Zaman.
Former PTI office-bearers like Mirza Jahangir Rehman have no qualms about naming names. A founding member of the party, he quit its Sindh presidency in 2005, having served only two years in office. His resignation letter, said Imran Khan himself was the biggest obstacle in the development of his party's organisation. "Self-serving politicians have come in, starting with Jahangir Tareen. They [have brought] aboard their own loyalists," he says.
Some believe strings of some groups in Karachi are pulled from the federal capital. "Tareen brought Nadir Leghari [into the party] in 2012. That gentleman is of the old mould. These people destroyed the party," says Rehman.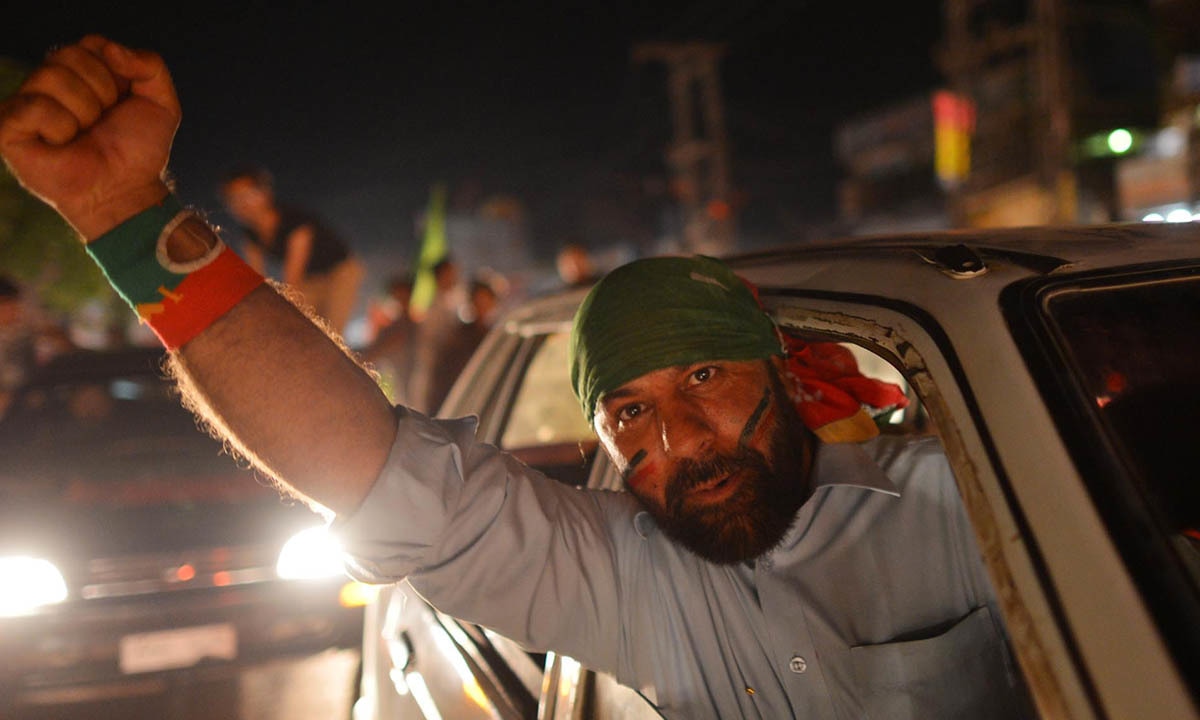 Justice (retd) Wajihuddin Ahmed does not mince his words while speaking to the Herald in a phone interview from London. "My team and I specifically highlighted four names [for involvement in rigging PTI's internal election in 2013]: Jahangir Tareen, Aleem Khan, Pervez Khattak and Nadir Leghari. The … election … was massively rigged by them and a lot of money was used for the purpose."
Ahmed says the reason he resigned from PTI was that there was major discrepancy in the party's stated ideology and its actual practices. His PTI membership was suspended for a year after he went public with his rigging allegations in spite of repeated warnings from Imran Khan. These days he is said to be in the process of forming his own political party.
"Instead of cooperating with our request for investigations, [Imran Khan] appointed the same people as advisers on the new election panel," says Ahmed. "They even went to the extent of dissolving a committee on accountability and discipline after it recommended suspending Abdul Aleem Khan. How can those who do not even qualify under the basic criteria of the party be made its representatives?"
The influx of people that PTI experienced during 2011 and 2013 led to the consolidation – at least in Karachi – of its old guard whose members identify themselves as ideological workers.
PTI leaders have termed these accusations as "prejudiced". Ahmed heard only five out of the 65 election petitions presented to him before he made a decision, they say. And he never had the authority to adjudicate on the election process as a whole, let alone annul it, they add.
They say the same thing for Tasneem Noorani, election commissioner for PTI's second internal polls. He also ended up resigning from his post earlier this year.
Noorani says he made certain recommendations on how PTI's internal structure should be shaped and how candidates should be appointed — the major bone of contention being whether positions should be elected or nominated. "If we nominated a majority of the posts, especially the important ones, then it is not really an election," he says.
"I think such decisions, along with bad management, are preventing PTI's grass-roots workers from rising up and hindering the full potential of the party." His verdict: "I do think [PTI] has become dominated more by electables and less by ideologues."
In the past five years, this sentiment has echoed frequently among the party's old-timers. "Imran's strength is in the middle class and the youth of this country," says Raoof Hasan, PTI's former media adviser and now the head of Regional Peace Institute, an Islamabad-based think tank. "If he hadn't opened the floodgates to political bigwigs, PTI would have fared better in the last election. To his credit, though, no matter how much money they spend on the party, he has never compromised on his intention or stance."
Hasan then makes a counterpoint. "Even an incorruptible man like Imran has limitations in how much he can single-handedly change a society where corruption has been institutionalised."
He remembers times when he would push Imran Khan on the subject. "What would you like me to do, bring people from Holland or Sweden?" he quotes the PTI chief as responding to his queries.

In June this year, Imran Khan notified that Tareen would retain his post as PTI's general secretary and Qureshi would continue to occupy the position of the party's senior vice chairman.
Tareen issued the first set of his decisions a month later. He designated Saifullah Niazi as additional secretary general and former ISF president Murad Saeed as deputy secretary general. This was followed three months later by the party's national convention in Islamabad which created an interim leadership for Punjab.
Imran Khan issued a stern warning to the members of his party at the convention — that they were free to join any other party if they did not agree with his decisions and that it was important that the party workers followed discipline.
The new party leadership announced under the pre-convention restructuring, however, seems to be distracted from its assignment of organising the party at the grass-roots level. The need to be in a seemingly perpetual agitation mode is what they are becoming acutely aware of.
"Right now, we are more of a movement than a party," says Walid Iqbal, PTI's Lahore president. It is a Saturday morning at his law office. Walid Iqbal's associates and staff are not there. On the wall behind him is a postmodern portrait of his grandfather, poet and thinker Allama Muhammad Iqbal, when he was studying in Germany.
Walid Iqbal cuts a pleasant figure, standing above six-feet tall and possessing countless academic degrees. His late father, Javed Iqbal, retired as a Supreme Court judge and is also known for his writings (he dabbled in politics, too, in the 1970s, albeit unsuccessfully). His mother, Nasira Iqbal, is a former judge of the Lahore High Court and a civil society activist.
Walid Iqbal juggles three different jobs — his law practice, a weekend teaching gig at LUMS and his latest PTI assignment. He has no experience of running an organisation, let alone a political party.
As he settles into his car to go to a PTI meeting last month, he pulls out the latest column by Hassan Nisar, a popular Urdu-language columnist. This particular column is of personal interest to Walid Iqbal. It is a tribute to him and to Hammad Azhar, general secretary of PTI's Lahore chapter. Azhar, too, has little to no personal experience of running a political organisation.
Imran Khan is scheduled to visit PTI's Lahore secretariat that day. While waiting for his arrival, Azhar starts talking. "[Even though Imran Khan] is still stressing the same issues that he did when he began his politics, I feel he has got first-hand experience of constituency politics and the challenges a mainstream party faces."
Azhar's father Mian Muhammad Azhar, is a former mayor of Lahore and a former governor of Punjab — both positions obtained in the 1990s thanks to Prime Minister Sharif. He is also the founding president of PMLQ — the Musharraf-era 'King's party'.

Scores of media vans and cameras wait patiently on September 30 2016, outside Imran Khan's house in Zaman Park, a leafy canal-side residence in Lahore. It is his family house where he grew up and spent most of his early youth, playing sports and catching kites which he would store in his bedroom closet. Today, he is a busy man whose schedule is carefully managed and guarded by trusted aides.
When he shows up in front of the cameras, he is standing between Qureshi on one side and Tareen on the other. It is the first time in months the two men seem to have put aside their differences. Imran Khan exudes the confidence that comes with the assurance that he has the right people around him to launch an anti-government movement.
Imran Khan prides himself at his ability to have managed many strong personalities — first as a cricket captain and later in his philanthropic work. He seems to be doing the same with Qureshi and Tareen.

Tareen's parents were not in politics. His father-in-law, Makhdoomzada Hassan Mehmood, was. Tareen first won a National Assembly seat from a constituency in Rahim Yar Kan where his brother-in-law, Makhdoom Syed Ahmad Mehmood, still wields considerable spiritual and feudal influence. On his mother's side, Tareen is closely related to two-time federal minister Humayun Akhtar Khan, whose brother Haroon Akhtar Khan is a special assistant to Prime Minister Sharif. They are sons of General Akhtar Abdur Rehman who ran the ISI under Haq and died with him in a 1988 plane crash.
After winning the election in 2002 on a PMLQ ticket, Tareen served as federal minister for industries for five years. In 2008, he was a candidate from the same Rahim Yar Khan constituency but as a nominee of Pakistan Muslim League–Functional, then headed by the late Pir Pagara Ali Mardan Shah, who was a brother-in-law of Makhdoomzada Hassan Mehmood.
Donning a crisp white shalwar kameez and sitting inside his lavish home near Islamabad's Kohsar Market, Tareen is bemused when asked about his political past.
Tareen resigned from the National Assembly in 2011 and joined PTI.
His political pedigree is deeply rooted in the status quo. He is also a rich industrialist and agriculturalist whose private plane has been in Imran Khan's use over the last five years. And, like the Sharifs, Tareen owns properties abroad.
All this is certain to direct a lot of criticism his way and that of his party, on his behalf. Donning a crisp white shalwar kameez and sitting inside his lavish home near Islamabad's Kohsar Market, Tareen is bemused when asked about his political past.
"The small band of supporters surrounding Imran Khan before 2011 comprised highly commendable and trustworthy people," he says, setting his spectacles aside on an ivory-inlaid table, "but they were not nearly enough to organise the party at a national scale".
On the other hand, he says, "Imran Khan was a godsend for individuals like myself or Shah Mehmood Qureshi who wanted to do something for the country but were left disillusioned after trying and testing other parties."
Tareen then points to a defect in Pakistan's electoral system, one that is highlighted time and again by both PTI members and independent observers. "If you want to form a government, you have to win seats one by one, constituency by constituency, until they come together in a majority at the National Assembly." For that, he argues, "you need the ideological PTI vote bank along with individuals who have the capacity to win those constituencies, especially on election day."
He brings in a constituency in Punjab's Lodhran district to illustrate his point (he has won a by-election there recently by a big margin after waging a long judicial battle over rigging to have the 2013 election result overturned). Containing an almost entirely rural population, the constituency is a one-and-a-half hour drive end to end and has 300 polling booths spread out over this area. "To manage this requires a certain level of experience," he says. And, of course, money.
Many PTI candidates in the previous election lacked both. "In the 2013 elections, PTI handed out one-third of its nominations to the youth and half of our candidates had never contested an election before. While this formula may work for urban settlements, we have to be more careful in rural areas because the dynamics are completely different there — but that is what politics is about: putting together different strategies for different areas."
He waves off suggestions that he has got the second -most important job in PTI because of being a traditional political heavyweight. Instead, he makes a case for himself as a technocrat. He has spearheaded multiple public policy and development programmes such as Pakistan Poverty Alleviation Fund, Punjab Vocational Training Council, People's Primary Healthcare Initiative and his own Tareen Education Foundation.
Why is he, then, alleged to have used money to rig PTI's internal polls and accused of wielding feudal-style control over the party's affairs?
He chuckles. "I do enjoy the confidence of Imran Khan," he concedes, "but that is because he has seen me work closely and not because he is a man who can be affected by money."
He shrugs when asked why he is at the centre of every intra-party conflict or controversy — be it his much publicised rift with Qureshi or many less publicised organisational issues that some people in PTI's "ideological bloc" have raised.
As his party's secretary general, Tareen says, he is "responsible for … taking some tough decisions and stating opinions openly, which ruffles a lot of feathers". It is unfortunate, he says, that he has become a target of disgruntled critics of the party.
"They claim I make Imran do things they disagree with," he says, and laughs, "as if it is that easy."

On a pleasant October day, Sajid Qureshi paces up and down a driveway in Islamabad's G-6 sector. Dressed in a starched light-blue shalwar kameez and a waistcoat in a darker shade, he nervously pats his hair down and brushes off imaginary dust from his shoulder. There is an air of self-importance about him.
He is PTI's information secretary for north Punjab and is waiting for Imran Khan to make a brief pit stop and say a few words of motivation to the party's members gathered at the house of a PTI member from Azad Kashmir. The mix of excitement and nervousness in the air is palpable, made evident by everyone's continuous pacing around.
Suddenly, word gets around that Imran Khan has arrived. Those present are ushered into a stuffy lounge and a select welcome party is left at the gate. Soon enough, PTI chairman walks in from a side door. He is welcomed by chants, as much in his favour as against the government. He quiets them down and begins a brief, spontaneous speech. What is more compelling to observe than his words is the dedication with which his audience is listening to him — utterly transfixed and eager to please.
With the reputation of being one of the most successful captains in Test cricket history, Imran Khan surely possesses leadership skills — like how to command a locker room. But whether leading a nation of 200 million people is the same as leading a cricket team is open to question.
After making the rounds at numerous corner meetings, Imran Khan finally takes a seat on a terrace adjoining his new office in Bani Gala to answer such questions. The air is crisp, the tree leaves behind him lush green and the sun slowly setting over Rawal Lake in the distance. He talks about the chances of rain, the gradual onset of winter and his ideology.
"During the 1992 world cup final," he begins, settling down into a comfortable garden chair, "we were standing around in the drinks break when I announced that Wasim Akram was to bowl next. The entire team said no. 'What happens if he doesn't perform well?' they said. 'What happens if he does?' I asked in return. The point is you will never succeed in life if you are not willing to take risks."
With this, he reaffirms his faith in the ideology of his party and its insusceptibility to vice. "It is my duty to ensure that the philosophy PTI started out with prevails, regardless of who joins us," he says. "That philosophy is socioeconomic justice, rule of law and subservience to strong institutions."
Only those people will be able to stay in the party, he says, who agree with this philosophy. "Many have come and gone but that is part of the process."
He then delineates his choices: between the non-existent, unblemished individuals and jet-black crooks, he says, there are numerous shades of grey. "The unfortunate thing is that anyone who has remained in the political arena will have their detractors and supporters alike, so it becomes difficult to tell one from the other."
His selection criterion is straightforward. "As long as they can add value to the party, I will bring the right man for the right job on board."
What of the numerous allegations against members of his core team? "How do we explore the allegations?" he asks emphatically. "It is not the job of a political party to launch investigations against its members. But do you really think if there was anything substantial against a single senior PTI member, the government with all its agencies would not have done something about it?"
Since the 2013 general elections, the central leadership of his party has also come under fire from its Khyber Pakhtunkhwa wing for violation of jurisdiction. Tareen and Umar have been specifically blamed for interference in the affairs of the provincial government. The two justify the "interference" as "providing guidelines to ensure that our stated manifesto is enacted".
Regardless of these rifts, a look of satisfaction appears on Imran Khan's face as he describes the Khyber Pakhtunkhwa government's achievements. "For the first time, a province in Pakistan is doing what it needs to do: strengthening its institutions," he says.
"Even an incorruptible man like Imran has limitations in how much he can single-handedly change a society where corruption has been institutionalised."
When asked about the area in which the provincial government could have performed better, Imran Khan instantly points to higher education and curriculum development. "We need the best brains of the country to sit together and consistently revamp the syllabus," he says.
What about religious extremism and violence? Many PTI supporters feel frustrated over its not-so-hard stance towards these issues. Some of them point to Imran Khan's position in the run-up to the previous elections that the government should hold negotiations with the Pakistani Taliban. He went to the extent of offering the Taliban an office space in Peshawar from where they could operate if and when the negotiations materialised.
More recently, the Khyber Pakhtunkhwa government has announced a whopping 300 million rupee grant to Darul Uloom Haqqania in Nowshera which is known to have been the alma mater for many senior Taliban leaders and commanders both in Pakistan and Afghanistan. PTI leaders, including Tareen and Chief Minister Khattak, have defended the announcement, saying that it is part of an attempt to reform the madrasa and that a memorandum will be signed with its administrator to specify what exactly will be done with the money. No money will be disbursed until the criteria are met, they say.
When asked if he thinks such moves affect his popularity among liberal voters, Imran Khan says he does not go after a particular vote bank. "I believe that there is a privileged class and then there are all the people who are being deprived of their rights. Bridging that divide is what I represent."
Many of his critics argue that his agitation undermines parliamentary institutions of which he is also a part. His participation in the parliamentary proceedings has, indeed, remained patchy. A recent survey by the Pakistan Institute of Legislative Development and Transparency (Pildat) named him as one of the worst-performing members of the National Assembly, along with PPP's Faryal Talpur and PMLN's Hamza Shahbaz.
This is how he responds to that: "Performing in the National Assembly is like winning a poker game on the Titanic. The ship is going down, but you are winning your cards."
He also believes that the "National Assembly is the most boring place on Earth" where no significant debate takes place because its members "skirt around" issues such as corruption and tax evasion. "The house is meaningless."
Is he aware of the magnitude of political risks he often takes with his all-or-nothing demands and frequent calls for indefinite protests? "Of course, I am aware," he says with a smug smile, as he walks back into his office flanked by his advisers. "I only play a high-stakes game. Low stakes bore me."
---
This article was originally published in the Herald's November issue. To read more subscribe to the Herald in print.
---