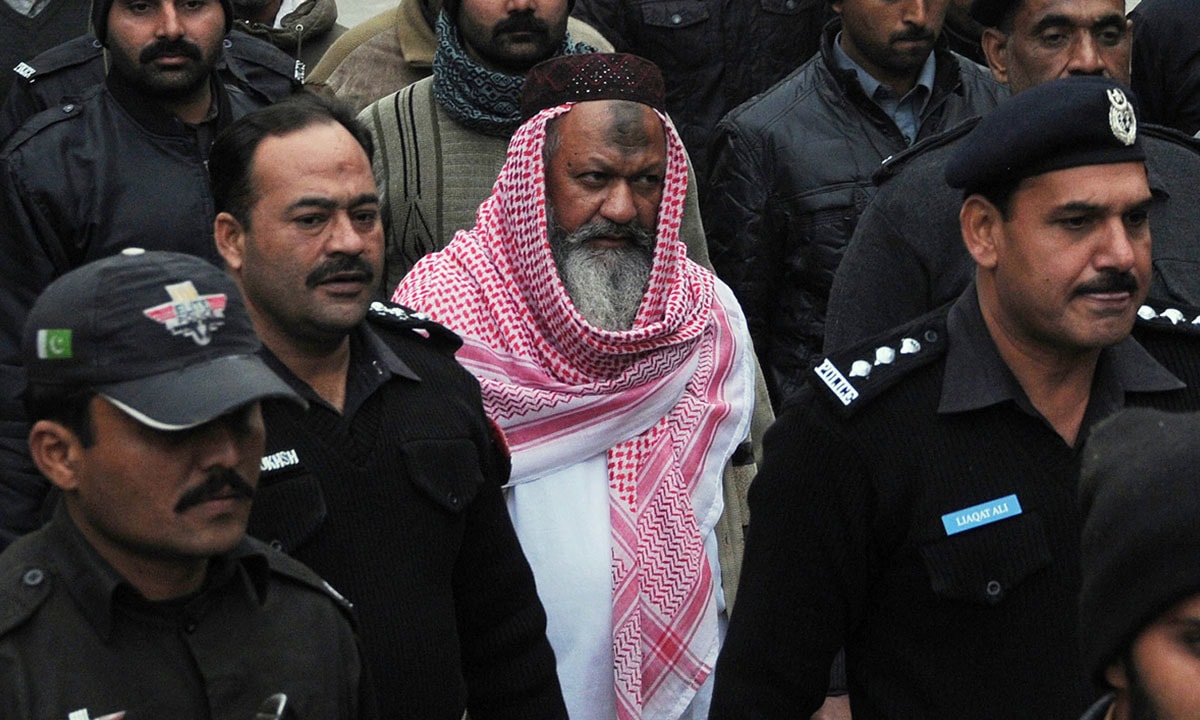 A young man with a black beard appears in front of a microphone in an amateur online video. Wearing a Sindhi cap and dressed in white, he tells an invisible but noisy audience who is up next to address them — "Janab Malik Muhammad Ishaq Sahab". As he moves away from the microphone, the crowd bursts into slogans: "Tera Ishaq, mera Ishaq, Malik Ishaq, Malik Ishaq" (Ishaq is mine, Ishaq is yours, Malik Ishaq is everyone's).
In the midst of these slogans, Ishaq – a middle-aged man of medium height dressed in off-white clothes and a Sindhi cap – shows up. Stroking his heavy beard quite frequently, he delivers no elaborate epilogue in Arabic – just a couple of customary lines – before he launches into a threat-laden speech in a rather homely tone. "We have no personal agenda. Our agenda is to defend the honour of the companions of the Holy Prophet," Ishaq declares.
The video does not show the venue of the speech but it is uploaded on October 7, 2012 — slightly more than a year after Ishaq was released from jail where he was being tried in dozens of murder cases.
Ishaq had grown up in Rahim Yar Khan. As a young man, he had the reputation of a brash cigarette salesman.
"Don't forget that we have just put down our arms. We have not closed down our offices forever. We have just locked them for the time being," he thunders, warning the government and the Shia community of dire consequences. "Do not upset us. We know how to avenge ourselves. We know how to die and how to kill."
A poster behind him shows his image right next to that of Muhammad Ahmed Ludhianvi, the chief of Ahl-e-Sunnat Wal Jamaat (ASWJ), an anti-Shia organisation that claims to have renounced violence and has been active in electoral politics since 2008. The third person pictured on the poster is Haq Nawaz Jhangvi, the founder of Pakistan's first anti-Shia militant organisation, Sipah-e-Sahaba Pakistan (SSP), that is currently banned in Pakistan. "I accept Maulana Ludhianvi as my leader," says Ishaq as he vows "to fulfil the mission" of Jhangvi.
He then urges his audience to raise slogans that call Shias infidels. "Don't worry. No one will register a case against you for raising these slogans. They will only register a case against me," he says and proudly adds that he does not fear cases or jails. "Death will come whenever it is destined to. So why fear it?"
On July 29, 2015, Ishaq was killed in a shoot-out. The police narrative states that, a day earlier, officials of the Multan section of the Counter Terrorism Department (CTD) took Ishaq and many of his comrades from Multan to Muzaffargarh to recover a cache of arms and explosives meant to be used for terrorist attacks in Punjab. As they were returning to Multan at around 3 am, gunmen belonging to Lashkar-e-Jhangvi (LJ) – a group of anti-Shia killers that Ishaq co-founded in 1996 along with Riaz Basra – attacked the convoy. Ishaq and 14 of his companions, including two of his sons, got killed in the ensuing gunfight.
Later that day, roads leading to Rahim Yar Khan were all barricaded. Checkpoints with heavily armed policemen were guarding the city's entrances. They wanted to stop people from attending Ishaq's funeral. They wanted to keep it a low- key affair. Yet Ishaq's nondescript house just off the airport road attracted mourners in the thousands.
The house was flooded with people and Ishaq's family was getting calls repeatedly to speed up the funeral, says one of his neighbours, wishing to remain anonymous. "It was raining heavily and everyone was drenched," he says.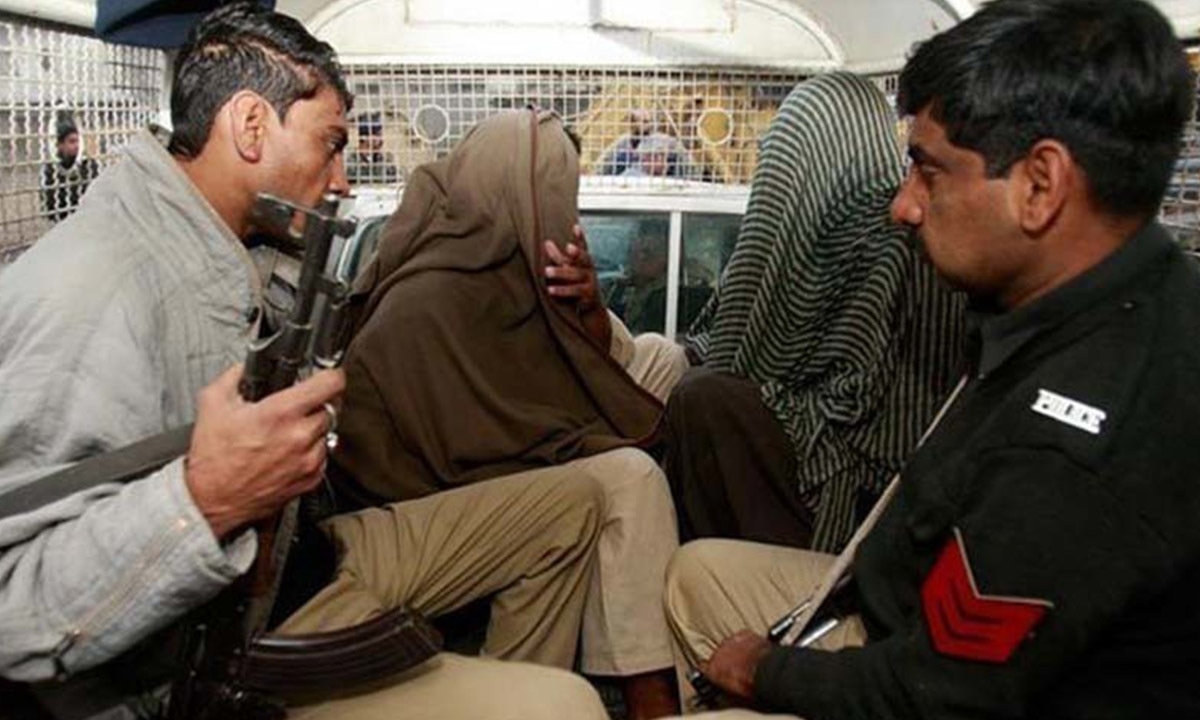 Ishaq had grown up in Rahim Yar Khan. As a young man, he had the reputation of a brash cigarette salesman — brisk in his movements and forever at loggerheads with the local authorities. His close confidants say he was not always religiously inclined. When he became religious, his brothers opposed his decision. They did not approve of his intention to join anti-Shia activism.
Even though Ishaq was always hostile towards the police, he took his opposition to official power to new heights after becoming a militant. Whenever he was arrested and presented in court, he would cuss at judges and police officers for making him wait. "I have killed 130 Shias. So, Judge Sahab, why don't you convict me?" he reportedly said in court once. His aggressive behaviour in courtrooms and police stations made him popular across Rahim Yar Khan district.
And Ishaq always managed to get out of the custody of law enforcement agencies — no matter how horrible the crimes he was alleged to have committed. That further added to his popularity.
Chandio Basti, a small village some four kilometres from Khanpur tehsil of Rahim Yar Khan district, shows why sectarian activists like Ishaq could attract a very large following from this part of Punjab. Only a few months ago, the flags of the banned SSP suddenly sprung up all over the village, prompting the district police officer to order a raid. He sent police officers hidden as workers of non-governmental organisations to ascertain who had put up the flags. They found out that probably everyone in the village had.
The son of Nabi Bakhsh Chandia, a local peasant in Chandio Basti, has worked as a guard for Aurangzeb Farooqi, a senior ASWJ leader in Karachi. That job transformed the fortunes of his family. He has built a nice house for his family and bought enough cattle to fill a stable.
His changed circumstances would be so apparent during his visits to the village that everyone wanted to follow in his footsteps. "There was this perception that you would prosper if you joined Ishaq's group or SSP," says a cigarette dealer in Khanpur. He knew Ishaq well because the two were once in the same trade. "After five years of working for them, you would be able to build a house and buy a few cattle."
Ishaq focused on attracting young men from families that owned little or no farmland because he knew it was unlikely that they would find another job. Youngsters also idolised him for his contempt for authority. "Young men were inspired by Ishaq," says Khursheed Ahmed, a journalist in Rahim Yar Khan.
Riaz, who runs a dairy shop in his village, says his brother did participate in ASWJ activities but "he was not a member" of any militant group. "Shafiq was arrested while he was grazing cattle in the fields," he says.
Rukanpur, another village near Khanpur, made headlines in February 2013 when Ishaq ordered his followers to hold a rally there. According to media reports, his supporters rolled in to the village on motorcycles a day ahead of the proposed rally and manhandled Shias living there. The next day, the entire male Shia population of the village armed themselves and took positions on their rooftops.
The village of Manuk, also near Khanpur and comprising of a few dozen houses, is where some of Ishaq's most ardent supporters live. At least two of the people killed alongside him came from this village. Their names: Imdadullah and Waqas. They were both cousins.
Qaim Deen, an aged peasant in Manuk, is the father of Imdadullah. He does not consider Ishaq a criminal or Imdadullah a killer. Instead, he speaks of the shame he faced when he went to collect the mutilated bodies of his son and nephew. "If Ishaq was a bad person or my son was doing something wrong, why didn't the authorities tell me?" he asks.
In many villages and towns across Punjab, the same story is repeating itself with alarming frequency: a son or a brother goes missing and turns up dead after a reported encounter, days or even weeks later.
Two of them – Tehzeeb Shah and Muhammad Shafiq alias Ali – once lived in the tiny village of Khangarh Doima near the ancient historical town of Seetpur in Muzaffargarh district. They were killed in the same encounter that took the lives of Ishaq and his sons on July 29, 2015.
Muhammad Riaz Gopaang, elder brother of Shafiq, is a local activist of ASWJ. He is reluctant to talk about the circumstances of his brother's death. "We have lodged the FIR regarding the murder of our innocent brother in the court of Allah," he says.
What these incidents suggest is that the scope of government action against sectarian militancy has been widening consistently in Punjab.
Riaz, who runs a dairy shop in his village, says his brother did participate in ASWJ activities but "he was not a member" of any militant group. "Shafiq was arrested while he was grazing cattle in the fields," he says. A day later, the police also took Riaz and his elder brother, Razzaq, into custody. After 10 days, the police let Riaz and Razzaq go but Shafiq continued to remain in custody. His family found out he was being investigated for firing at Makhdoom Altaf Bukhari, a former chairman of the Muzaffargarh district council. "The police also picked up an aged relative of ours; he is still missing," says Riaz.
All these events took place about four months before Shafiq was killed in the encounter. "We were not allowed to take his dead body to our house," says Riaz. The police forced them to bury him in Mithu Sultan graveyard — far from their own village, he claims.
Tehzeeb Shah's younger brother, Syed Abid Hussain, narrates a similar tale. He says an intelligence operative, Amir Bashir, took his brother to Alipur on April 1, 2015, to make him submit a written statement that he had no connection with any militant organisation. Tehzeeb Shah never came back alive. "My elder brother and my maternal uncle met Tehzeeb in police custody three days before he was killed in the encounter." Tehzeeb Shah asked them to arrange a lawyer for his bail because the police were "going to submit a challan in a local court" against him.
Five days before Ishaq was killed, the Multan office of CTD issued a press release and identified 23 people as his main accomplices; 18 of them remained at large, it stated. The officials claimed raids were being conducted to nab them. One of them was Muhammad Irfan Qureshi alias Ali Irfan, a resident of Khangarh, a town in Muzaffargarh district (not to be confused with Khangarh Doima which is a small village in the same district).
Irfan's father, Abdul Qadeer Qureshi, claims his son had disappeared from his hometown more than two months before the press release was issued. He says he moved a court in his home district, fearing that law enforcement agencies might have picked up Irfan. The judge directed the police to register a First Information Report (FIR) that noted that his son was taken into custody by CTD on April 10, 2015, while he was returning home from work.
Abdul Qadeer filed a petition at the Lahore High Court's Multan bench for the recovery of his son. In the petition, he stated that various government officials informed him that his son was under investigation for involvement in terrorism cases.
On November 3, 2015 Abdul Qadeer withdrew his petition after CTD officials allegedly warned him of dire consequences. "More than a year has passed. My son is still missing," he says in an interview on a recent summer day. He fears Irfan could be dead already.
Officials at CTD Multan say Irfan has been involved in many cases of terrorism. An FIR registered on April 2, 2015, accuses Irfan and 19 others of planning to bomb a Shia Imambargah in Seetpur village of Muzaffargarh district. They allegedly planted explosives in a water cooler and timed them to go off during Friday prayers but some technical flaw prevented them from doing so. The police claimed the plan was aimed at pressurising the government to release Ishaq.
Two days later, the police booked Irfan in a similar FIR which states that the same suspects named in the earlier FIR planted explosive material near the house of Sadiq Baloch, a Shia resident of Khangarh. Police claimed to have recovered the explosives from a water cooler fixed near the wall of Baloch's residence. In this incident, too, the explosives did not go off because of what the police called a faulty remote control device.
Qazi Rashid Mehmood, a resident of Qaziwala village near Khangarh, was another man named in the two FIRs. His father Muhammad Hanif Qureshi says the police first raided their house on April 5, 2015. Mehmood escaped during the raid. The police conducted a second raid on April 15 but failed to arrest him again.
To avoid arrest, Mehmood left Muzaffargarh and shifted to Faisalabad where he started working in a textile mill. "He was in contact with us till April 24, 2015. The next day, he was taken into custody by the CTD from his workplace," says Hanif. Eleven days later, he received a phone call. The caller told him to collect Rashid's body from the District Headquarters Hospital in Sheikhupura. "He was killed in an encounter," says Hanif.
A CTD spokesperson claims Mehmood was killed because he was a militant. He says the police received information about the presence of some militants on Sharaqpur Road in Sheikhupura district. When the police raided the place and asked the men to surrender, they instead opened fire. The police fired back at them. After the gun battle subsided, all the suspects were found to have died of the firing of their own colleagues, the spokesman claims.
Mehmood was Hanif's only child, born 18 years after his marriage. He asked the police to provide him the post-mortem report of his son. They refused, he says.
Those encounters were followed by many others. In Layyah district alone, there have been two encounters in the first half of 2016 in which nine people suspected of sectarian violence were killed. In Nawabpur village near Multan, 14 others were killed in two encounters in May 2016.
What these incidents suggest is that the scope of government action against sectarian militancy has been widening consistently in Punjab. There is evidence that it is no longer restricted to southern Punjab where Ishaq was based and where most of his supporters live. Consider the case of Tariq Kamboh, for instance.
Shahbaz Sharif as the third-time chief minister of Punjab continues to reign over a police force that uses encounters as one of its main law enforcement tools.
His name elicits little more than a shrug from people in Lahore's Garhi Shahu neighbourhood. What has happened has happened, says an elderly shopkeeper.
Kamboh was a fairly successful property dealer. His father, Abdul Ghafoor, was a cloth merchant in Garhi Shahu and had raised a family of five daughters and two sons in a small single-bedroom house. As Kamboh was growing up, one of his main ambitions was to build a big house for his family in a posh area away from the working class milieu of their birthplace — this he did after earning some good money through his real estate business.
Towering over six feet, Kamboh was a large, burly man with a thick beard. He received his entire education at a government high school in Garhi Shahu before joining the army as a soldier — a job he left after about four years. Those who knew him and his family remember their affiliation to Jamia Naeemia, a Barelvi mosque in Garhi Shahu. He was also known to be an ardent supporter of Nawaz Sharif. In the 1990s, he was often seen at the Muslim League House on Davis Road, the headquarters of Sharif's party in those years.
Kamboh was also deeply religious — to the point of refusing to be photographed. He wouldn't allow his family to watch television, fearing it would corrupt them morally.
Kamboh was first picked up by the police in 2000, following a 1998 attack on the Shia graveyard of Mominpura just off Lahore's Mcleod Road, people close to his family say. He was kept in custody for around 20 days but was released without any charges. His family is known to have questioned him at the time about his alleged association with anti-Shia sectarian organisations. His parents and siblings demanded that he sever ties with those outfits.
In 2009, Kamboh was arrested again. Even before that, he would regularly visit Garhi Shahu Police Station for reporting because his name was on a terrorism watch list. In 2010, he filed a petition at the Lahore High Court, requesting that his name be removed from the list. The court issued a notice to the government, seeking an official response to his request. The government never complied. The agencies detained Kamboh again in 2011 — only to release him soon afterwards.
On March 15, 2016, the front pages of several Urdu dailies published from Lahore splashed bloodied images of five bearded men allegedly linked to a banned anti-Shia organisation. They were killed three days earlier on March 12, 2016, in the town of Samma Satta in Bahawalpur district in southern Punjab. Kamboh was one of them. (All except one of those killed belonged to different districts of central Punjab.)
Kamboh's relatives say he was taken into custody by CTD from a real estate dealer's office in Lahore's Defence Housing Authority (DHA) area. Members of his family visited many police stations to find him but all in vain. Their search ended 10 days later when they read of his death in newspapers. How he ended up in Samma Satta remains a mystery to them even today. When they asked the government, they received a one-line response: he was with terrorists when he was killed.
Kamboh was buried quietly in Garhi Shahu but that did not put an end to his story. The members of his family continued facing harassment by law enforcement agencies, his relatives claim. Nearly every male in his immediate family was picked up after his death and investigated about their suspected links with sectarian and militant organisations.
Just as Shahbaz Sharif was planning to return from self-exile, an anti-terrorism court in Lahore issued his arrest warrant in September 2007 for being an absconder. The case against him dated back to 1998 when he was chief minister of Punjab. Saeedudin and Khurshid Khanum, the parents of two men killed in a police encounter in Sabzazar area of Lahore, had moved the court complaining that senior police officials and Shahbaz Sharif were responsible for the death of their children.
Saeedudin later withdrew his complaint and 'forgave' the accused. The judge acquitted Shahbaz Sharif and others a month after the 2008 general elections. Aftab Ahmad Bajwa, who represented the second complainant, Khurshid Khanum, continued to pursue the case. Since his client never pardoned Shahbaz Sharif and the senior police officials, he filed an appeal at the Lahore High Court against the decision of the anti-terrorism court. Eight years later, he says, "the appeal is still pending hearing".
In the meanwhile, Shahbaz Sharif as the third-time chief minister of Punjab continues to reign over a police force that uses encounters as one of its main law enforcement tools. Punjab Law Minister Rana Sanaullah argues why: "If a wanted criminal is killed in an encounter, the first public response is that this is a good act," he says in an interview. "The person killed was after all a murderer and not a law-abiding citizen."
Sitting in his colonial-era office inside the Patiala House, Sanaullah is eager to show that the Punjab government has won the battle against sectarian terrorism even though that victory has been achieved through a spike in encounter killings.
In many villages and towns across Punjab, the same story is repeating itself with alarming frequency: a son or a brother goes missing and turns up dead after a reported encounter, days or even weeks later.
Sanaullah frequently mentions 'jet black terrorists' – those who are well known to have been directly involved in terrorist activities. Official statistics say as many as 69 'jet black terrorists' were killed in the first seven months of the current year in special operations conducted by CTD Multan, Muzaffargarh, Layyah, Lodhran, Dera Ghazi Khan, Sheikhupura and Gujranwala. The department claims to have eliminated the entire top and middle-level leadership of three organisations – LJ, Sipah-e-Mohammad Pakistan and Hizbut Tahrir. "There has always been propaganda that the Punjab government is soft towards these organisations or that there are safe havens in Punjab," says Sanaullah." Now you can see we are serious."
Legal experts say encounter killings have resulted from the government's inability to successfully prosecute suspects in courts of law. Ali Bajwa, a lawyer in Lahore, who rose to prominence after securing an acquittal for Hijratullah, one of the people arrested for involvement in a 2009 attack on a police academy just outside Lahore, says prosecution is the Achilles' heel of the judicial system. His client was acquitted because the persecution failed to establish beyond doubt his link with the attack.
"The prosecution department is underpaid, overburdened and full of lawyers who have been unable to build their own private practice. You cannot trust them with cases in which there are chances of an investigation being bungled in the courtroom," says Bajwa. Their failure creates the environment that helps law enforcement agencies stage encounters, he explains. Lack of punishment for the policemen involved in encounters is another reason why extrajudicial killings of suspects are so rampant. "No policeman has ever been convicted or sentenced for the encounters. They are suspended at best," he says.
In 1980, the recently formed Tehreek Nifaz-e-Fiqh Jafriya (TNFJ), a Shia political organisation, challenged General Ziaul Haq's Zakat and Ushr Ordinance in big public protests in many parts of the country. Tariq Khosa, who retired as the director general of the Federal Investigation Agency a few years ago, was then serving as assistant superintendent police in Jhang city. Anti-Shia sentiments there were higher than in many other areas of Pakistan, mainly because a local cleric, Haq Nawaz Jhangvi, had taken an extremely radical anti-Shia stance in the wake of the 1979 revolution in Iran and increasingly vociferous protests in the favour of Shia political demands in Pakistan.
It was in this backdrop that Jhang's Shia community brought out a procession on the 7th of Muharram. In a mosque situated along the procession's usual route, Jhangvi was delivering an extremely provocative anti-Shia speech. The Shia community threatened to attack Jhangvi if he did not stop his speech. A clash was inevitable. Khosa reached the mosque with 25 other police officers. After several unsuccessful attempts to stop Jhangvi's speech, police officers entered the mosque and arrested him.
Khosa recalls being summoned by the district commissioner and the superintendent of police immediately afterwards. "I was told General Ziaul Haq was on the phone and he wanted Jhangvi released immediately," Khosa disclosed to a Senate committee in September 2012. When a sectarian organisation has such strong state patronage, it is bound to have serious impacts on the relationships between the followers of different sects, he told the senators.
A string of tit-for-tat assassinations involving SSP and supporters of Tehreek-e-Jafria Pakistan (TJP), previously known as TNFJ, started in the 1980s. Two senior Shia clerics, Mufti Jafar Hussain Al-Hussaini and Ariful Husaini were killed in 1983 and 1988, respectively. Jhangvi himself was shot dead in 1990. In retaliation to his assassination, an SSP activist gunned down Sadiq Ganji, the then director general of the Iranian Cultural Centre in Lahore. This was followed by the killing of Jhangvi's successor, Isarul Qasmi, in 1991. By 1994, Sipah-e-Mohammad Pakistan emerged as a Shia militant organisation committed to targeting those involved in anti-Shia violence.
The police then were not trained to handle that kind of sectarian strife. "Our idea of counterterrorism was not very clear at the time. It was a new phenomenon and we would treat cases of sectarian killing like other murders," recalls Tariq Parvez, a former assistant inspector general of Punjab police. 
In 1996, sectarian violence took another deadly turn when former SSP members Riaz Basra, Malik Ishaq, Ghulam Rasool Shah and Akram Lahori met on the lawns of Minar-e-Pakistan in Lahore to form LJ. They later joined hands with the Afghan Taliban and through them with Osama bin Laden. Pakistan's sectarian killers thus joined a global network of terrorist organisations that helped them gain access to money, arms and ammunition, surveillance and communication gadgets, and training of guerrilla warfare.
Interrogation of SSP activists at the time indicated that some of them were being backed by the intelligence agencies which had sent them for training and participation in the anti-Soviet war in Afghanistan, says Parvez. "The activists readily admitted that they used the experience gained in Afghanistan in carrying out attacks on Shias," he adds.
Eventually, LJ devolved into a decentralised combination of innumerable autonomous and small groups, making it difficult for law enforcement authorities to keep a tab on their activities.
Hamid Ali Khan, a bureaucrat who recently resigned from the National Counter Terrorism Authority (Nacta) and is one of the authors of the National Action Plan against terrorism – formulated following the Peshawar school attack on December 16, 2014 – also agrees that the state's sponsorship was responsible for the emergence of radical Deobandi militant organisations such as SSP and LJ. Proliferation of madrasas also played a role in it, he says. Before 1979, the number of madrasas in Pakistan was not more than 2,700, he says. In the next decade or so, more than 16,000 madrasas sprang up across the country, many of them providing training to those wanting to join the war in Afghanistan, says Khan.
A string of tit-for-tat assassinations involving SSP and supporters of Tehreek-e-Jafria Pakistan (TJP), previously known as TNFJ, started in the 1980s.
In late 1996, Basra killed Commissioner Sargodha Tajammul Abbas in a targeted attack. By 1997, the activities of LJ had gained extremely deadly proportions. Basra led an attack on the Iranian Culture Center in Lahore in January 1997, leading to the death of over 20 people. Then LJ operatives killed Gujranwala SSP Muhammad Ashraf Marth and constable Shamim Ahmad. Around 193 people were killed that same year in different incidents of sectarian violence.
The then government of Nawaz Sharif was forced to initiate action. Encounters or extrajudicial killings – apart from an anti-terrorism law and special anti-terrorism courts – were a cornerstone of that action. Seven members of SSP and LJ were killed in police encounters in the span of just a month between September 25, 1998, and October 23, 1998, this magazine noted in a report published back in 1998.
In response, Basra announced a bounty of 135 million rupees for anyone who killed Nawaz Sharif, Shahbaz Sharif and the then federal information minister Mushahid Hussain. An attack targeting Nawaz Sharif did take place. A concrete bridge on the route from his office in Lahore to his residence in Jati Umra blew up, killing two people and injuring one. Sharif was lucky to have delayed his schedule for the day by 10 minutes.
In 2002, Musharraf banned LJ and SSP but another Shahbaz Sharif government in Punjab took a different view of the situation, starting with the 2008 general elections. Electoral politics in areas such as Jhang, Faisalabad, Bahawalnagar, Rahim Yar Khan and Layyah had given ASWJ – the latest reincarnation of SSP – the ability to decide the outcome of elections in many constituencies there. Sharifs and their party decided to woo ASWJ under a locally-formed alliance, with promises to decrease pressure by police and courts on its members and affiliates, including those who had been active as LJ target killers.
Between 2008 and 2013, the Ludhianvi-led ASWJ supported Pakistan Muslim League–Nawaz (PMLN) in many electoral contests. One of the most well-known instances is a by-election in Jhangh district where Sanaullah and Ludhianvi were seen canvassing together for a PMLN candidate. In return, the government facilitated the release of many anti-Shia activists, including Ishaq. In an interview soon after his release, Ishaq thanked Ludhianvi for making efforts for his release.
The anti-terrorism operations launched against the Pakistani Taliban and their sectarian affiliates, and some deadly anti-Shia attacks in places such as Quetta and Karachi, forced Shahbaz Sharif to change his policy. He came under immense pressure from the military that publicly sought action against sectarian organisations in Punjab, insisting that their activists provided safe havens and logistical support to Taliban terrorists.
Encounters or extrajudicial killings since then have become the most favoured tool of law enforcement agencies to eliminate the menace of sectarian violence. Is that the only possible solution to the problem?
Khairpur Tamewali is a remote town in Bahawalpur district. Shias, Barelvis and Deobandis had lived there in harmony for generations. People belonging to different sects resided right next to each other. No one ever identified themselves by their sect as a marker of difference, says a local elder.
In the 1980s, Yasin Kolhara, an SSP-inspired cleric from Faisalabad, shifted to Khairpur Tamewali and started delivering anti-Shia sermons at a local mosque. We tried to keep peace but some people wanted to destroy it, says Sajid Abbas Andaleeb, general secretary of a local Shia organisation, without naming the enemies of the town's amity.
In 1986, local Shias brought out their annual procession, with about 600 participants, on the 10th of Muharram. They marched through narrow, winding lanes of Khairpur Tamewali in tandem with their usual, officially sanctioned route. As they approached the outhouse of one Rao Razzak, a local Sunni landowner who had migrated from India in 1947, they faced an unusual situation. A couple of thousand men armed with bricks and sticks had gathered at the outhouse under the leadership of Kolhara with the intention to stop the procession. The two sides clashed: Sunnis threw bricks and stones at the procession; Shias manhandled whoever came in their way.
The stand-off lasted for about four hours as local authorities mediated between the two sides. The procession was finally allowed to pass through but not before Manzoor Shah, a local Sunni cleric, had lost his life in the melee. Shias claim he was killed by the bricks and stones thrown by people gathered at the outhouse. Sunnis say he was killed by a Shia mob.
This was the first time that a sectarian murder had taken place in Khairpur Tamewali. Members of Shah's family soon joined SSP to avenge his death. This started a series of tit-for-tat killings that continued for more than a decade.
Zulfiqar Bhutta, one of the local Shias booked by the police for Shah's murder, was killed in 1996 on the 21st day of Ramzan. This was soon followed by the kidnapping and murder of another local Shia man, Zulfiqar Bhatti, who was killed on the third day of Muharram. The murder that created national news in late 1995 was that of Mian Shahnawaz, a landlord in Khairpur Tamewali and the father of Riaz Husain Pirzada who was then a member of the National Assembly from the Pakistan Peoples Party (PPP), which was in power at the time. The case for his murder was registered against Kolhara and some others. Kolhara would leave Khairpur Tamewali soon afterwards.
In 1996, SSP activists attacked a local market in Khairpur Tamewali. One witness says the gunmen started picking up people perceived to be Shias. Some people were killed on the basis of their names; others died while trying to stop the gunmen from shooting. In the end, nine people lost their lives — three of them were not Shias.
The reign of terror would continue till 1999. By that year, antiterrorism courts had been set up, forcing many SSP and Shia activists to face hearings under the Anti-Terrorism Act. Many residents of Khairpur Tamewali nominated in sectarian killings were arrested and sent for trials, says Andaleeb. That is when the basis for an agreement first emerged, he says.
Tasneem Nawaz Gardezi, who has been a member of the National Assembly from the area that includes Khairpur Tamewali, started mediating between the two sides. "People who were threatening each other then sought forgiveness from each other in writing," says Andaleeb. A committee comprising seven people from each sect was formed and the two sides agreed to sever all ties with militant organisations of their respective sects.
A sense of community was eventually restored. "Thank God, we have maintained peace since then," says Andaleeb.
---
This article was originally published in the Herald's October 2016 issue. To read more subscribe to the Herald in print.
---
Shakeel Ahmed is a staff correspondent for daily Dawn in Multan. Fareedullah Chaudhry is a district correspondent for daily Dawn.